Special thanks to Rao's Homemade for sponsoring this post. As always, all opinions are my own.
These meatball subs are filled with juicy and tender homemade meatballs that have been simmered in a delicious marinara sauce and loaded into a toasted bun with melty Italian cheese.
Pair these meatball subs with this Italian salad, a fruit salad, or this cucumber salad.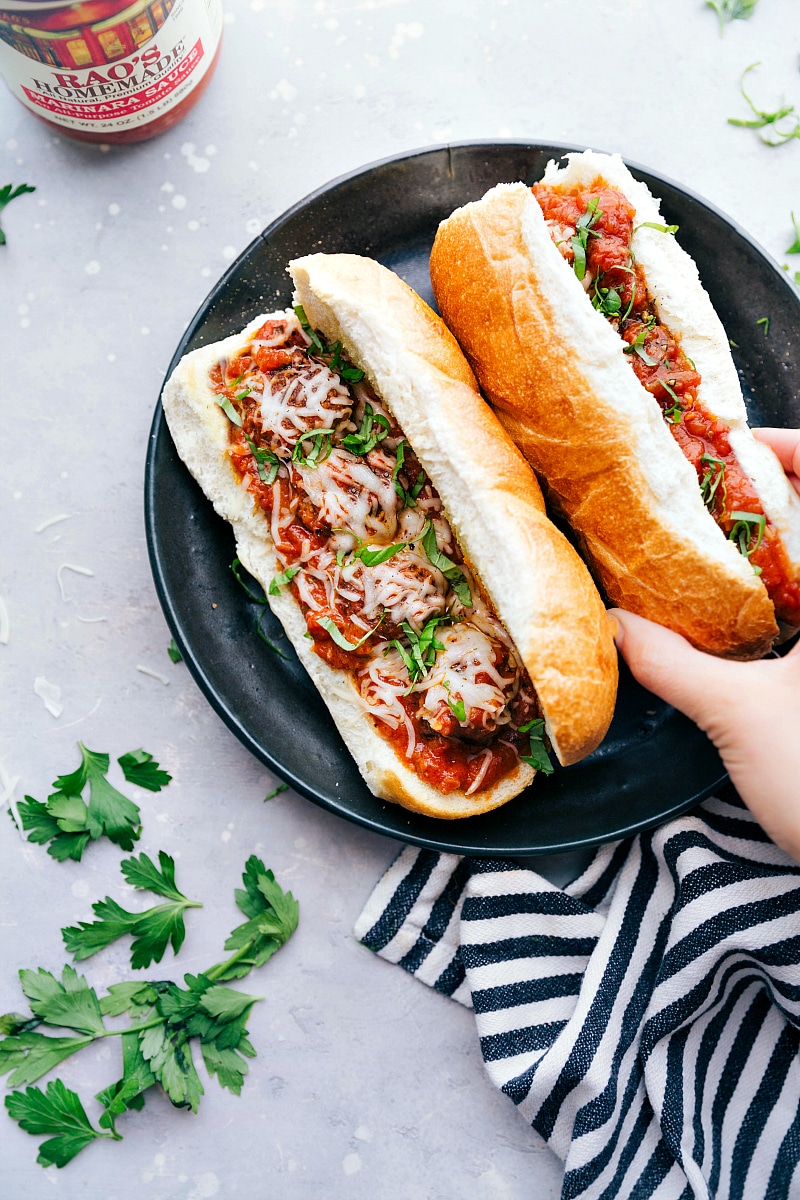 Meatballs are so versatile and can be purposed into so many different meals. One of my boys' favorites is a big meatball sub! With extra cheese and plenty of marinara of course. 🙂
While today's recipe I'm sharing beef meatballs, you can also make these meatball subs with turkey meatballs. They're perfect if you make a big batch of crockpot meatballs and are looking for ways to use those meatballs throughout the week. And these meatball subs are the best thing to feed a group with, they're always a crowd pleaser!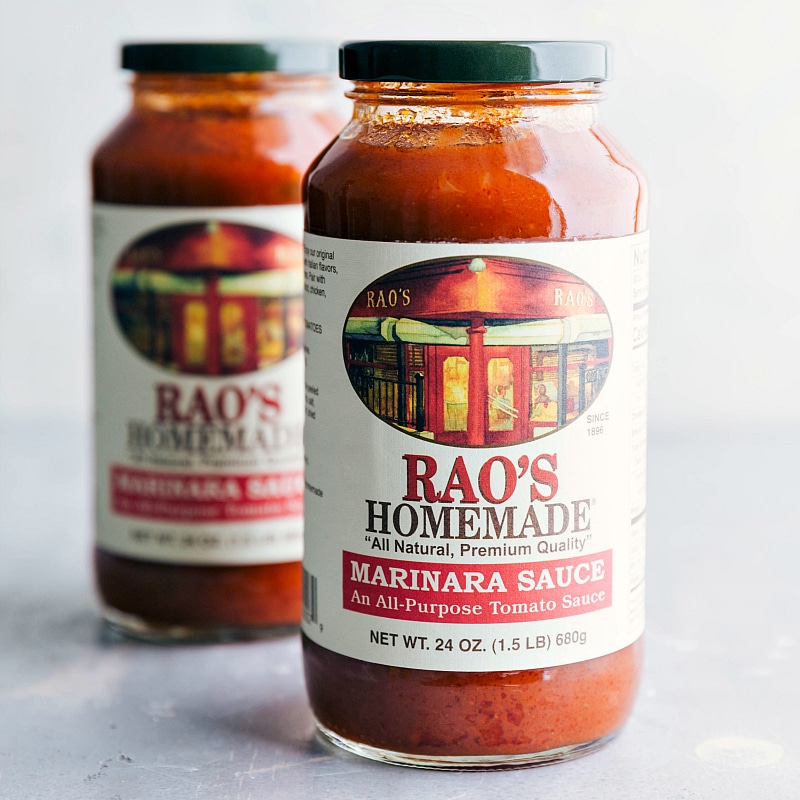 Rao's Homemade Marinara
Meatball subs are a fairly easy recipe to make, especially if you use store-bought marinara (instead of making a marinara from scratch).
Of course marinara is a huge component to meatball subs, so you want to make sure to use a good one! Rao's Homemade is one of my favorite marinara sauces. They make premium pasta sauces that are packed with great texture and incredible flavors. Their marinara makes for the ultimate meatball sub.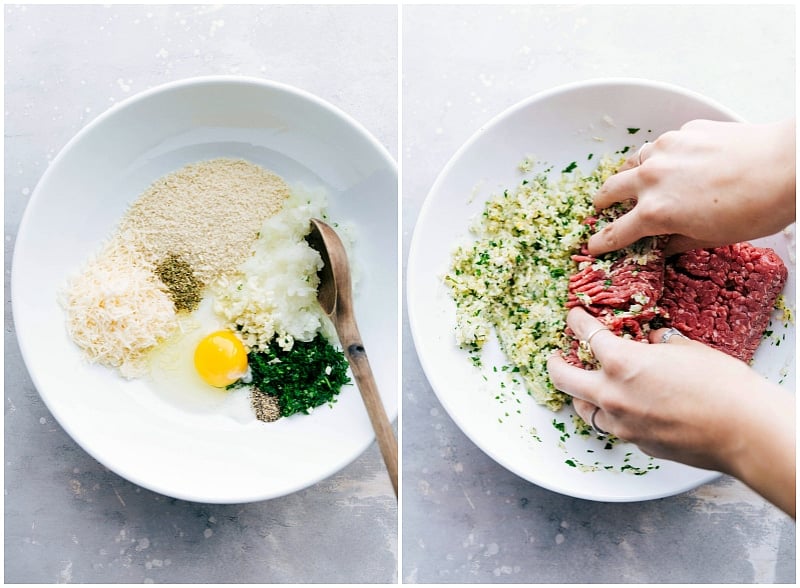 What toppings go on a meatball sub?
How you choose to top your meatball sub is totally up to you! For us, a good hearty and crusty roll smothered in butter and toasted is a must have. A good handful of grated cheese is also always on our meatball subs.
Some other ideas: thinly sliced red onion, thinly sliced green or sweet bell peppers, baby spinach, sweet corn, a little mayo
A little drizzle of oil and vinegar also makes for a good topping and more complex flavors.
Fresh herbs such as parsley or basil deliver a nice freshness to a meatball sub. A few spoonfuls of basil pesto also adds a fresh twist.
For some extra heat add some red pepper flakes. For an extra hit of salt, add some grated Parmesan cheese.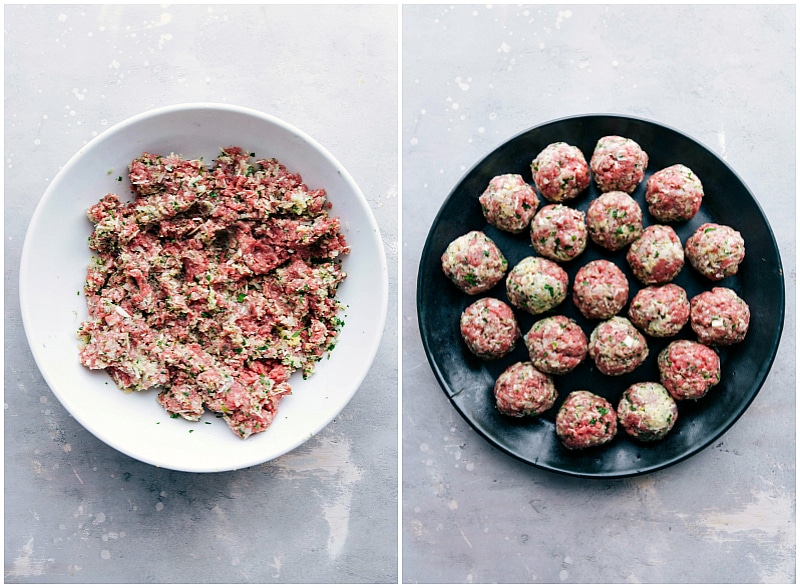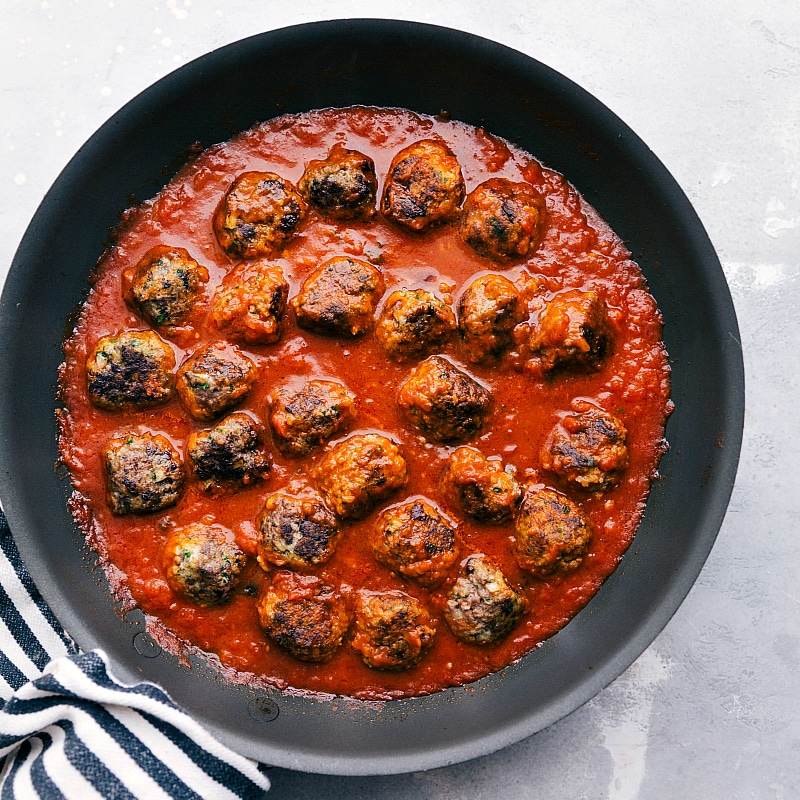 Meatball subs tips continued
Don't overmix

: if you overmix or over handle the meat, it will make the meatballs tough. Mix until ingredients are JUST combined.

Roll meatballs all at the same size

: make sure the meatballs are generally the same size so they cook evenly. I like to use a 1/8th measuring cup or cookie scoop to ensure even sizes. Remember as you roll the balls to handle as little as possible.

Use a NONSTICK skillet

: unfortunately these meatballs stick and subsequently fall apart on cast iron skillets. I've never had a problem with these meatballs falling apart in a nonstick skillet.

Toast the bread

: rub olive oil or melted butter (using a pastry brush) over the bread and toast it before adding the meatballs and sauce. This keeps the bread from getting soggy and adds delicious flavor.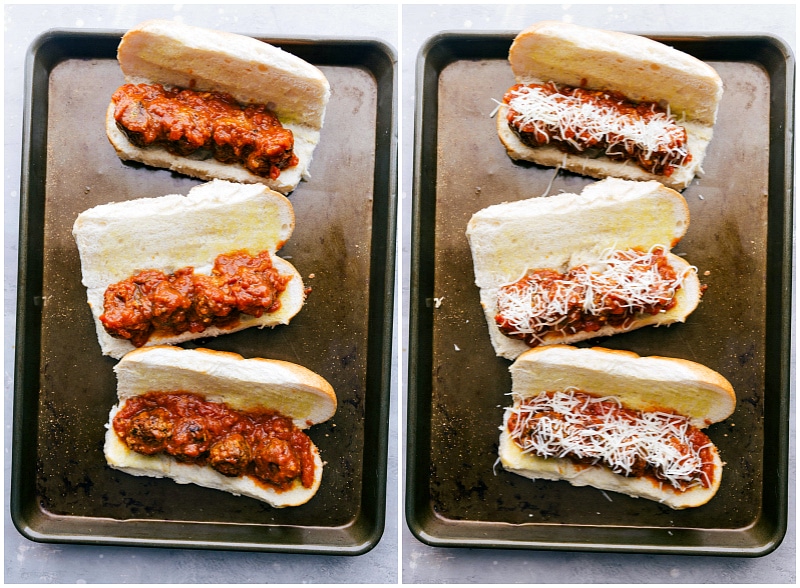 How to reheat meatball subs
The longer the meatballs and marinara sit on the bread, the soggier the bread will get. The best way to reheat meatball subs is to store the meatballs and sauce separately from the bread.
If the bread was already topped with the meatballs and marinara, wrap it in foil and then put it in the oven at 375 degrees Fahrenheit for about 20 minutes. The foil will keep it from burning/toasting any further.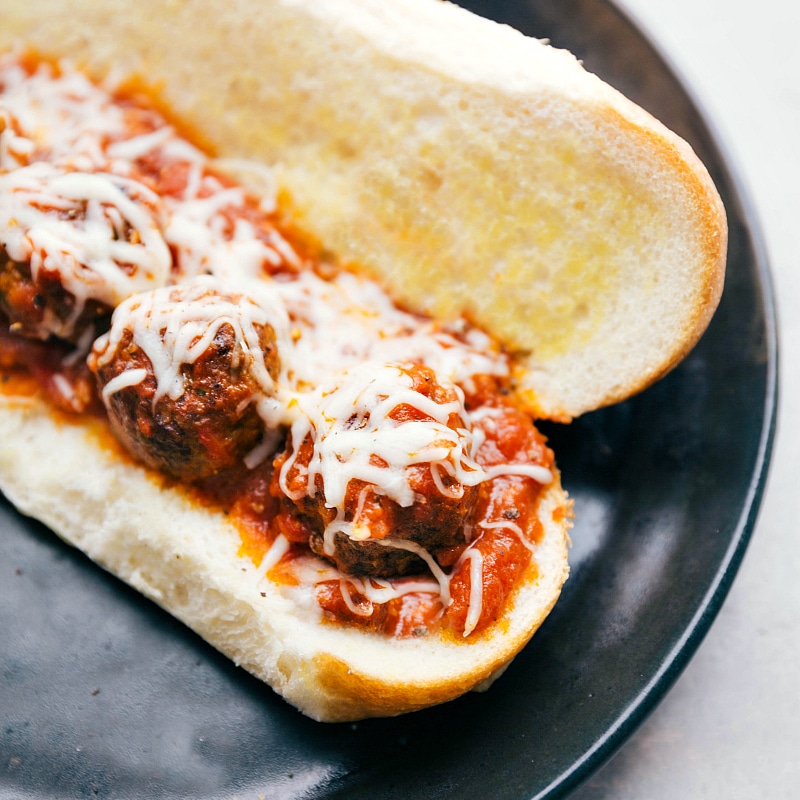 More easy dinner ideas: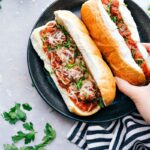 Meatball Subs
These meatball subs are filled with juicy and tender homemade meatballs that have been simmered in a delicious marinara sauce and loaded into a toasted bun with melty Italian cheese.
Servings
:
6
servings (about 4 meatballs per sub)
Ingredients
1/3

cup

yellow onion,

grated on a cheese grater

2

tablespoons

whole milk

1/2

cup

Panko

1/3

cup

Parmesan cheese

freshly grated (on a microplane if possible)

2

cloves

garlic,

finely minced (on a microplane if possible)

1/2

teaspoon

dried oregano

1/4

cup

fresh parsley,

finely minced

1

large egg

1

pound

ground beef

Salt and Freshly Cracked Pepper

3

tablespoons

olive oil,

separated (plus more for brushing on the rolls)

1

jar (24 ounces)

RAO'S Homemade Marinara Sauce

6

crusty sub rolls

1 and 1/2

cups

shredded Provolone or Italian 4-cheese blend

(or to taste, add as much cheese as you'd like)

Shredded basil,

optional
Instructions
MEATBALLS: Using the large holes on a cheese grater, finely grate the onion. Add to a large bowl along with the milk, Panko, Parmesan cheese, ground beef, minced garlic, dried oregano, fresh parsley, egg, and salt and pepper to taste. I add about 1 teaspoon salt and 1/2 teaspoon freshly cracked pepper. Mix until ingredients are combined. Add in the ground beef and fold with your hands until combined. Handle as little as possible and don't overwork the mixture or the meatballs will be tough.

MEATBALLS CONTINUED: Measure out about 2 tablespoons of the mixture and gently form a ball. Repeat with all of the meat mixture until it is all used up. You should get around 22-25 meatballs. Make sure they are all around the same size so they'll cook evenly.

COOK: In a large nonstick skillet, add 1 and 1/2 tablespoons olive oil. Heat to medium high and then add in about 1/2 of the meatballs. Gently turn the meatballs over and cook for about 3-5 minutes or until they are browned all over (but not cooked through). Remove to a plate. And another 1 and 1/2 tablespoons oil and repeat with the rest of the meatballs. Remove the rest of those meatballs to the plate.

COOK CONTINUED: In the same skillet, add the entire jar of Rao's Homemade Marinara Sauce. Add the cooked meatballs into the mixture and press to be covered in the sauce. Cover with a lid. Simmer for 8-12 minutes, turning every now and again, or until completely cooked through (food thermometer registers 165 degrees F).

ROLLS: Meanwhile, preheat the oven to 350 degrees F. Cut the rolls in half lengthwise and brush with olive oil. Place on a large tray and bake for 3-5 minutes or until lightly toasted.

ASSEMBLE: Remove subs from the oven and set the oven temperature to high BROIL. Pile meatballs and sauce onto sub rolls -- 3 to 4 meatballs per sub. Top with shredded cheese and place under the broiler to melt cheese (watch carefully it only takes 1-2 minutes). Top with shredded basil and enjoy hot!