Special thanks to Butterball for sponsoring this post. As always, all opinions are my own!
This turkey meatloaf recipe is made with ground turkey, plenty of veggies, and a delicious tangy glaze. They're so easy to make and packed with good-for-you healthy ingredients. This turkey meatloaf recipe can be made ahead of time and leftovers store well (great weekly meal prep option).
We love pairing these turkey meatloaves with mashed potatoes, roasted brussel sprouts, and this Italian salad.
My boys are obsessed with mini meatloaves (this is one of their favorite meals) and with how often I make them, it was about time I created a healthier version. This version has ground turkey and plenty of "hidden" veggies. I'll admit I was a little hesitant to serve these (not because I didn't think they were completely delicious), but because they're pretty different from the other ones they're used to. Turns out, they liked these ones even better! 🙂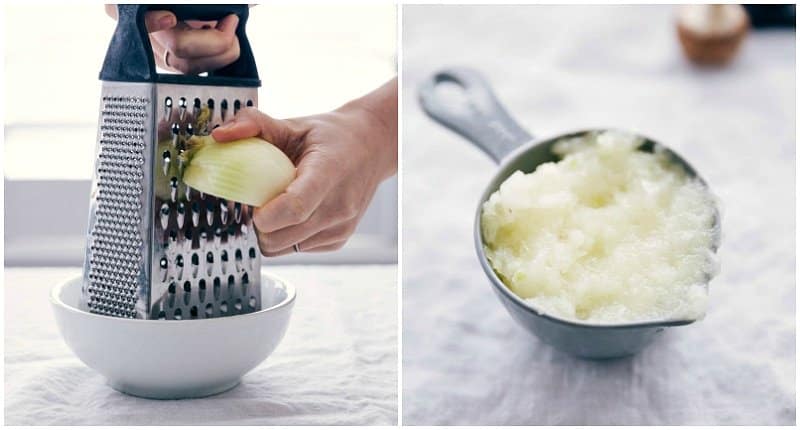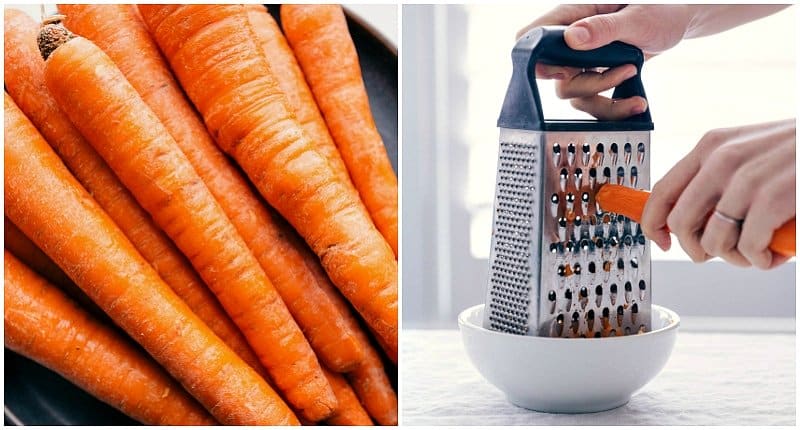 How do you make an EASY turkey meatloaf?
By making it miniature of course! Making turkey meatloaves in a muffin tin takes out so much of the guesswork for baking time plus they bake much quicker than a full loaf. Mini meatloaves are also easier/quicker to shape than a full sized turkey meatloaf. And finally, it's fun for everyone to have their own individual meatloaves 🙂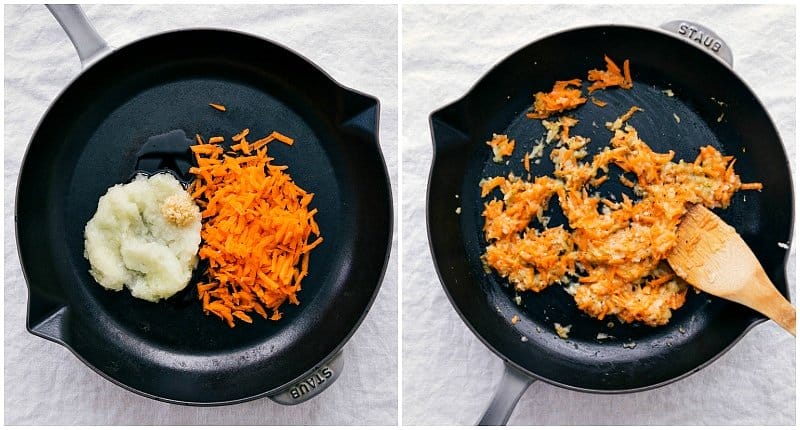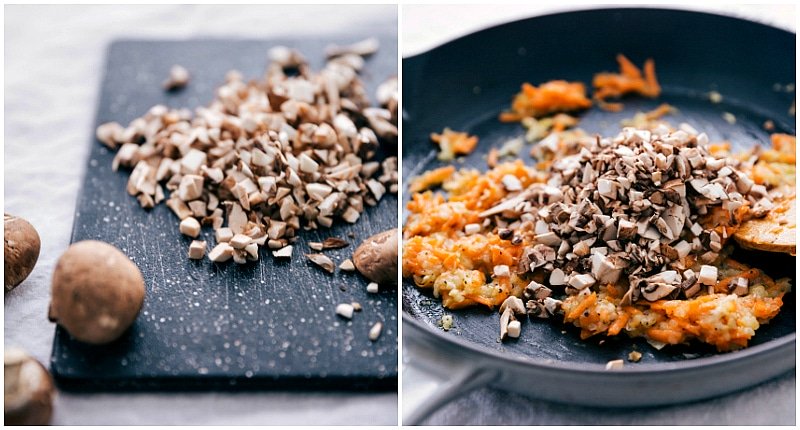 Now let's talk step by step of making the actual meatloaves.
How do you make turkey meatloaf?
Sauté veggies: to get a really nice flavor (and keep the meatloaves from being crunchy), we'll sauté onion, garlic, carrot, and mushrooms. This veggie mixture will bulk up the meatloaves and add nutrition + flavor.
Mix: those sautéed veggies will get added to a bowl with Worcestershire sauce, ketchup, egg, and panko. I like to mix everything really well BEFORE adding the meat since you want to mix the meat in as little as possible to preserve the moistness.
Add ground turkey: you all know my family's obsession with Butterball's ground turkey and it's truly the best in these meatloaves! Mix in the ground turkey and these are ready to go!
Bake: evenly divide the turkey meatloaf mixture between the 12 cups of a muffin tin. Bake the mini meatloaves in the oven for 15 minutes.
Glaze: While the meatloafs are cooking prepare the tomato glaze. Spoon the glaze over the mini meatloaves and let them bake for an additional 15 minutes.

Turkey Meatloaf Cooking FAQS
How long do you cook turkey meatloaf at 375?
You cook the turkey meatloaves at 375 for a total of 30 minutes. The first 15 minutes will be without the tomato glaze, then after 15 minutes you will pull the turkey meatloaf out of the oven and add the tomato glaze and cook for another 15 minutes.
What temperature should a turkey meatloaf be?
Ground turkey or meatloaf needs to be cooked at at least 160 degrees F to be considered food safe. Make sure to test in the thickest part of the meatloaves.
Do you cover meatloaf?
You don't need to cover these turkey meatloaves while baking them.
Is it OK if my meatloaf is a little pink?
Yes — so long as a food thermometer confirms the internal temperature of these meatloaves is 160 degrees F. It's not uncommon that this kind of meat may maintain a little bit of pink due to the myoglobin in meat.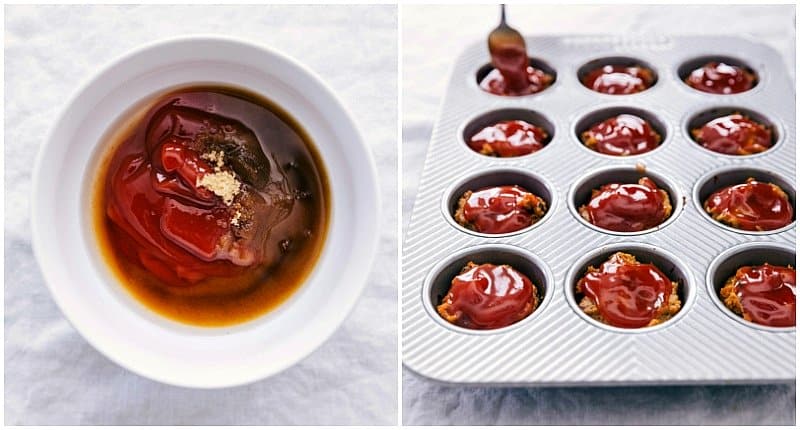 These turkey meatloaves are a great option for meal prepping; here's how to meal prep with these:
I recommend adding 2-3 of the mini meatloaves to a tupperware container along with a medley of your favorite roasted vegetables. This will keep for 3-4 days and is a healthy, veggie packed meal prep.
Turkey Meatloaf Tips:
Sautéing vegetables adds an amazing flavor to these turkey meatloaves while also keeping a perfect texture.
Don't overmix the meat. Once all the ingredients are assembled lightly mix the mixture with your hands just long enough so everything has been incorporated. Overmixing will create denser loaves.
Use good quality ingredients: one last shout-out for Butterball's All Natural Ground Turkey — it's a delicious and lean alternative to other meats and it's also SO flavorful. You'll want to make sure to get 93% fat-free to ensure the integrity of these mini turkey meatloaves.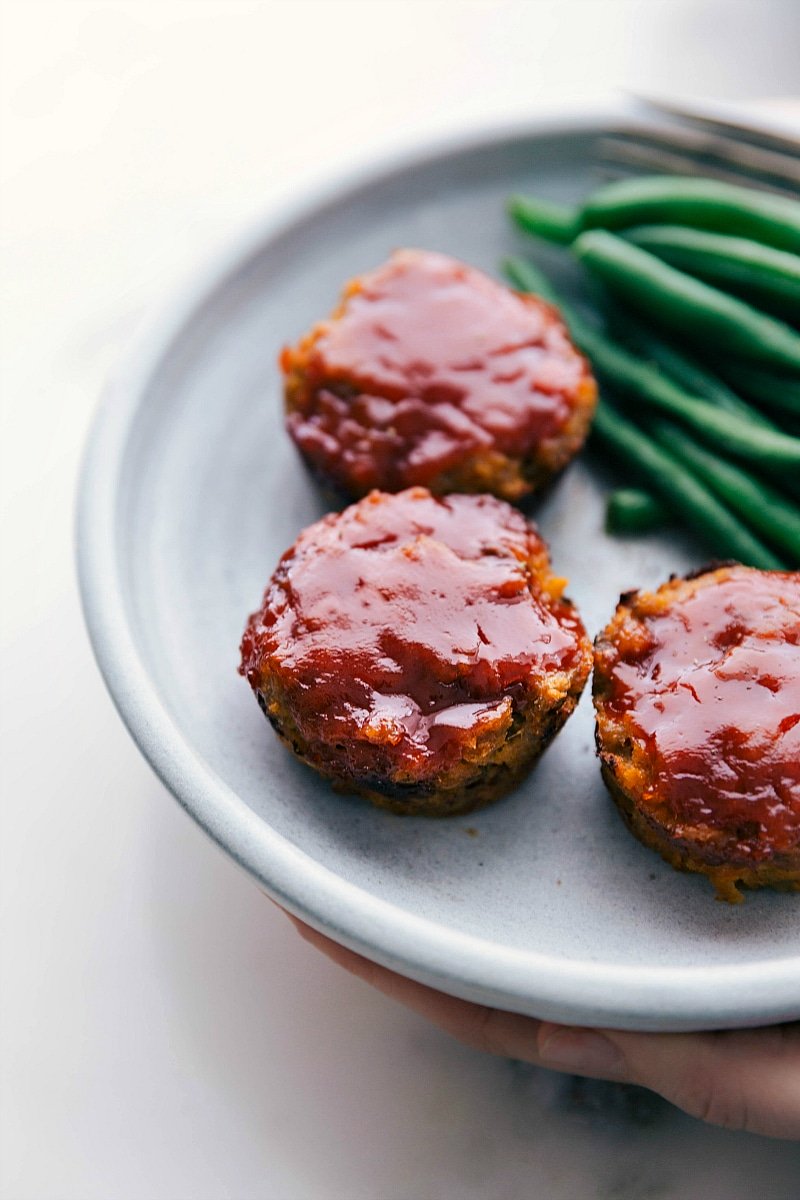 What goes well with these mini turkey meatloaves?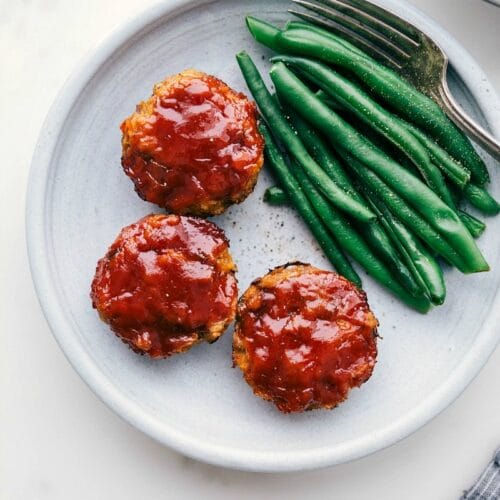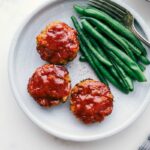 Turkey Meatloaf
This turkey meatloaf recipe is made with ground turkey, plenty of veggies, and a delicious tangy glaze. They're so easy to make and packed with good-for-you healthy ingredients. This turkey meatloaf recipe can be made ahead of time and leftovers store well (great weekly meal prep option).
Keyword:
turkey meatloaf recipe
Servings
:
12
mini turkey meatloaves
Ingredients
1

tablespoon

olive oil

1/2

cup

grated yellow onion

(1 small onion)

1

teaspoon

minced garlic

1/2

cup

grated carrots

(2 medium carrots)

1

cup

finely chopped baby bella mushrooms

1

pound (16 ounces)

Butterball Ground Turkey (93% lean)

1

tablespoon

Worcestershire sauce

3/4

cup

good quality ketchup,

separated

1

large

egg

3/4

cup

Panko (next to breadcrumbs)

2

tablespoons

light or dark brown sugar

2

tablespoons

apple cider vinegar
Instructions
PREP: prep all the veggies by grating the onion (on a box grater -- largest holes) mince the garlic, grate the carrot (box grater again; peel first), and finely chop the mushrooms into small pieces.

COOK: Add the olive oil to a large skillet (heat to medium) and add in the onion, garlic, and shredded carrots. Saute until soft, about 3 minutes. Add the mushrooms to the skillet and season with salt and pepper to taste (I add about 3/4 teaspoon salt and 1/4 teaspoon pepper). Continue to saute veggies until they release all of their moisture and all the liquid has evaporated. After the vegetables are dry and tender, dump them into a large bowl and let them cool for about 5 minutes. Preheat the oven to 375 degrees F and spray a regular sized muffin tin generously with nonstick spray.

COMBINE: Once the veggies have cooled down a bit add the following to the large bowl: Worcestershire sauce, 1/4 cup ketchup, egg, and Panko. Mix these ingredients well until they are evenly combined. Add the ground turkey and use your hands to gently mix everything together being careful to not overmix.

BAKE: Evenly divide the meat mixture between the 12 cavities of the prepared muffin tin. Bake the mini loaves in the preheated 375 degree oven for 15 minutes. Meanwhile, stir together the remaining 1/2 cup ketchup, brown sugar, and apple cider vinegar until smooth. After meatloaves have baked for 15 minutes, remove them and spoon this glaze evenly over each meatloaf. Return meatloaves to the oven and bake for another 15 minutes.

ENJOY: Allow the meatloaves to rest for 5 minutes and then carefully lift out with a fork (use a knife to loosen edges if needed). Enjoy while hot!
Recipe Video