This post may contain affiliate links. Please read my disclosure policy.
Each Mini Fruit Tart consists of a sugar cookie cup filled with a cheesecake-flavored filling. The tarts are topped with a variety of fruit and glazed with apricot jam.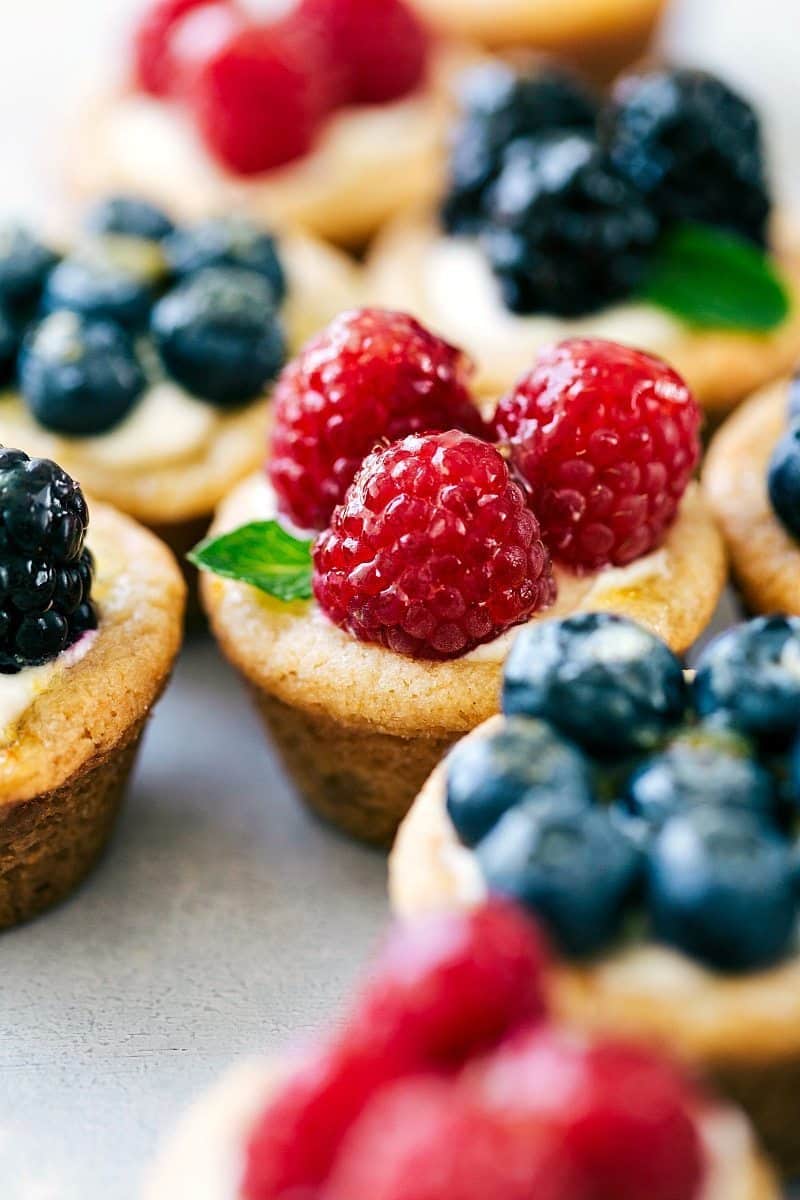 Mini Fruit Tart
My little niece recently turned 2 and I hosted a birthday party for her. I made a few batches of Mini Fruit Tarts to layer on dessert stands and they were the first thing to go. Even with over 50 of these tarts, there weren't enough — once guests tried one, they went (quickly) back for seconds!
In fact, these tarts are one of my go-to recipes when I need to bring a treat to a party. Baby showers, bridal showers, birthday parties — you name it, these make the perfect treat. They're beautiful enough to double as a party decoration and every time I bring them to share I get at least a few requests for the recipe.
The best thing about these tarts is how deceivingly easy they are to make. While they look beautiful and like they took hours to make, the creation of these tarts couldn't be much easier. In fact, we even start with a sugar cookie mix! Below I break down the steps with process shots and a few tips.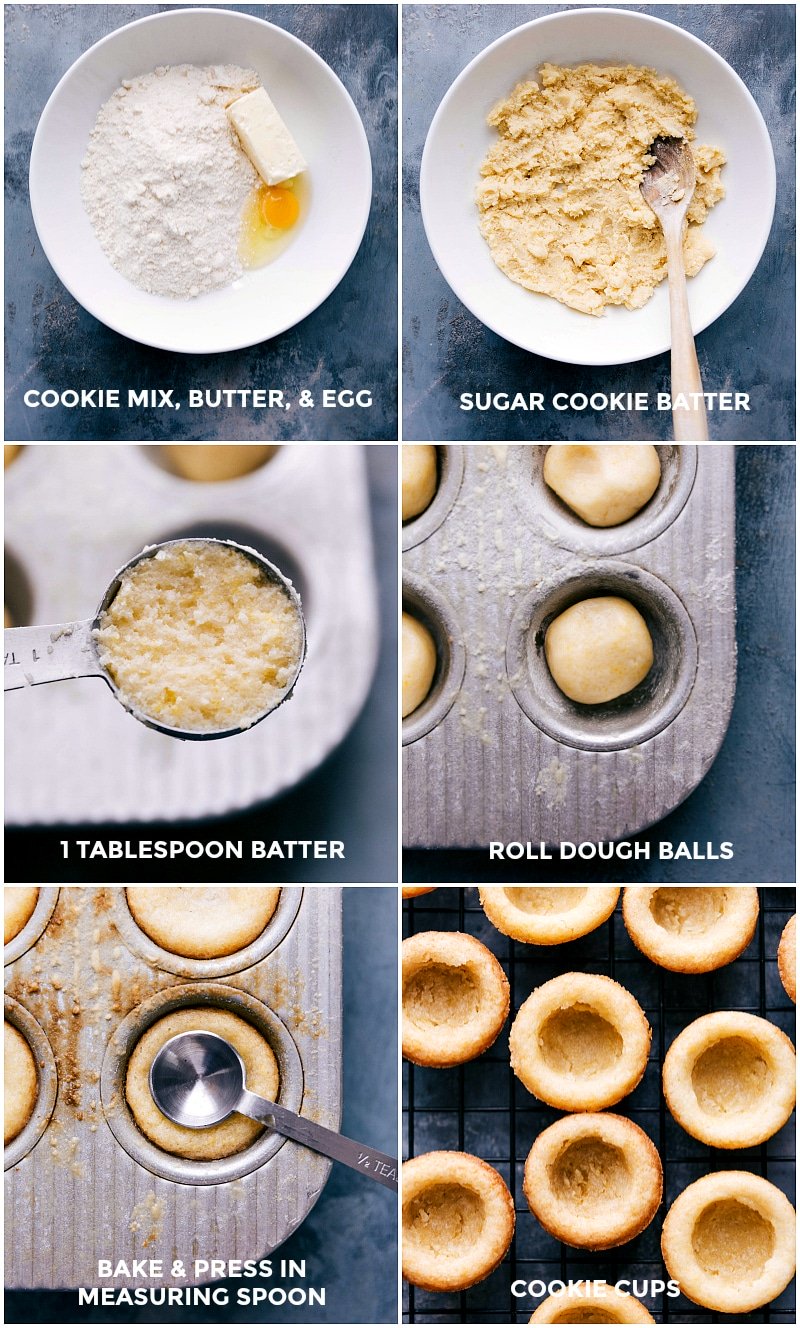 How to make Mini Fruit Tarts
Start with a sugar cookie mix and the ingredients called for: I use (and love) this Betty Crocker sugar cookie mix, but anything similar will work.
Prepare the sugar cookie mix according to package directions: If using the Betty Crocker mix, prepare the dough for rolled cookies not cut-out cookies.
Measure cookie dough balls: I like to use a 1 tablespoon measuring spoon for accuracy — barely fill that measuring spoon (don't pack in the dough) and that's the perfect amount needed.
Roll balls: Once the dough is measured, quickly roll the dough into a ball and place it in a well-greased nonstick muffin tin. Gently press an indent with your finger.
Bake: Bake the sugar cookies and then gently press the back of a 1/2 teaspoon measuring spoon into each cookie right out of the oven.
Remove: Gently coax out the sugar cookie cups and let them finish cooling on a cooling rack. Cool completely before filling the mini fruit tart shells.
Prepare the filling: Combine all the filling ingredients and beat until combined and smooth.
Add: the filling to the cooled cookie cups. Garnish with fruit and then glaze with apricot jam.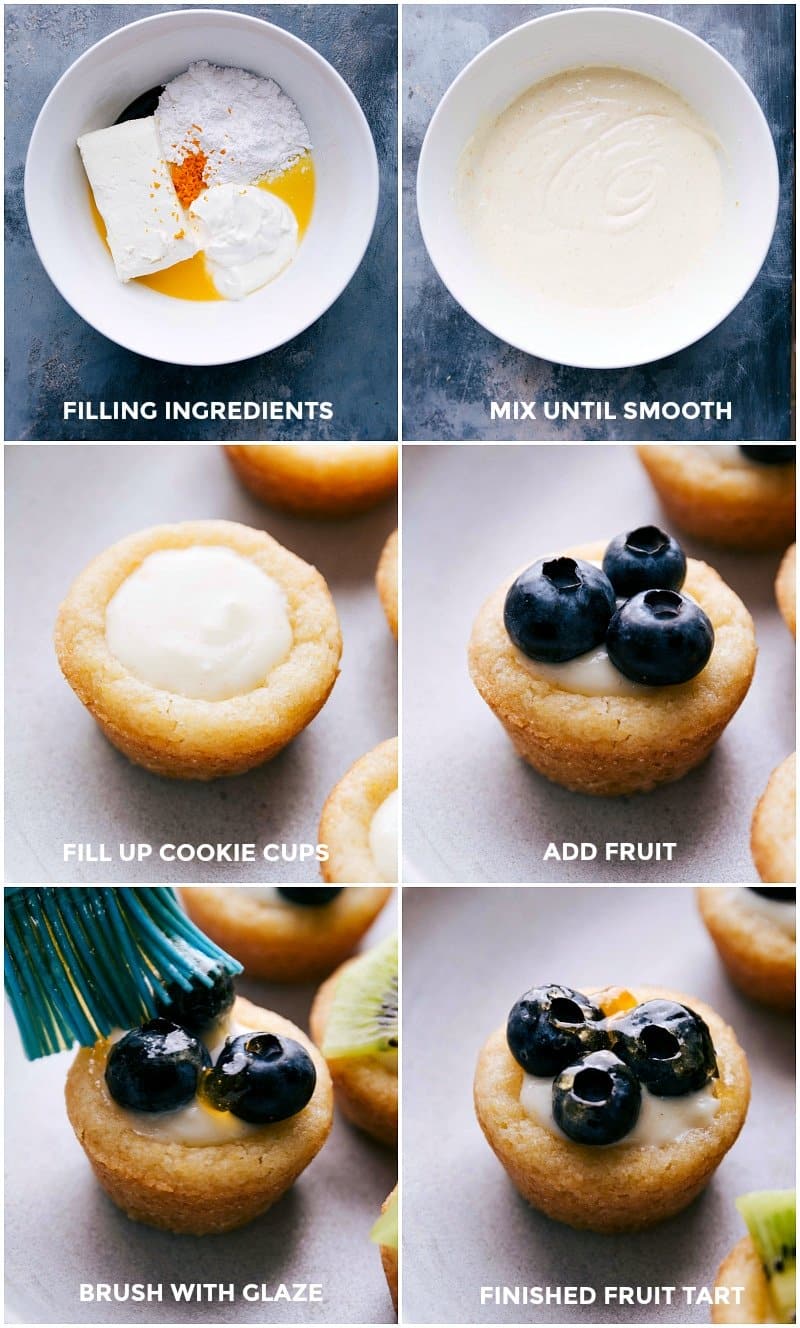 Tips for Mini Fruit Tarts
When you are making this fruit tart recipe, there are a few tips to make sure they come out the right size and can be easily removed from the muffin tin.
Number 1 tip: Use a good nonstick miniature muffin tin: I had problems for years with miniature sugar cookie cups until I invested in a really great muffin tin. I can't say enough good things about this muffin pan; these mini fruit tarts always come out perfectly in it!
Grease the muffin tin: Use a good nonstick cooking spray and grease the pan well before adding in the sugar cookie dough.
Less cookie dough is better: If you don't want to measure each ball of dough out, just aim to fill each muffin tin cavity about halfway with the sugar cookie dough.
Remove the cookies from the muffin tin quickly: Don't let the cookie cups cool in the muffin tin or they'll be nearly impossible to pull out. Let them cool for a couple of minutes and then start to pull them out. Work the edges with a butter knife and slowly coax the cookies out with a small spoon or fork if needed. Or use your fingers to pinch around the edges and spin the cookie up and out of the tin.
Use a variety of fruit: The more different fruits you use, the prettier these mini fruit tarts look! Our favorite fruits to use: blueberries, blackberries, raspberries, strawberries, mandarin oranges, and kiwis.
Variations
Lemon lover: Add lemon curd to the center of these mini fruit tarts. Or layer lemon curd and then the cream cheese filling.
Healthier recipe: Replace the sour cream with full-fat vanilla flavored Greek yogurt and use reduced fat cream cheese. Or try this healthy fruit tart recipe.
Different filling: Instead of the orange-flavored cheesecake filling, load the sugar cookie cups with fresh whipped cream or cream cheese frosting.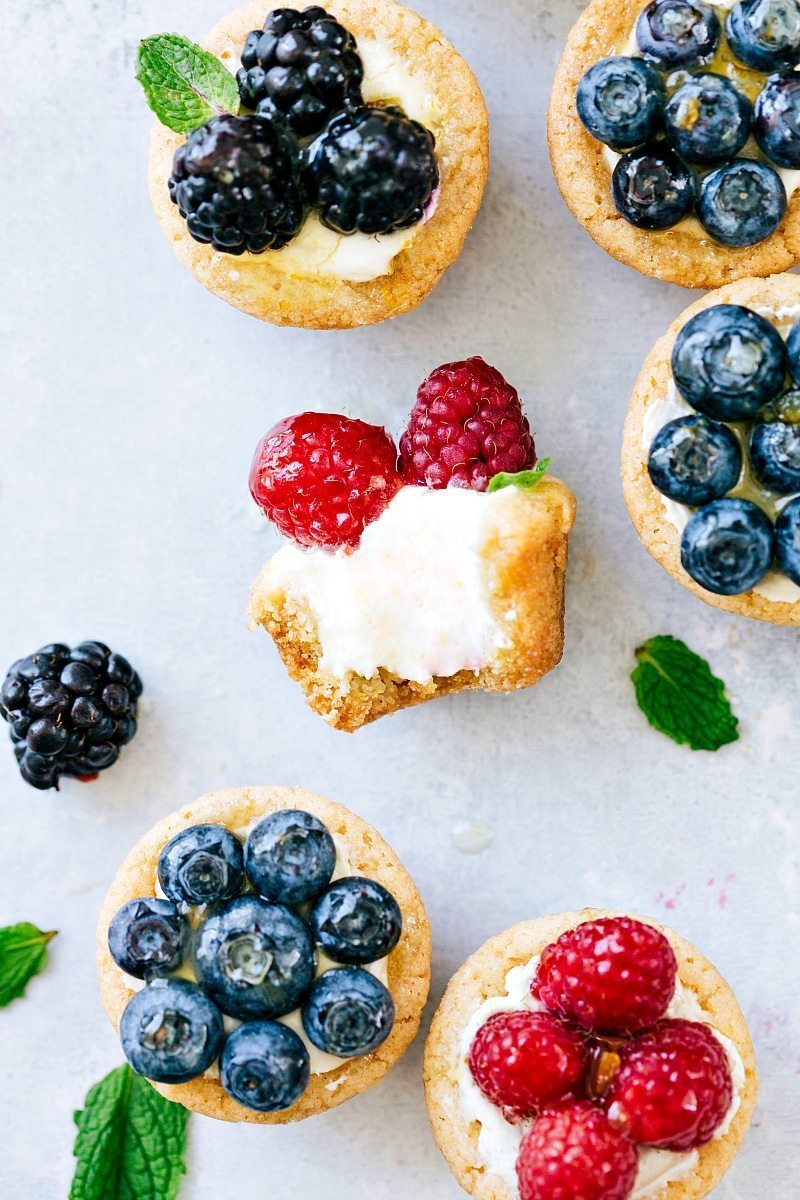 More delicious treats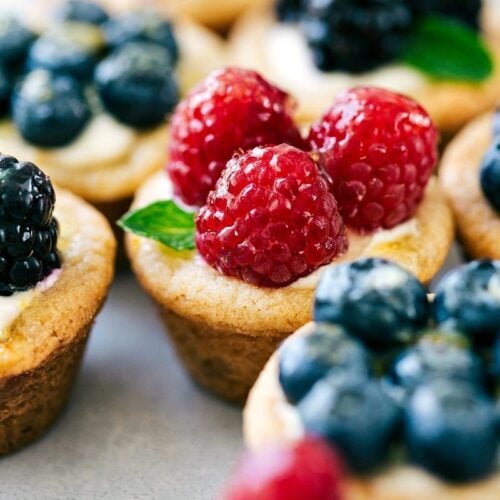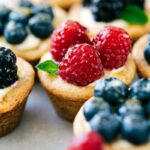 Mini Fruit Tart
Each Mini Fruit Tart consists of a sugar cookie cup filled with a cheesecake flavored filling. The tarts are topped with a variety of fruit that is glazed with apricot jam.
Keyword:
fruit tart, mini fruit tart
Servings
:
35
-37 miniature tarts
Ingredients
Sugar Cookie Cups
1

package (17.5 ounces)

Betty Crocker Sugar Cookie Mix,

+ ingredients called for (1/2 cup butter and 1 large egg)
Orange Cream Cheese Filling
8

ounces (226g)

full-fat cream cheese,

softened

1/2

cup (113g)

full-fat sour cream

1

large

orange

(2 tablespoons orange juice (32g) and 1 teaspoon finely grated orange zest)

1/2

teaspoon

vanilla extract

1/4

teaspoon

orange extract,

optional

1

cup (125g)

powdered sugar
Topping
Fresh fruit and berries,

for topping (such as strawberries, raspberries, blueberries, blackberries, mandarin oranges, kiwi, etc.)

1/3

cup

apricot or orange jam

3/4

tablespoon

water
Instructions
COOKIE CUPS: Preheat the oven to 350 degrees F. Grease and lightly flour a miniature muffin tin. Prepare the sugar cookie dough according to package directions. Roll balls of dough that will fill the miniature muffin tin 1/2 full (I use a 1 tablespoon measuring spoon filled most of the way full to measure out the dough, then roll it into a ball and put the ball in the muffin tin cavity). Press into the dough with a finger to slightly indent the center.

COOKIE CUPS BAKE: Bake for 7-10 minutes or until the tops are very lightly browned or no longer glossy at the edges. (This time will vary based on how much dough you have in the muffin tin so watch carefully). We don't want the cookies over-baked at all or they make for hard/unpleasant fruit tarts. Remove from the oven and immediately press down the centers with the back of a 1/2 teaspoon measuring spoon. Let cool for a couple minutes and then begin gently coaxing them out. Use a butter knife to trace around the edges and a fork to help gently coax out the cookie cup. Or pinch the edges and slowly twist the cookie up and out. Once they are out, you can further press down the center if desired. Let cookies cool the rest of the way on a cooling rack.

FILLING: Add softened cream cheese to a large bowl along with the 1/2 cup sour cream, 2 tablespoons orange juice, 1 teaspoon orange zest, 1/2 teaspoon vanilla extract, 1/4 teaspoon orange extract, and 1 cup powdered sugar. Beat with hand mixers until smooth, creamy, and well combined. We love the consistency of this filling, but if you'd like it slightly thicker, you can add a bit more powdered sugar. Place filling in the fridge for 20 minutes to firm up and allow flavors to intensify,

ASSEMBLY: Spoon the filling into the completely cooled sugar cookie cups. Add chopped fruit or berries to the top as desired.


GLAZE: Combine the 1/3 cup jam and 3/4 tablespoon water in a small microwave safe bowl and microwave for 15 seconds. Whisk with a fork. With a pastry brush, brush the jam over the top of fruit on each tart.


STORAGE: Mini tarts are best enjoyed within a few hours after making to ensure the sugar cookies don't get soggy :). If you'd like to store these, store the components separately -- the filling in an airtight container in the fridge and the cookies in an airtight container at room temperature.
Recipe Notes
Read the tips in the last paragraph for best results! I tried to scatter them throughout the instructions, but they are in greater depth there.