Special thanks to Lucky Leaf for partnering with me on this post! Thank you for supporting the brands that I love to use!
The best thick crust loaded with a custard-like lemon filling and loaded with sweet strawberry pie filling. Delicious and surprisingly simple to make!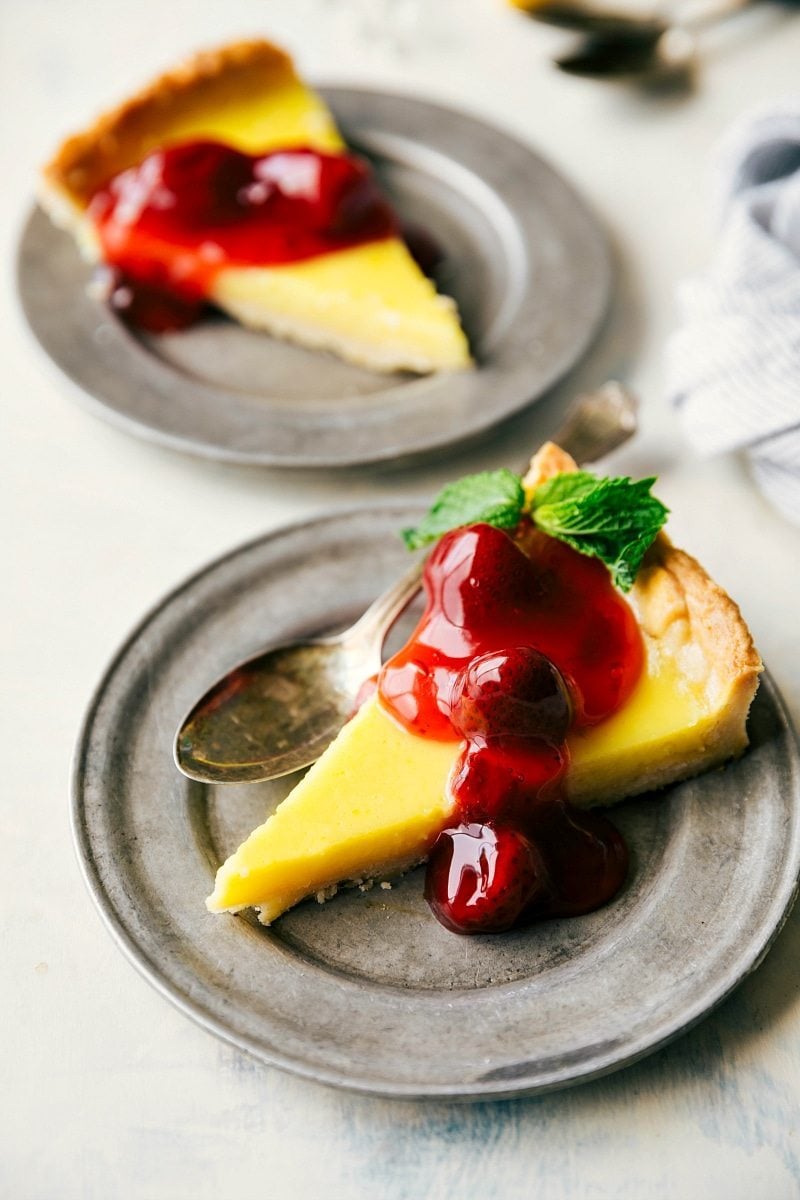 I've said it no short of a dozen times here — I am a total chocolate fanatic. My obsession with chocolate stems from a few things: 1. It's SO delicious. I mean is there anything better? and 2. My mom's complete obsession with chocolate. She seriously idolized chocolate growing up so naturally I grew up thinking it was the best thing a person could eat.
As kids we used to find hidden stashes of fancy chocolate bars that were supposed to my mother's only. If that didn't make us kids feel like chocolate was gold on a treasure hunt I don't know what would. And yes, we may or may not have eaten her hidden candy sometimes, because well, refer to point 1: it's SO delicious.
Self-control around chocolate? None. Literally none at all.
That said, there is one dessert in the world that I would pick over chocolate which I think is a pretty big deal. That dessert would be lemon bars. I've shared my tried and true favorite ever lemon bars here and they've gotten incredible reviews. You all love those too! This lemon tart is a wide variation on that recipe made with more of a cookie tasting crust and topped with a delicious strawberry pie filling. These were gone before the chocolate ganache-covered brownies I made in the same week, so that is really saying something.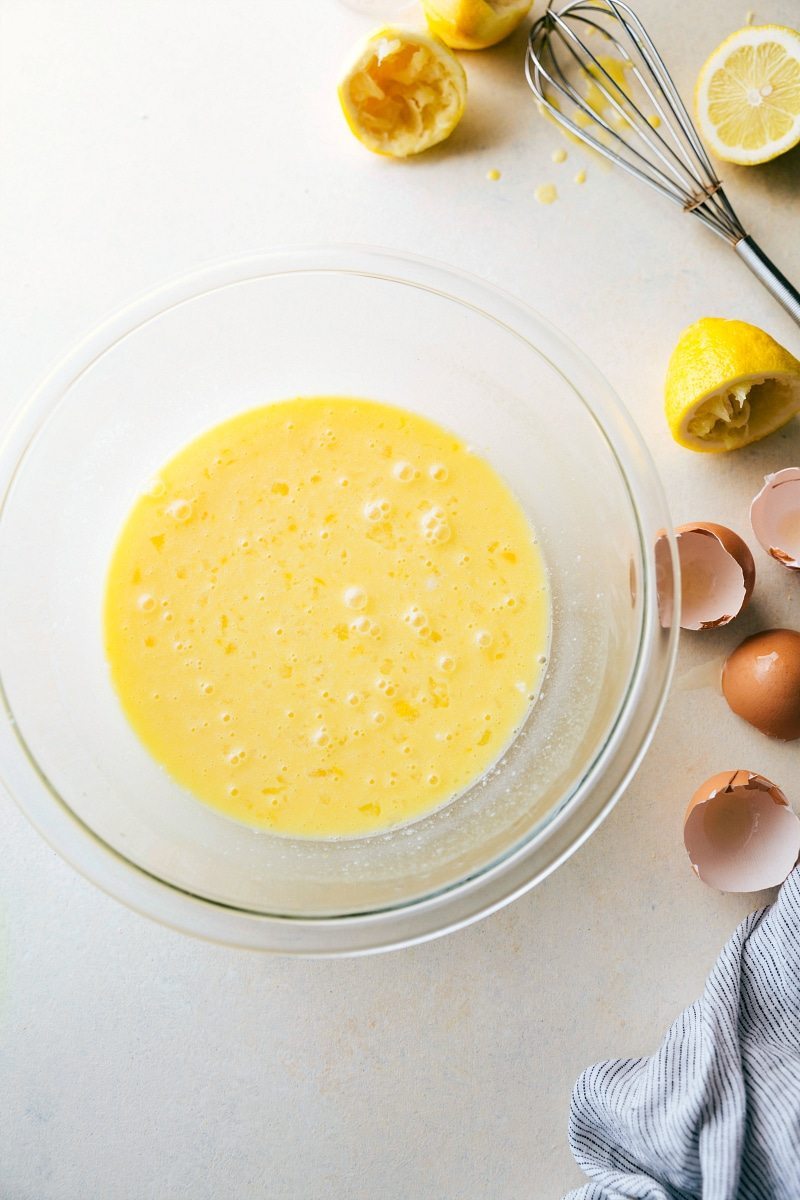 These bars are tangy, sweet, and have the absolute perfect filling-to-crust ratio which is a very important thing. The crust is honestly one of the best crusts I've ever had — buttery, sweet, and a perfect texture of not being too hard but not too soft either. It's got a great bite and with the light and smooth lemon topping you'll love that!
I always test my recipes a few times especially with baking since it is so much more precise than a dinner recipe. One of the times I tested this recipe I forgot to put the tart pan on another tray. When I went to pull it out, the edge of the tart pan touched my arm above the hot pad and I threw up the entire tart as a recoil. My arm instantly blistered up from the burn, and the tart was in about a hundred pieces on the door of my oven. And while I was definitely upset, I'll also admit that I ate about 90% of that broken tart while I sat in the kitchen with an ice pack on my arm. And I'm completely certain that broken tart did in fact make the burn much better.
I'm just saying, this crust is pretty delicious. PLUS it's crazy fast to make — you literally throw all the ingredients in a blender and pulse it until it resembles a crust. No kneading is needed! Take the crust out of blender and roll it into a ball and it's ready to go into the tart pan.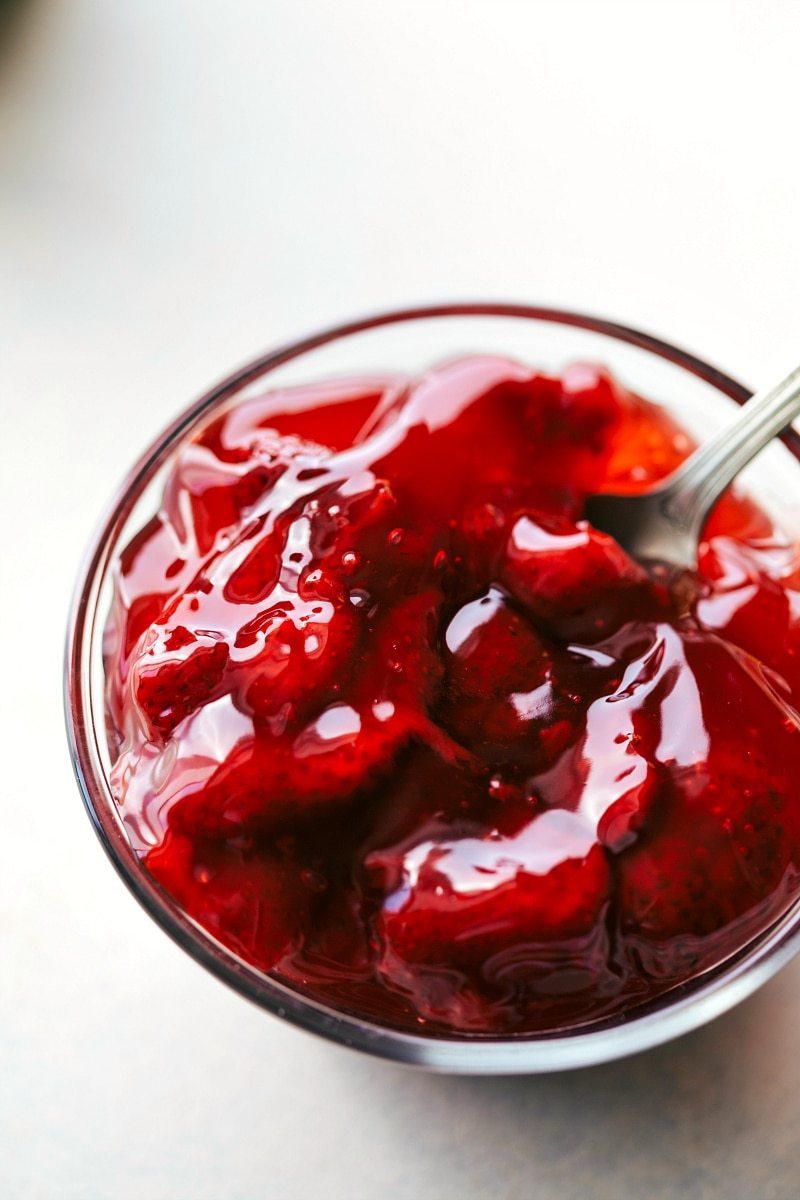 The lemon curd filling is seriously simple as well — you just whisk together a few ingredients and then strain the mixture and pour it on top of the tart. I've tested this recipe several times and the lemon filling is always perfect at exactly 20 minutes. I know ovens do widely vary but the things to look for is that the mixture looks set, but not necessarily firm. The filling might be a little runny in the center but that will completely set when it is cooled. The tart should be a bright yellow and not at all browned around the edges.
Make sure that you very precisely measure the lemon juice and heavy whipping cream and center will perfectly set-up.
And most importantly allow the tart time out of the oven to cool and firm up. You'll want to give it at least an hour in the fridge before cutting into it.

And last, but not least, we've got the delicious strawberry topping. Strawberries + Lemon are one of my all-time favorite fruit combinations. It's pairing sweet with tangy for a delicious overall flavor. Not to mention they look beautiful together! While it's still burning hot outside you don't want to spend time over a hot stovetop preparing a strawberry jellied mixture. So this dessert is the perfect way to spend more time outside and still have a delicious treat to share with family and friends.
To solve the problem of a simple (like the crust and filling) AND delicious way to finish up these lemon bars, I use Lucky Leaf Strawberry fruit filling and topping for these bars. Once they are completely cooled, you'll slice the bars and then generously top each bar with a few spoonfuls of the strawberry topping. The thick sugared-strawberries over this cool & tangy lemon tart is a match made in heaven! Especially on a hot summer day. The strawberry topping makes finishing these bars so quick, easy, and completely convenient!
P.S. If you are transporting this tart – it travels really well! Cover the tart tightly with plastic wrap (cut beforehand to make it easier) and bring along the strawberry topping in tupperware. When you get to your destination, it's a breeze to pull out these bars and add the strawberries to top it with. AND P.S. #2, for the video tutorial I tried out cherry fruit filling which was just as delicious as strawberry! Whichever you like best, try on this tart.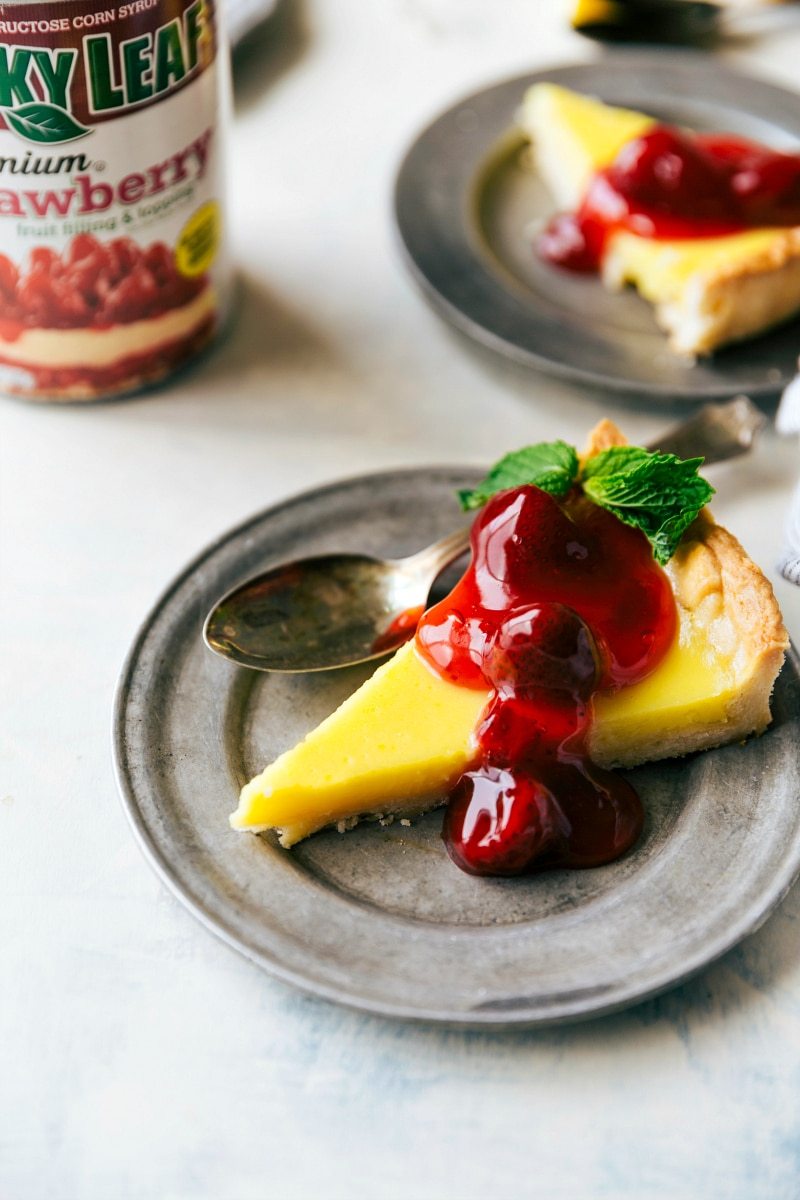 More delicious lemon desserts: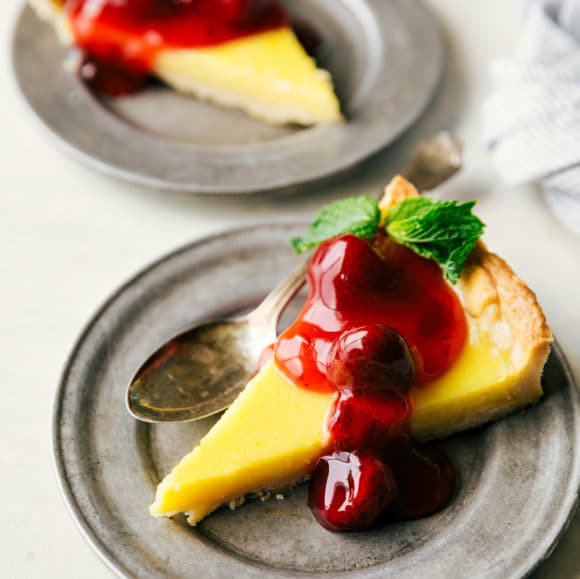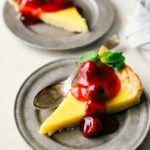 Strawberry Lemon Tart
The best thick crust loaded with a custard-like filling and loaded with sweet strawberry pie filling. Delicious and surprisingly simple to make!
Servings
:
1
(11-12 inch) Tart Pan
Ingredients
11 x 1 and 1/8th

inch

Tart Pan
Pie Crust
14

tablespoons

unsalted butter

3/4

cup

powdered sugar

2 and 1/2

cups

white flour

1

large

egg yolk

1

teaspoon

vanilla extract

1/2

teaspoon

salt
Lemon Filling and Topping
4

large

eggs

3/4

cup

white sugar

2

tablespoons

lemon zest

1/2

cup

freshly squeezed lemon juice

1/2

cup

heavy whipping cream

1

can Lucky Leaf Strawberry Filling
Instructions
Prepare the crust: in a large food processor, add butter, powdered sugar, and flour. Pulse until the butter is in small pieces.

Add in the yolk, vanilla extract, salt, and 2 tablespoons very cold water. Pulse until a crust forms.

Pour the mixture out onto a surface and roll into a ball.

Spray an 11 or 12 inch tart pan with nonstick spray. Preheat the oven to 350 degrees F.

Press the crust evenly into the tart pan and then cover and place in the freezer for 20 minutes.

Remove the tart from the freezer and place a sheet of tin foil over the tart. Cover the foil with rice (this is to weigh down the tart and keep it from rising up).

Place the tart pan on a cookie sheet.

Bake for 15 minutes. Remove the foil and bake for another 5-10 minutes or until the edges are a light brown.

Remove.

Meanwhile, in a large bowl, whisk together 4 eggs.

Pulse white sugar and lemon zest in a food processor until the sugar is fine but not powdered.

Add the sugar and lemon zest to the eggs along with the lemon juice and heavy whipping cream.

Whisk until combined.

Pour through a strainer into the partially baked tart.

Place in the oven for 20 minutes and then remove and allow to cool to room temperature.

Remove the tart from the cookie sheet and transfer to the fridge for at least 1 hour (covered).

Remove the tart and slice into pieces.

Top each piece generously with the strawberry filling.

Enjoy immediately.
Recipe Notes
Only top the bars you are going to eat with the strawberry filling. If you are going to have leftovers package the tart separate from the filling and then combine the 2 when ready to enjoy again.