My twist on Joanna Gaine's famous magnolia lemon pie — a thick graham cracker crust with a creamy rich lemon filling and fresh whipped cream on top. This truly is the BEST creamy lemon pie ever — everyone begs for the recipe!

Creamy Lemon Pie
Yes, I'm one of the millions of fans obsessed with the Gaine's family. I've loved their show over the years, have way too many dishes from her collection, and have been in love with her famous fresh lemon pie. I have a good amount of lemon desserts that I've shared over the years and make all too frequently, but when I read about Joanna's famous lemon pie, I knew I had to try it. And she was right, it did not disappoint!
In fact, we've made it so many times and I've tweaked so many aspects of it, I thought it was worth sharing with you my changes. While this pie is still quite true to her original recipe, there are enough some variations that I believe really make this lemon pie go from great to WOW. 🙂
I'm definitely a chocolate person, but if there is one thing that can get me away from chocolate, it's lemon. If you've made more than a few of my recipes, you know I use lemon A LOT — savory and sweet. This easy lemon pie might even out-rank some of my favorite chocolate desserts!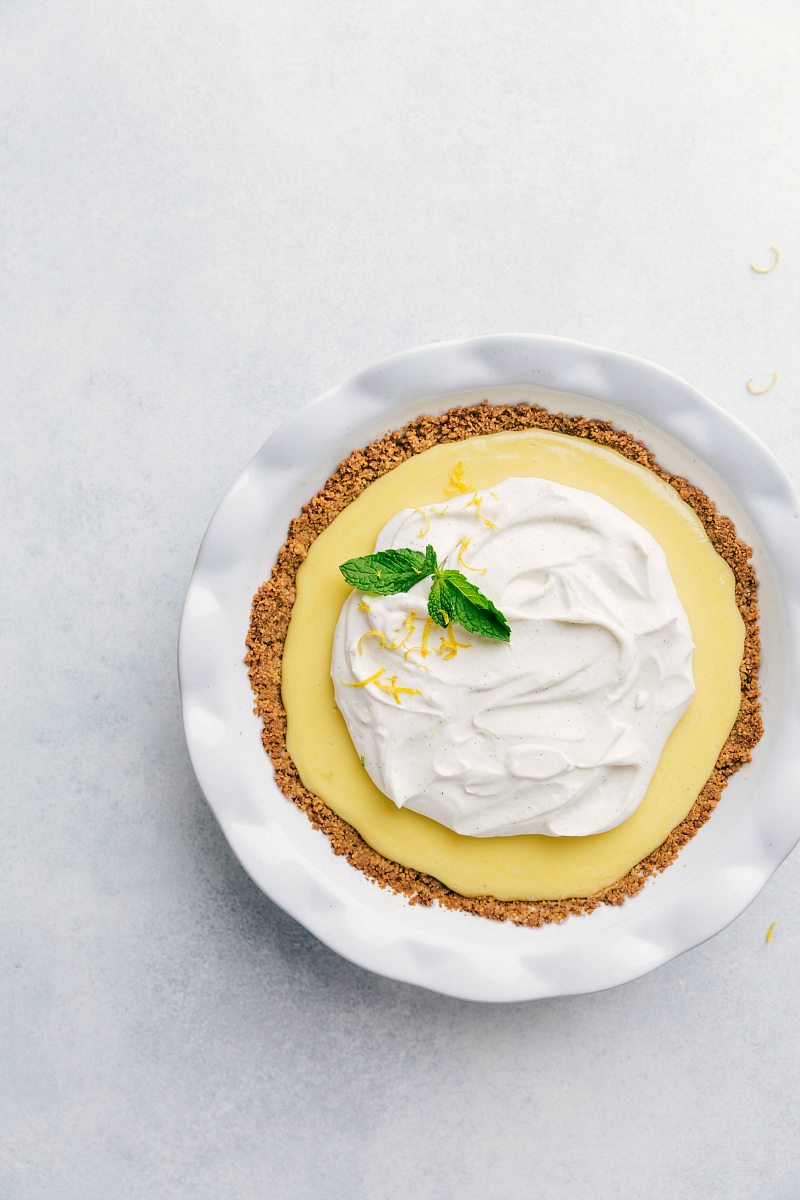 Tweaking Joanna's lemon pie with sweetened condensed milk:
The biggest thing I felt the pie was lacking was overall lemon flavor. The lemon was a bit too faint for me and so I decided to try increasing the lemon juice. When that didn't quite do it, I started adding in some lemon emulsion (which ended a little too strong) and finally I ended up on adding some lemon extract. The extra lemon juice and a bit of lemon extract takes this from being faintly lemon to a "pucker-up, this is definitely a lemon" treat. It's not overpowering, but much more present and flavorful.
Her recipe also calls for just over 2 cans of sweetened condensed milk which obviously makes this real lemon pie super sweet. The extra lemon and lemon extract help to balance that sweetness a bit better. I also reduce the sweetened condensed milk to cut that sweetness just a bit and to avoid the waste of a leftover half-filled can of sweetened condensed milk (I was never quite sure how to put it to use quickly enough!) A pinch of salt and some vanilla extract are the final balancing measures to the filling.
Besides the filling, I did tweak the crust just a little using my favorite graham cracker crust. I think it's the perfect texture and sweetness, so I use it here as well.
And finally, the whipped cream on top (which is a must make to cut through the sweetness of the lemon pie) gets some vanilla bean paste added. Vanilla bean paste is my favorite addition to whipped creams and frostings! It gives a slightly stronger and more robust vanilla flavor and it looks beautiful! Vanilla bean paste has actual vanilla beans in it so you'll see the tiny flecks of black throughout the cream.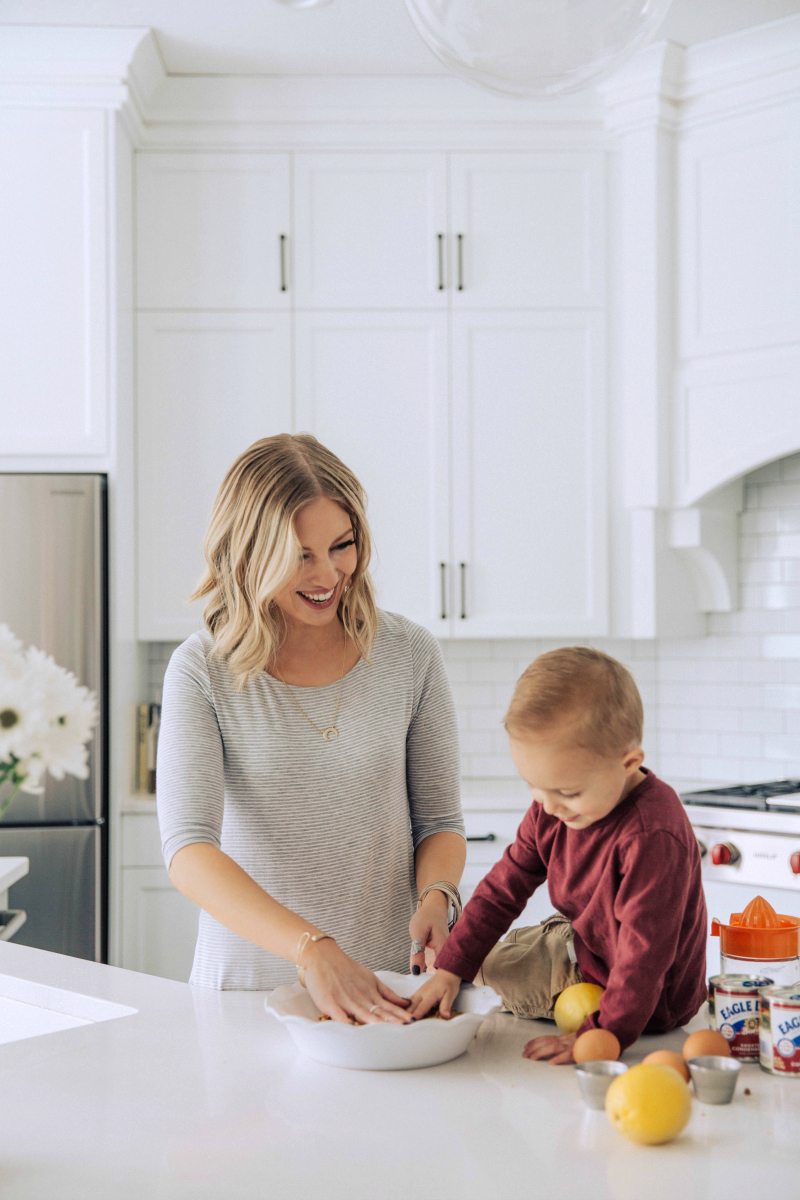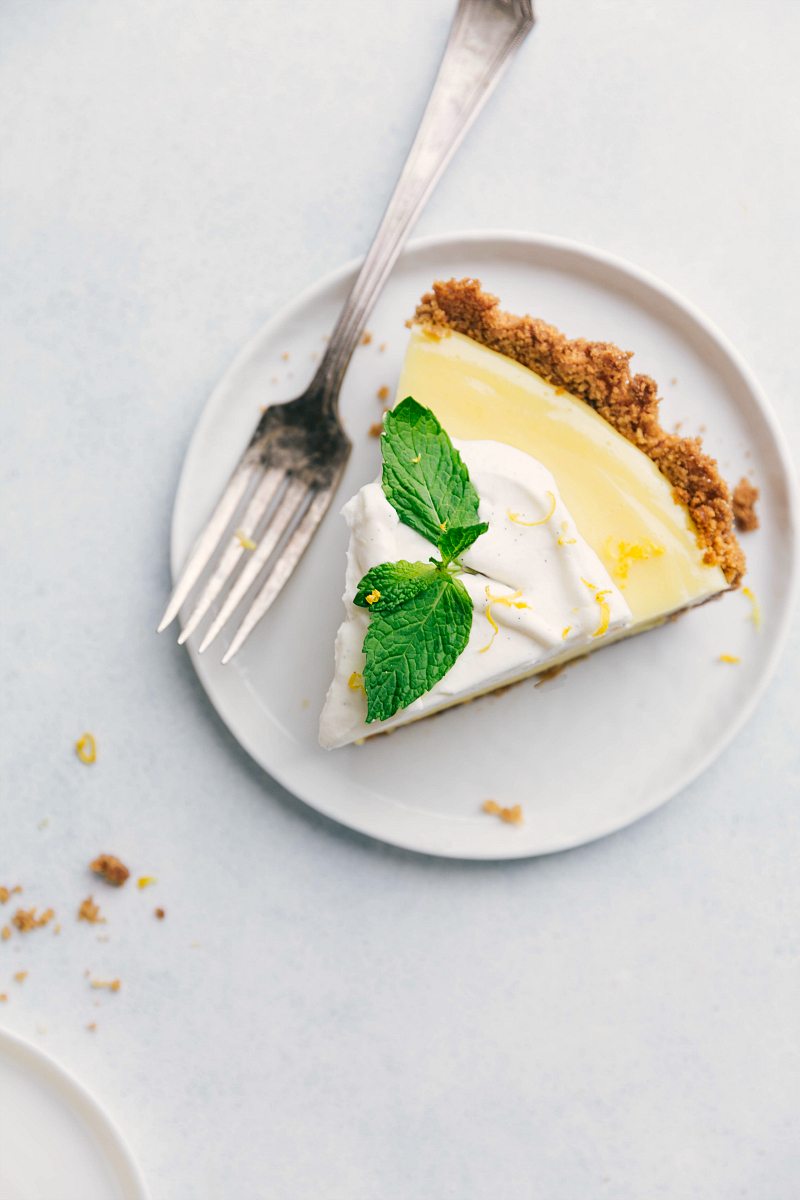 More Lemon Desserts:
For more delicious recipes, follow along on Pinterest, Instagram, Facebook, and YouTube ?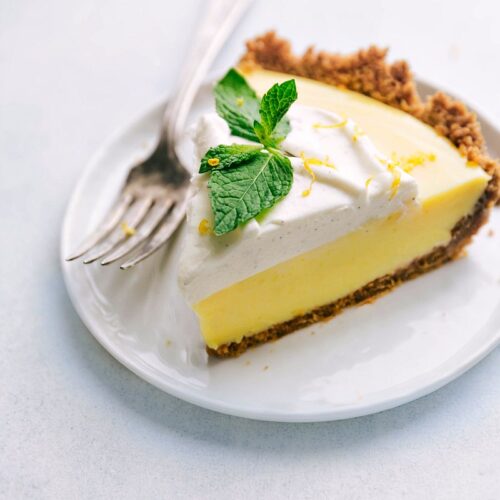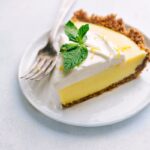 Magnolia Lemon Pie
My twist on Joanna Gaine's famous magnolia lemon pie
Ingredients
Crust:
1 and 1/4

cups (116g)

crushed graham crackers

about 9 sheets of graham crackers

5

tablespoons

unsalted butter,

melted

1/4

cup (49g)

light brown sugar,

packed

1/8

teaspoon

fine sea salt
Pie Filling:
2

cans (14 ounces EACH)

sweetened condensed milk (I use Eagle Brand)

3

large

egg yolks

3/4

cup

freshly squeezed lemon juice

1 and 1/2

teaspons

lemon extract

1/8

teaspoon

fine sea salt
Whipped Cream:
1

cup

heavy whipping cream

1/3

cup

powdered sugar

1

teaspoon

vanilla bean paste

Optional: lemon slices/zest, mint sprigs for garnish
Instructions
Preheat oven to 350 degrees F.

For the Crust: Spray a 9-inch pie dish with non-stick spray. Combine crushed graham crackers, butter, and sugar in a bowl and mix to combine. Press mixture into the prepared pie plate. Bake in the preheated oven for 8 minutes and set aside to cool.

For the Pie Filling: Using a mixer (stand or hand mixers), mix both cans of sweetened condensed milk, egg yolks, lemon juice, lemon extract, and salt together. Beat on medium speed for 4-5 minutes.

Pour mixture into the baked pie crust and bake for 10-15 minutes at 350. (Little bubbles will start to surface; cover the crust if it starts to brown too much towards the end. It should only slightly jiggle in the center) Let pie stand at room temperature for 30 minutes.

Chill in the refrigerator for at least an hour before serving.


For the Whipped Cream: Mix the cream, sugar, and vanilla. Whip until fluffy, and add to cooled lemon pie. You can either smooth it over the entire pie (if the pie will be completely consumed that same day) OR add it to individual pie servings (if the pie won't be eaten all the same day). Do not add cream to the entire pie if you plan on having leftovers as the cream gets watery after being stored. Refrigerate any pie leftovers. If desired garnish slices with lemon zest, a lemon slice, and/or fresh mint. Enjoy right out of the fridge!
Recipe Video