This naturally sweetened and healthier Peach Lemonade is so delicious and refreshing!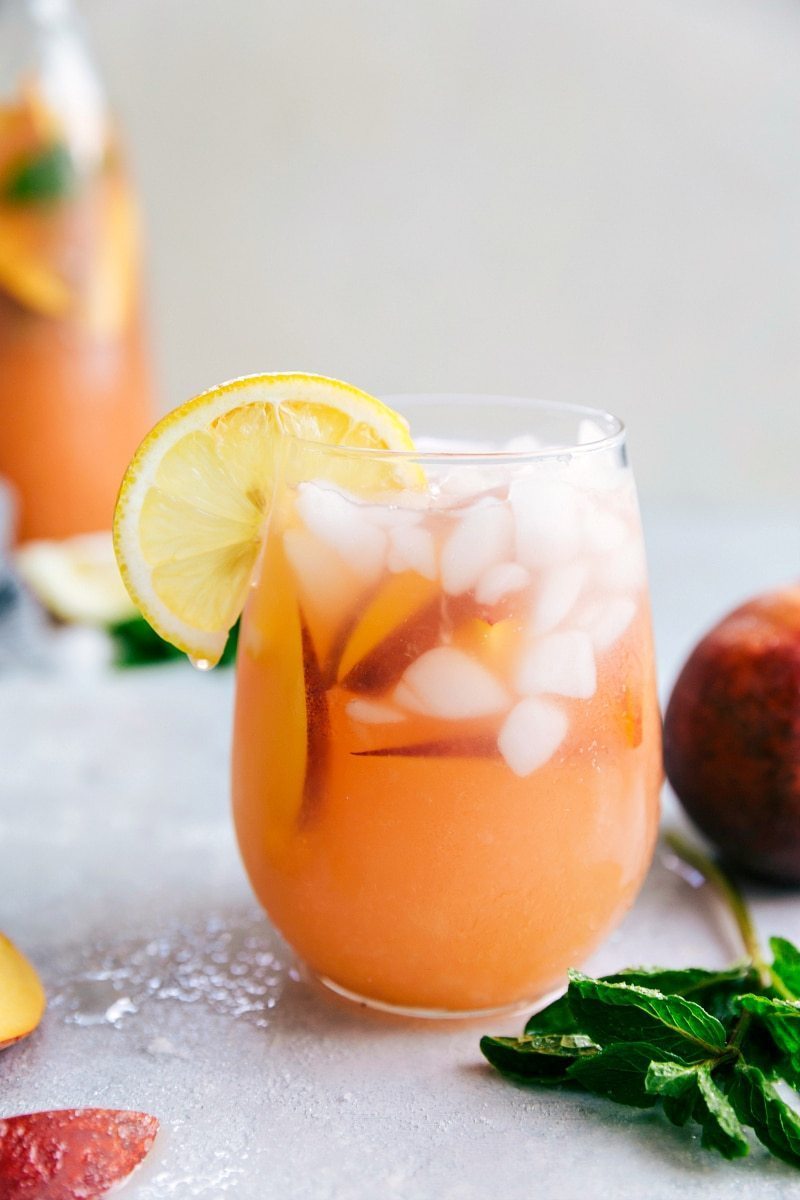 This past week I set up the toddler's first official chore chart. Together we decided on some (simple) chores he can do everyday and surprisingly he was super excited about it. After we came up with a few easy tasks, he ambitiously told me he could also clean and vacuum the family room everyday and wash his clothes (he actually does know how to do laundry)
I thought those might be a little much, but I added them to his chore chart anyways.
We decided we'd start the chores fresh on Monday of this week and he couldn't wait for Sunday to be over so he could begin his chores. (<– something tells me I didn't explain what chores are super well haha.)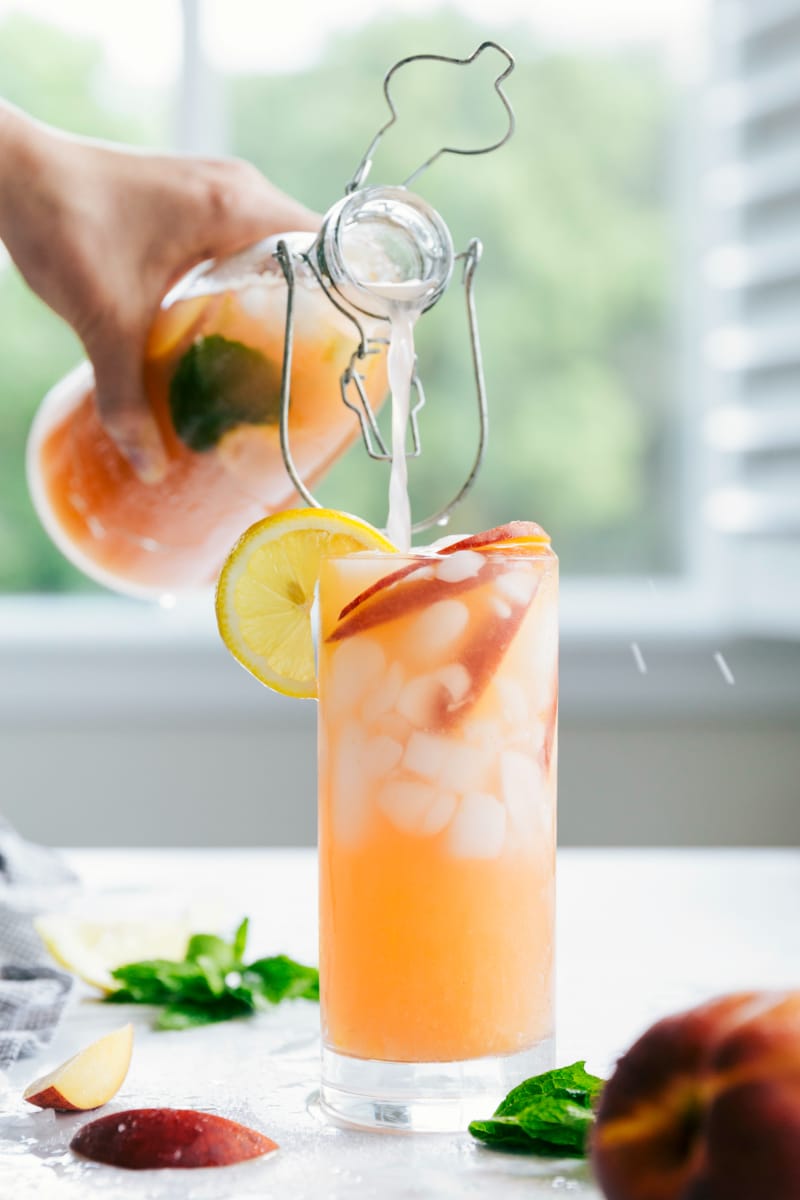 Flash forward to Monday and his first task on the chore chart which was to use our baseboard duster and wipe it around the baseboards in the kitchen area. He always plays with that big duster and there aren't too many baseboards in the section I asked, so I thought this was a super easy and appropriate task.
He began happy enough and about two minutes later he started whining with this exact statement, "this is so hard on my life."
I don't even know where he comes up with this stuff. Needless to say, I crossed off the last few chores he had excitedly said he could do and we're working on just accomplishing 5 tasks a day for now. And by day 5 I'm happy to report he's surviving despite his complaints and the "toll" these chores are taking on his life.
So there happens to be one chore on his list that he actually does love and that is to help his dad make fresh fruit juice. The husband recently got into juicing and makes some sort of fruit juice every other morning or so. Since the toddler loves helping I thought that would be a good chore for him and he seriously loves it. So when I started making this drink, the toddler told me he had to help me as part of his chores, which I gladly accepted. I chopped up peaches and he helped to measure them. He also (carefully supervised) stirred the peaches on the stovetop and then helped me blend and strain them. I think his favorite part of it all though was opening the Wholesome Organic Stevia packets. He had so much fun opening each one and dumping it in.
I mentioned this drink is naturally sweetened and that is all thanks to Wholesome Organic Stevia! This stevia is seriously magic — it's sweet with no bitter aftertaste (because there is NOTHING fake in it!) and there are zero calories. These stevia packets are my go to.
So we've got stevia in this lemonade and then of course peaches + lemons. And that is pretty much it! There is some water + ice and the option to add mint, but this drink is seriously simple and low on ingredients. Since there are so few ingredients it's really important to get super good quality and ripe peaches and lemons.
You'll also want to be prepared for the lengthly chill time this lemonade takes. While the steps are simple, it does take a bit of time from start to finish with cooling times.
But trust me, this drink is so worth it! You're going to want to sip this all summer long!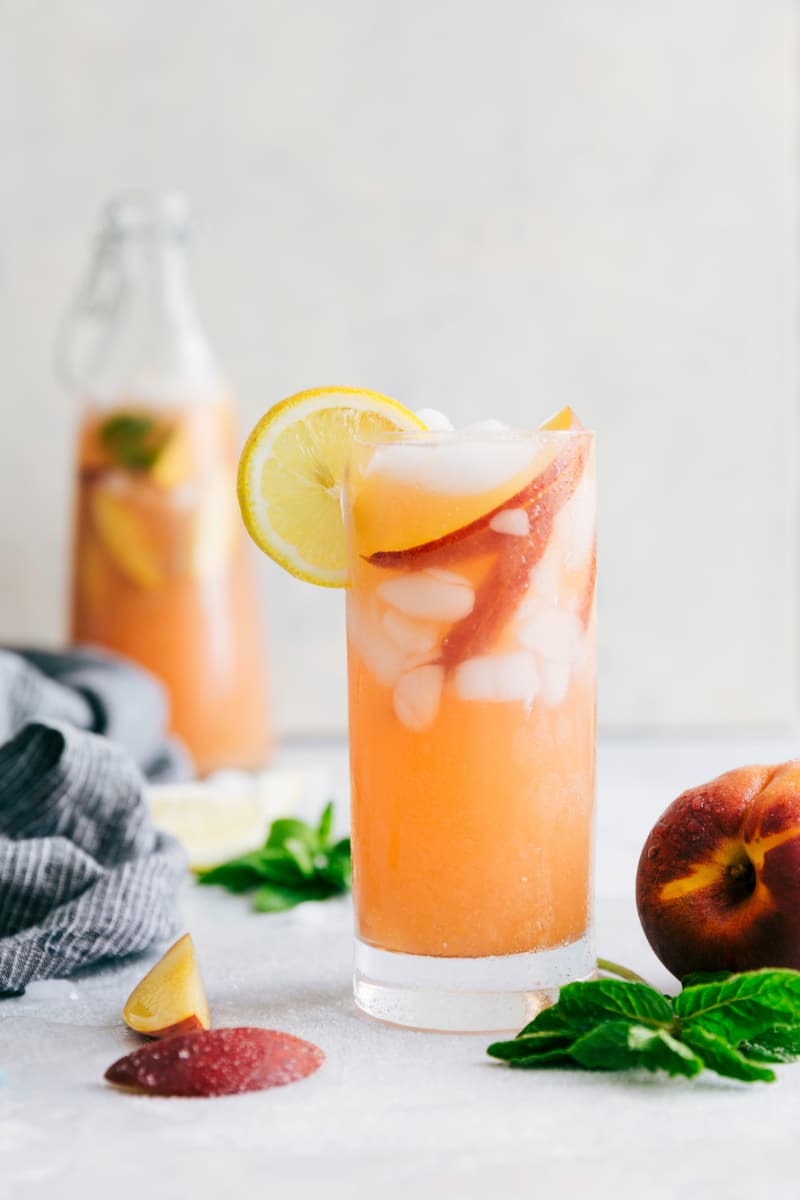 More refreshing drinks: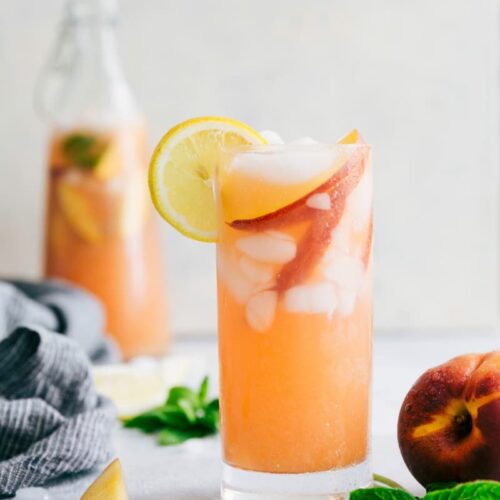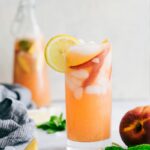 Peach Lemonade
This naturally sweetened and healthier Peach Lemonade is so delicious and refreshing!
Ingredients
4-5

large

fresh and ripe peaches,

chopped

4

cups

water

18

packets

Wholesome Organic Stevia

(1/4 cup + 2 tablespoons if not using packets)

7-8

large

lemons,

1 cup freshly squeezed juice plus some for garnish

Pebble ice

Optional: fresh mint
Instructions
Keep the skins, but remove the pits of 2-3 peaches. Coarsely chop enough peaches to fill 2 full cups.

In a pot over medium-high heat, add in the 2 cups chopped peaches, water, and stevia. Bring to a boil and then reduce the heat and simmer (uncovered) for 5 minutes. Remove from heat and let cool for 10 minutes.

Pour the peach mixture into a high powdered blender. Remove the center of the blender lid to allow for steam release. Cover the blender with a towel and blend until completely smooth.

Pour into a bowl and refrigerate until thoroughly chilled through, about an hour.

Press the peach mixture through a fine mesh sieve into a large pitcher. Use a spoon to press through the sieve and then discard any solids leftover. Stir in the fresh lemon juice (you'll use about 6-7 lemons). Slice the remaining peaches and add to the pitcher.

Fill up 8 cups halfway with ice and then add the lemonade. If desired garnish the glass with fresh mint. Slice up the last lemon and use as a garnish on the glasses if desired.