A skinny and delicious version of peanut butter blondies with no butter, no oil, and no flour. These blondies are also made without beans and with simple ingredients.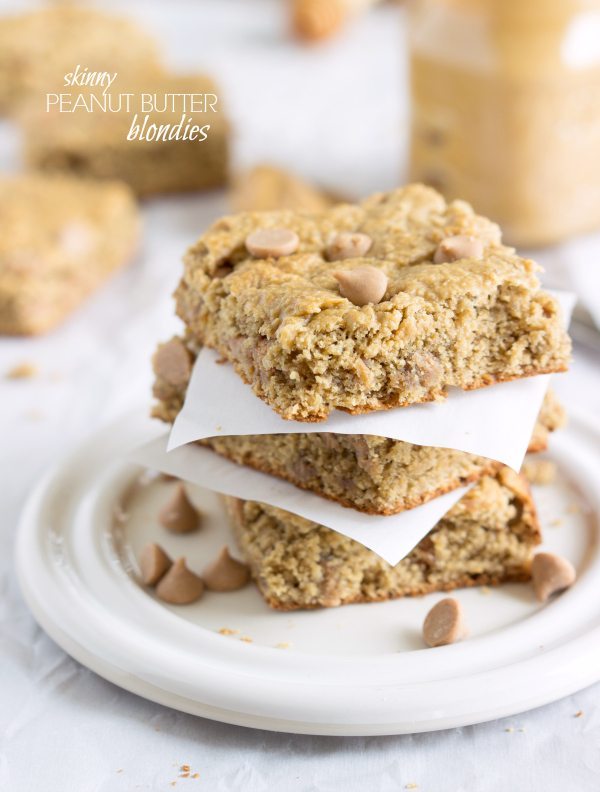 It's no secret that I love desserts. I mean, I seriously cannot resist an oreo ice cream bar. And I ate way too many of those this past week. (Trust me, if you just try a bite you will know what I'm talking about.)
But it's also a fact that I like to live a healthy lifestyle and try to have some balance.
Sometimes that balance in a cookie in each hand. (Whoever made up that saying was a wise person.)
And other times that balance includes making delicious desserts that are good for me. But also still taste like a dessert. Because that is very important.
And so these blondies were born. Not only are they delicious and dessert-tasting, but they are super healthy and good for you.
Like minimal sugar here and lots of great ingredients. For instance, oat flour. Which is just oats that have been put in a blender or food processor and blended until they resemble flour.
I love oat flour and it adds so many nutrients to these bars. Plus it keeps these bars super soft and chewy. That and the peanut butter.
There is some brown sugar in these bars and I have a range that you can put in. More brown sugar if you want sweeter bars and less if you are okay without the extra sugar. I've tried these with each range and can honestly say they are all great, but of course the more sugar is sweeter and more dessert-like.
Oh, and the peanut butter chips? Do not leave those out. You can switch them out for a dark chocolate or plain chocolate chip, but make sure to add something in because it's really what makes these bars go from good to great. I mean seriously great.
So now my kind of balance can be a peanut butter blondie in each hand. Yes, I can live with that 🙂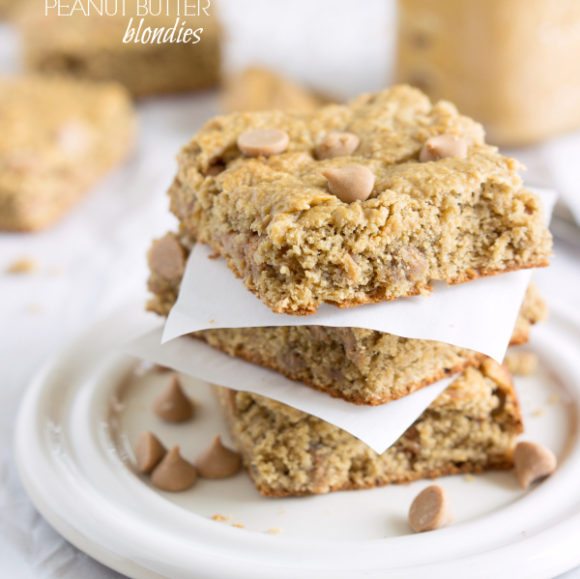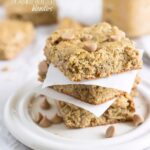 Skinny Peanut Butter Blondies (Bean Free)
Ingredients
1/2

cup

very ripe banana

~1 medium

1/2

cup

creamy peanut butter

2

tablespoons

honey

1

teaspoon

vanilla extract

2-4

tablespoons

brown sugar

lightly packed*

1

large egg

1/4

teaspoon

salt

1/2

teaspoon

baking soda

1/4

teaspoon

baking powder

1

cup

oat flour

oats that have been blended

1/2

cup

peanut butter chips
Instructions
Preheat the oven to 300 degrees F. Line an 8 x 8 baking pan with parchment paper. Allow the parchment paper to hang over the sides to create a way to pull out the blondies from the pan with the parchment paper.

Remove the banana peel and mash well using a fork. Measure the banana after it has been well mashed to ensure it is 1/2 cup.

In a large bowl, using hand mixers, cream together the mashed up banana, peanut butter (do not warm up), honey, vanilla extract, and brown sugar.

Beat until completely combined. Beat in the egg.

Beat in the salt, baking soda, baking powder, and oat flour.

To make oat flour, take oats and pulse them in a blender or food processor until they are in a flour like consistency. Make sure to measure the oat flour AFTER blending and not before or the amounts will be off.

Beat just until combined.

Stir in the peanut butter chips.

Pour the mixture into the pan and make sure the mixture is even throughout the pan. If desired, sprinkle some extra peanut butter chips on top (it makes them look prettier, but is completely optional)

Bake for 18-22 minutes or until lightly golden brown.

Remove and allow the blondies to cool.
Recipe Notes
Increase brown sugar depending on taste preferences (more if a sweeter taste is desired)
Here are some more "skinny" desserts:

Flourless Double-Chocolate Cookies