The tastiest peanut butter cup granola mixed into a creamy and delicious yogurt parfait. A healthy and flavorful breakfast that can easily be taken on-the-go.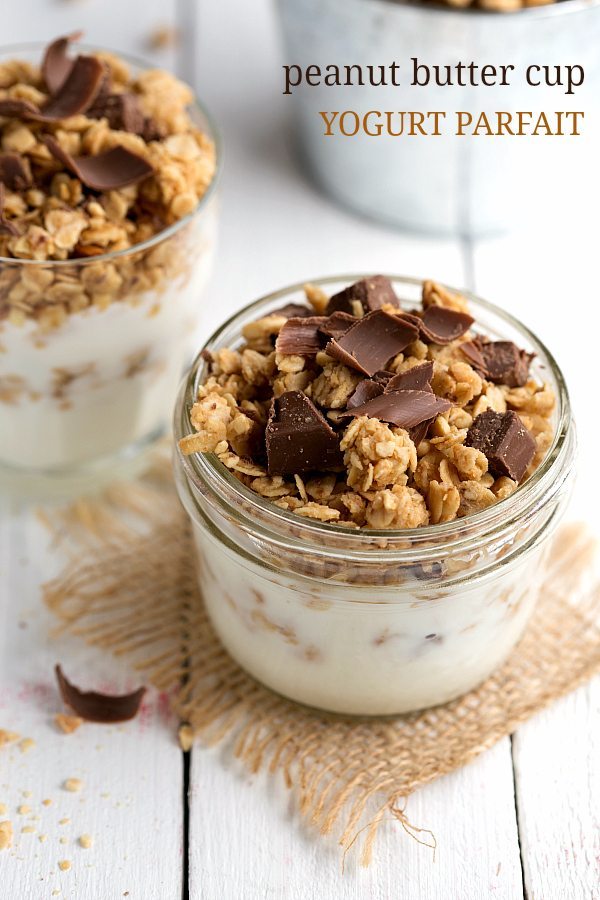 It's time we talk about one of my favorite people ever which would be my father-in-law. The first time I ever met him I was on my second date with my now husband.
My (now) husband had gone home from college for the weekend. I happened to be pretty close to his parent's home so he invited me over to see a movie at his home. When I came into their house (after obviously driving around lost for close to an hour because that's just how I do things), he introduced me to his parents and guess what his dad did? He came right over and gave me a big hug. He gives some of the best hugs by the way.
Anyways I thought that was the cutest thing ever and instantly fell in love with his parents. Which is a good thing since they are my parents kind of now too. So you may be wondering why I'm telling you gushy dating stories or introducing my father-in-law here on the blog? Well the reason is this recipe is all his idea.
Several months ago, we were skyping with my in-laws and they were asking me about how my blog was doing. My father-in-law told me he had "the best idea for my blog." Totally intrigued I asked him what it was to which he responded "Do a whole week-long series of yogurt parfaits!"
And since telling me about his great idea, I think he has brought it up half a dozen other times. Okay probably only a few more times, but I love whenever he reminds me that I haven't done the parfaits on the blog yet and that I need to hurry and get on that idea! I think it's really sweet that he thinks about my blog enough to come up with an idea, especially since food blogs aren't really his thing. I mean, he did ask me a question about Betty Crocker and called her Betty Crochet. 🙂
While I doubt my creativity to come up with an entire week's worth of parfaits that aren't the same thing (yogurt, granola, and fruit), I am very excited to share this one. And of course dedicate it to my father-in-law so I can finally tell him I put a yogurt parfait on my blog. All credit to him of course.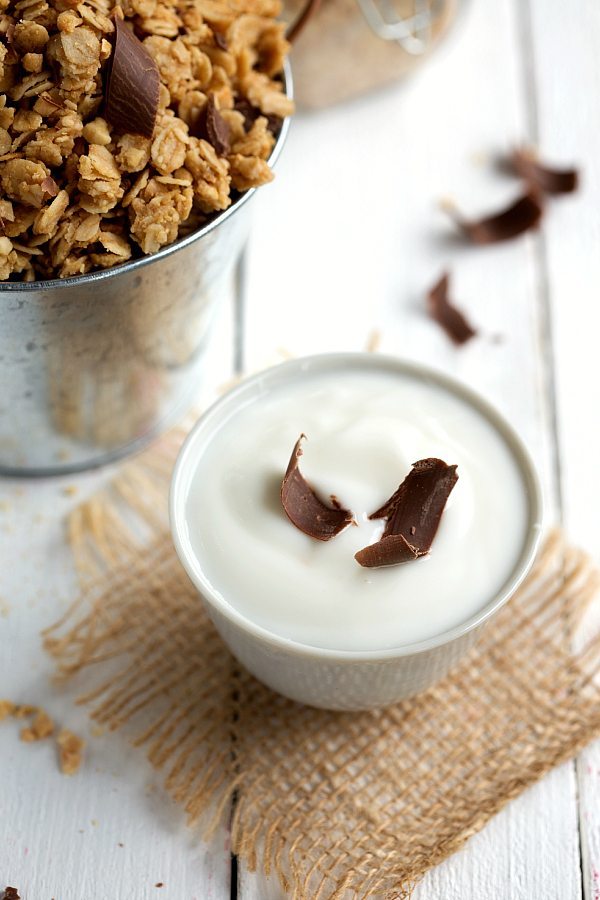 Mix some of that creamy delicious yogurt with this crunchy and tasty (plus super easy) peanut butter cup granola and you've got one heck of a delicious breakfast parfait!
Plus the chocolate curls…because I just had to 🙂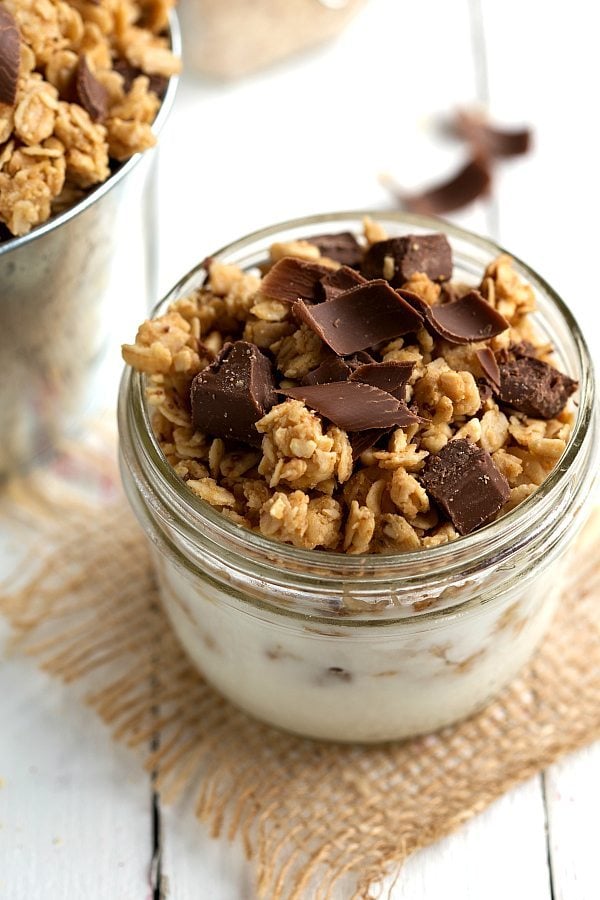 More breakfast recipes: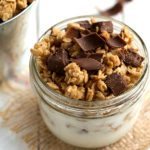 Peanut Butter Cup Yogurt Parfaits
Ingredients
Peanut Butter Cup Granola:
1/2

cup + 2 tablespoons

creamy peanut butter

4

tablespoons

honey

4

tablespoons

coconut oil

2

tablespoons

brown sugar

lightly packed

3

cups

old fashioned oats

1

cup

finely chopped peanuts

1 and 1/2

teaspoons

vanilla extract

1/2

teaspoon

salt

3/4

cup

chocolate chips or chopped chocolate
Parfait
Vanilla Bean yogurt

Greek or regular

Chocolate curls

optional
Instructions
Preheat the oven to 325 degrees F.

In a large bowl, combine the peanut butter, honey, coconut oil (measure when softened), and brown sugar. Microwave for 20 seconds and stir until well combined. Microwave an additional 20 seconds if needed to get to a stir-able consistency.

Stir in the oats, finely chopped peanuts (I bought a bag of already chopped peanuts). vanilla extract, and salt.

Mix until all the ingredients are well incorporated and then spread on a large baking sheet in an even layer. (Just take a taste now though cause it's SO GOOD!)

Bake for 10 minutes, flip and stir everything around, another 10 minutes, flip and stir everything around, and another 5-10 minutes or until lightly golden brown.

Remove and allow to cool until firmed/hardened into granola. Stir in the chocolate once the granola is completely cool.
To assemble the parfait:
Spread the vanilla bean yogurt evenly among the bottom of parfait dishes. Place a layer of the baked and cool granola, another layer of the yogurt, and another layer of the granola. Continue layering to desired preference and top the parfait with chocolate curls if desired.