Tasty Peanut Butter Granola is made with peanut butter, honey, coconut oil, and a few flavor enhancers. Toss shredded coconut and chocolate chips into your granola if you like!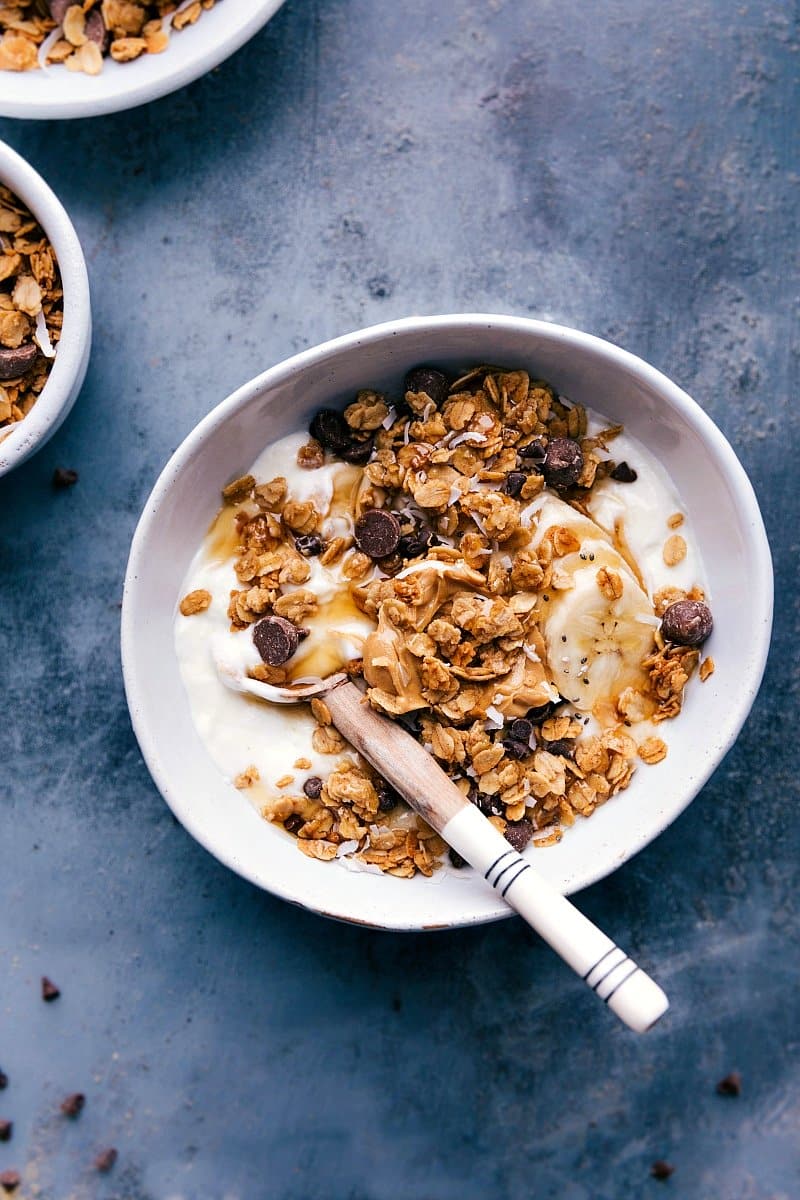 Homemade granola is the best!
We go through granola like crazy in my home; it's always being snacked on or added to breakfasts. It's so fun to try different flavor variations and Peanut Butter Granola has been on repeat the last few months.
Granola is a great healthy snack to make in advance and reap the benefits of having it throughout the week. Add it to the top of a smoothie or shake, grab a bag of it for an on-the-go morning, or add it to a yogurt bowl. There are so many ways to use homemade granola and below I'll share some more of our favorite ways to use it.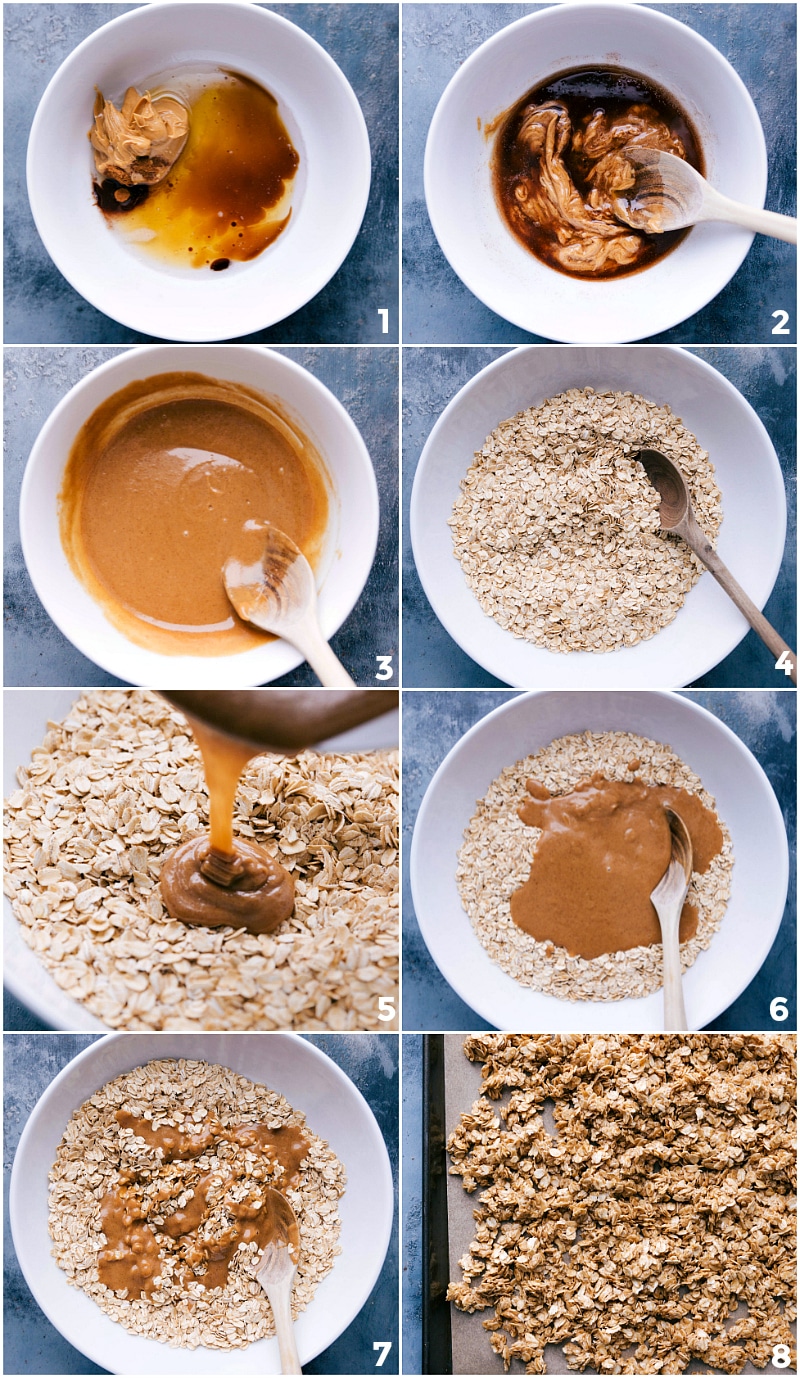 How to make Peanut Butter Granola
The collage of photos shows a quick overview of how to make this recipe. The numbered photos above correlate with the description below.
Combine the peanut butter, honey, coconut oil, vanilla extract, salt, and cinnamon.
Stir until wet ingredients begin to come together; microwave for 10-15 seconds if needed.
Mix until completely smooth and combined.
Measure out the oats — make sure to use old-fashioned oats, not quick or steel cut oats.
Add the wet ingredients to the oats.
Use a spatula to ensure ALL of the wet ingredients make it into the oats
Stir until all the oats are well coated
Spread onto a lined tray and bake in 7 minute increments, tossing the granola in between each increment.
What can I eat with granola?
As a quick snack: A few handfuls of granola as is makes a great, fast snack.
In a parfait: Layer honey vanilla yogurt with Peanut Butter Granola, and a layer of freshly sliced bananas. Top off the parfait with a drizzle of peanut butter.
As cereal: Pour a bowl of this granola and add in some milk for a healthy filling breakfast.
Sprinkle over yogurt: Add to a container of yogurt for a great on-the-go snack.
On apple slices: Dip an apple in peanut butter and then dip it in this granola.
In an açaí bowl: Add a few tablespoons of granola right on top.
Here are 14 other ways to use homemade Peanut Butter Granola!
Peanut Butter Granola tips
Toss the granola frequently while baking. This helps the ingredients cook evenly and avoid burned areas.
Give the granola time to harden. The granola will still seem soft after baking, because it needs a few hours to firm up. Don't cover or package the granola until it is completely cooled and hardened.
Make it your own. If you aren't a fan of coconut or chocolate, switch out those ingredients for something else. Some ideas include coarsely chopped nuts, pumpkin seeds, and miniature M&M's.
To get honey from the measuring cup to the bowl neatly, quickly spritz the measuring cup with nonstick cooking spray and then add in the honey. The honey will slide right out into your bowl.
More breakfast recipes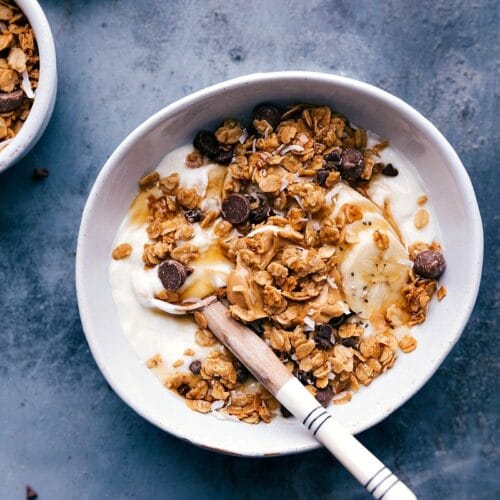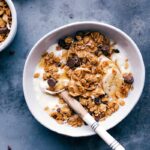 Peanut Butter Granola
Super-tasty Peanut Butter Granola is made with peanut butter, honey, coconut oil, and a few flavor enhancers. Toss your granola with shredded coconut and chocolate chips if desired!
Course:
Breakfast, Dessert
Keyword:
peanut butter granola
Ingredients
1/3

cup (84g)

creamy peanut butter

1/3

cup (105g)

honey

3

tablespoons (42g)

melted coconut oil

1 and 1/2

teaspoons

vanilla extract

3/4

teaspoon

fine sea salt

1/2

teaspoon

ground cinnamon

3

cups (291g)

old fashioned oats

(not quick oats or steel cut oats)

1/2

cup (25g)

unsweetened shredded coconut or coconut flakes

1/2

cup (107g)

chocolate chips or chopped chocolate
Instructions
PREP: Preheat the oven to 325 degrees F. Line a large sheet pan with parchment paper or a nonstick Silpat liner and set aside. Measure out the oats in a large bowl and set aside.

WET INGREDIENTS: In a medium-sized bowl, combine the 1/3 cup peanut butter, 1/3 cup honey, and 3 tablespoons coconut oil (measure when melted). Add in the 1 and 1/2 teaspoons pure vanilla extract, 3/4 teaspoon fine sea salt (reduce if sensitive to salt OR if your peanut butter is salted), and 1/2 teaspoon ground cinnamon. Stir until smooth. If needed, microwave for 10-15 seconds to get to a stir-able consistency.

OATS: Once wet ingredients are combined, pour into the oats. Use a spatula to scrape all of the wet ingredients into the oats. Mix until ingredients are combined and well incorporated.

BAKE: Spread mixture on the prepared sheet pan. Bake for 7 minutes, stir the ingredients, bake for another 7 minutes, stir again, and return to the oven for 4 more minutes. At this point, you can add in the 1/2 cup coconut flakes (toss) and bake for another 3-4 minutes if you want the coconut toasted. This will give you about 21 minutes total bake time which is how long I always bake my granola for. Remove from the oven and toss once more.

COOL: Remove and allow the granola to cool until firm and hardened into granola (which takes about 3-4 hours). Stir in the chocolate once the granola is completely cool (unless you want the chocolate to melt into the granola).

If you do want melty chocolate peanut butter granola, add the chocolate after the granola has cooled for about 5-7 minutes and then let the chocolate cool with the granola (don't toss it).

STORE: Store in airtight container, out of sunlight, at room temperature for 3-4 weeks (do not refrigerate). Freeze any leftovers for up to 3 months.
Peanut butter granola health FAQs
Is adding peanut butter to oatmeal healthy?
Peanut butter is a great source of protein and healthy fats. Peanut butter has a lot of calories, but that also means a little goes a long way towards filling you up. As with all things, in moderation and with proper portion control, peanut butter is a great, healthy addition to oatmeal.
Why is granola good for you?
The oats and nuts often found in granola offer impressive amounts of fiber, iron, protein, and healthy unsaturated fats. While there are so many good health benefits from eating granola, it's also important to practice portion control. Granola is often high in calories and typically high in fat.