A delicious and moist chocolate banana bread made with healthier ingredients! One bowl, no mixers required!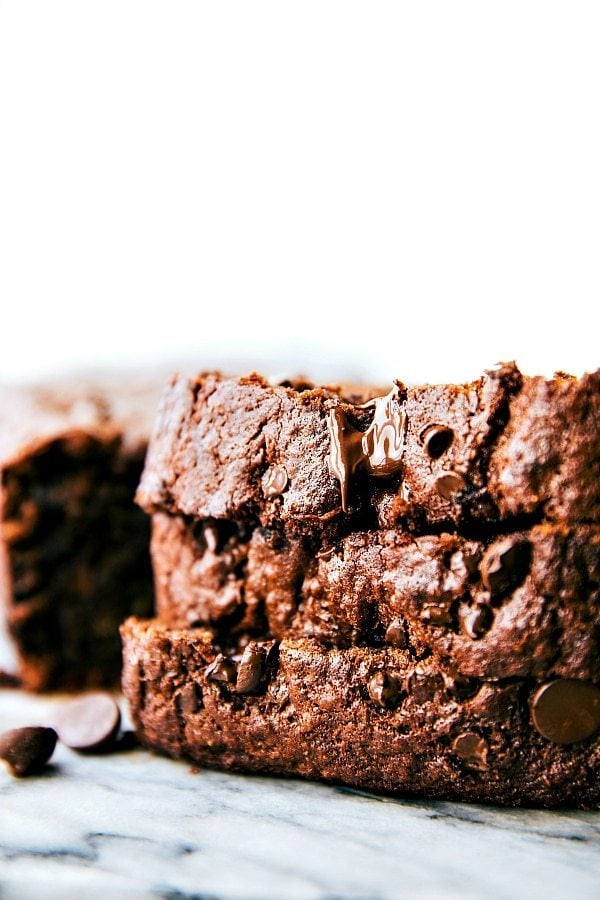 Okay for those of you patiently awaiting the CHOCOLATE BANANA BREAD it is finally here! If you remember, there was a vote for chocolate or lemon blueberry bread and since this one lost the vote, it's had to wait a couple of weeks. But there were enough requests to still share the recipe with you all ☺️
And I do have to say, I've never seen the toddler inhale something as quickly as he does this bread right out of the oven. He can't even wait for it too cool down before eating a slice. My sister was over one of the times we made this and she kept having to remind him to breathe a little. "Um…is he going to choke or something?" She asked.
That's when we started breaking off pieces to give to him instead of a plate with the bread on it. Turns out that didn't make Mr. Independent (other names: "I have to do EVERYTHING myself" "No, Grey (except when he says his name it sounds like "Ray" do it") very happy. ? On a side-note, he has recently learned how to say his own name and now he will not-so-patiently remind me that "Ray do it" for every single thing.
In other news he also refuses to believe that the word "Grey" can also be a color. We've been trying to teach him colors and while he can pick out blue, red, white, and yellow anywhere, he will get extremely defensive when we tell him something is the color gray. "No, me, Ray" he'll say. ?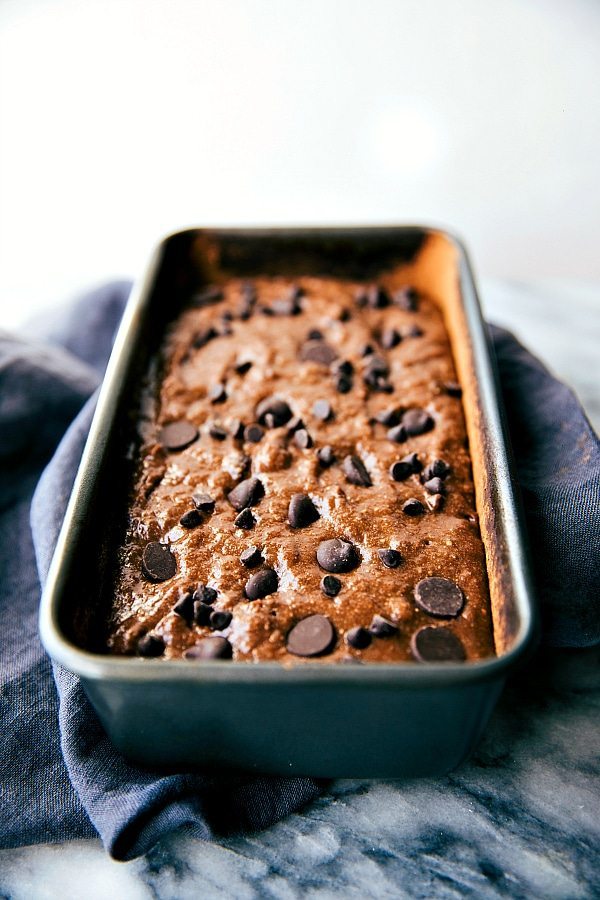 So let's talk about the recipe for a quick minute! This bread is very quick and easy to make! NO mixers needed and only one bowl is required for mixing it all together. Although it's super simple to make here are a few notes based off the comments I get on other healthier baked good recipes.
✔️ I call for vanilla Greek yogurt in this recipe. You can use reduced fat, but I would NOT recommend fat-free. Obviously you are going to get the most flavor and "thickness" with a full-fat Greek yogurt. I generally use reduced fat. The reason I call for vanilla is that is yields SO much more flavor than plain Greek yogurt in baked goods. If all you have is plain it will work, but you've GOT to try this sometime with vanilla flavored!
✔️ Oat flour. What is it? Basically just powdered oats. It adds a great texture, a different flavor, and a healthier aspect to this recipe. All you do is blend up regular old fashioned or quick oats in a blender until the resemble regular flour. I've used $20 blenders and my high powered Blendtec and both will do the trick just fine. No need to go buy oat flour; oats blend up in seconds. Unfortunately you can not use ALL oat flour in this bread. I have tried it and it was not successful. Also if you attempt to use a different flour in this bread please note that it may not yield the right texture. Oat flour absorbs much more liquid than regular flour.
✔️ Chocolate Chips. Any type of chocolate chip will work — semi-sweet, milk, dark, or chopped up chocolate. I use and call for dark chocolate just because of its health benefits. If you aren't a fan of dark chocolate though, use a different type and while it won't be as healthy I'm sure it will be delicious!
✔️ Egg situation. I call for 1 large egg and 1 egg yolk this is for the lift of the bread and the flavor. I think you'll find it so much more flavorful with the extra egg yolk. BUT I know we all hate wasting food. You can discard the white OR save it for another recipe. I save all my whites to use in a breakfast or lunch for my boys. Here's a simple wrap recipe we make all the time with the leftover egg whites. ??
Hopefully those notes are helpful; please let me know if you have any other questions in the comment section! I've also made a short 1 minute video to show you a quick overview of this recipe. Enjoy ?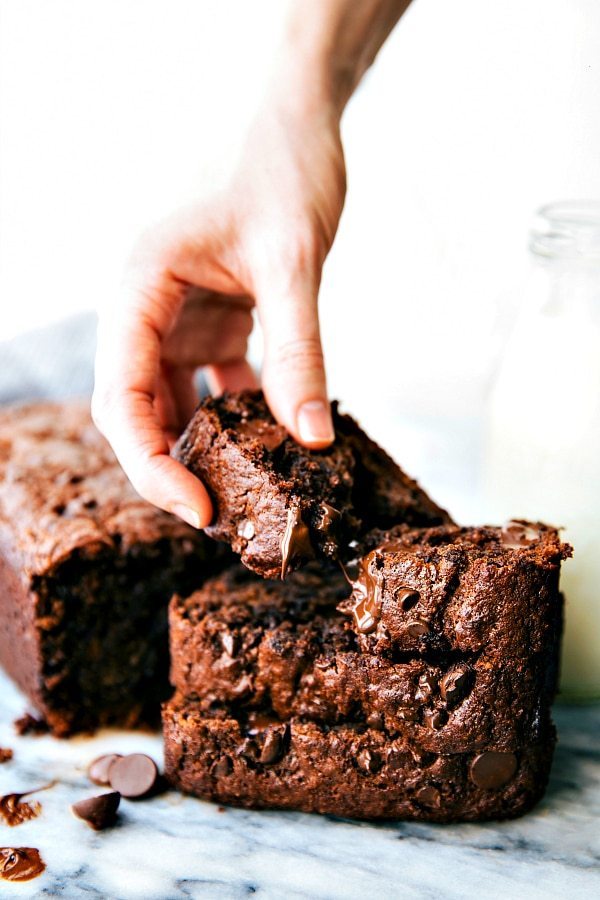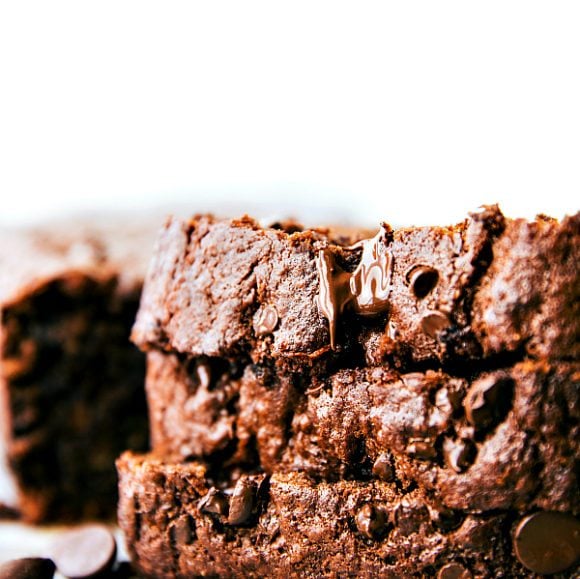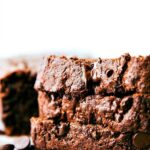 Healthier Chocolate Greek Yogurt Banana Bread
Ingredients
Dry
1/3

cup

old fashioned oats

1/2

teaspoon

salt

1

teaspoon

baking soda

1

cup

white whole wheat flour

or plain white

1/4

cup

unsweetened cocoa powder

1/2

cup

chocolate chips

dark chocolate chips for healthier

1/4

cup

miniature chocolate chips

dark chocolate chips for healthier
Wet
1

large egg + 1 large egg yolk

1/2

cup

vanilla Greek yogurt

1/2

cup

coconut oil

1

teaspoon

vanilla extract

3/4

cup

white sugar

1

cup

mashed bananas

~2-3 bananas
Instructions
Preheat the oven to 350 degrees F. Generously grease and then lightly dust a bread pan with cocoa powder (or flour) and set aside.

I use an 8 and 1/2 x 4 and 1/2 bread pan.

In a large bowl, whisk 1 large egg and 1 large egg yolk (discard or save the whites for another recipe). Add in the vanilla Greek yogurt and coconut oil. Make sure to measure the coconut oil in LIQUID (melted) form. Melt the coconut oil, measure, and then allow to slightly cool so you don't cook your eggs.

Add in the vanilla extract and the white sugar.

Mash 2-3 extremely ripe bananas until WELL mashed and the consistency of a thick applesauce. Measure to ensure you have 1 full cup of banana. Add to the wet ingredients and mix well.

In the same bowl, add the oat flour (measure oat flour AFTER blending the oats; to make oat flour, put old fashioned or quick oats in a blender and pulse them until they resemble flour).

Without mixing yet, add the salt, baking soda, white or white whole wheat flour, cocoa powder, regular and miniature chocolate chips.

Mix together, very gently, until just combined (over-mixing will yield a denser bread).

Spoon the batter in the bread pan and if desired add a few more chocolate chips to the top.

IF desired, sprinkle 1-2 tablespoons white sugar on top of the bread for a nice "crust"

Bake for 55-65 minutes or until a fork when inserted into the center comes out clean or the bread starts to pull away from the edges. If needed, tent the top with tin foil if the top of the bread is baking faster than the rest.

Remove from the oven and allow to cool. Remove from the bread pan.

Store in an airtight container in the fridge.
Recipe Notes
If you substitute out the oat flour you will likely need more regular flour. Oat flour absorbs a great deal more liquid than regular flour.
More delicious healthier baked goods: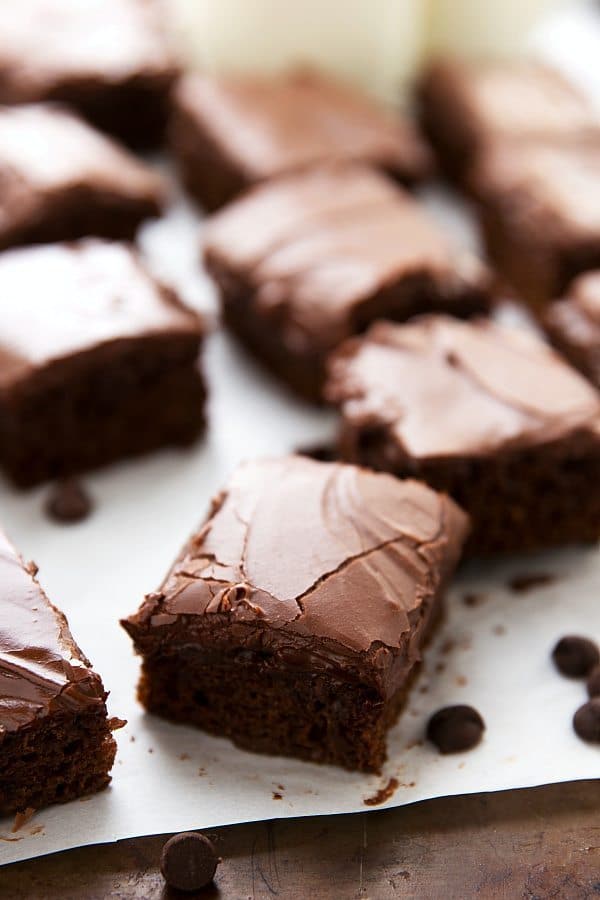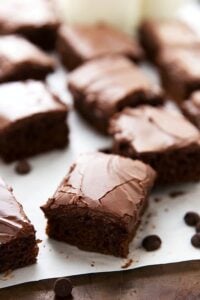 The BEST healthy brownies with no flour, no refined white sugar, no butter, and no eggs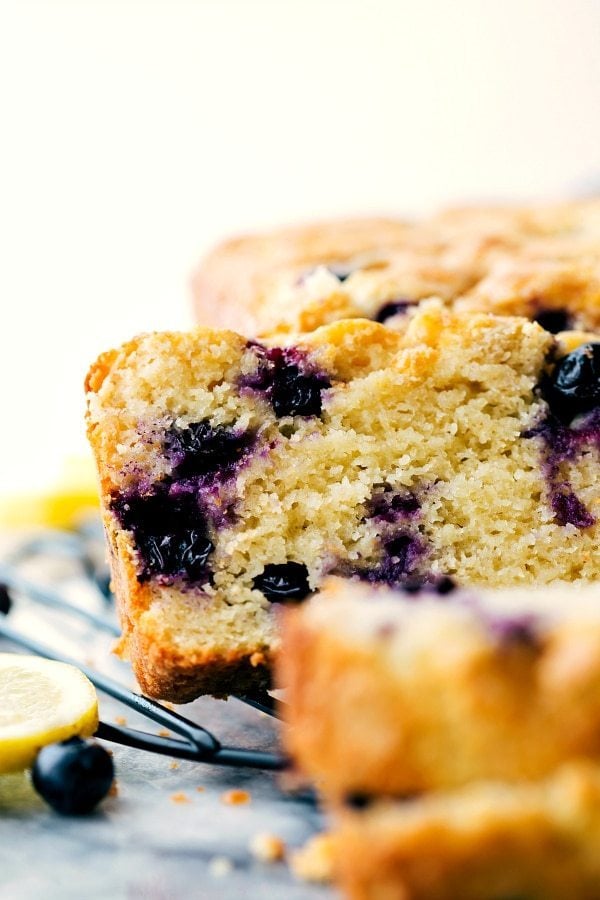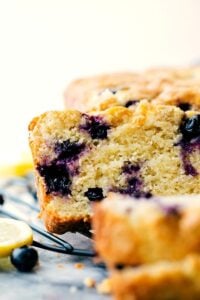 A healthier lemon-blueberry GREEK YOGURT sweet bread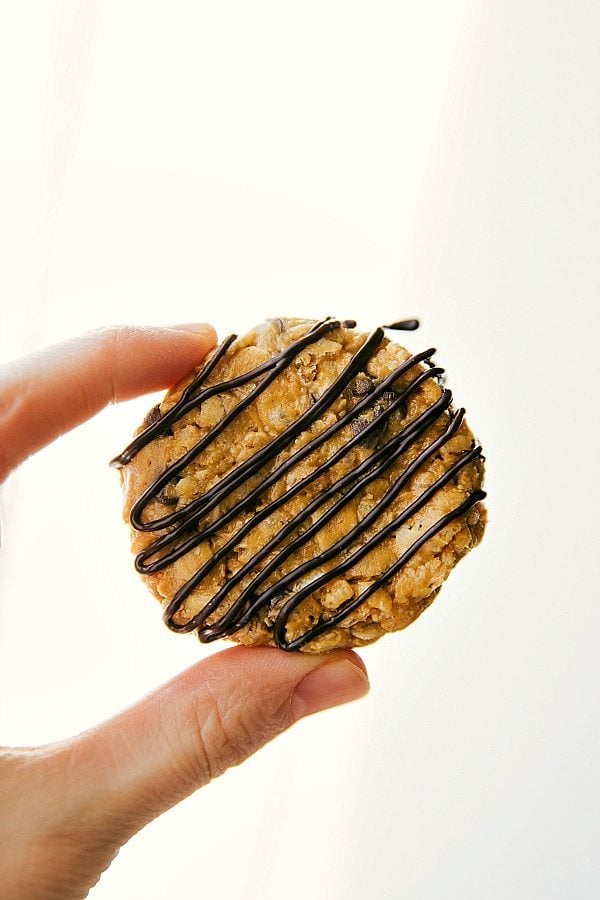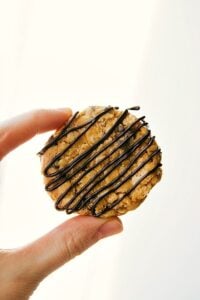 No bake, healthy, and easy breakfast cookies