A deep-dish skillet cookie (pizookie) with a sugar cookie base, a Reese's candy interior, and a M&M chocolate chip cookie dough topping.

When the husband and I were going to college we found a little dessert cafe that quickly became our favorite place. The cafe is in a remodeled historic mansion (built in 1909) which makes for a fun cafe ambience. They serve all kinds of from-scratch desserts, but we never did end up trying all that many while we lived near the cafe. However, it wasn't from lack of going there often enough, it was from our fear of branching out because we both knew their "cazookies" (also known as pizookies) could never disappoint.
Massive deep dish cookie skillets with a generous serving of ice cream on top is what the name "cazookie" entailed. The first time we went we got one each and quickly learned they could easily be shared with about 3-4 other people. 🙂
But we ended up graduating from college and after moving a few hundred miles away from that little dessert cafe, I knew it was time to make my own deep dish cooke recreation. I'm calling this a "Pizookie" in case "Cazookie" is their signature word.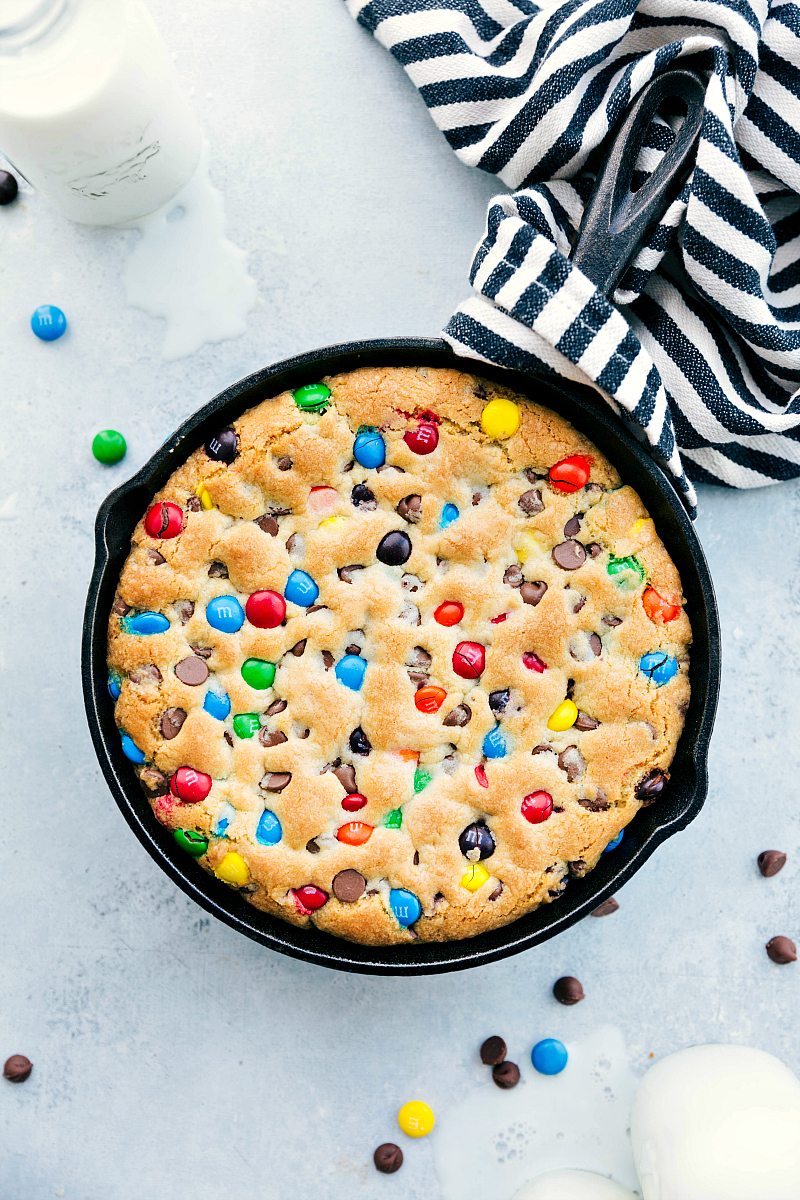 So WHAT exactly is a pizookie?
A pizookie = a hybrid word combining pizza and cookie. For those days when you need a pizza-sized cookie! 🙂
How do you make a pizookie?
Much like making a small batch of cookies, you make a pizookie the same way! You start with a cookie dough (but don't just use any cookie dough, as not all bake up as well in a skillet!), press that dough in a greased skillet, and bake it all at once!
For this pizookie, you'll separate the cookie dough into 2 parts. The first part gets pressed into the bottom of the skillet. On top of that dough you'll add in the (unwrapped) miniature Reeses's cups (they get all melted and it's like you have a chocolate & peanut butter center which is unbelievably good!) Then you'll take the remaining cookie dough, add in the M&Ms + chocolate chips, and press that on top. Once everything is in the skillet you'll bake it for 20-25 minutes. You'll want to eat it pretty quick after being baked because it's still slightly gooey in the center (what I consider the hallmark of a perfect pizookie!) and if you put ice cream on top it will get all melty.
How many calories are in a pizookie?
A lot! Especially in this one that's packed with M&M's, chocolate chips, and miniature Reese's cups! It's got quite the amount packed into a cookie. BUT if you're sharing with a lot of people, it ends up having comparable calories to most desserts. For one of six servings it comes to 437 calories.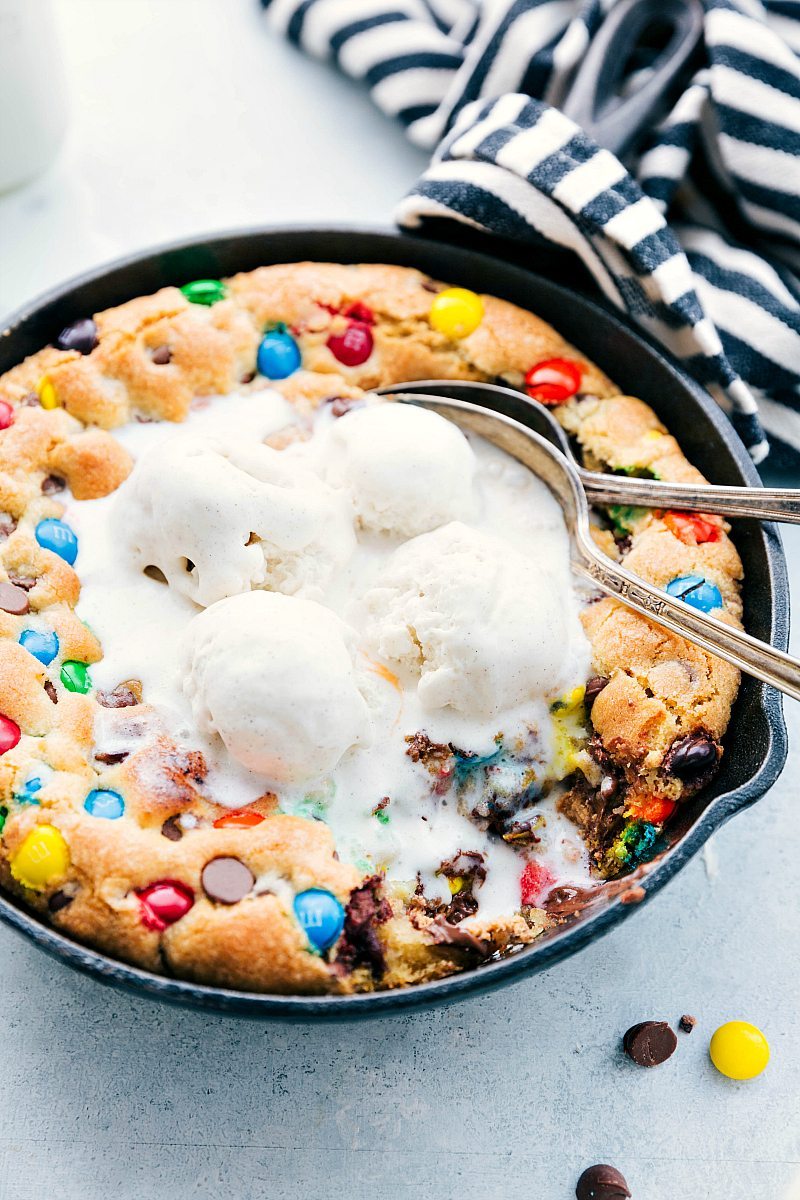 More Skillet Desserts:
Cinnamon Roll Skillet Cake (Reader Favorite)
Check out these fun pizookie flavor variations (for your own inspiration) from BJ's restaurant!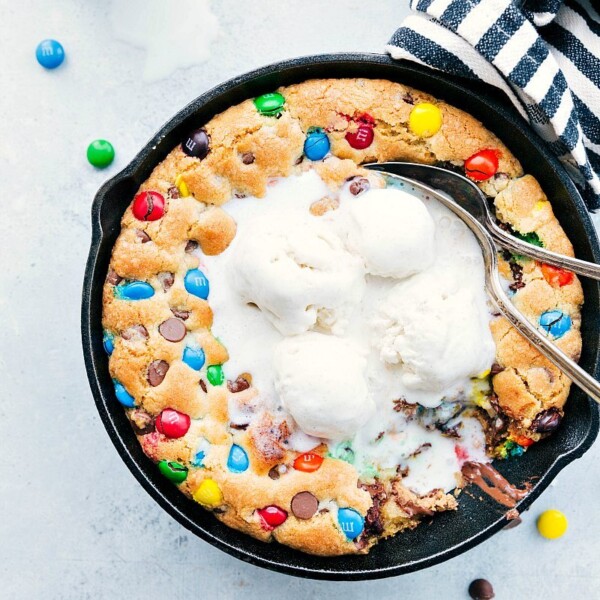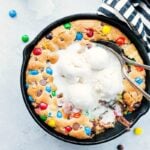 Skillet Monster Pizookie
A deep-dish skillet cookie (pizookie) with a sugar cookie base, a Reese's candy interior, and a M&M chocolate chip cookie dough topping.
Ingredients
1/2

cup

butter

at room temperature

1/2

cup

white sugar

1/4

cup + 1 tablespoon

brown sugar

lightly packed

1

large egg

at room temperature

1

teaspoon

vanilla extract

1 and 1/2

cups

white flour

1/2

teaspoon

baking soda

1

teaspoon

baking powder

1/4

teaspoon

salt

10-12

miniature Reese's cups

unwrapped

1/2

cup

milk chocolate chips

1/2

cup

peanut butter OR regular M&Ms

(2 small packages)

Optional: ice cream, hot fudge sauce
Instructions
Preheat the oven to 350 degrees F. Lightly grease/spray an 8 or 9 inch cast iron skillet. Set aside.

In a medium sized bowl, cream the butter, white sugar, and brown sugar for about 2-3 minutes.

Add in the egg and vanilla. Mix together.

In a separate bowl, sift together the flour, baking soda, baking powder, and salt.

Slowly combine the wet and dry ingredients and mix until combined.

Separate the dough exactly in half.

Smoosh one half of the dough into the bottom of the skillet.

Press the unwrapped Reese's cups on top of the cookie dough.

Add in the milk chocolate chips and peanut butter M&M's to the remaining cookie dough. Stir well

Press the remaining cookie dough on top of the Reese's cups and smooth the dough evenly.

Bake for 20-25 minutes or until the edges and top are lightly golden brown.

Serve immediately with ice cream and hot fudge if desired.