A delicious and extremely simple no-bake peanut butter cup cheesecake. Oreo crust, creamy peanut butter filling, and a "magic shell" chocolate topping.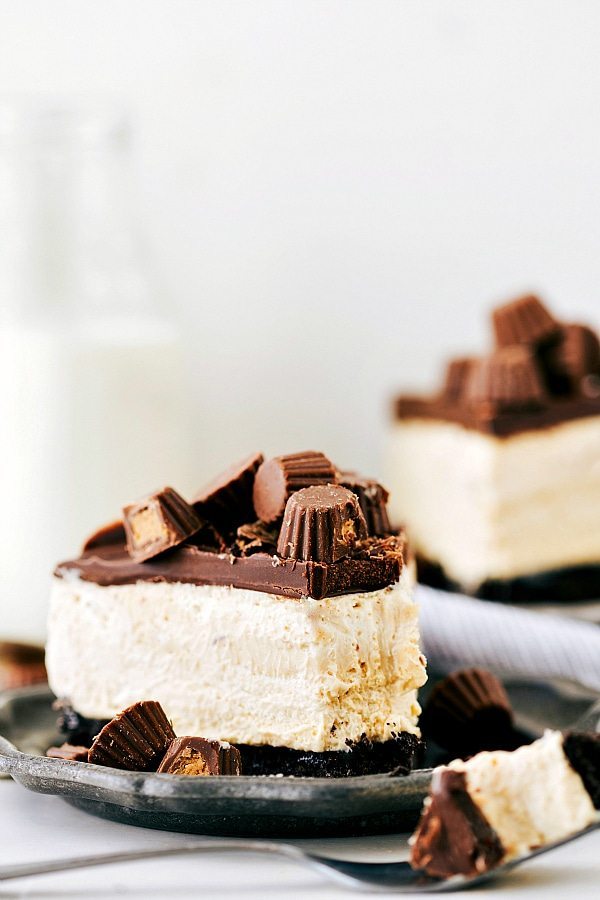 T minus 4 days and it's Valentine's Day! ❤️ So, before then, I've got 2 recipes just for the occasion! This peanut butter cheesecake is the first and then a there is a ONE SKILLET creamy chicken gnocchi. These two dishes combined would make for the perfect night in. And ? (I won't tell if you won't) these two recipes could not get any easier while yielding stunning results!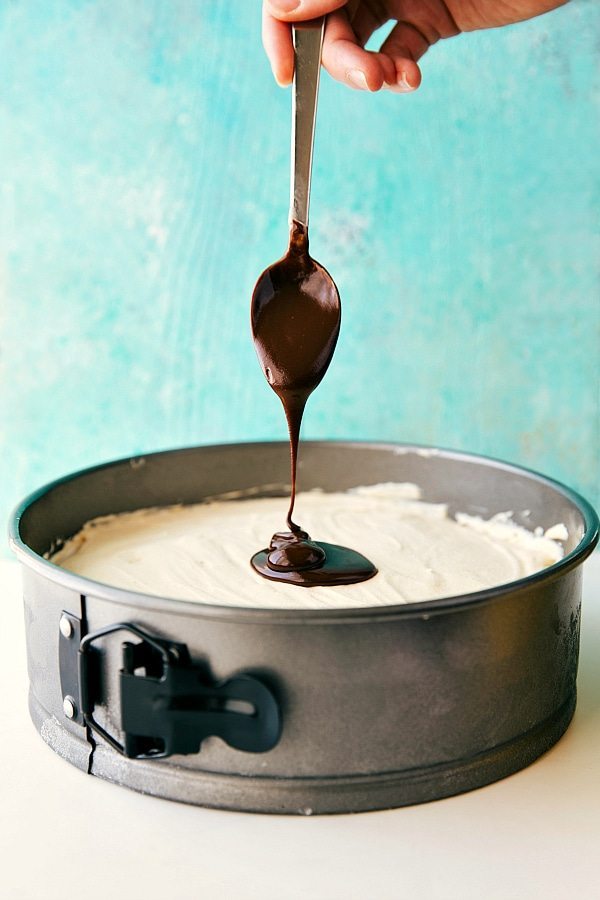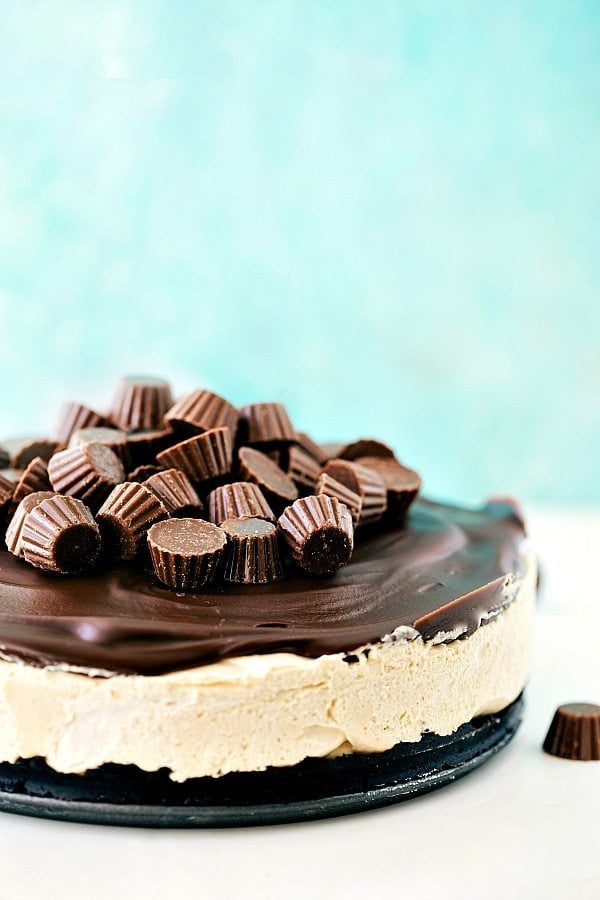 I've had quite a few frozen cheesecakes here on the blog (pumpkin, hot chocolate, and thin mint) and they've all gotten fantastic feedback. So when I started brainstorming some chocolate + peanut butter dessert ideas for Valentine's Day, I thought of doing another frozen cheesecake. Honestly, I can't believe I haven't brought one here to CMA sooner. It may just be the new family favorite dessert! ?
This cheesecake is simple to make with a three-ingredient oreo crust, smooth and creamy cheesecake-ice cream hybrid filling, and a type of chocolate "magic shell" topping.
The filling is more of an ice cream texture and consistency with a slight cheesecake flavor from the cream cheese. The peanut butter is not a strong flavor either. The peanut butter flavor becomes much more exaggerated with the miniature peanut butter cups on top. SO, if you are planning on leaving off peanut butter cups, I would recommend increasing the peanut butter flavor in the cheesecake by adding some peanut butter extract or an extra 1/3 cup of peanut butter.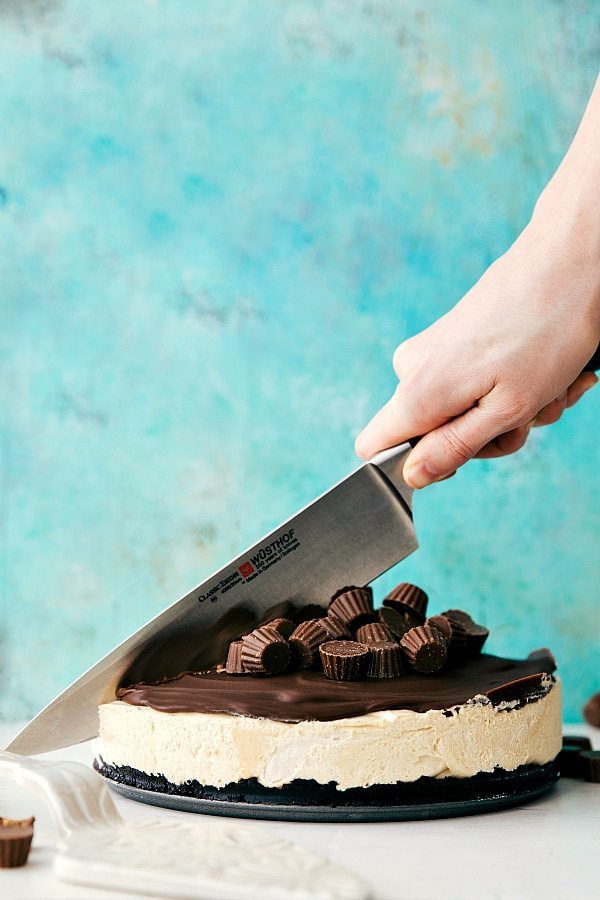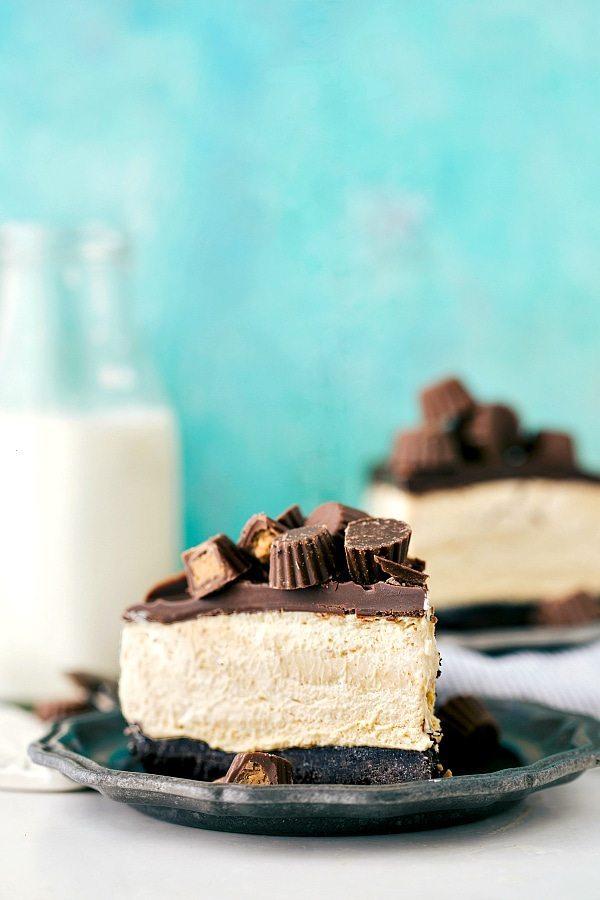 And… for the video that accompanies this recipe….well, I hope you appreciate my adorable (?) hand stamp throughout. My friend and I took our kiddos to a local museum the morning before I filmed the video and I honestly scrubbed and scrubbed my hand to try and get it out. That dang stamp is persistent!
The toddler's isn't gone either which actually started to stress him out. He was pulling at his skin to try and get it off after a long bath didn't take care of it. How strange is that? Anytime I've gotten a hand stamp a quick shower takes care of it. They must be using some high powered stamp pads at this kids museum ?
Speaking of the museum, it's filled with dinosaur bones (locals: dinosaur museum at Thanksgiving Point) and the toddler was actually scared to death of them. We moved right through it until we got to the activity areas where he was able to "dig" for buried bones in a big sand pit. That was much more his speed. Especially when the fun day was followed by some frozen peanut butter cheesecake. But just a teeny slice because this stuff is RICH!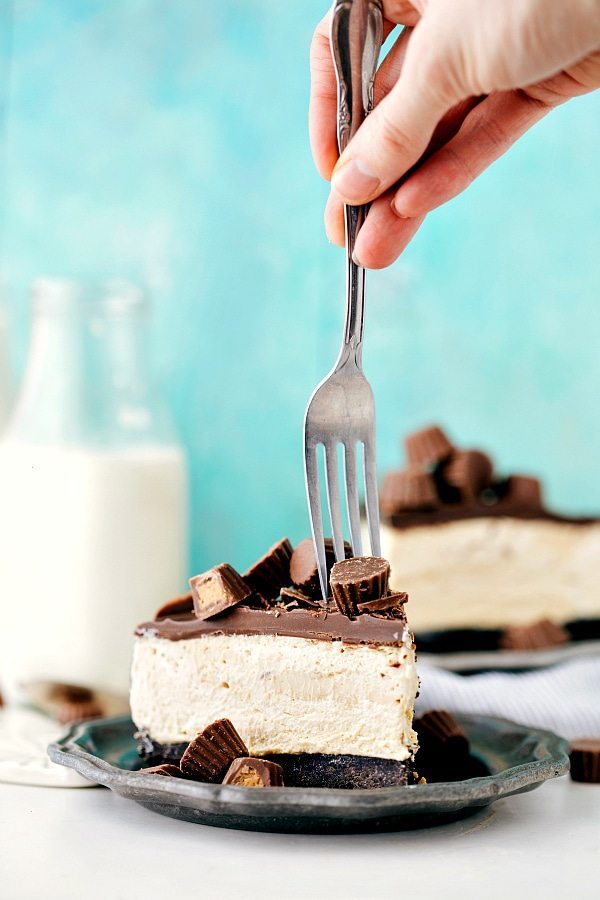 More delicious desserts: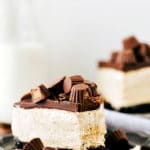 Frozen (No-Bake) Peanut Butter Cup Cheesecake
Servings
:
1
9-inch springform pan
Ingredients
Crust
25

oreos or chocolate sandwich cookies

6-7

tablespoons

unsalted butter

1/4

cup

white sugar
Cheesecake Filling
1 package

(8 ounces)

full-fat cream cheese

room temperature

2/3

cup

creamy peanut butter

2

teaspoons

vanilla extract

1 can

(14 ounces)

sweetened condensed milk

1 container

(8 ounces)

Cool Whip

or Truwhip, OR homemade whipped topping
Topping
1

cup + 2 tablespoons

milk chocolate chips

2

tablespoons

coconut oil

Optional: chopped reese's cups, miniature reese's
Instructions
Blend or pulse the oreos (no need to remove the filling) until they resemble fine crumbs.

Mix the crumbs with the sugar and melted butter (start with 6 tablespoons and add 1 more tablespoon ONLY if it isn't coming together enough).

Spray a springform pan (I use a 9-inch) with nonstick spray and press the cookie crust evenly along the bottom and slightly up the sides.
Cheesecake Filling
Beat the room temperature cream cheese until smooth.

Add in the peanut butter and vanilla and beat until smooth. Add in the sweetened condensed milk and beat to smooth.

Gently fold in the completely thawed whipped topping until all ingredients are combined and then spoon over the crust.

Freeze overnight or at least 6-8 hours.
Topping
Combine the chocolate chips and coconut oil (measure when melted). Microwave in bursts of 15 seconds stirring in between each burst for 10-15 seconds until the mixture is completely melted. Top with peanut butter cups (chopped) or mini reese's cups if desired.

Pour over the frozen pie and return to the freezer for 5-10 minutes.

Remove from the freezer and using a VERY sharp knife, cut into slices. Enjoy immediately and return any leftovers to the freezer.
Recipe Notes
Cook time refers to chilling time.