This post may contain affiliate links. Please read my disclosure policy.
The best easy punch recipe! You only need 2 ingredients to make this show-stopping, delicious white grape punch.
This drink recipe takes less than 5 minutes to whip together and it's always a hit, wherever it's served! This punch recipe is also perfect for baby or bridal showers where you need a non-alcoholic beverage.
Serve this punch alongside other party favorites such as these french dip sliders, pigs in a blanket, or this easy fruit dip.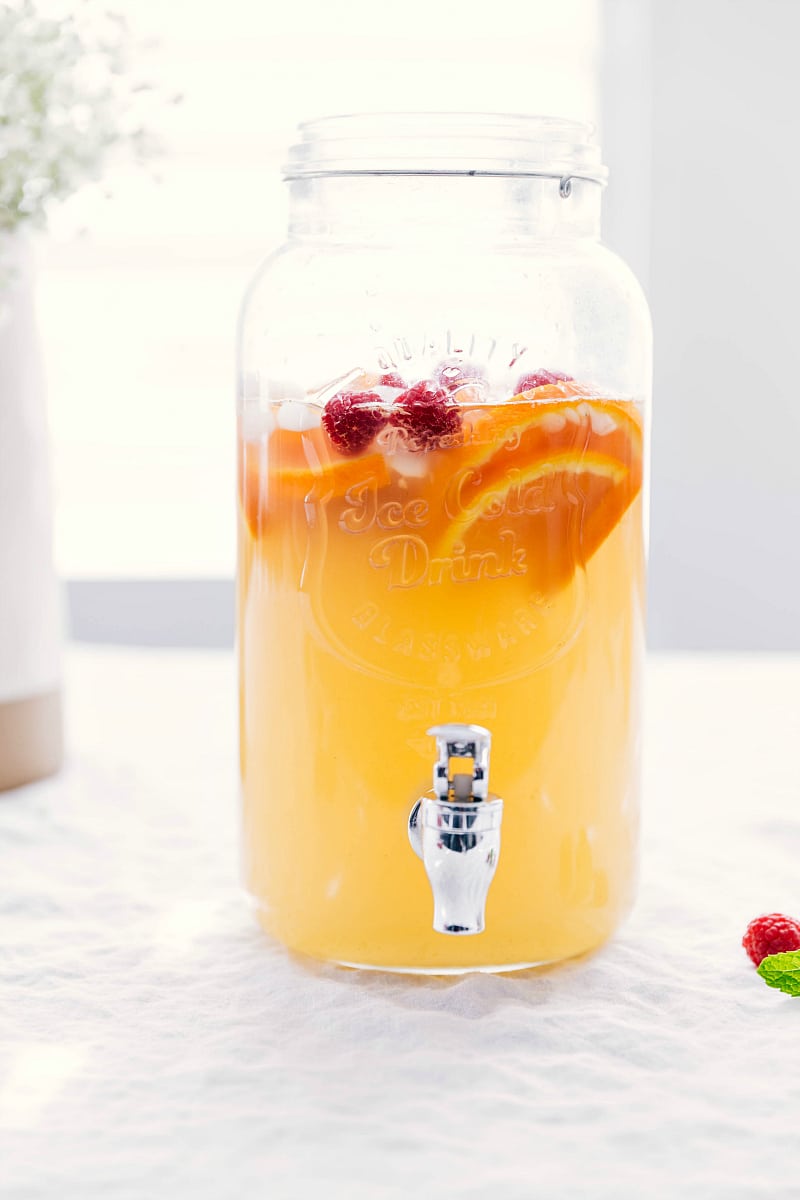 I first tried this punch at my friend Stephanie's house for a Bunco night. One sip of this drink and I had to know what was in it. Come to find out it's only TWO ingredients (!!!)
Two ingredients (I add in some fruit garnishes bringing the total up to 3 or 4 ingredients, but they're optional) and your punch game will forever be changed.
Stephanie's recipe has quickly become my go-to punch recipe because when you're making a whole spread of dishes, the last thing you need is a complicated drink recipe.
Punch recipe ingredients
This simple recipe is made of white grape juice concentrate and a bottle of Fresca. I like to add in some fresh fruit for a garnish, but that's completely optional. If Cara Cara oranges are in season that is my favorite addition to add. Raspberries also compliment the drink well and look beautiful.

How much punch do you need?
This is one of the most commonly asked questions when preparing a punch. Generally punch is made for a party, so it's important to get drink estimates right.
If you plan to double, triple (or even quadruple) this recipe, consider making just one batch at a time. Simply keep the white grape juice and Fresca (and cut up and packaged fruit in a bag if using) chilled in the fridge and ready to go. Doing this will prevent wasted ingredients if you end up not needing as much as you originally estimated.

Punch recipe variations
Punch recipes with sherbet: here's my favorite sherbet punch recipe with plenty of variation ideas.
Fruit punch recipes: try this recipe!
Punch recipes with ginger ale: for my go to ginger ale recipe combine 1 bottle (64 ounces) Hawaiian punch, 1 bottle (1 liter) of ginger ale, and 1 and 1/2 cups of pineapple juice
Punch recipes with sprite: for my go to sprite punch combine 2 cups pineapple juice, 2 cups orange juice, 2 cups sprite, and the juice of 1 lime
Punch recipe dispensers
This drink recipe is about as simple as it gets, but every punch needs a good serving vessel 🙂
Below are some of my favorites: (affiliate links)

More delicious drink recipes: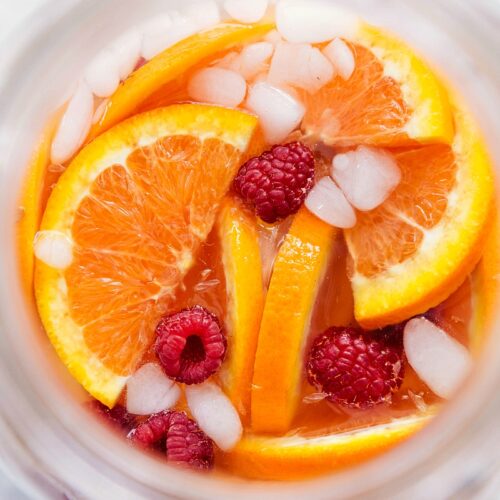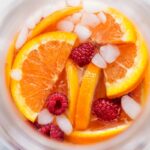 Punch Recipe
The best easy punch recipe! You only need 3 ingredients to make this show-stopping, delicious white grape punch. 
Keyword:
punch recipe, punch recipes
Ingredients
1

container (12 ounces)

100% white grape juice from concentrate,

thawed

1

bottle (2 liters)

Fresca

(or similar Citrus Sparkling Flavored Soda)

Optional: thinly sliced and halved cara cara oranges and/or fresh raspberries

Optional: Ice, for serving
Instructions
AHEAD OF TIME: Thaw the grape juice in concentrate in the fridge. Chill the fresca in the fridge. If both are cold you won't need as much or any ice which will keep the punch from becoming watered down.

In a large pitcher or punch bowl combine the thawed white grape juice and Fresca. Stir together.

If desired add in washed and thinly sliced then halved cara cara oranges and/or a few washed fresh raspberries.

Punch is best made right before serving so it doesn't go flat. I recommend serving ice on the side or adding right as serving so the punch isn't watered down.