Chocolate and peanut butter flavored overnight oats. A fun twist on a classic overnight oats recipe.
I know we've discussed my obsession with dessert-like breakfasts so you probably aren't at all surprised that I would turn overnight oats into a dessert-like treat. Namely peanut butter cups.
The good news is, these oats are totally healthy. Like they really don't have peanut butter cups in them. But they sure do taste like it! Lots of PB + chocolate = yum.
I can't decide if I like these oats better or my cheesecake-flavored overnight oats, but I do know one thing – overnight oats are the best. Like the easiest, on-the-go, healthy breakfast there is. And I love the variety overnight oats can have. You know, so you don't get sick of the same breakfast morning after morning.
These oats are flavored with creamy peanut butter and cocoa powder. I did try a couple of variations to help suit your personal preferences. If you aren't a huge fan of cocoa powder, you can substitute some sugar-free chocolate pudding. You just need to adjust the amount to your personal taste preference. And same with the cocoa powder. Start with 1/2 tablespoon and increase to a full tablespoon depending on your preference. I used a whole tablespoon, but I love cocoa powder!
Also I added in some dark chocolate chips. I love the extra chocolate, but feel free to omit the chocolate chips or substitute with a different kind of added chocolate like carob chips or even milk chocolate (not as healthy, but YUM).
And one last note: make sure to really stir in the peanut butter. These oats won't taste as good if the peanut butter isn't thoroughly mixed and mashed in well.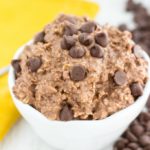 Peanut Butter Cup Overnight Oats
Ingredients
2 and 1/2

tablespoons

creamy peanut butter

1/2

teaspoon

vanilla extract

Pinch of salt

1/4

cup

low-fat vanilla yogurt

1/3

cup

unsweetened almond milk

or sub another milk

1/2

cup

old fashioned oats

1/2 - 1

tablespoon

cocoa powder

to personal taste preference (or sub sugar-free chocolate pudding mix, dry)

1/2

tsp

truvia

or sub another sweetener

Optional: dark chocolate chips
Instructions
In a small bowl, combine the peanut butter, vanilla extract, and salt. Microwave for 10 seconds, stir for 10 seconds, and microwave for 10 more seconds.

Add in the yogurt, milk, oats, cocoa powder or dry pudding mix, and sweetener.

Stir well and make sure the peanut butter is mashed in thoroughly.

If desired, add in dark chocolate chips.

Transfer the mixture into a small jar or sealed container.

Place in the fridge for at least an hour or until oats are completely softened.

Store overnight oats in the fridge for up to 3 days.
 Another overnight oats recipe: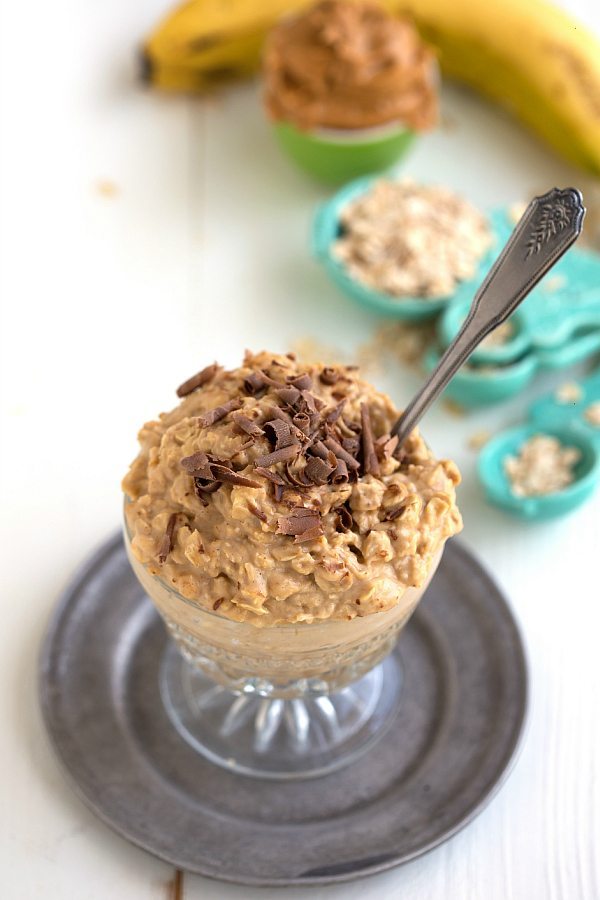 Peanut Butter Cheesecake Overnight Oats
More Easy Breakfast Ideas:

No-Bake Healthy Breakfast Cookies