A delicious one skillet chicken dish topped with fresh mozzarella, tomatoes, basil, and an incredible two ingredient balsamic sauce. A healthy, thirty-minute dinner meal!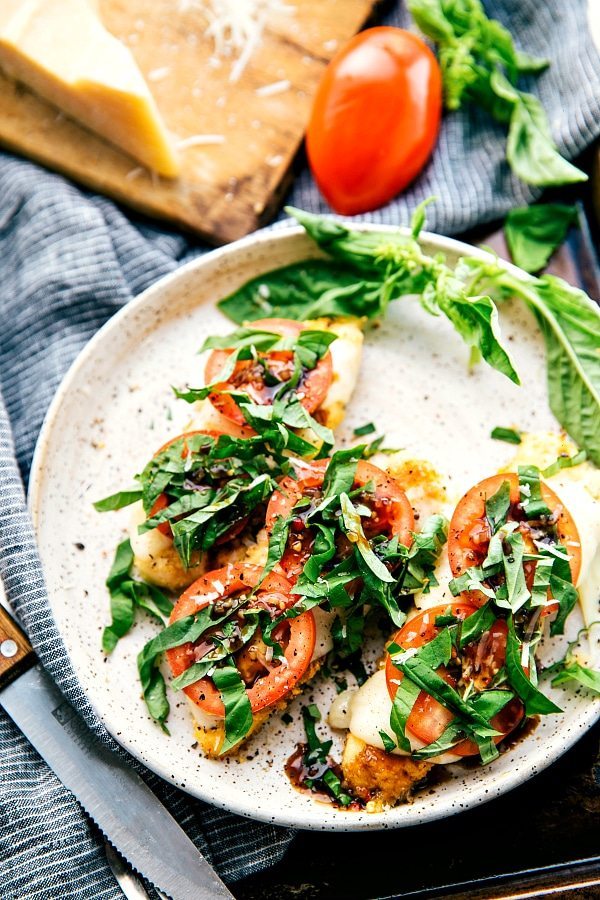 Coming off a whirlwind of weekend fun and this post is up a little later than I was hoping! The weekend was crazy packed (in the best way possible) for us. How was your Easter? And if you don't celebrate Easter, how was your weekend? We started the weekend with an incredible Easter egg hunt that was thrown by the company my father-in-law works for.
There was a huge pink Easter bunny that terrified and intrigued the toddler, tons of eggs/prizes/candy (regular sized candy bars!), and a food truck serving miniature bite-sized donuts. I am not the biggest donut fan in the world, but those donuts were out of this world good! Art City Donuts for locals…have you tried those? We sampled blueberry muffin, cinnabon, and boston creme pie donuts and those tiny little donuts just slid right down in the best/worst? way possible.
I'd run six miles that morning and quickly undid that all in a flurry of donut sampling. So. worth. it.
Besides that egg hunt, the toddler was able to do a couple other Easter egg hunts and he quickly got the hang of 'em. He loved every second of hunting and the prizes/candy were a nice bonus too ? We spent lots of time with family and enjoyed the nice Spring weather. And in other news, I'd gotten the boys matching Easter shirts (with bowties) to wear to church. Bent promptly blew out of his diaper all over his clothes (and my dress!) within about 10 minutes of church starting. That boy has his timing down to a tee. ?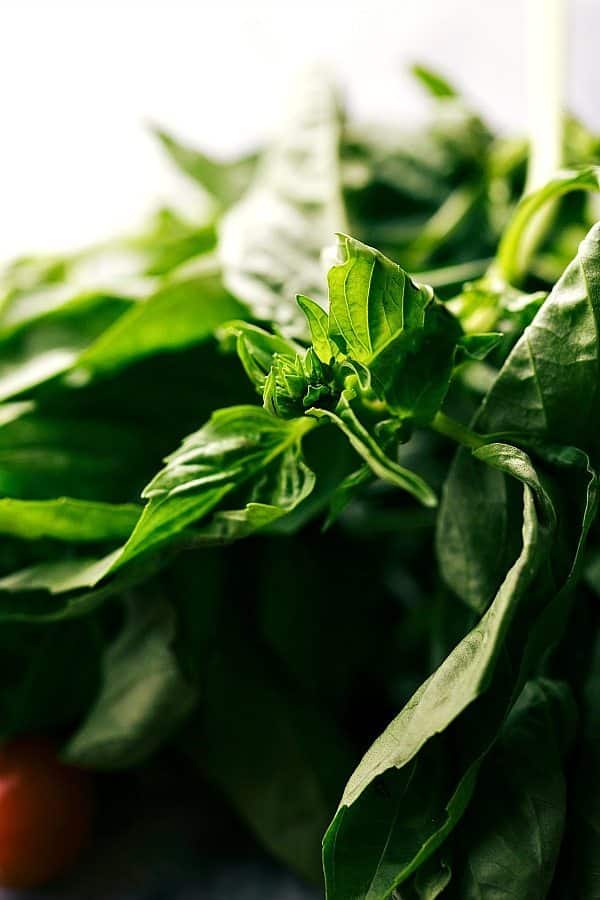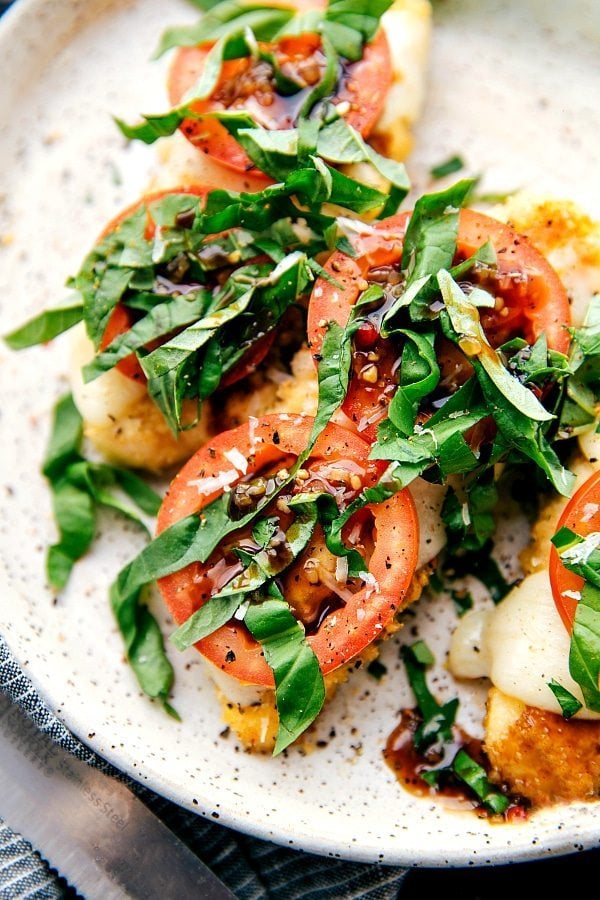 So this meal hardly needs to be explained too much; it's one of the easiest recipes on this site! It is probably more of a Summer meal than a Spring one, but regardless of when it's best enjoyed you need to enjoy it! It's been one of our favorite meals on repeat the last couple of weeks. Not only is it simple to make (and clean up — hello one skillet!), but it also has such a delicious and fresh taste.
The chicken gets cooked in a skillet and then topped with mozzarella, tomatoes, and fresh basil. That whole process takes about 15 minutes tops and then the sauce is another 1-2 minutes. It's only 2 ingredients — zesty Italian dressing and balsamic vinegar. The sauce couldn't be easier and it's SO delicious. I've used a regular Zesty Italian and a fat-free version and can honestly say both are delicious with this meal.
Be generous with that glaze, but only right before enjoying, otherwise it tends to get a little soggy ☺️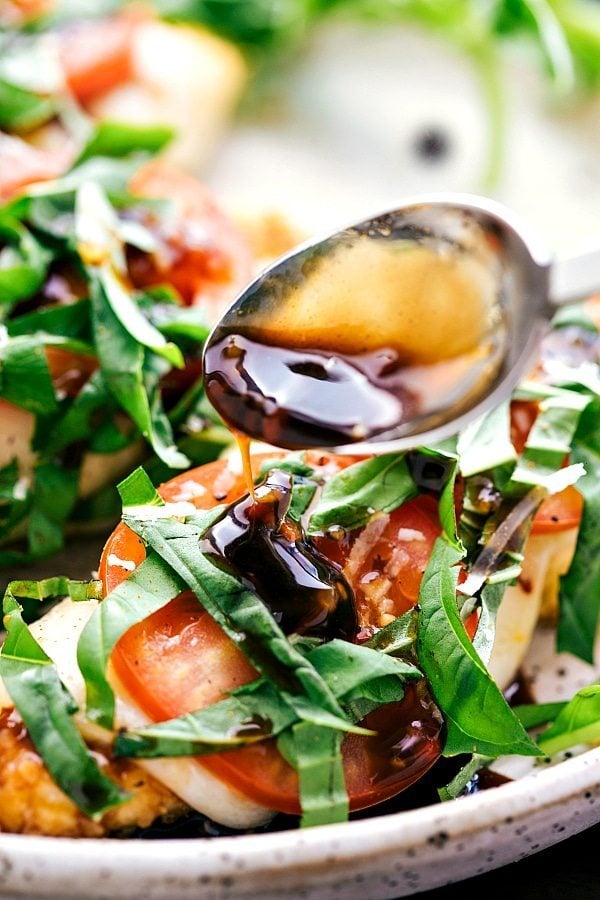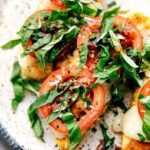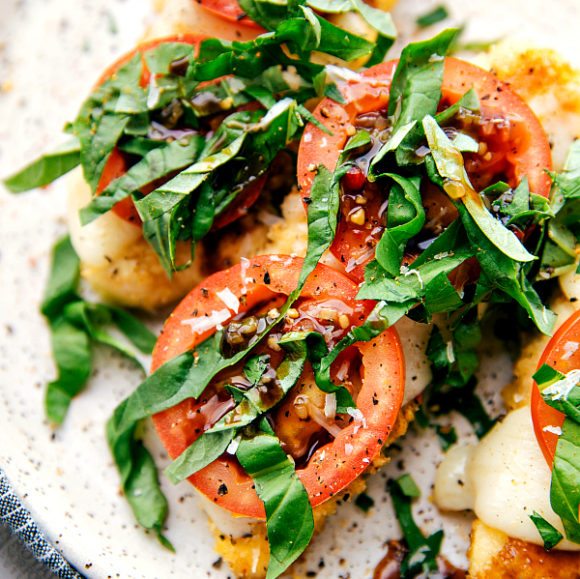 One Skillet Easy Balsamic Caprese Chicken
Ingredients
1

pound

boneless skinless chicken breasts

1/4

cup

flour

Seasoned salt + pepper

2

tablespoons

butter

or 3 tablespoons olive oil

2

teaspoons

Italian seasoning

2

teaspoons

chicken seasoning

such as Mrs. Dash's chicken seasoning

1

roma tomato

3-4

ounces

mozzarella cheese

Handful of fresh basil

3

tablespoons

balsamic vinegar

3

tablespoons

prepared zesty Italian dressing

Optional: fresh parmesan cheese
Instructions
Trim the fat from 2-3 large boneless skinless chicken breasts.

Butterfly (slice in half) the chicken breasts to give them a uniform thickness so they will cook evenly.

Fill up a bowl with the flour and about 1/2 teaspoon each of seasoned salt and pepper. Dredge the breasts in the flour mixture until evenly covered in flour.

Place a large skillet over medium high heat. Add the butter or olive oil.

When the butter is completely melted (or the oil sizzling), place the chicken breasts in the skillet.

Reduce the heat to just above medium and cook for 4 minutes.

Evenly sprinkle (on the breasts) 1 teaspoon Italian seasoning and 1 teaspoon chicken seasoning.

Flip the chicken and sprinkle the remaining Italian seasoning and chicken seasoning on the chicken.

Cook for another 3-4 minutes or until the chicken is completely cooked through (the chicken should register 165 degrees with a meat thermometer).

Meanwhile, slice the roma tomato into thin slices. Slice the mozzarella cheese into thin slices, and slice the fresh basil.

In a small bowl, whisk together the balsamic vinegar and zesty Italian dressing.

Remove the cooked chicken and top with the cheese, tomatoes, and basil.

Sprinkle on some salt and pepper if desired and some parmesan cheese if desired (optional).

Pour the balsamic mixture over the chicken right before serving.
More Delicious Chicken Dinners: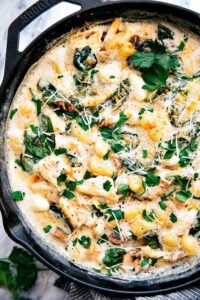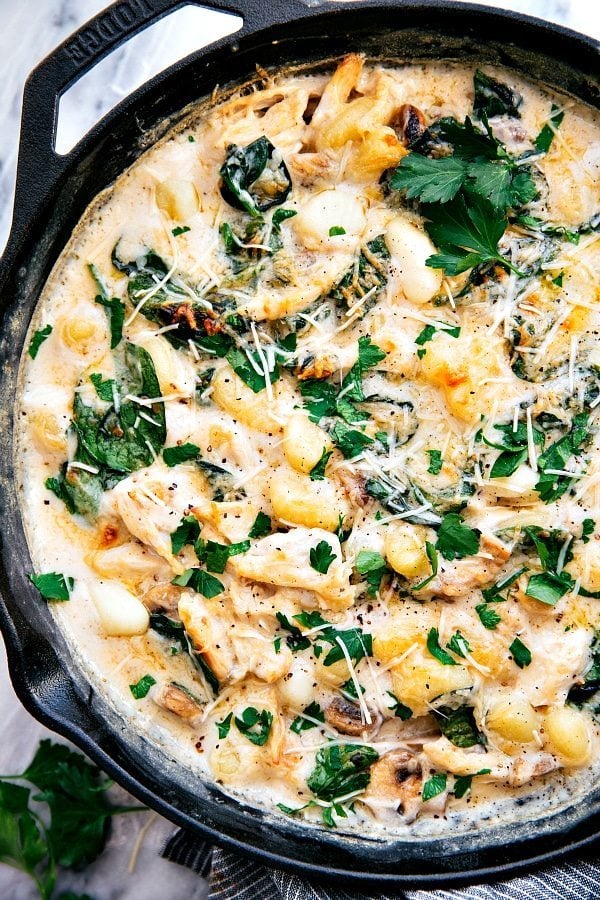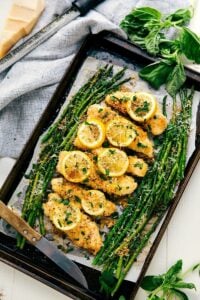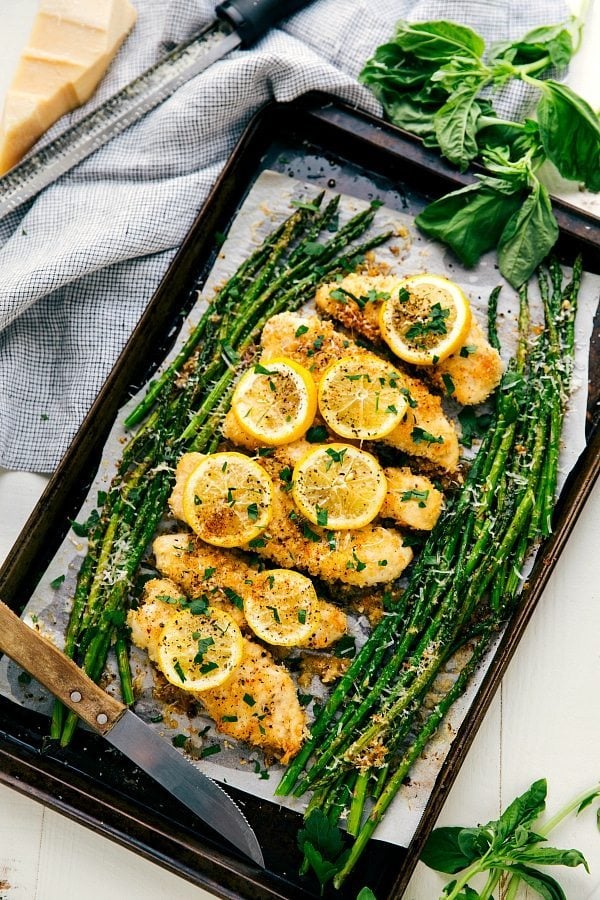 Delicious ONE PAN Lemon Parmesan Chicken and Asparagus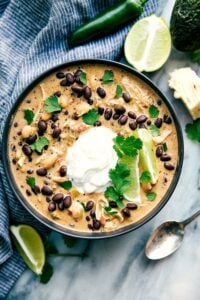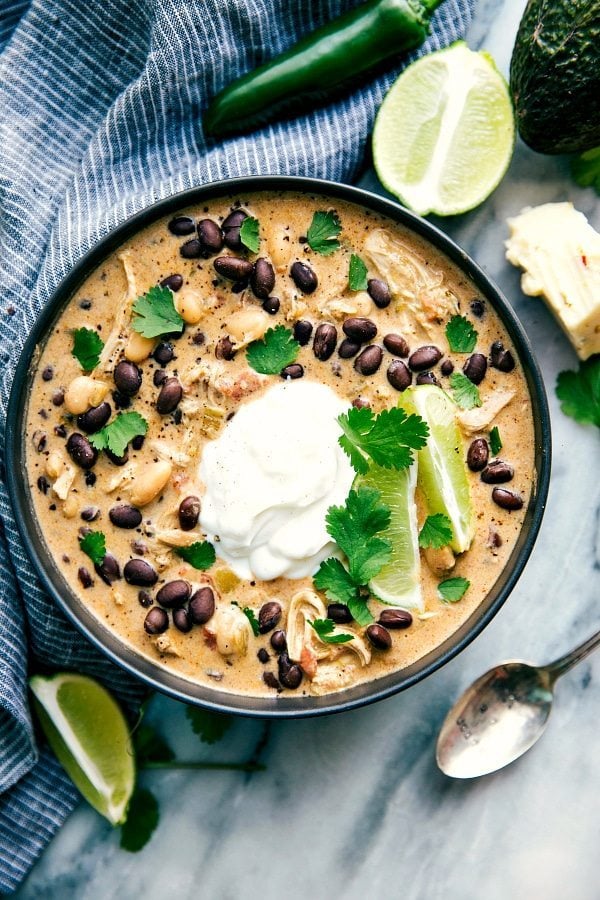 Crockpot Green Chile Chicken Enchilada Soup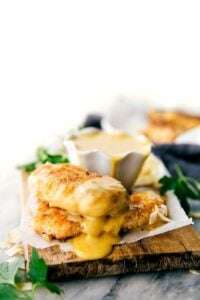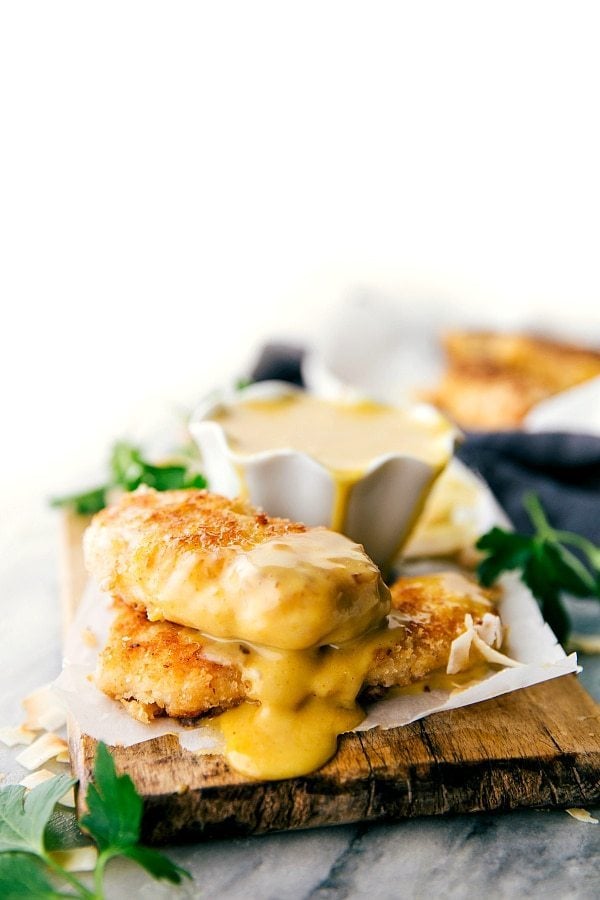 The BEST baked coconut chicken