Roasted tomatoes, onion, and garlic form the base of this incredible (best ever!) roasted tomato basil soup. Healthy and hearty!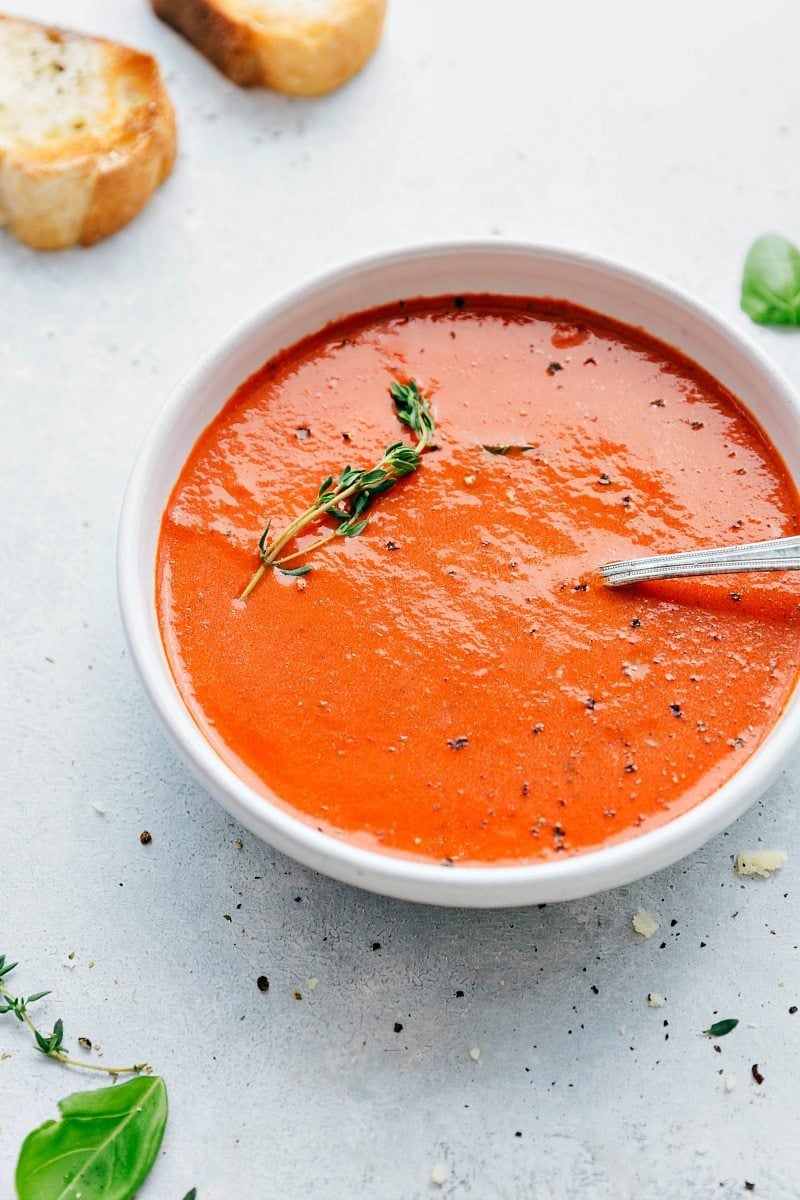 Hands down the toddler's favorite meal is tomato basil soup with crackers, rolls, or a baguette for dipping. He seriously loves this stuff and eats it all year round.
At the grocery store close to our home they have pre-made tomato basil soup almost daily and we resort to that for lunch far too often. Literally anytime we go to the store he asks for tomato basil soup!
Since he loves it so much I've tried so many different recipes and come up with my own mish-mash of recipes to come up with our very favorite tomato basil soup. He claims this version to be the favorite he's ever tried. And also begs me to make it again the minute he's finished the last spoonful.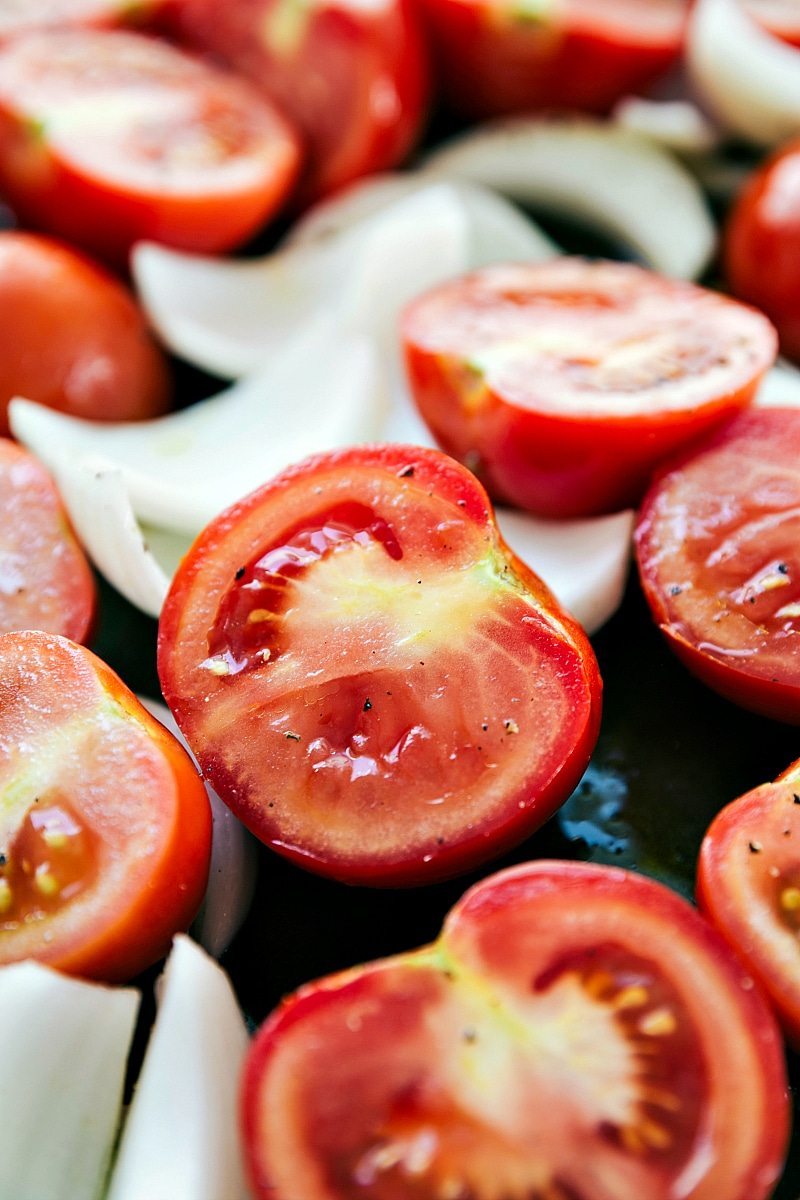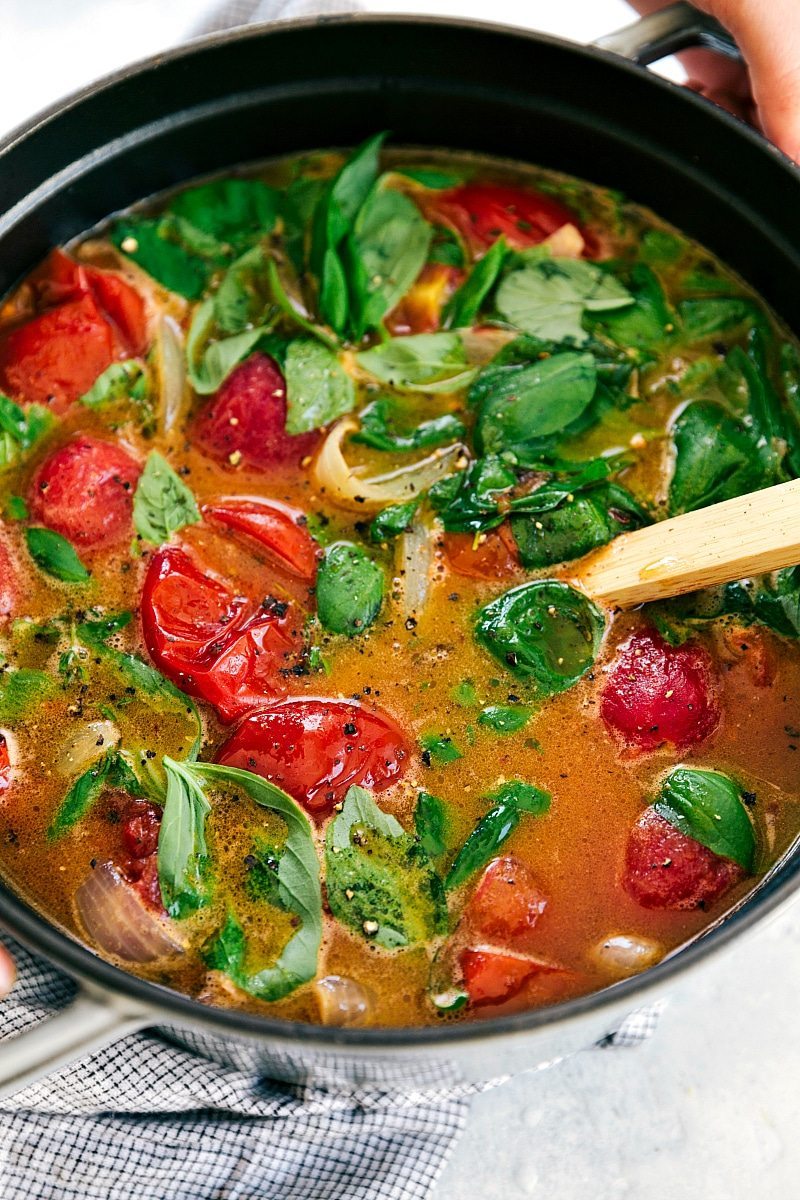 I personally love this soup best too because I know exactly what is in it and it's pretty healthy. This is a tomato basil soup where you don't need any heavy creams or a roux because it's just perfect with the roasted veggies! It's thick and "creamy" in texture even without a cream base.
For this soup, you'll roast the tomatoes, garlic, and the onions which infuses this soup with so much flavor. You'll be amazed how few ingredients with how complex the flavor of this soup is!
Also, roasted garlic = my favorite.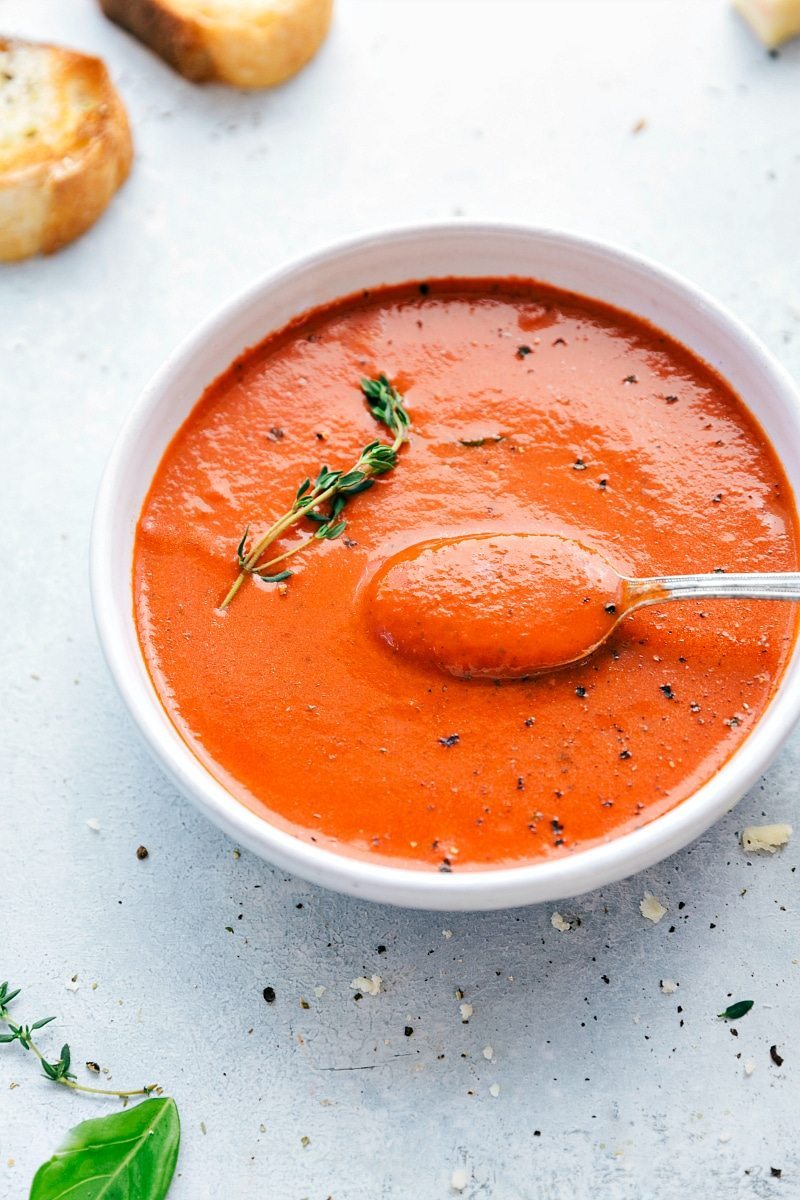 Since there are (relatively) few ingredients and not too many seasonings, the ingredients you use are very important to the end taste. High quality chicken stock has tons of flavor and keeps the added spices to a minimum. It's also important to get good ripe tomatoes and fresh basil. Lastly a good quality olive oil really gives this soup a great foundation of flavor. And fresh cracked pepper (IMHO) is a must have!
A good crusty bread plus a sprinkle of parmesan cheese and you are on your way to soup heaven! Enjoy! 🙂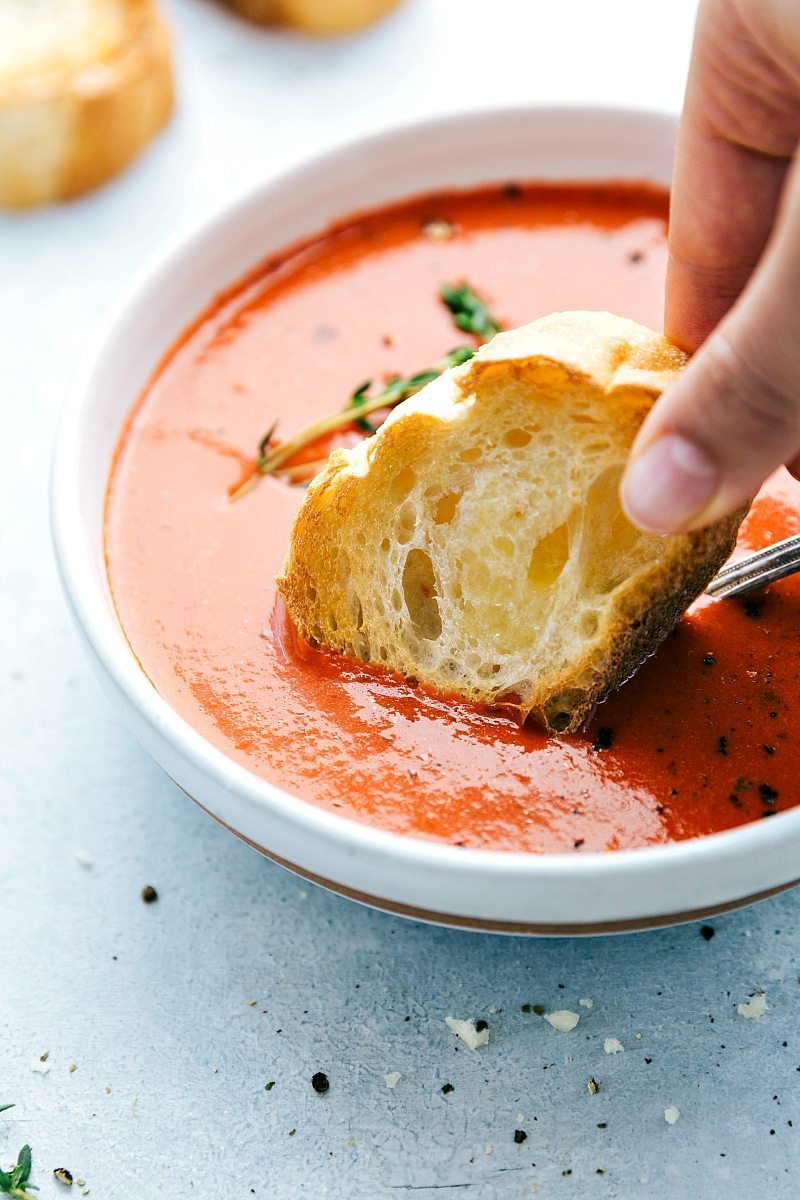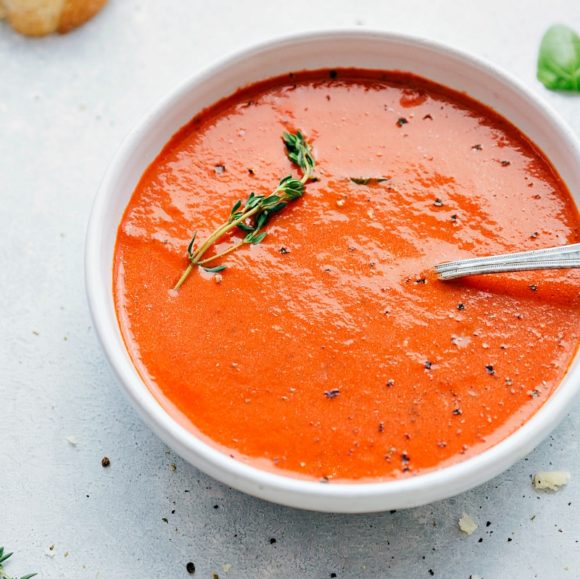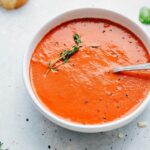 Roasted Tomato Basil Soup
Ingredients
3

pounds

ripe plum tomatoes

2

yellow onions

1

head

garlic

6

tablespoons + 2 teaspoons

good quality olive oil,

separated

Salt and pepper

2

tablespoons

unsalted butter

1

(28 ounces)

canned plum tomatoes,

undrained

3 and 1/2

cup

fresh basil leaves,

packed when measured

1-2

teaspoons

fresh thyme leaves

1

carton (32 ounces)

high quality chicken stock

1

teaspoon

dried oregano

1/4

teaspoon

red pepper flakes

Optional: crusty french bread, fresh parmesan cheese
Instructions
Preheat the oven to 400 degrees F. Slice the tomatoes in half lengthwise and place on a large sheet pan. Cut the onions in half and then each half into 4 equal sections. Place on the sheet pan.

Peel and discard the outer layers of the entire garlic bulb making sure to leave the skins of the individual cloves intact (and keep the bulb together as much as possible) Using a sharp knife, cut 1/4th an inch from the top of the cloves.

Wrap the entire bulb tightly with tin foil, adding 2 teaspoons olive oil before sealing it completely. Place the wrapped garlic on the sheet pan along with the tomatoes and onions.

Pour 1/4 cup olive oil over the tomatoes and onions. Add about 1 teaspoon salt and 1/2 teaspoon freshly cracked pepper and toss evenly. Spread into one even layer and roast for 40-45 minutes.


In an 8-quart stockpot over medium heat, melt the butter. Once melted, add the canned tomatoes, basil leaves, fresh thyme, chicken stock, and dried oregano, and red pepper flakes. Add the oven-roasted tomatoes and onions* including the liquid on the baking sheet. Coarsely chop 6-7 of the roasted garlic cloves and add them in. Add another 2 teaspoons salt (or to taste) and an additional teaspoon of cracked pepper.

Bring the mixture to a boil and simmer uncovered for 40 minutes. Taste for any additional seasonings.


When finished, transfer the mixture (in 2-3 batches) to a high powered blender and blend until smooth.* (Read the note if you want a chunkier tomato basil soup.)

If desired, serve with fresh parmesan cheese, and enjoy immediately.
Recipe Notes
*If you want a chunkier tomato basil, use a food mill or immersion blender. If you do this, you'll want to coarsely chop the onions after being roasted and before adding them to the stockpot.
More Amazing Soup Recipes: