Super simple mint-chocolate ice cream bars with a mint oreo brownie bottom and a delicious fudge topping. This easy dessert is sure to be your new summer dessert staple!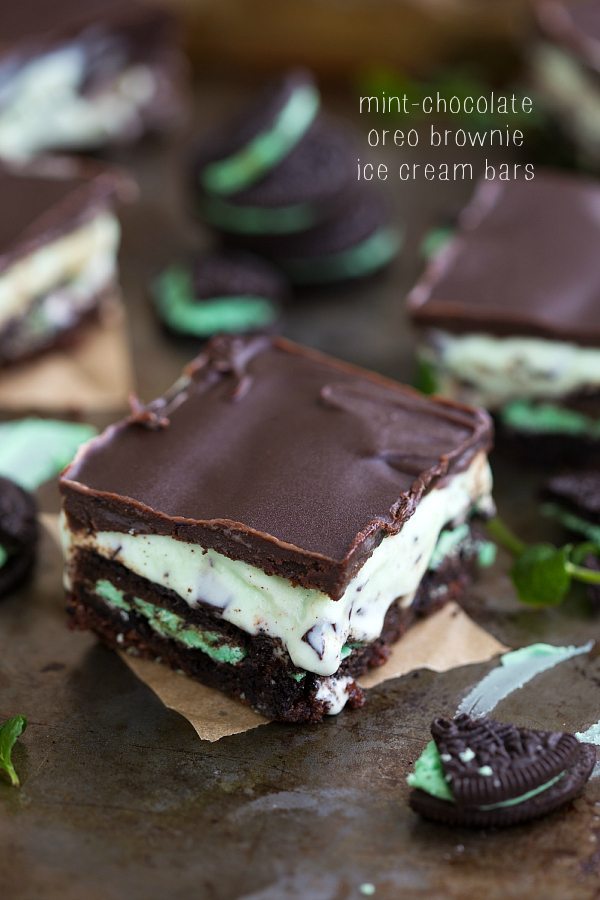 So you all know and love mint-chocolate frosted brownies right?! They are pretty much a staple dessert in my home and, personally, one of my all-time favorites.
Well, my goal with this dessert was to make those mint-chocolate frosted brownies but in a cooled-down summer form! Instead of the typical mint frosting, there is an even better cool and creamy mint-chip ice cream on top of these brownies. Oh yeah, and I added oreos because every dessert is better when you add oreos. Especially cool-mint oreos which are just plain good.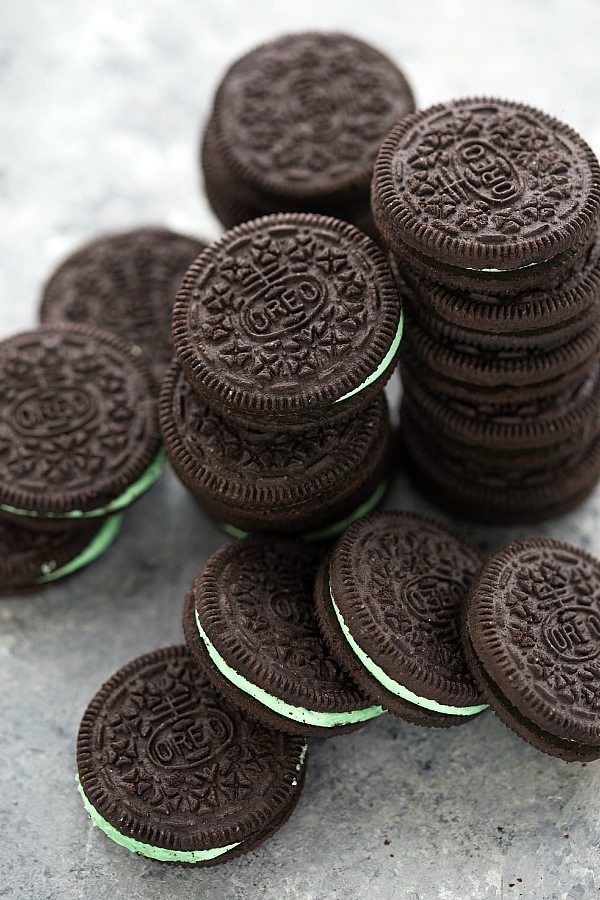 I made a batch of these to thank my mom for watching my little guy for the weekend and she served them to some friends that came over that night.
Apparently they were a HUGE hit! One of the guests even said it was the "best dessert she'd ever had!" After being challenged by her husband who mentioned her previous favorite dessert she said these were at least equal if not better than her previous favorite dessert.
That's quite the compliment for some 5-ingredient super simple brownie ice cream bars!
Yup. Just 5-ingredients!! Brownie mix, cool-mint oreos, mint ice cream, chocolate chips and butter.
I guess technically there are a few more ingredients for the brownie mix, but you probably already have them – water, eggs, and vegetable oil.
However, if you have a favorite brownie recipe and want to then you can definitely make homemade brownies for the base. You just want to make sure they don't bake up too high or the dessert may be a little out of control in the height department. 🙂 I swear by brownies from a mix because they are my absolute favorite, but do whatever you prefer!
The brownies from a mix when spread out in a 9 x 13 pan make more of a fudgy crust for this dessert – they are pretty thin, but make for a delicious and chewy complement to the ice cream and top chocolate layer.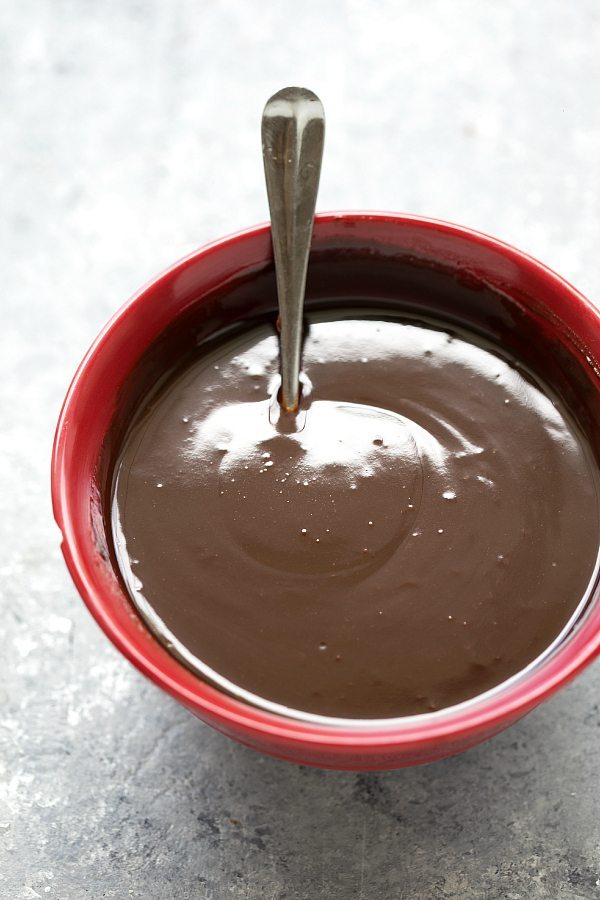 For the mint ice cream layer, go with a high quality ice cream because it is really the star in this dessert. Try a mint-chip version you love, or for a super brownie-filled dessert, try mint brownie ice cream.
The final layer is a super simple chocolate chips + butter. Again, high quality chocolate is going to really make this dessert taste awesome. I love the flavor of milk chocolate, but if you are worried about the richness try using dark chocolate or semi-sweet chips.
And finally, to balance all the sweet you can also add a sprinkle of sea salt to the top of these bars if salted chocolate is your kind of thing.
I hope you enjoy these bars all summer long…and maybe even into the winter because I'm pretty certain you may never want to go back to regular mint brownies!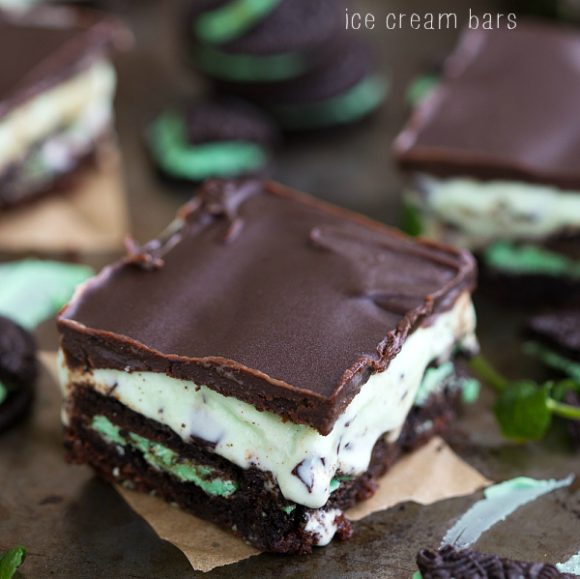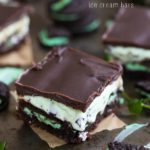 Mint Ice Cream Bars
Super simple mint-chocolate ice cream bars with a mint oreo brownie bottom and a delicious fudge topping. This easy dessert is sure to be your new summer dessert staple!
Keyword:
Mint Ice Cream Bars
Servings
:
12
(9 x 13) pan
Ingredients
1

package (18.3 ounces)

Fudge Brownie Mix + ingredients called for

1

package

Cool-Mint Oreos

1

container (1.75 quarts)

Mint-Chip Ice Cream

or Mint Brownie Ice Cream

1

bag (heaping 2 cups)

milk chocolate chips

1

cup

unsalted butter
Instructions
Line a 9 x 13 pan with parchment paper and lightly spray with nonstick spray.

Make sure the brownie mix you have is made for a 9 x 13 pan (it should say on the box or be around 18 ounces). Follow the directions to preheat the oven and then to make the brownies.

Pour the brownie batter into the 9 x 13 pan and spread evenly.

Press the mint oreos into the brownie batter, pressing them down so they are even with the top of the brownie batter.

Bake according to package directions for a 9 x13 pan removing 2-3 minutes earlier than indicated by the instructions. (A fork or toothpick when inserted into the brownie section should come out clean).

Allow to cool completely.

Allow the ice cream to sit at room temperature for 5-10 minutes so it is still firm but able to be scooped out and spread evenly.

Once the brownies are cool, scoop large scoops of ice cream evenly on top of the brownies.

Use the bottom of a 1 cup measuring cup to press the ice cream down evenly.

Place in the freezer while you work on the top chocolate part.

In a medium-sized microwave safe bowl, combine the milk chocolate chips and the butter. Microwave for 30 seconds. Remove and stir for at least 20 seconds. Return to the microwave in bursts of 15 seconds, stirring after each burst for 15-20 seconds.

Stir the melted chocolate chips and butter well until a smooth chocolate is formed and the ingredients become well incorporated.

Pour and spread evenly over the ice cream layer.

Cover the brownies with plastic and place in the freezer for at least 4 hours and preferably 6 hours to overnight for the ice cream to completely harden.

Let stand for 5 minutes before cutting and serving.

Return any leftovers to the freezer.