Mint Ice Cream Bars start with a fudgy brownie bottom and are loaded with chopped mint Oreos, creamy mint ice cream, and a luscious chocolate ganache topping. This show-stopping dessert is practically guaranteed to be your new summer dessert staple!
Craving more ice cream? Try this ice cream sandwich cake, homemade gelato or this easy Oreo ice cream cake.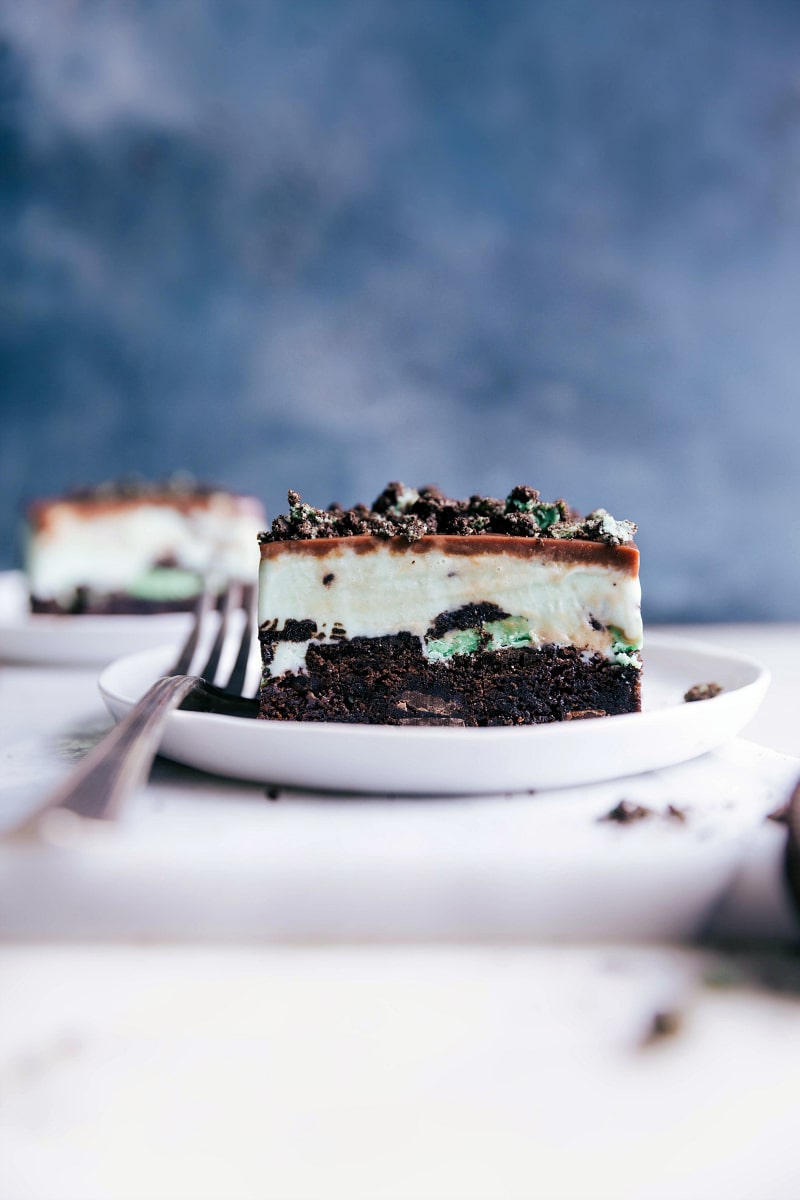 Mint Ice Cream Bars
Mint brownies a staple dessert in my home and one of my all-time favorite treats. Since mint ice cream is also one of my favorites, why not combine the two into epic Mint Ice Cream Bars?!
My idea behind this dessert was to make those mint brownies but in "summer" form! So instead of the typical mint frosting, we layer these brownies with mint ice cream. That ice cream is then topped with a chocolate fudge ganache, similar to the topping you'd see in most mint brownie recipes.
Additionally, since my mint brownie recipe has Oreo® cookies in it, I had to find a way to sneak them into these bars. I mean, every dessert is better with them right?! Of course we use the mint version of Oreos (Cool Mint Oreos) for these Mint Ice Cream Bars.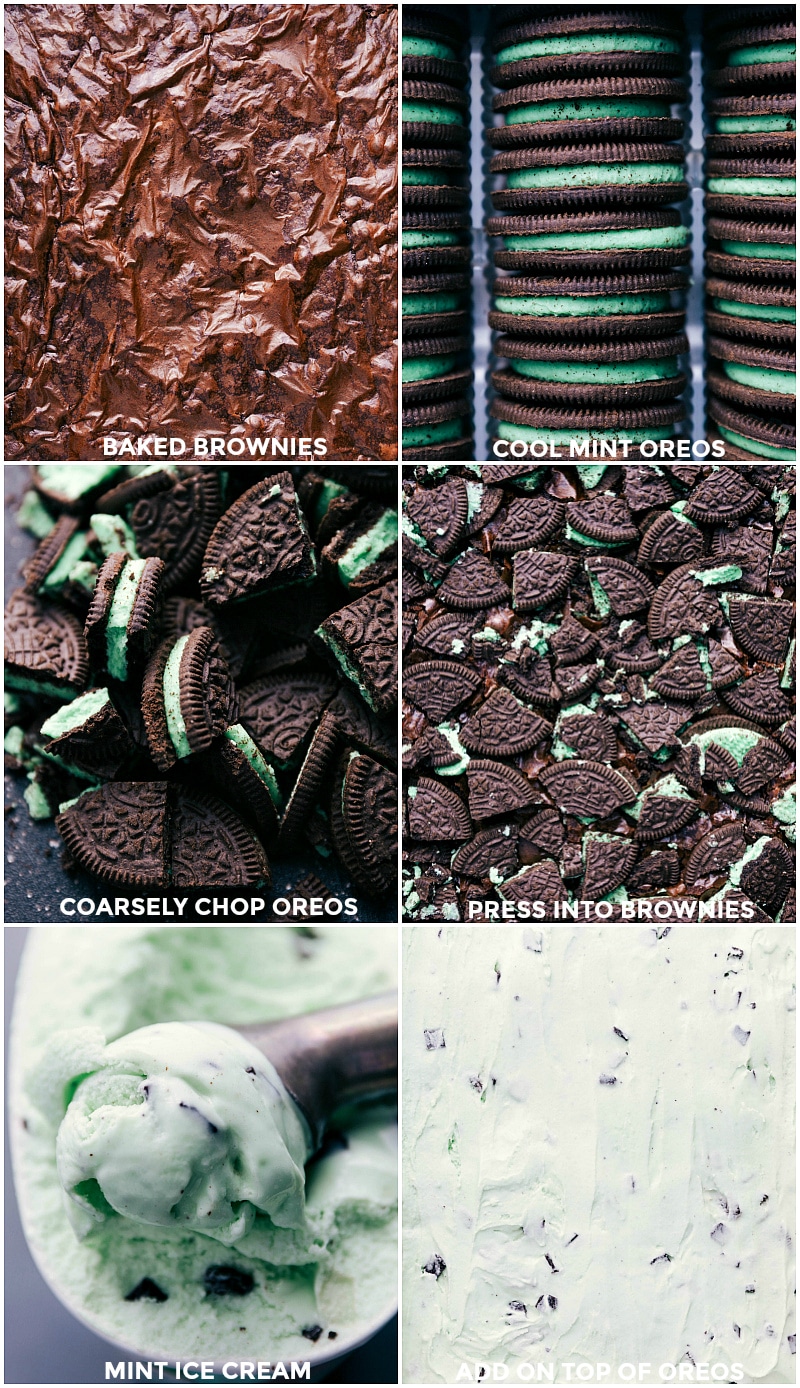 How to make Mint Ice Cream Bars
With only a few ingredients, Mint Ice Cream Bars couldn't be simpler!
Start by making fudge brownies:
We use a boxed mix for this recipe. Truly, I think brownie mixes are delicious and they're convenient, especially since the goal for this dessert is quick and easy. If you want to make your brownies from scratch, use your favorite brownie recipe in place of the mix in this recipe (Make sure it fills a 9 x 13-inch pan).
My favorite mix for this recipe:
Betty Crocker's Supreme Triple Chunk ®
(21 ounces) — there are different versions of this mix, so make sure to get the 21 ounce mix that will fit the 9 x 13-inch pan.
While the brownies are baking, coarsely chop the mint Oreos. We love the Cool Mint Oreos with this recipe, but if you aren't a fan, regular Oreos will work great instead.
The brownies are ever-so-slightly under-baked and then we gently press the chopped Oreos into the baked brownies.
The next layer is the ice cream layer! My all time favorite mint ice cream is Tillamook's® mint chocolate chip ice cream. (That ice cream is white — no artificial coloring if that is a concern for you). We also like Edy's® Rich & Creamy Grand Mint Chocolate Chip. Dreyer's® Mint Brownie Ice Cream is also fun in these bars — double the brownie for the win! (None of these brands is sponsored.)
Chocolate ganache topping:
Lastly, we top these bars with chocolate ganache. It's quite warm right after being made, so be sure to let it cool to room temperature before adding to the ice cream. It thickens more as it cools.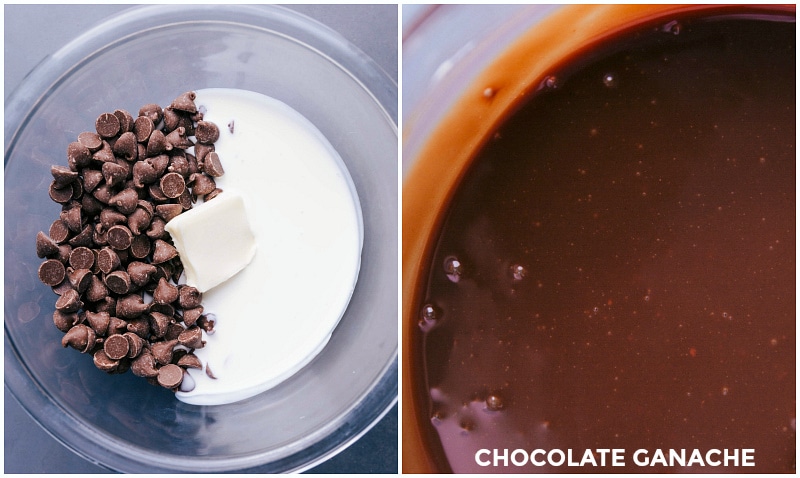 Recipe tips
Make sure to keep the bars in the freezer as much as possible while making them. If the ice cream gets too soft and melty, it tends to turn icy when re-frozen.
Under-bake the brownies ever so slightly. Since they'll be frozen, they firm up and get quite hard; I've found if the brownies bake the full time indicated on the package, they're too hard in these bars (especially contrasting with the soft ice cream and ganache topping).
Let the ganache cool fully to room temperature before adding to the mint ice cream.
Use reserved Oreos to top the ganache. Don't worry if the ganache doesn't go on the brownies perfectly; just crush up some Oreos and cover up any imperfections!
Line the pan with parchment paper for easy bar removal and serving.
For cleaner and easier slicing, run your knife under hot water and then wipe off with a towel between slices.
Variations
Want to try this recipe with cookies and cream instead of mint? I have a recipe that has been a huge hit on this website! Try these Brownie Oreo Ice Cream Bars.
Add a layer of whipped topping (one 8-ounce container Cool Whip) to top these bars instead of the chocolate ganache.
Replace the brownie base with an Oreo crust instead! If going this route, I'd recommend making the ice cream layer thicker.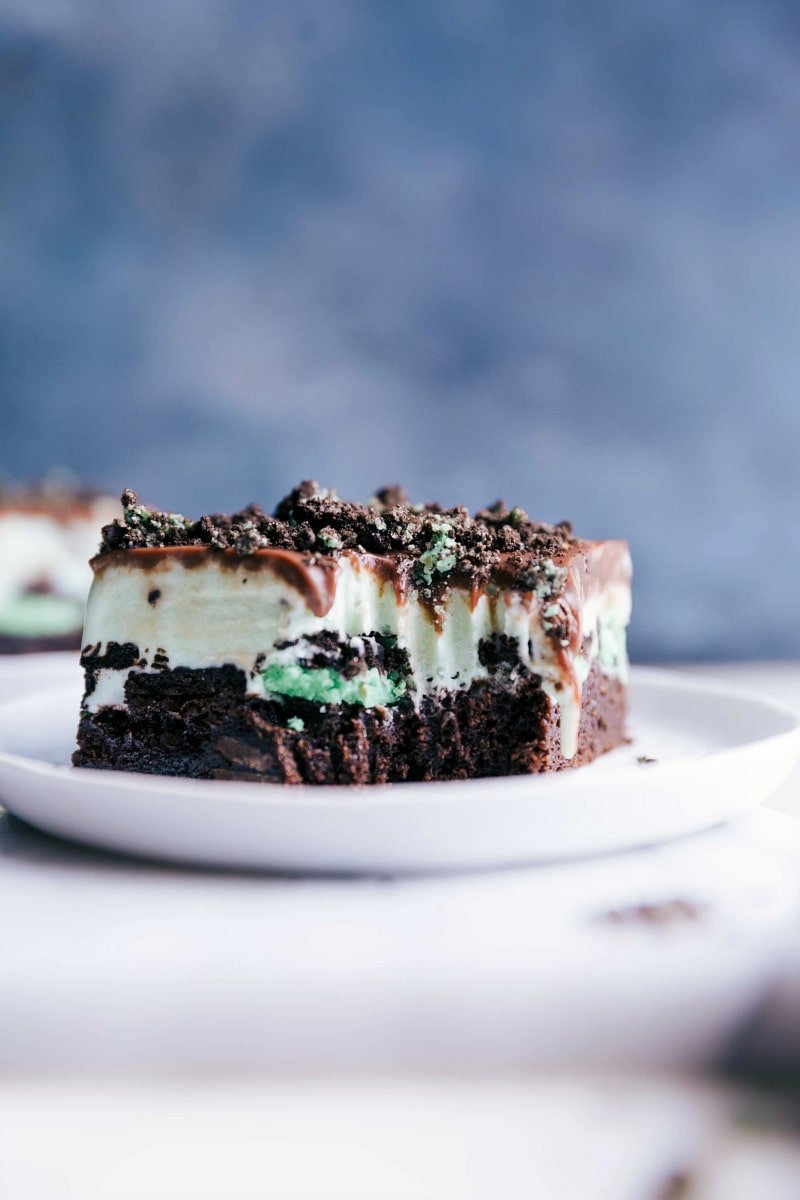 More ice cream treats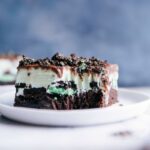 Mint Ice Cream Bars
Mint Ice Cream Bars start with a fudgy brownie bottom and are loaded with chopped mint Oreos, creamy mint ice cream, and a luscious chocolate ganache topping. This show-stopping dessert is practically guaranteed to be your new summer dessert staple! 
Keyword:
Mint Ice Cream Bars
Servings
:
16
servings (9x13-inch pan)
Ingredients
1

package (21 ounces)

Fudge Brownie Mix plus ingredients called for

(See Note 1)

1

package (15.25 ounces)

Cool Mint Oreo cookies

1

container (48 ounces)

Mint Chip Ice Cream

(or Mint Brownie Ice Cream)

1 and 1/4

cups (130g)

milk chocolate chips

2/3

cup (147g)

heavy cream

1

tablespoon

unsalted butter
Instructions
PREP: Line a 9 x 13-inch pan with parchment paper and lightly spray with nonstick spray. Preheat the oven according to the brownie mix instructions.

BROWNIE BASE: Follow package directions to prepare the brownies. Pour the brownie batter into the prepared 9 x 13 pan and spread evenly. Bake according to package directions for a 9 x13 pan, removing 2-3 minutes earlier than indicated by the instructions.

OREOS: Meanwhile, coarsely chop the mint Oreos; I cut each Oreo in half and then half again to have 4 pieces per cookie. Reserve 4-5 Oreos for the topping if desired. Gently press the mint Oreo pieces into the baked and warm brownies so they're about 1/3 the way pressed into the brownie. Let brownie layer cool completely.

ICE CREAM: Once the brownies are completely cool, scoop large scoops of ice cream evenly on top of the brownies. (If needed, allow the ice cream to sit at room temperature for 5 minutes so it is still firm but able to be scooped out and spread evenly.) Use a spatula or the bottom of a 1 cup measuring cup to gently press and spread the ice cream over the mint Oreo brownies. Don't press too hard. Once the ice cream is in a smooth layer, cover the bars and place in the freezer while preparing the ganache topping.

CHOCOLATE GANACHE: In a medium-sized microwave safe bowl, combine the milk chocolate chips, heavy cream, and the butter. Microwave for 30 seconds. Remove and stir for at least 20 seconds. Return to the microwave in bursts of 15 seconds, stirring after each burst for 15-20 seconds until completely melted and smooth. Let stand at room temperature for 20 minutes to cool. Stir every 5 minutes. Once the ganache has thickened and is at room temperature, pour and gently spread over the ice cream layer. (Make sure the ice cream layer is firm before adding the ganache so the two don't bleed together). If desired, use the 4-5 reserved Oreos and crush them (add to a plastic bag, seal, crush with a wooden spoon) and add on top of the ganache.

FREEZE: Cover the brownies with plastic wrap and then foil; place in the freezer for at least 4 hours and preferably 6 hours to overnight for the ice cream to completely harden and firm up.

SERVE: Let bars stand for 5 minutes at room temperature before cutting and serving. Use the overhang of parchment paper to pull the brownies out of the pan. Use a hot, sharp knife (run it under hot water, dry with a towel) to make cuts into the bars. Serve and return any leftovers (covered tightly) to the freezer.
Recipe Notes
Note 1: Make sure the brownie mix you have is made for a 9 x 13-inch pan (it should say on the box or be around 18.3 -21 ounces).