A deliciously creamy frozen strawberry yogurt filled sugar cones. The yogurt is covered in a dark chocolate magic shell.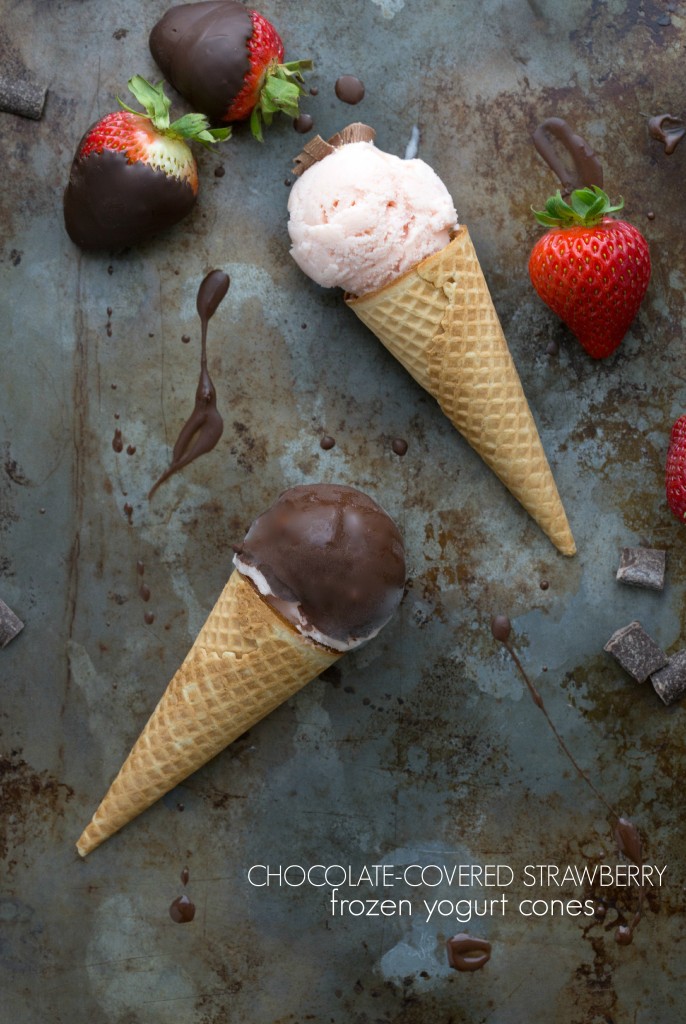 The other day the husband and I decided to make some chocolate frozen yogurt together.
Okay, actually I decided. He detests chocolate frozen yogurt, and well, it's my favorite flavor. The husband likes the fruity flavored frozen yogurts – you know, raspberry, mango, strawberry…
So our compromise was to make both flavors. The chocolate frozen yogurt had to chill in the fridge while the melted chocolate was cooling down and the strawberry yogurt could be put right into the ice cream machine.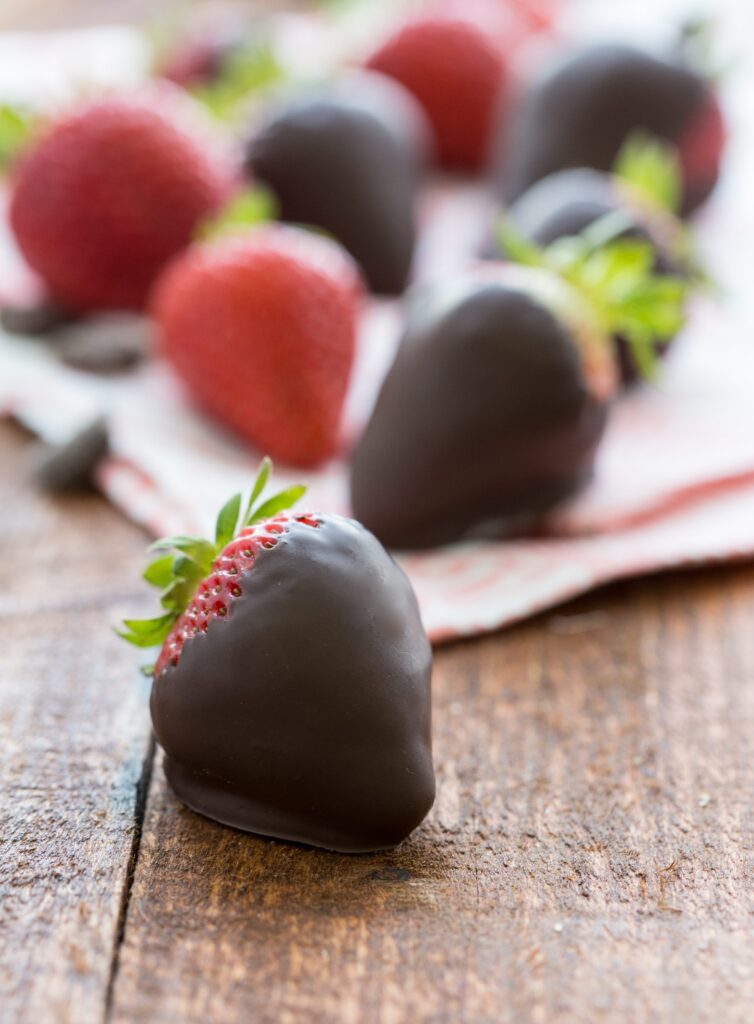 Unfortunately, the chocolate frozen yogurt was completely disgusting. It did not help my case in convincing the husband I could get him to like chocolate frozen yogurt when I didn't even like it myself. I struggled through a few bites and then admitted he was right. The fruity frozen yogurt was way better.
Quite possibly the best frozen yogurt that I've ever had. Turns out compromising can sometimes be pretty rewarding ;).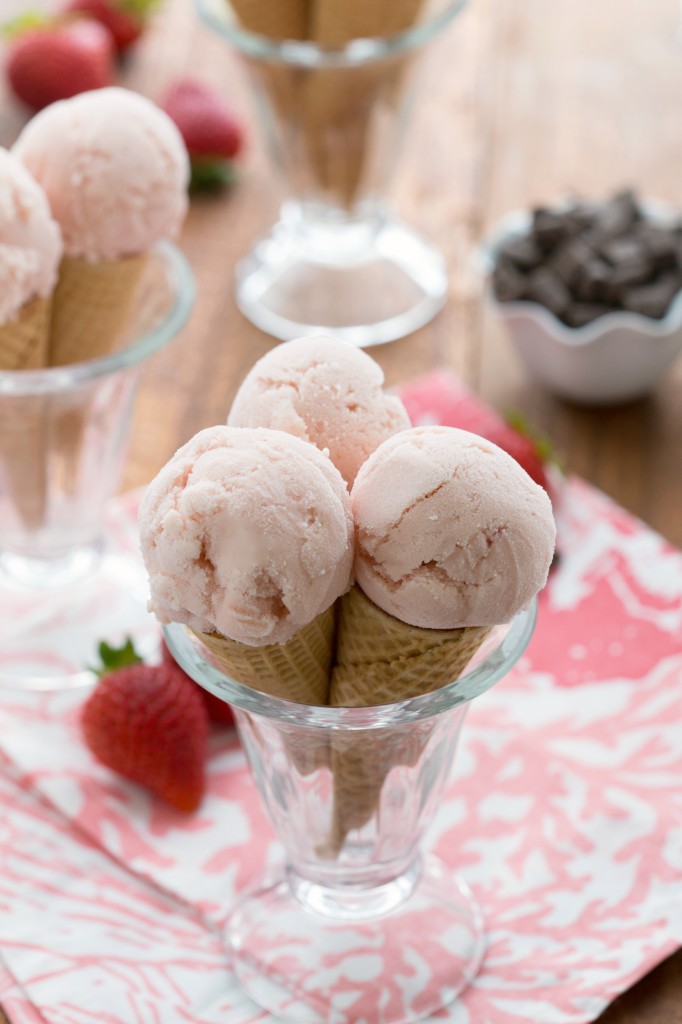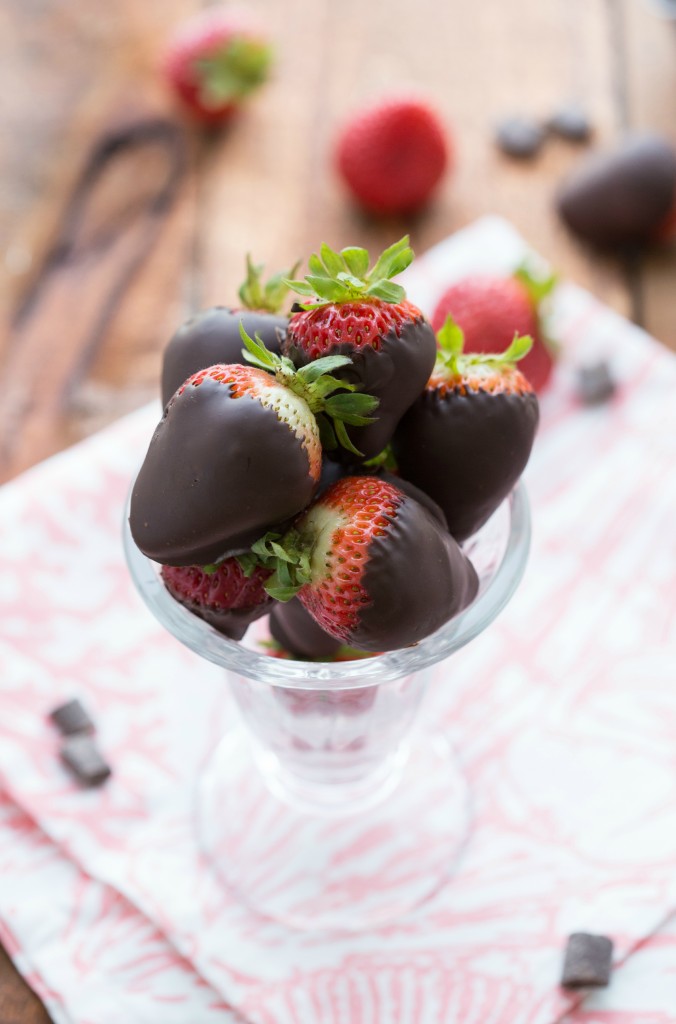 So the chocolate frozen yogurt which I finally rendered un-eatable was chucked and I scooped up a huge bowl of the fruity frozen yogurt. And then, much to my husband's chagrin, I doused it in chocolate syrup. It was diiiivine. Obviously I made the husband give it a try. And he actually liked it! I got thinking… a chocolate shell would be even better.
Like a chocolate covered strawberry frozen yogurt.
So the next day I create my vision for the chocolate covered strawberry frozen yogurt. I made it all with dark chocolate, because I was going for a slightly healthier theme and I love dark chocolate. However, milk chocolate is a great and perfect subsitute!
The yogurt takes minutes to prepare and then just needs to be frozen in an ice cream maker.
You can use the yogurt straight out of the ice cream maker to put in the cones, but I found it worked better to freeze the yogurt until it is hard enough to create sturdy scoops.
The chocolate magic shell is only two ingredients and takes about 3 minutes to make. And dipping the cones is super easy too. If the yogurt isn't hard enough to dip it like the picture, you can slowly pour the chocolate shell over the yogurt. It freezes pretty quick into a perfect hard shell.
In fact, perfect is a pretty good way to describe these ice cream treats.
P.S. Summer, please never end.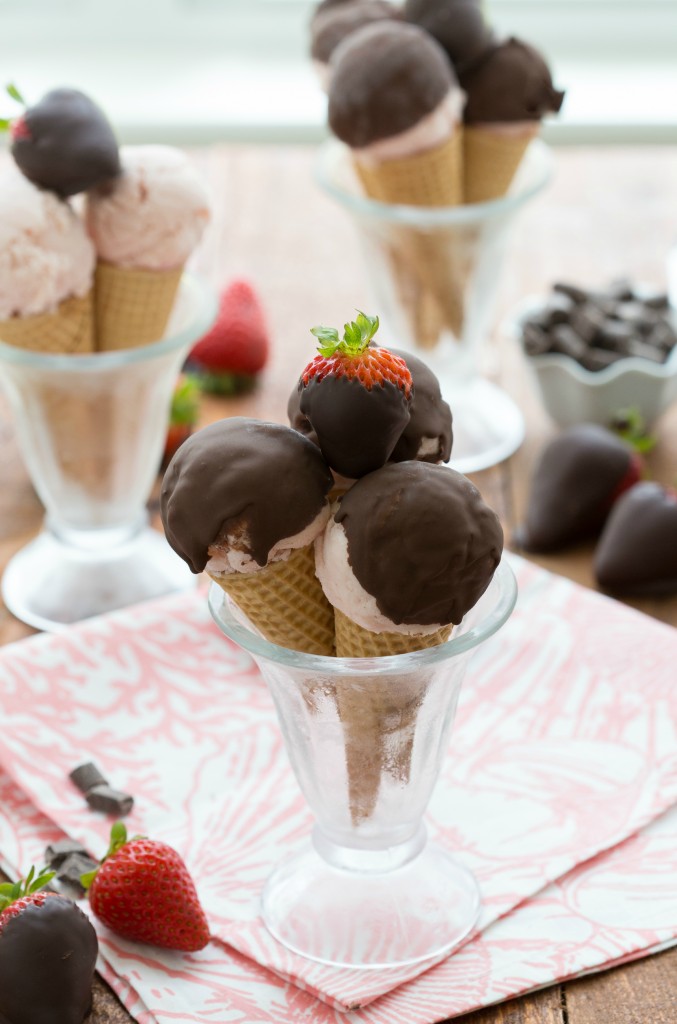 Chocolate-Covered Strawberry Frozen Yogurt Cones
Ingredients
Strawberry Frozen Yogurt
4

cups

plain or vanilla yogurt

32 ounces

1

cup

heavy whipping cream

2/3

cup

white sugar

1 and 1/2

teaspoons

vanilla extract

1

teaspoon

lemon juice

1

bag (16 ounces)

frozen strawberries
Chocolate Shell
3/4

cups

chocolate chips

I used dark chocolate

1/4

Cup

Coconut Oil

measured when solid
Instructions
In a very large blender, combine all of the frozen yogurt ingredients. Blend until smooth.

Pour into your ice cream maker and freeze according to maker's instructions.

Once frozen, transfer the mixture into a resealable container and freeze until hard about 4-6 hours.

Remove and scoop to fill the sugar cones. Refreeze while preparing the chocolate magic shell. (I just placed the cones upright in a cup in the freezer)

For the chocolate magic shell, combine the chocolate chips and coconut oil in a microwave safe bowl. Microwave in 30 second bursts making sure to stir in between the bursts for at least 15 seconds.

Stir until the chocolate is completely dissolved and set aside to cool.

Once the chocolate shell is cool, either dip the cone (or spread the chocolate over the cone) in the magic shell.

Wait about 30 seconds for the chocolate shell to harden and then enjoy.
 Here are some more frozen treats: