Easy-to-make Mint Brownies have a thick layer of mint frosting and a soft chocolate ganache topping.
For the holidays, be sure to try this peppermint brownies variation. Other brownie recipes to love: cosmic brownies or gluten free brownies.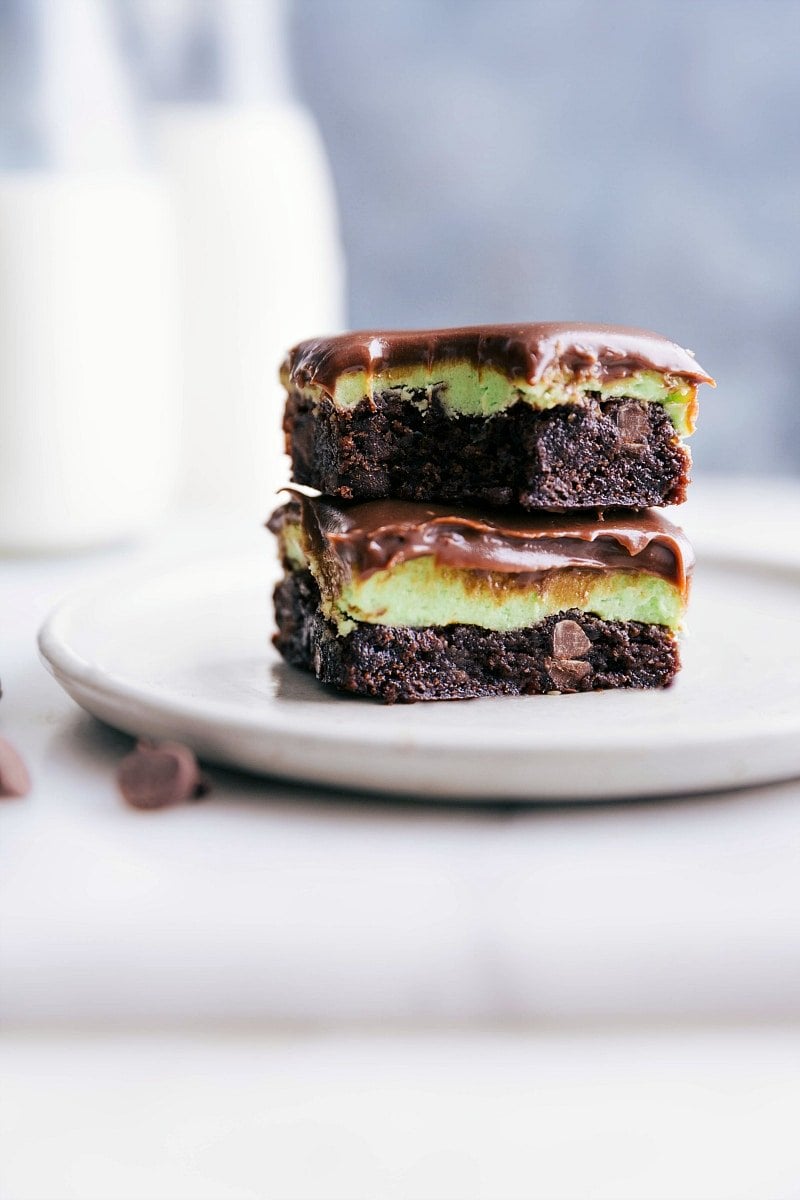 Mint Brownies
When I was in my junior year of college at BYU, I worked for a bit at one of the Creamery ice cream and bakery shops in Provo. I'd work early in the morning, go to classes and do homework, and then wait tables at night. If you are from Utah and live near the Provo area you likely know about The Creamery. They are pretty famous in and near Provo for their ice cream (Their Graham Canyon ice cream contains all good things in life). They're also known for their donuts and mint brownies.
If you happened to be the first person at work when the orders came in, you got the oh-so-coveted responsibility of cutting the mint brownies. This was the best responsibility because the small little corners or edge pieces that weren't so pretty? They were fair game. Meaning, we were allowed to eat all ugly pieces. Naturally, I was always early to work. And I cut up and subsequently ate those edge pieces far, far too often!
So, I feel that this experience has definitely made me an expert with all things mint brownies-related. And by expert, I mean, I don't settle for second- rate mint brownies. This recipe has been several months in the making. I've tried lots of different ingredients/quantities/methods and am so excited to finally share with you my very favorite mint brownies.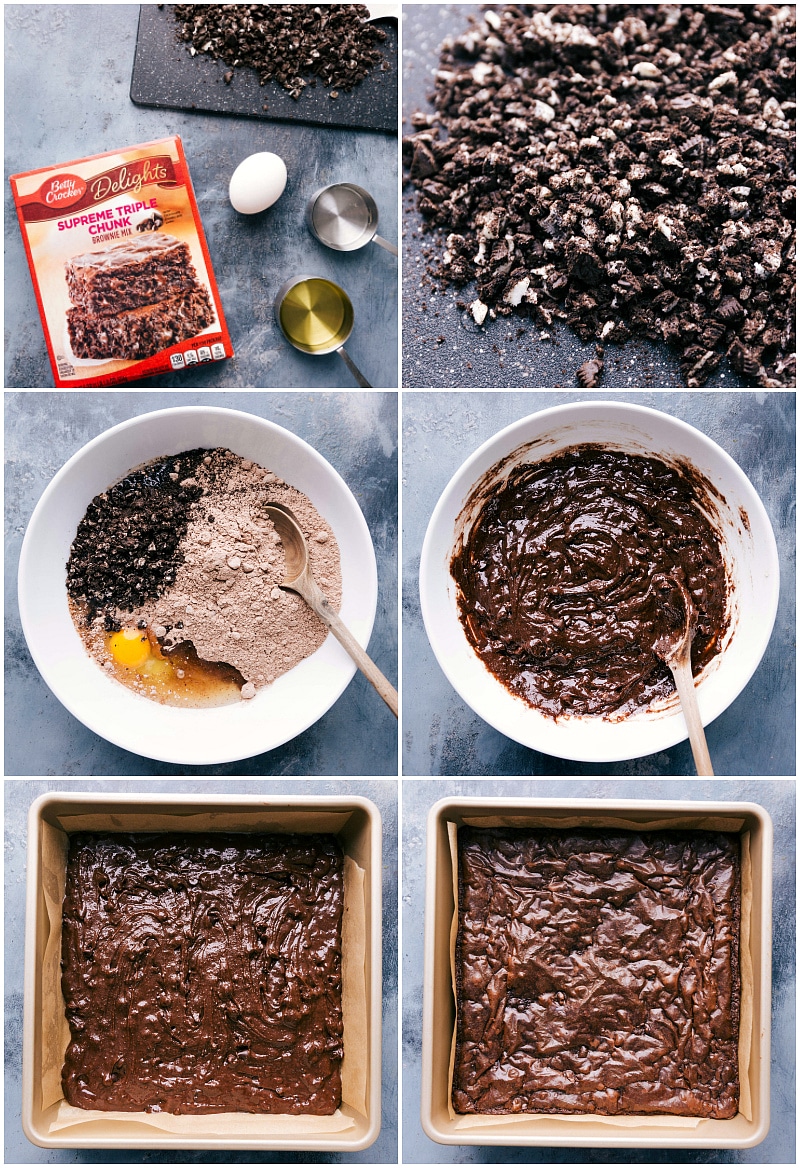 How to make Mint Brownies
Below I'm breaking down the three layers to this dessert in more detail. The photo collages show the process of making the brownies, frosting, and ganache.
Mint Brownies base: brownies
We begin with a boxed mix for these brownies. Truly, I think brownie mixes are delicious and they're convenient. Especially since we're making the frosting and topping from scratch, it's nice to have a little shortcut here. If you want to make your brownies from scratch, use your favorite brownie recipe in place of the mix in this recipe (Make sure it fills an 8×8 or 9×9-inch pan).
Mint Brownies middle: mint frosting
Most mint brownies have a buttercream layer, but this recipe calls for a cream cheese frosting. I love the addition of cream cheese here, because it gives the frosting so much more flavor and helps to balance the sweetness of the brownies and fudge topping.
Food coloring is fun to make these brownies look minty or for the dessert to be festive looking (for St. Patrick's Day), but it's optional. Without the food dye, the frosting will be white, but still taste the same.
Make sure to use peppermint extract, not mint. Mint extract (which is more wintergreen flavor) makes the frosting taste like toothpaste; the peppermint is much more mild. Depending on how strong of a mint flavor you'd like, use 1 to 1 and 1/2 teaspoons in the frosting. The actual strength of the peppermint extract will also depend on the brand (some are more potent than others). I use 1 teaspoon of McCormick® peppermint extract, which we find to be the perfect amount.
Mint Brownies topping: chocolate ganache
And finally, the chocolate ganache topping, which is actually my favorite part of these Mint Brownies! The topping is thick, rich, and luxuriously smooth.
We use milk chocolate for the topping, but if you're concerned about over-sweetness, use semi-sweet or dark chocolate chips.
The topping is soft, so allow plenty of time for the topping to firm up before cutting and serving these bars.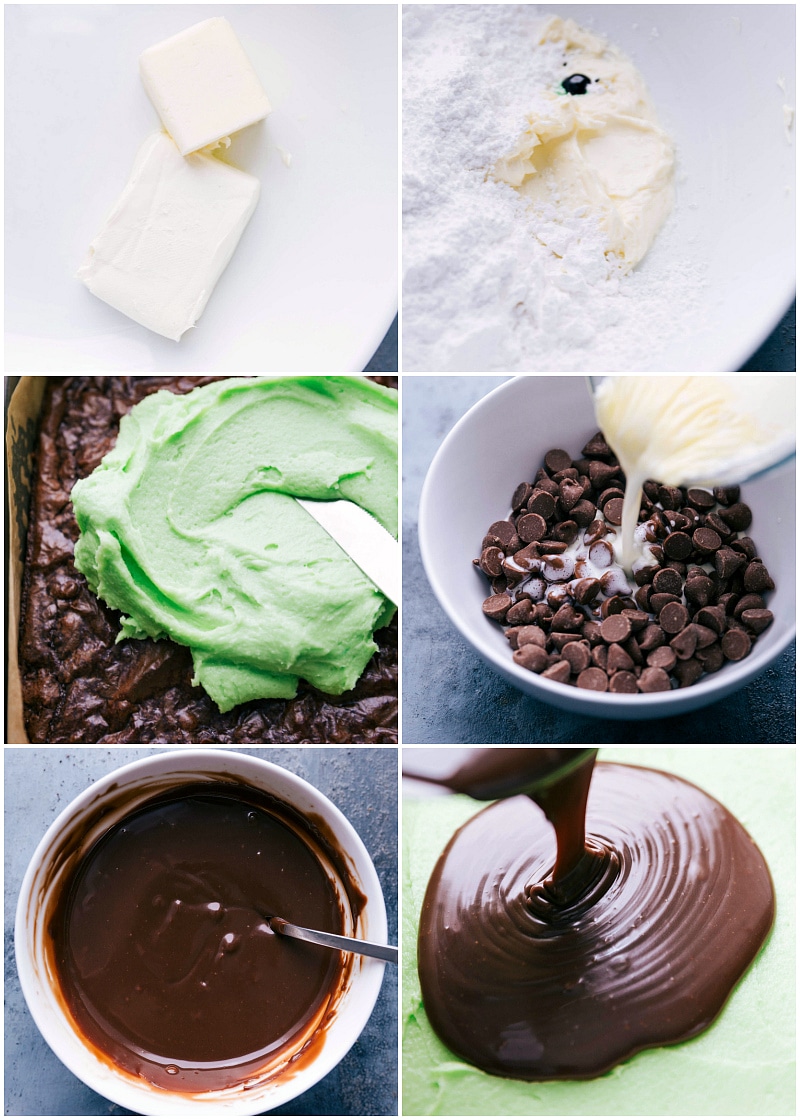 Mint Brownie tips
For easier bar removal, line the pan with parchment paper. With the extra layers of mint frosting and ganache, you'll thank me later!
Make sure the cream cheese and butter are softened to room temperature before beating; otherwise the frosting can get lumpy and not mix smoothly.
If your brownie mix comes with a fudge layer, leave it out of the mix and spread it onto the brownies straight from the oven instead; this gives you another delicious layer!
Chop Oreos finely. We don't want chunks of Oreos in the brownies, but rather for the small pieces to melt and further intensify the chocolate flavors.
Be patient in layering. The brownies need to be completely cooled and firm before adding the frosting and the frosting needs to be chilled before adding the chocolate ganache. Take your time layering this dessert for best results. I usually make the brownie base the night before.
For easier slicing, run your knife under hot water and then wipe off with a towel between slices.
Storage
Store any leftovers in an airtight container in the fridge. Brownies are best eaten within 3-4 days. I don't recommend freezing these mint brownies; the dairy in the frosting and the ganache don't do well with freezing and thawing.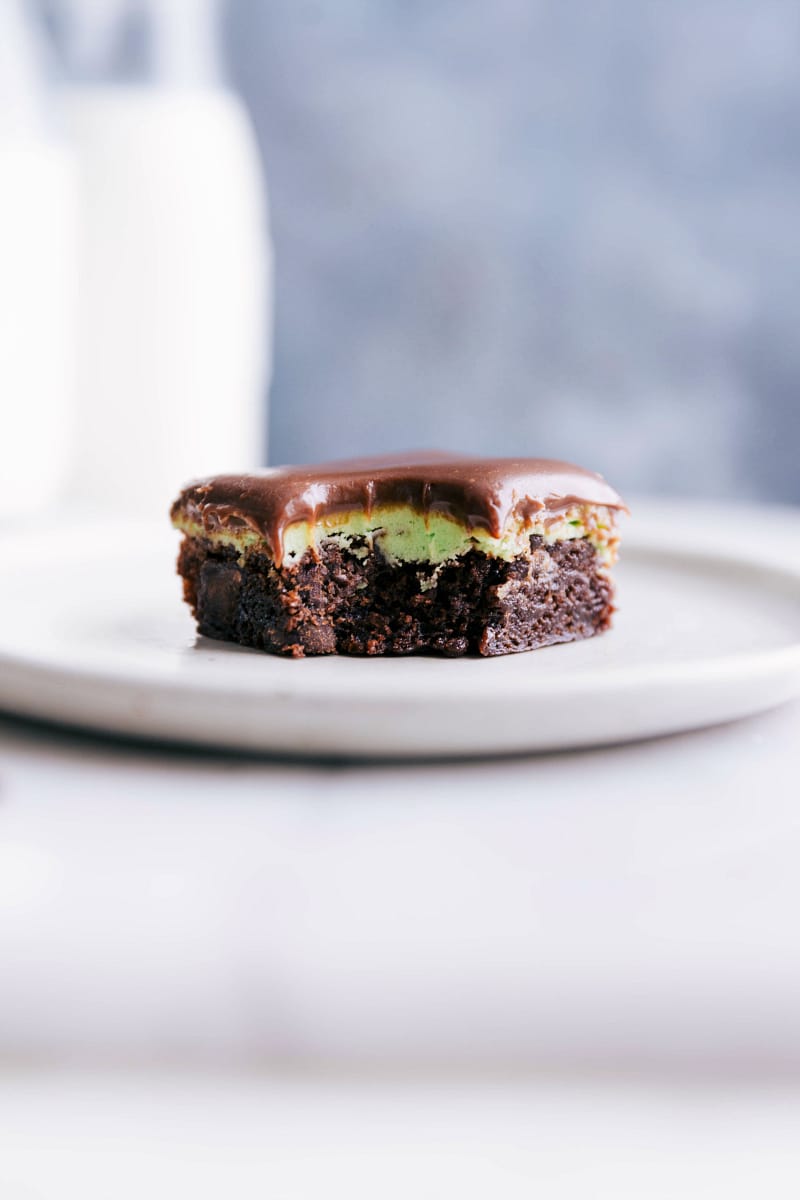 More dessert recipes:
Mint Brownies
Easy-to-make Mint Brownies have a thick layer of mint frosting and a soft chocolate ganache topping.
Ingredients
1

package (17.8 ounces)

brownie mix and the ingredients called for on the package.

(I recommend Betty Crocker's Supreme Triple Chunk)

6

regular Oreos,

finely chopped (leave the creme filling inside)
Frosting
3

ounces (88g)

full-fat cream cheese

4

tablespoons (56g)

unsalted butter

1

teaspoon

peppermint (not mint) extract

1/16

teaspoon

fine sea salt

2

cups (225g)

powdered sugar

Optional: green food coloring
Ganache
1

cup + 2 tablespoons (200g)

milk chocolate chips

(or semi-sweet chocolate chips if desired)

2/3

cup (160g)

full-fat heavy cream

1

tablespoon (14.2g)

unsalted butter
Instructions
BROWNIES: Preheat the oven to 350 degrees F. Line a 9x9-inch (8x8-inch works, but we prefer 9x9) baking pan with parchment paper, leaving an overhang. Follow package directions to prepare the brownies -- do not add the fudge packet if it came with your brownies (reserve the packet for later). Very finely chop 6 Oreo cookies and add to the brownie ingredients. Stir everything together to make a thick batter. Transfer to the prepared pan and bake according to package instructions. Don't over-bake. As soon as the brownies are baked, remove from the oven and allow to cool for 3-4 minutes. IF you had a fudge packet, spread it over the brownies here. Cover the brownies tightly and place in the fridge (or freezer) while preparing the frosting layer.

CREAM CHEESE FROSTING: In a large bowl, beat together the (softened to room temperature; not melted) cream cheese and butter until smooth and creamy. Add in the peppermint extract (to preference; we use 1 teaspoon (See Note 1). Add in the salt, food coloring if using, and powdered sugar. Beat until smooth and creamy. Resist the urge to add milk or cream; it will seem like it's not coming together at first but just keep beating until it does. Scrape down the sides as needed with a spatula. Spread frosting evenly over completely cooled brownies. Return the brownies to the fridge while preparing the ganache.

GANACHE: Measure chocolate chips into a heatproof bowl and set aside. Add heavy cream and butter to a glass measuring cup and microwave until steaming hot (but not boiling), about 1 to 1 and 1/2 minutes. Pour the hot cream mixture over the chocolate chips. Do not stir. Cover the bowl with a pot lid or a plate to keep in the heat. Let stand for 5 minutes. Then stir until chocolate is fully melted and smooth. If needed, microwave the mixture for 15 seconds to further melt. Let ganache stand for 10-15 minutes to thicken. Whisk again and then pour and smooth over the frosting layer. Let brownies stand at room temperature for 30 minutes (to keep the top glossy, don't immediately refrigerate) and then refrigerate for 2-3 hours or until chocolate topping is firm. 

SERVE: Using the overhang of parchment paper, remove brownies from the pan and cut with a very sharp knife. To get clean cuts, run your knife under very hot water, dry, and then slice in quick fast cuts.
Recipe Notes
Note 1: The strength of the extract varies from brand to brand; I use McCormick peppermint extract and 1 teaspoon is perfect for us. Taste the frosting and decide if you'd like more extract, up to 1 and 1/2 teaspoons.