Easy to make snowball cookies with crushed peppermint and pecans. These pecan snowball cookies are sure to be a hit this holiday season!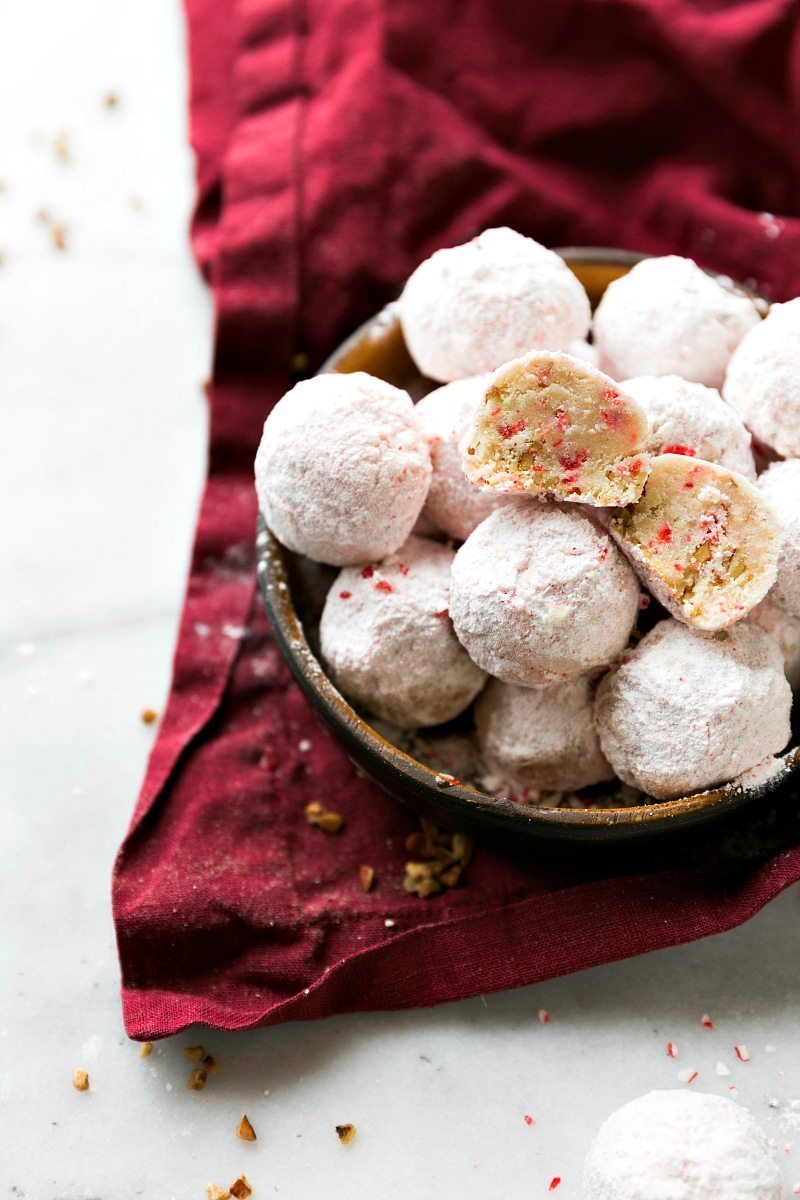 This past week, it snowed for the first time this season and my kids were in total awe. They stood by a large window in my bedroom and just stared at it for a good ten minutes. Later on that same day, their dad taught them all about snowball fights. They had so much fun they thought it would be a good idea to bring a huge snowball in the house and throw it at me.
I'll be honest, I like snowball cookies a lot better 🙂
The next morning, the toddler and I made snowball cookies together and he was tickled that they looked so similar to the snowballs they'd played in the night before. Just less cold and a whole lot yummier!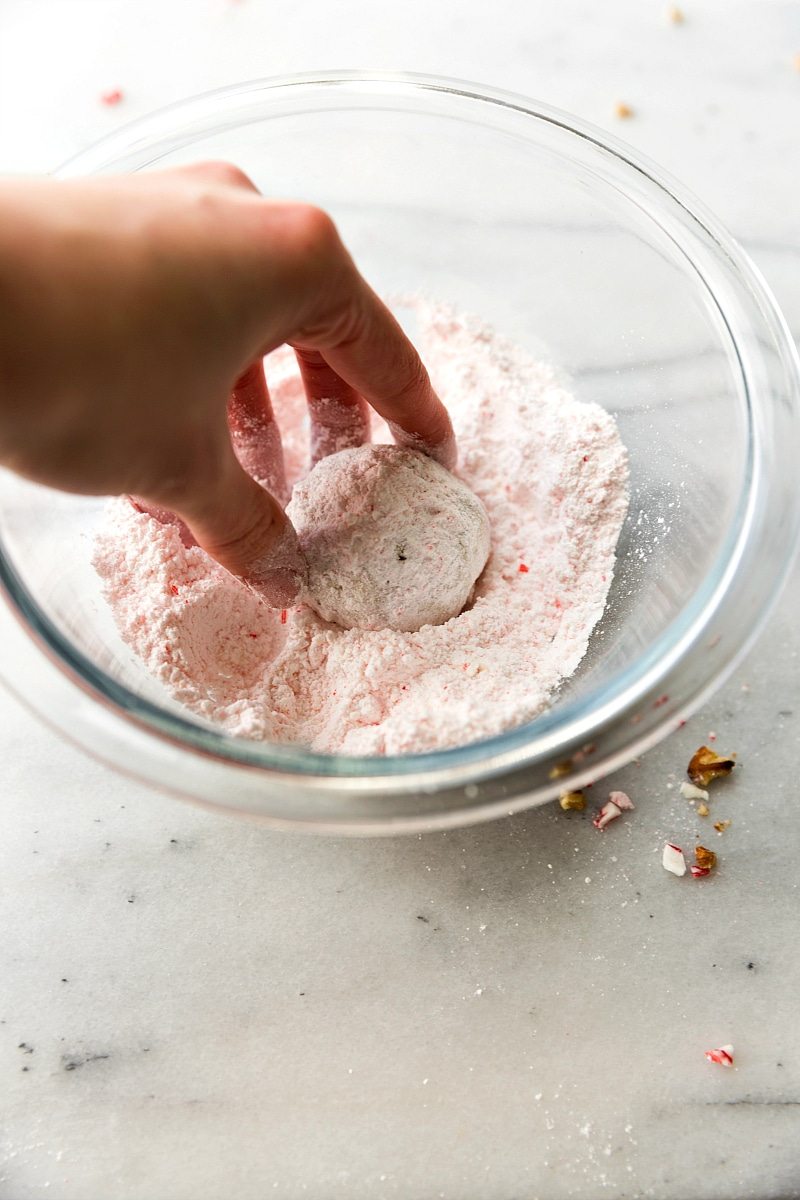 When I think of Christmas cookies, snowballs are always top on that list. They are a classic Christmas cookie and these are even more perfect for Christmas with all the peppermint added in! These cookies are one of the simplest cookies to make. They only use 1 bowl, require minimal to no chilling (it's optional!), and have just a few ingredients.
Since there are so few ingredients, the ingredients you use are important. The three most important ingredients in these cookies are butter, the pecans, and the vanilla extract.
As far as butter, make sure you use REAL butter and no substitutes or margarine. The butter is really the base of these cookies.
Next, the pecans. Since you use an entire cup of pecans in these cookies, they have the potential to add in a whole lot of flavor. They are great plain, but even better toasted. I quick toast them in a skillet over the stovetop. I like using the pecan bits because it's super fast, but full pecans work great too. Whatever you're using make sure you chop them before toasting them. The more surface area you have, the more of a toasted flavor you'll get. You want the pecans to be quite small so they'll work well in the dough. You'll then need one more chop to make sure they are super fine before adding them to the dough.
And the last important ingredient — vanilla extract. This extract is one of the main flavors in these cookies — use real vanilla extract and not the imitation ones. My "secret" to the best snowballs is actually using Mexican or Tahitian vanilla extract. Either of these two extracts really accentuate the flavor and add so much to these cookies. (Mexican vanilla is my ultimate favorite.)
These cookies have two types of peppermint added, but they aren't overwhelmingly peppermint flavored. They've got peppermint crunch sprinkles that get baked into the cookies and then they are rolled in crushed peppermint + powdered sugar. I've found the peppermint crunch sprinkles with Christmas baking supplies in the store, or in the Christmas decorating aisles (Wal-Mart) with cookie cutters and decorative paper cookie boxes, or online
.
The last secret to the best snowballs? Rolling them TWICE. Roll them once after they've come out of the oven and then roll them once more once they've cooled down. They are not only prettier, they taste so much better with a second coating! ☺️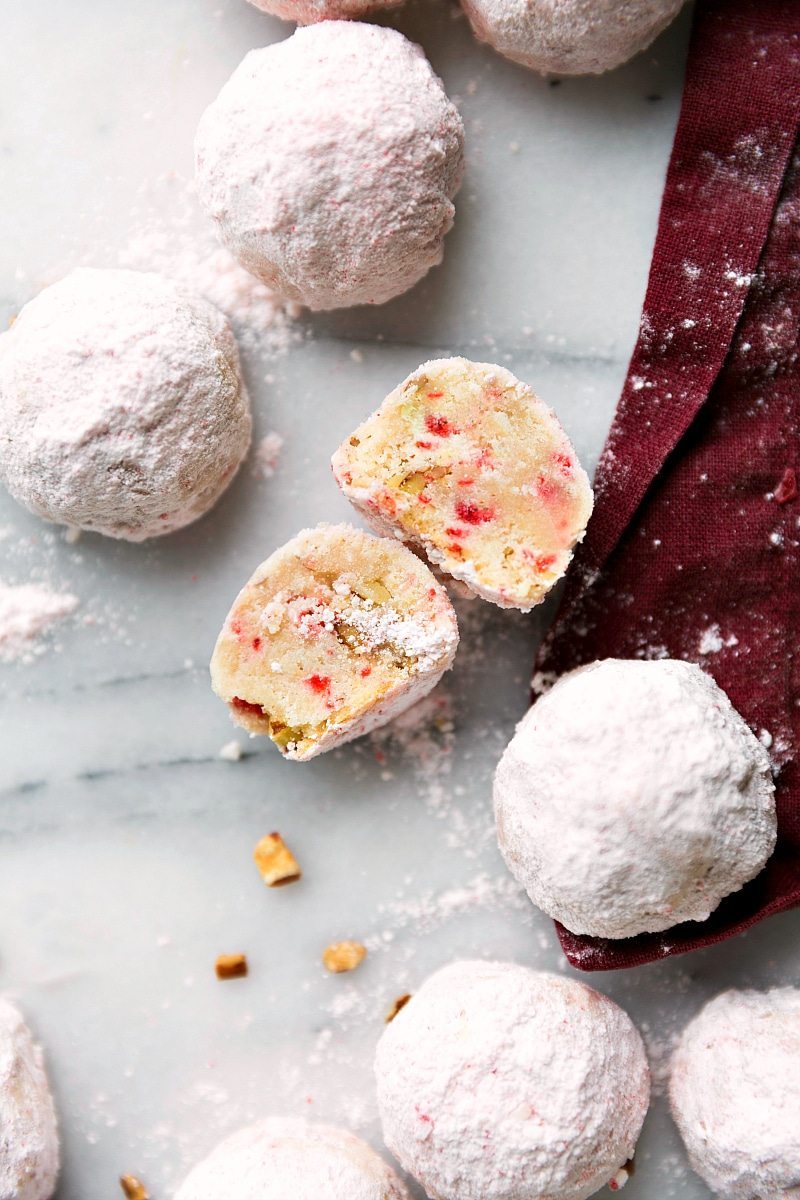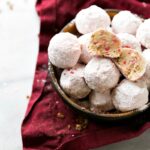 Peppermint Pecan Snowball Cookies
Servings
:
35
-40 snowballs
Ingredients
1

cup

unsalted butter

room temperature

3/4

cup + another 3/4 cup

powdered sugar

separated

2 and 1/4

cups

white flour

1/4

teaspoon

salt

2

teaspoons

vanilla extract

Mexican vanilla if you can find it!*

1

cup

pecans

bits or full

1/3

cup

peppermint crunch sprinkles

3

full sized candy canes
Instructions
If you plan on chilling the dough for 30 minutes, wait to preheat the oven. Otherwise, preheat the oven to 350 degrees F.

First, toast the pecans. (OPTIONAL. you can skip this step and just chop them finely)

Chop full pecans into coarse pieces (you'll chop them again after toasting; if you got pecan bits, skip this step). Heat a dry nonstick skillet over high heat. Once it is hot reduce the heat to medium and then add in the nuts (quick burst of heat will extract some of the oils in the nuts and keep them from sticking to the pan).

Cook, stirring CONSTANTLY, and flipping frequently until you can *just* begin to smell the toastiness. Get them off the pan quickly once they smell fragrant. (Note that nuts are extremely easy to burn so watch carefully. They also continue cooking for a little even after removing them from the heat.) Allow to completely cool and then chop once more to get very tiny bits.

In a large bowl, add in the room temperature (do not melt at all!) butter, 3/4 cup powdered sugar, and vanilla.

Beat until light and creamy. It should look like a thick mayo.

Add in the salt and the flour and mix with hand mixers. It's going to seem like the dough won't come together, but keep going -- it will! This dough is extremely thick.

Add in the toasted pecans and peppermint crunch sprinkles and stir to combine.

Roll out small balls of dough -- about 1 tablespoon each.

I roll out the dough balls and chill, covered, for 30 minutes and then bake. You can just bake them without chilling too, but they spread a tiny bit more.

Bake for 12-14 minutes or until lightly browned at the edges and top.

Remove and let cool for 3 minutes.

While they are cooling, blend or pulse the full sized candy canes in a food processor or blender. Pulse until they resemble powdered sugar.

Toss with the remaining 3/4 cup powdered sugar. Roll the cookies into this mixture and then let completely cool.

Once cool, roll again in the powdered sugar + peppermint mixture.
Recipe Notes
*I love Mexican or Tahitian vanilla in these -- it adds a ton of flavor. If you can't find either, use REAL vanilla extract and not imitation for best flavor results.
More Christmas Cookies: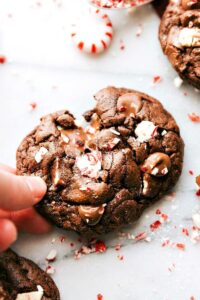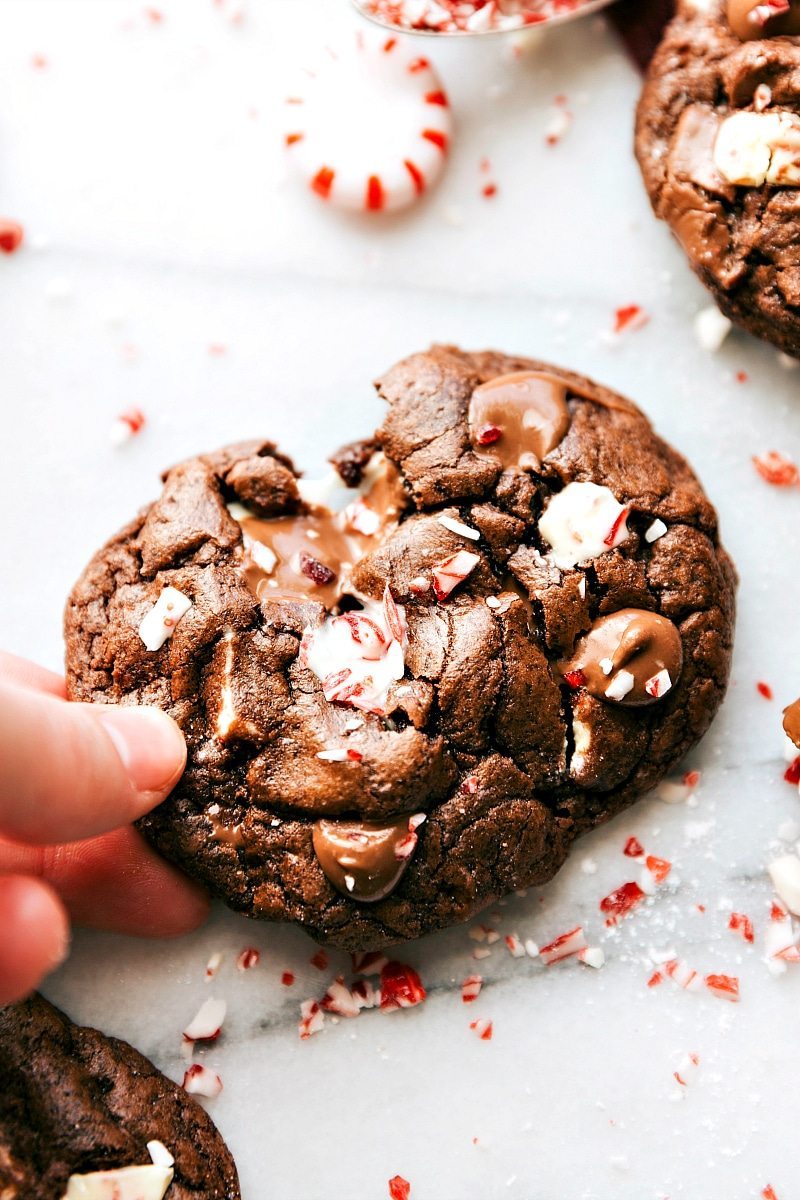 Easy Peppermint Bark Brownie Cookies