An eggless cookie dough topped with cookie dough ice cream and whipped topping. Garnished with cookie crisp cereal, miniature chocolate chips, and chocolate syrup. A cookie lover's dream!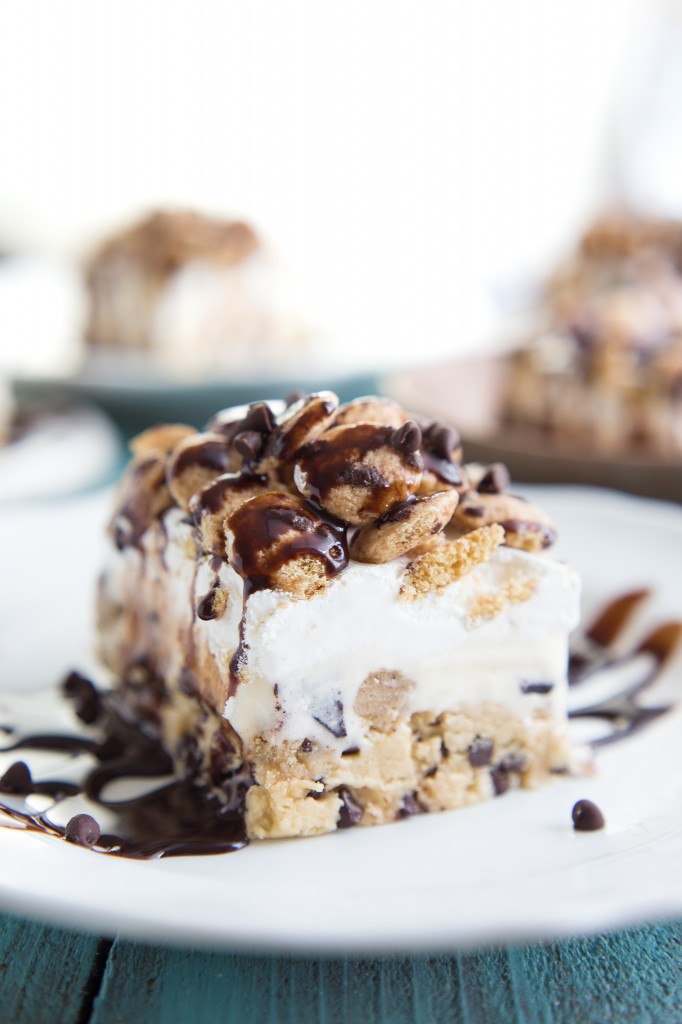 I believe the main reason cookies should be made is to eat copious amounts of cookie dough.
That statement is pretty much my mission statement for life. I eat a lot of cookie dough and I reallllly love it.
So naturally, these bars happened. They have been in the planning stage for a couple of weeks and then last week, I finally executed the plans, and they are now my new favorite dessert. They are LOADED with cookie goodness – the thick cookie dough base gives these a fantastic start, then my favorite cookie dough ice cream, and some creamy whipped topping. But I didn't stop there, because I also loaded these bars with miniature cookies – otherwise known as cookie crisp cereal.
Alternative mission statement for life: cookies for breakfast makes me happy. Hence the fifteen boxes of cookie crisp in my pantry that I claim I "bought for the husband."
Other things that I claim I "bought for the husband" include, but are not limited to: Kit-Kat bars, boxes of Mac and Cheese, shoes that look good on me, and lots of decorative pillows for around our house (<–he never bought that one).
When I "buy things for the husband", he can't object right? Except that I am sworn to oath I will stop buying pillows because our couches are practically un-sit-able.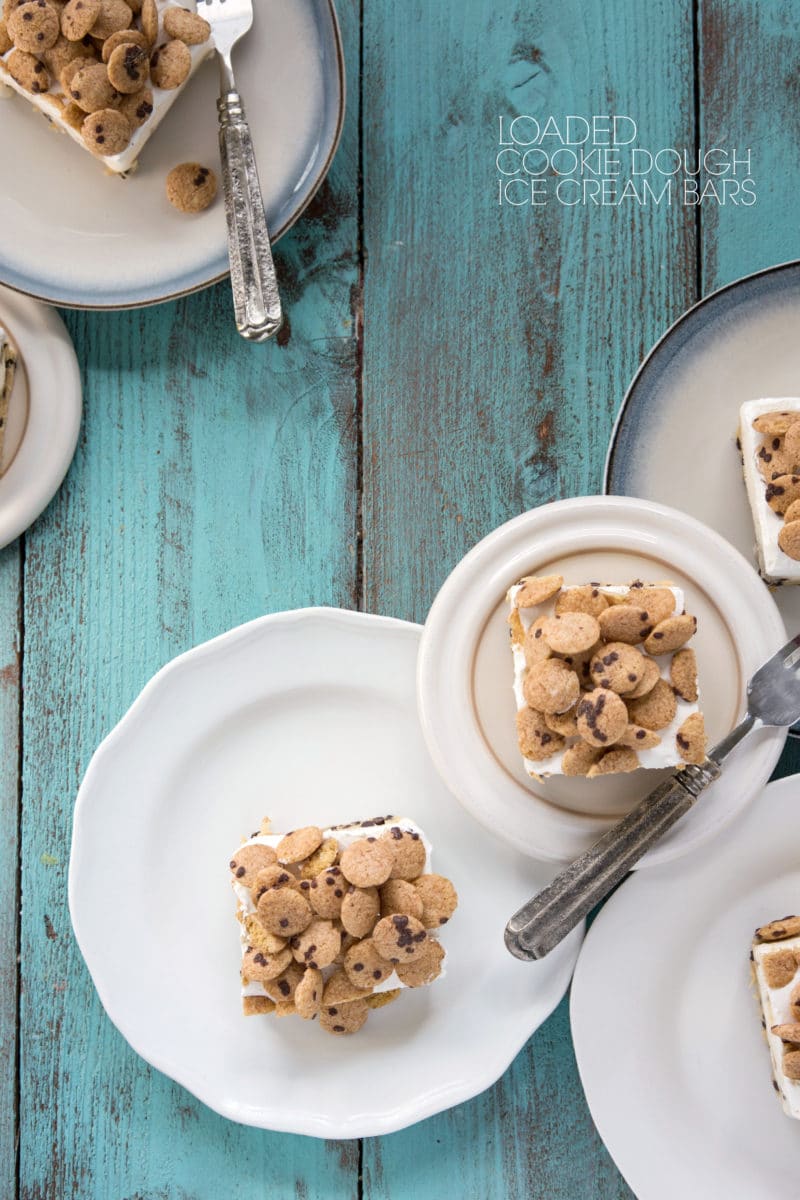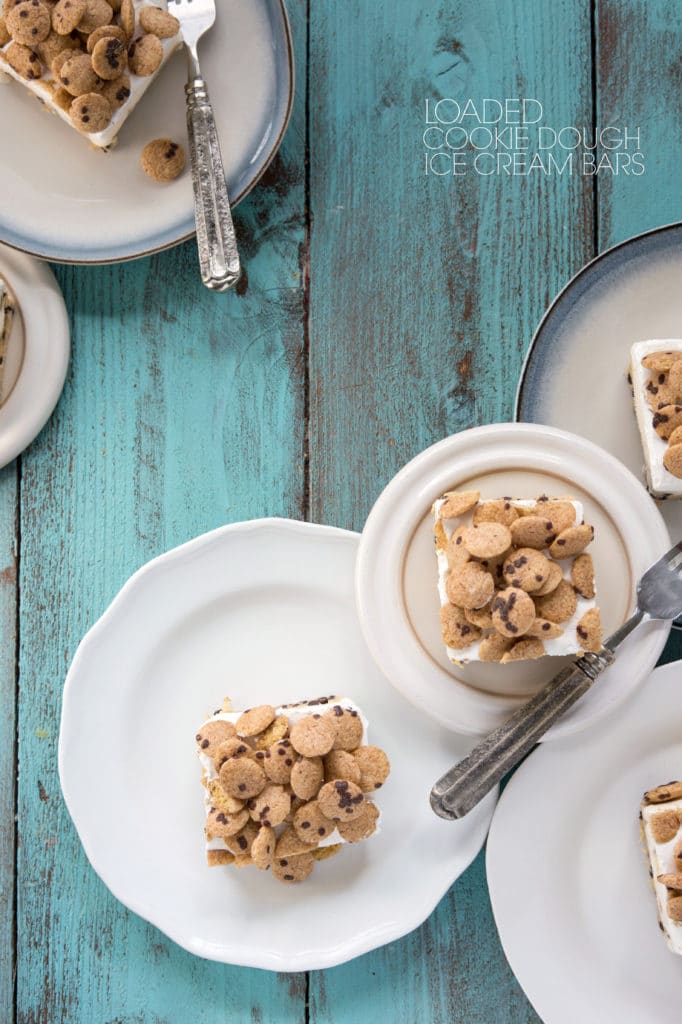 It's this problem that starts with me looking online or in magazines and I see these gorgeous family rooms and their couches are stuffed with pillows. So mine need to be too right? Except no one ever tells you that it makes them pretty dysfunctional, and men?, they don't really like it.
But I'm just getting off track here. Back to cookie dough, because turns out men really do like cookie dough. Or just desserts in general…
And these bars are as man-pleasing as they come. Pretty much these bars are a please everyone kind of thing. Please you – because they are SO easy to make. Hello three easy peasy layers and then a simple (and completely optional) topping. AND they will please everyone eating them – cookie dough and cookies and ice cream, need I say more?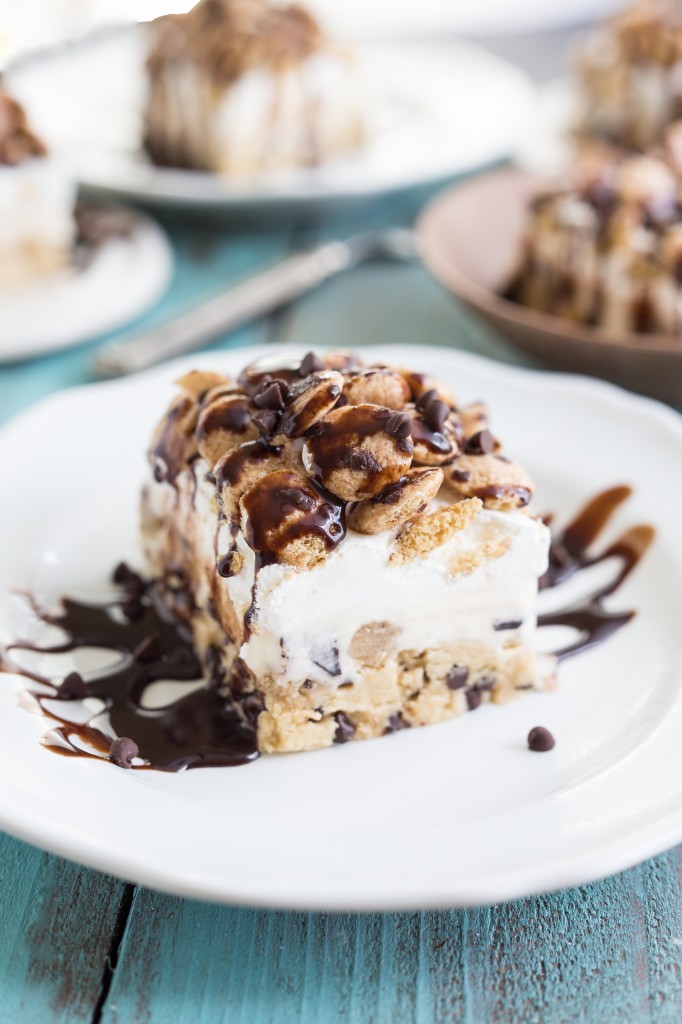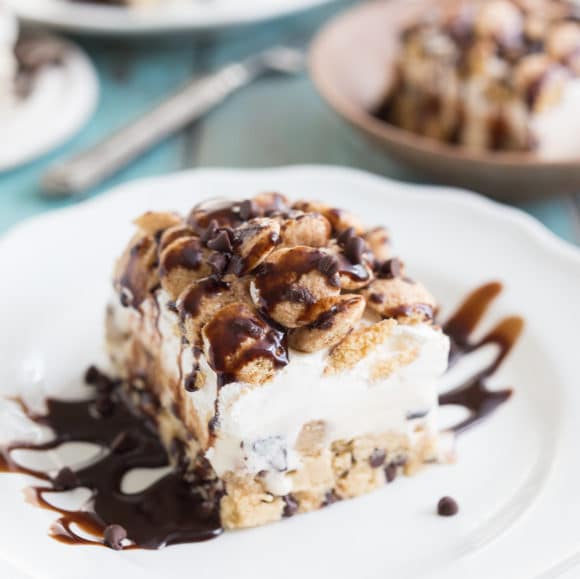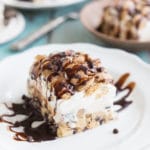 Loaded Cookie Dough Ice Cream Bars
Fully loaded cookie dough ice cream bars - eggless cookie dough and cookie dough ice cream.
Ingredients
Eggless Cookie Dough Layer
1

cup

brown sugar,

lightly packed

1/4

cup

white sugar

1

cup

unsalted butter

2

teaspoons

vanilla extract

1

teaspoon

salt

2

tablespoons

whole milk

2 and 1/2

cups

white flour,

spoon and leveled

1

cup

miniature chocolate chips
Other Layers
1

container (48 ounces)

cookie dough ice cream

1

container (8 ounces)

frozen whipped topping

thawed

Optional: Cookie Crisp cereal, additional miniature chocolate chips, chocolate syrup
Instructions
Line a 9 x 13 pan with tin foil leaving edges that hang over for easy removal of the bars. Set aside.

In a large bowl, cream together the brown sugar, white sugar, and butter. Beat until fluffy. Beat in the vanilla, salt, and milk.

Stir in the flour until just combined and then stir in the miniature chocolate chips.

Press the cookie dough evenly along the bottom of the pan.

Place the cookie dough layer in the freezer and then remove the ice cream. Allow the ice cream to soften at room temperature for about 5-10 minutes (depending on how frozen the ice cream is).

Spoon large scoops of ice cream evenly over the cookie dough layer. Smooth the ice cream as much as possible to get it flat and even.

With a spatula, spread the thawed whipped topping over the ice cream until smooth.

Place in the freezer until all layers are completely hardened.

When ready to serve, remove from the pan using the tin foil overhang and cut into bars. If desired, top each bar you are serving with a handful of cookie crisp, some miniature chocolate chips, and a drizzle of chocolate syrup.

Serve immediately.

If there are leftovers, return to the freezer.
Recipe Notes
Do not top the bars with the cookie crisp if you aren't planning to eat the ice cream bars immediately as they get soggy.