A frozen hot chocolate ice-cream pie with an oreo crust, mini marshmallows, and swirls of marshmallows mixed throughout.
Do you remember my frozen pumpkin pie cheesecake? It has (so far) been the most popular recipe on the blog. And definitely one of my favorite desserts. Even my husband (not a pumpkin fan) ate his fair share of that pie. That's when you know you have a recipe win btw.
Well, I have great news! I went at it again, and created another version of that pie. This one is more December and Christmas appropriate though – it's hot chocolate flavored! (!!!) With tiny marshmallows and marshmallow ribbons (!!!!!!)
Sorry for the over kill in the exclamation points. I just can't help how excited I am over this pie.
True to form with the last pie, this one is just as easy. Mix a few ingredients, stir in the cool whip and freeze. Freezing is the hardest part. That waiting game. It is soooooo painfully long. <– And then my husband would say to me here "drama, drama!" I know, I know. But for reals, waiting for this dessert to be ready for eating is hard!
As much as I love pumpkin and I lovvvved the pumpkin pie cheesecake, this hot chocolate pie is even better. What can I say? I am a chocolate girl. It's filled with hot chocolatey flavor and I love the mini marshmallows swirled throughout the pie. Speaking of mini marshmallows, I won't make you go on a crazy hunt to find those. Because it may just be a crazy hunt this time of year. Nope. Instead I got hot chocolate packets with the marsh mellows already included. Genius right? Yes. Genius.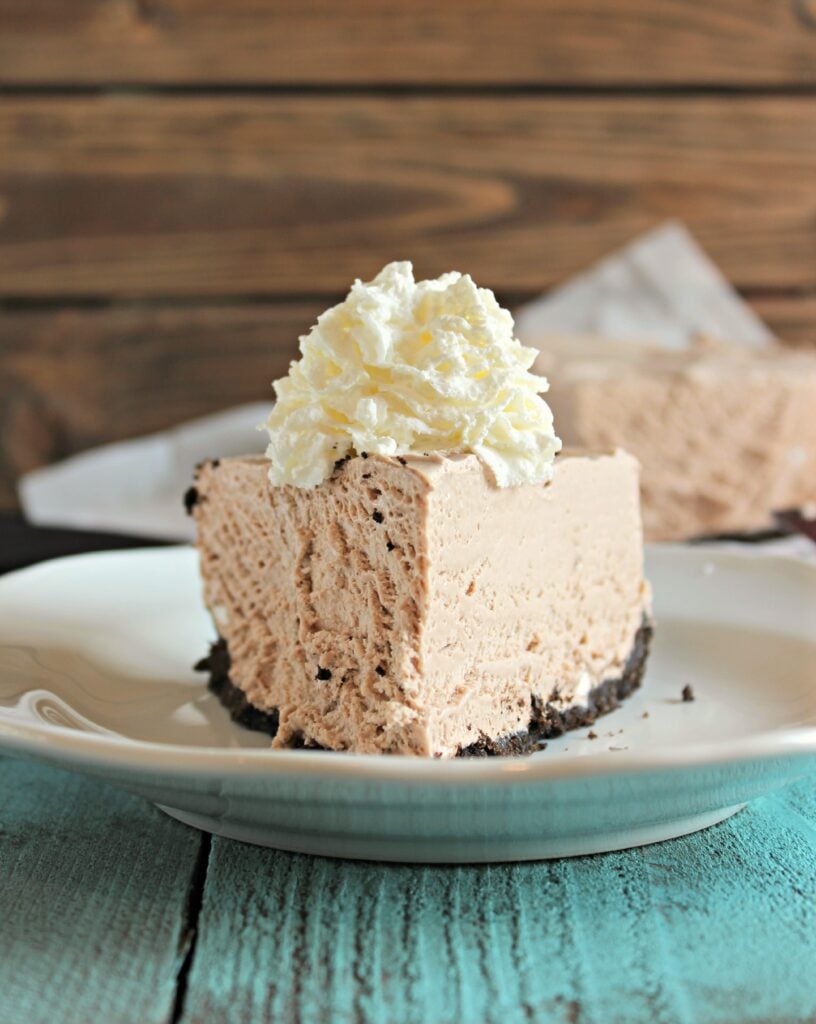 And then there's the crust. (I'm going a little backwards talking about the filling first and the crust last. Sorry 'bout that!) The crust is oreos with some sugar and butter. Um, yes. It's delicious.  The oreo crumbs and sugar are mixed with some butter and pressed into the pan and you have an easy thick chocolate crust.
This pie is a frozen pie. The consistency is ice cream-like and the pie will need to remain in the freezer. That is, if you have any leftovers. I won't judge you if you don't…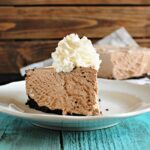 Frozen Hot Chocolate Cheesecake
Ingredients
22

full

oreos, no need to separate cookie from filling

equals about 2 cups when crushed

1/4

cup

white sugar

6

tablespoons

butter

melted

1

package (8 ounces)

cream cheese

softened

1

can (14 ounces)

sweetened condensed milk

6

milk chocolate flavored hot cocoa mixes with marshmallows

1

container (8 ounces)

frozen whipped topping (like cool whip)

completely thawed

1/2

cup

marshmallow fluff

Optional garnish: Reddi Whip Spray
Instructions
In a food processor, process the Oreos until they are crumbs and pour those crumbs into a medium sized bowl.

Melt the butter and mix with Oreo crumbs and sugar. Stir until a sticky dough is formed and then press the Oreo dough into the bottom of a springform pan. Press the crumbs throughout the bottom of the pan and a little up the sides.

In the same bowl (less dishes!) you used to make the crust, put in the cream cheese. Using hand mixers, mix the cream cheese for about 30 seconds to 1 minute. Slowly add in the sweetened condensed milk and continue to mix with the hand mixers for about 3-4 minutes.

Using a spatula scrape down the sides and continue to mix for another minute. Turn off the mixers and pour in one packet of hot chocolate. Stir the hot chocolate until incorporated and then add in the next packet. Repeat this step until all six hot chocolate packets are incorporated in the mixture.

With the spatula, fold in the cool whip until it is completely incorporated. Be careful to not over-mix the cool whip with the rest of the ingredients.

Then mix in the marshmallow fluff so it swirls around with the rest of the ingredients. Barely mix in the fluff so there are marshmallow ribbons throughout the pie.

Pour the mixture into the pan on top of the Oreo crust.

Freeze overnight or for at least 8 hours. Thaw for about 10 minutes before serving and return any leftovers to the freezer after served.
More delicious desserts: