A no bake pumpkin cheesecake – a lighter pumpkin pie on top of a cinnamon crust.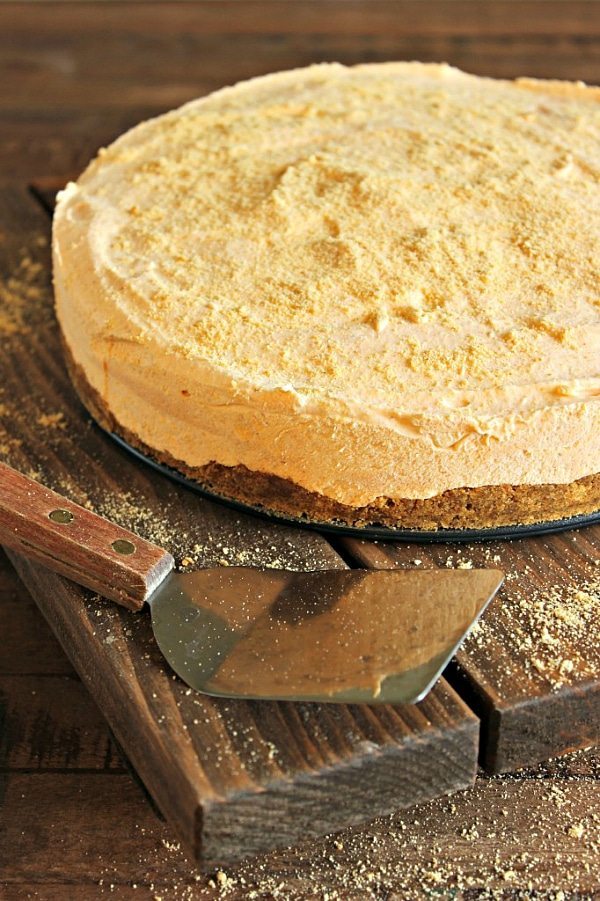 All you pumpkin pie haters, listen up. This recipe is just for you! And if you loooove pumpkin pie, even better. Read on!
This dessert has just the perfect hint of pumpkin to pass for the most decadent Thanksgiving treat, but without that overwhelmingly gushy pumpkiny (<–apparently this isn't a word because my spell check just lit it up in bright red) taste.
This frozen pie cheesecake can pass for a Thanksgiving pie just as a regular pumpkin pie would. But I think it's even better AND its a whole lot simpler. With the craziness of preparing an entire feast for Thanksgiving, who doesn't like a dessert that is (secretly) simple?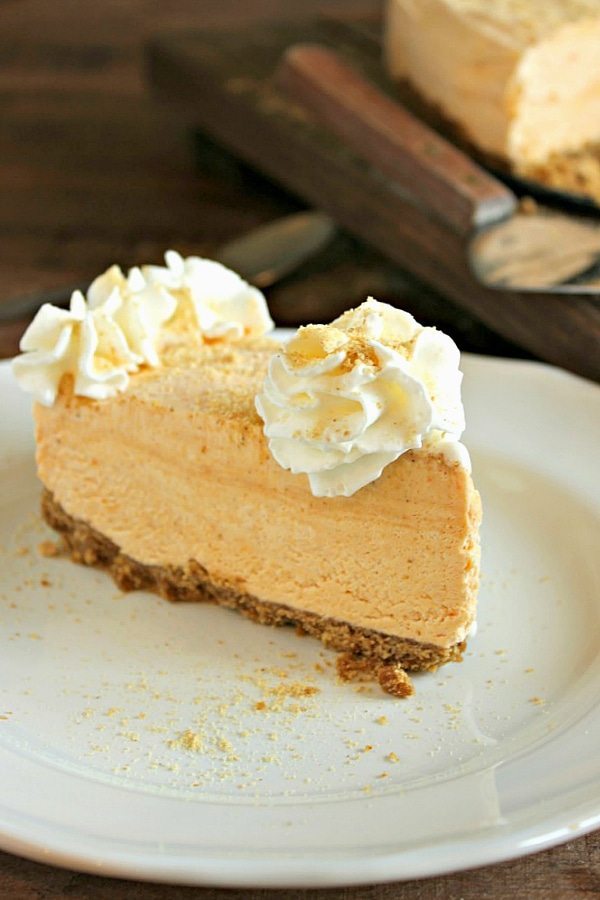 Lots of great things are adding up to make this such a great dessert. First, there is the cinnamon graham cracker crust. A bit of brown sugar and butter mixed with cinnamon graham cracker crumbs creates a seasonally sweet-flavored crust. This recipe calls for a pretty generous sized crust because I believe the highlight of every pie is the crust.
The filling is a bit unique. It's a hybrid of a cheesecake, ice cream, and pumpkin pie. This pie is frozen which gives it an ice cream texture. The cool whip also contributes to the creaminess of that ice cream texture. The cheesecake flavor comes from the cream cheese. Just regular pumpkin with some pumpkin pie spice and the (optional) butter extract mixes to give you the slight hint of pumpkin pie flavor.
The filling is beaten together and the cool whip is stirred in. Just two steps and the preparation is finished! There's no stove-top, no oven, no twenty dirty dishes. Just one bowl, a blender (or food processor) and the mixers for an entire pumpkin pie. This dessert is quite possibly the easiest pie recipe you'll find for Thanksgiving dessert! And with such a simple dessert (that doesn't taste simple at all!) you can spend more time with the people that you love. Awww cheese. But isn't that what Thanksgiving is all about?!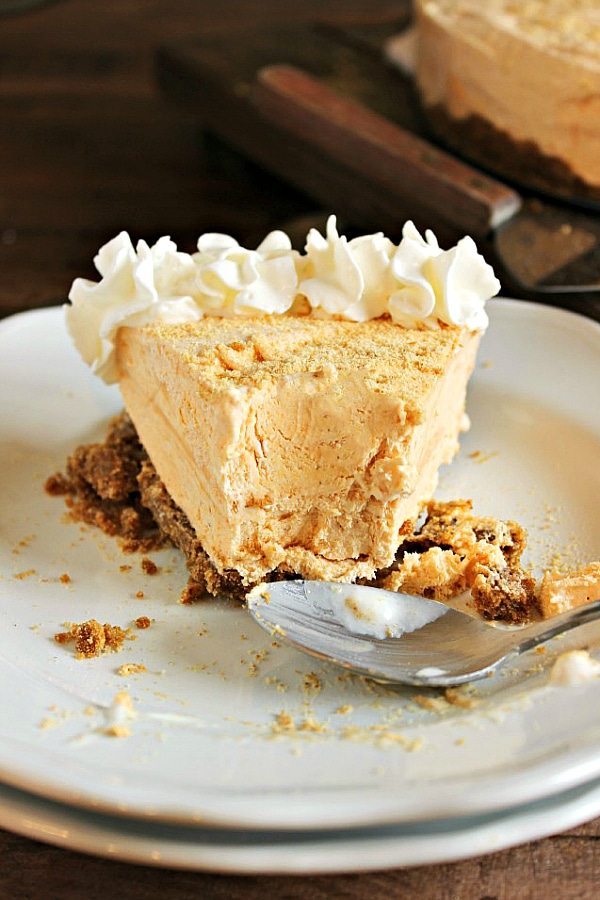 More delicious pumpkin recipes: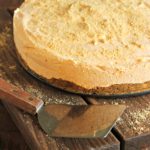 No Bake Pumpkin Cheesecake
A (secretly) simple Thanksgiving dessert. A creamy frozen cheesecake with a hint of pumpkin.
Keyword:
no bake pumpkin cheesecake
Ingredients
2

cups (~2 sleeves)

cinnamon graham crackers

3

tablespoons

light brown sugar

not packed

6

tablespoons

unsalted butter

1

cup

canned pumpkin

not pumpkin pie filling **only one cup-not the entire can.

1

package (8 ounces)

cream cheese

room temperature

1

container (8 ounces)

frozen whipped topping

thawed

1

can (14 ounces)

sweetened condensed milk

not evaporated milk

1/2

teaspoon

pumpkin pie spice
Instructions
In a blender or food processor, empty the 2 sleeves of graham crackers and process/blend until the crackers are all crumbs. Empty the crumbs into a medium sized bowl and stir in the brown sugar.

Soften the margarine or butter and combine with the crumb and brown sugar mixture.

Press the crumbs into a springform pan. I use a 9-inch springform pan for this recipe. Mainly press the crumbs into the bottom of the pan and then a little bit up the sides. Place the pan in the freezer while you make the filling for the pie.

In the same bowl you used for the crumbs, place the room temperature cream cheese in the bowl and beat for about 45 seconds or until creamy. Add the pumpkin puree and pumpkin pie spice. Continue to beat until well combined.

Slowly add in the sweetened condensed milk and beat until the mixture is completely combined and smooth. Make sure to scrape the edges of your bowl with a spatula.

Fold in the cool whip until just combined. Be careful to not overmix the whipped topping.

Pour the pumpkin mixture into the prepared crust and freeze overnight or for 6-8 hours or until solid.

Let soften for about 5-10 minutes before cutting and serving.

Make sure to return the cheesecake to the freezer for storage or it will melt.