Mini Cheesecakes start with a sweet graham cracker crust, and then add thick cheesecake filling, and a delicious strawberry sauce topping. These cheesecakes are easy to make with detailed step-by-step instructions. Top these cheesecakes however you'd like: with fresh berries, crushed Oreo® cookies or candies, salted caramel sauce, or a chocolate ganache.
We love mini desserts! Try these next: mini fruit tart, brownie bites, or these mini cookie dough cups.

Mini Cheesecakes
I'm a huge fan of different flavored cheesecakes, but sometimes you need a perfectly simple vanilla cheesecake. These Mini Cheesecakes are everything a good cheesecake should be: smooth, creamy, and just sweet enough with that classic hint of tartness. A perfect cheesecake requires a crust that doesn't overpower the cheesecake and adds just the right texture and flavor. And finally, the cheesecake must have a texture that is rich and velvety without being cloyingly thick and heavy.
I'm here to tell you these Mini Cheesecakes meet every single one of those requirements; they are one of our all-time favorite desserts!

How to make Mini Cheesecakes
Graham cracker crust: These cheesecakes start with a simple crust. Blend or pulse graham crackers until they form crumbs and add them to a bowl with melted butter and sugar. Don't add in hot melted butter; it will make the crusts greasy. Instead, melt the butter and then wait for it to cool to room temperature before adding.
Filling: Next, the filling is whipped together starting with the cream cheese and sugar. It's very important that all the ingredients are at room temperature to get a smooth and creamy (not lumpy) filling.
Bake: Once the filling has been put onto the crusts, the cheesecakes are baked. The baking part is a bit particular, but it will ensure your mini cheesecakes don't rise and fall and then crack.
Chill: Once the Mini Cheesecakes are done baking, they need to chill to firm up and for all the flavors to meld and intensify.
Top: While the cheesecakes are chilling, prepare the topping. More on toppings below!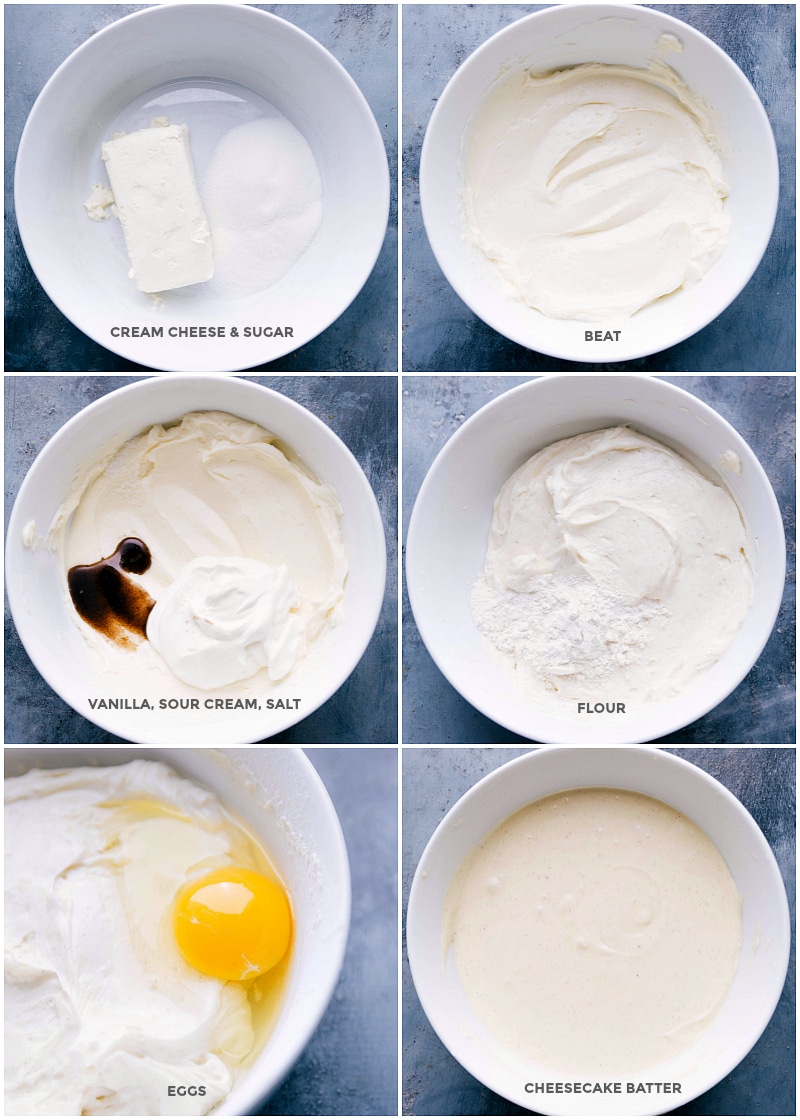 How to top Mini Cheesecakes
Fresh berries: Keep it simple with a few fresh berries on top, or glaze the berries for an extra-special presentation. To glaze the berries, warm apricot preserves in the microwave and then brush over the berries with a pastry brush.
Strawberry sauce: Our favorite way to top Mini Cheesecakes is the strawberry sauce I've included in the recipe card. It's sweet, smooth, and a little bit tart.
Salted or plain caramel sauce: Whip up some homemade caramel sauce or use some good store-bought caramel sauce to drizzle over.
Chocolate sauce: Either a chocolate ganache (like featured on these mint brownies) or a store-bought chocolate sauce would be delicious. If you plan to top the cheesecakes with chocolate, you may want to swap out the graham crackers for Oreo® cookies for the crust.
Crushed cookies or candies: Make these Mini Cheesecakes festive by topping with Lucky Charms Marshmallows, seasonal M&M's, crushed up Oreos, or crushed toffee. The sky is the limit here!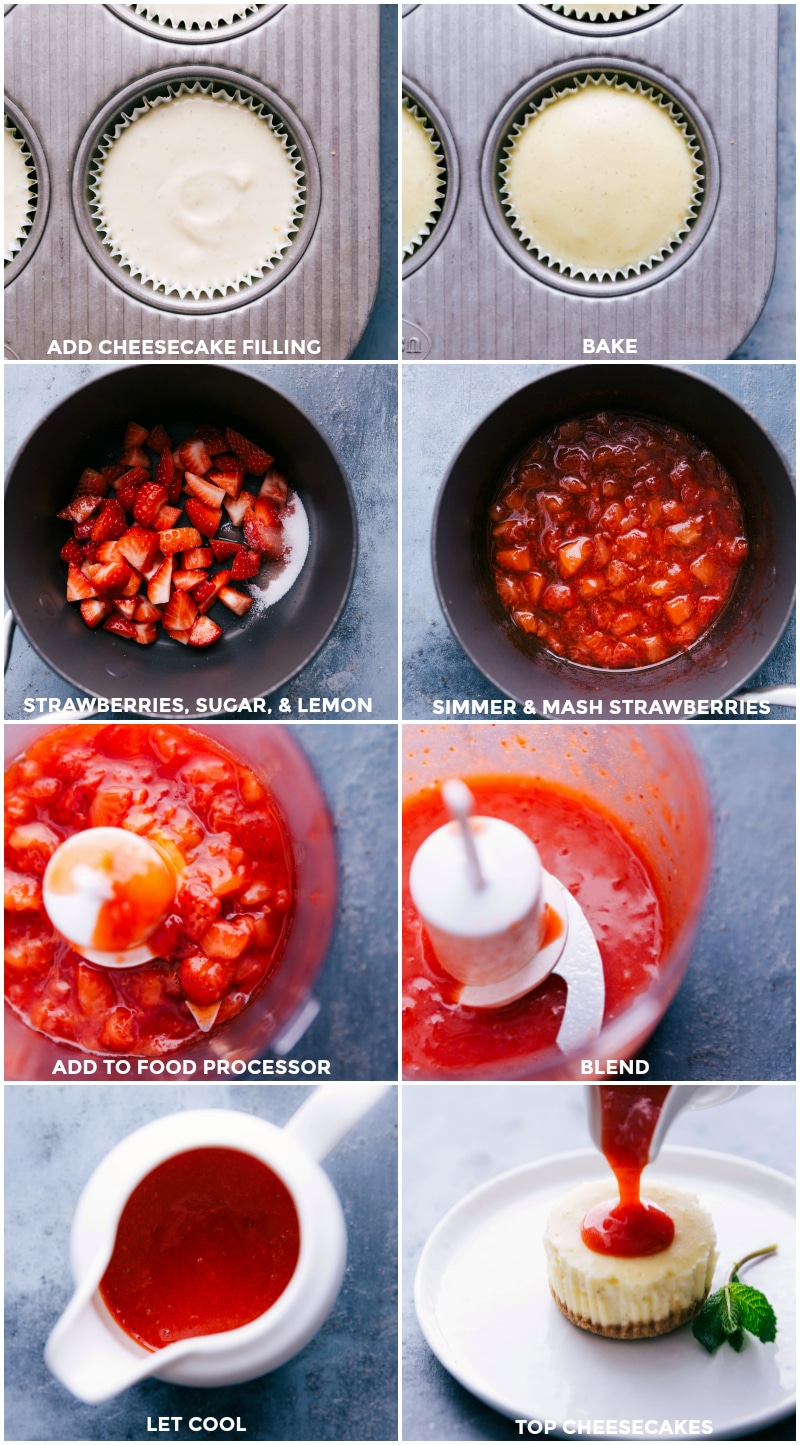 Mini cheesecakes troubleshooting
How do you know when Mini Cheesecakes are done?
When cheesecakes are cooked through, they are firm with a very slight jiggle in the center. This recipe contains a special method for baking the cheesecakes to be perfectly cooked through.
We bake the cheesecakes for 13 minutes, turn off the oven, and let them stand for 10 more minutes. The oven door is then cracked open while the cheesecakes cool for 25 minutes. Finally, they stand at room temperature until completely cooled. Using this method you can rest assured the miniature cheesecakes will be cooked through.
How do you keep Mini Cheesecakes from sinking?
Sinking happens when there are rapid changes in cheesecake temperature, resulting in a hollow spot, right in the center of the cake. Keep the sinking at bay by very slowly cooling these cheesecakes to room temperature and then chilling for a few hours before eating.
The flour in this recipe also helps to keep the cheesecakes from sinking.
How long do Mini Cheesecakes stay fresh?
These cheesecakes will stay good for up to 5 days, covered tightly, in the fridge.
How do you use a Mini Cheesecake pan?
While mini cheesecake pans are great, I recommend use a regular sized muffin tin instead. It's more likely that you'll already have a muffin tin than a mini cheesecake pan, and that way you aren't having to buy and store additional pans. A muffin tin (lined with muffin liners) works exceptionally well when making mini cheesecakes!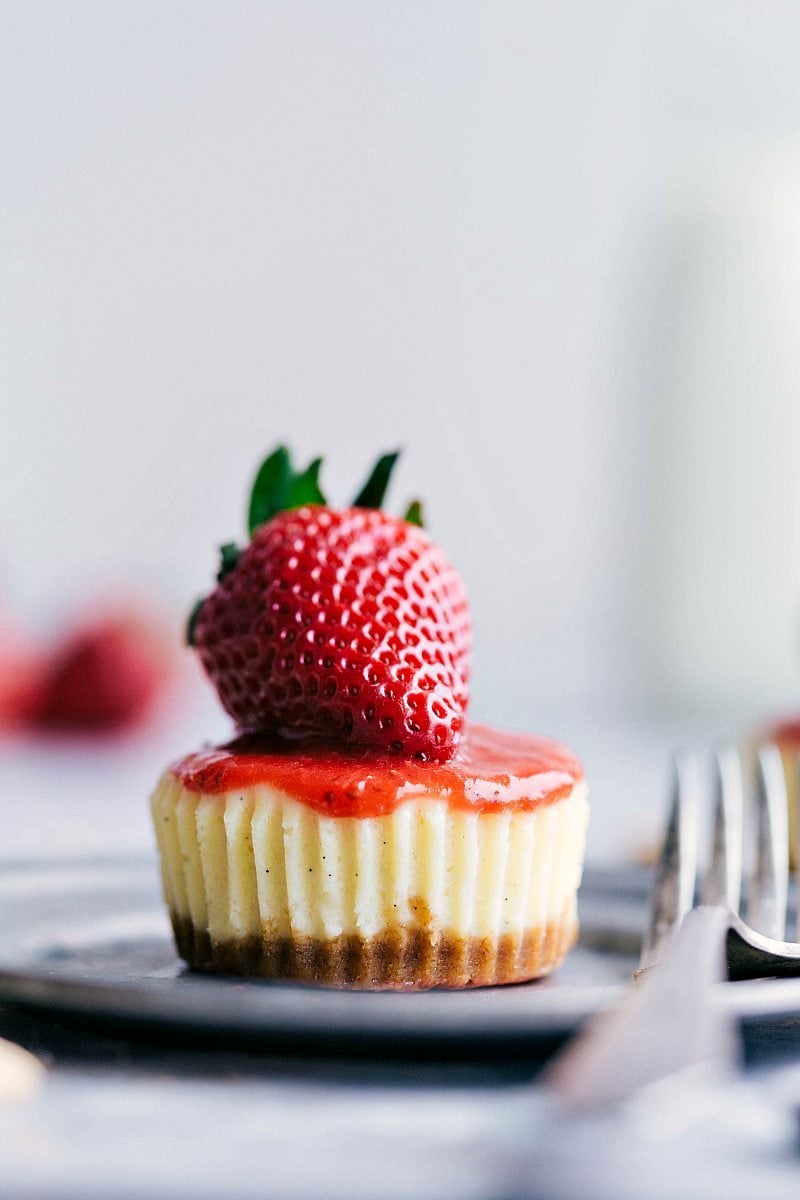 Mini Cheesecake tips
Use room-temperature cream cheese. It becomes creamier when mixed and it incorporates much better with the other ingredients. If your cream cheese is too cold, it tends to stay lumpy and the batter doesn't mix as nicely. With cold cream cheese there is also a temptation to over-beat the batter which will cause it to rise and fall.
Use room temperature sour cream and eggs. Again, the ingredients will mix better and require minimal beating if they're all at room temperature. Take out all your ingredients out of the refrigerator about an hour before making these cheesecakes.
Avoid over-mixing the batter. It's important to mix the cream cheese well enough to remove the lumps and to combine the ingredients sufficiently, but over-mixing the batter will introduce too much air. Too much air will cause the cheesecake to rise too quickly in the oven and then fall– which will result in cracks on top.
Mix the cheesecake batter at low and consistent speeds. This reduces the risk of adding in too much air which will cause cracks on top. I recommend beating the cheesecake batter in the same direction for the duration of mixing.
Allow the cheesecakes to cool completely at room temperature. It may not seem like a big deal to expedite the chilling process of the Mini Cheesecakes by putting them in the fridge right out of the oven, but this can cause cracks on top or form a film from the condensation.
More delicious cheesecake recipes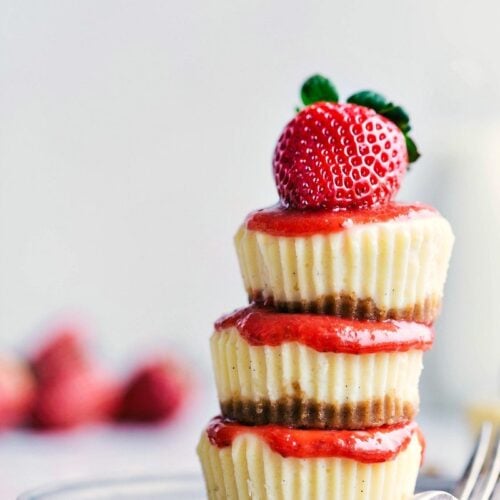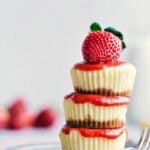 Mini Cheesecakes
The best Mini Cheesecakes start with a sweet graham cracker crust, and then thick cheesecake filling, and a delicious strawberry sauce topping. These cheesecakes are easy to make with detailed step-by-step instructions. Top these cheesecakes however you'd like -- with fresh berries, crushed Oreo cookies or candies, salted caramel sauce, or a chocolate ganache.
Keyword:
mini cheesecakes
Servings
:
12
miniature cheesecakes
Ingredients
Graham Cracker Crust
1

cup (100g)

graham cracker crumbs

(7 sheets)

1

tablespoon

white granulated sugar

2

tablespoons

unsalted butter,

melted
Vanilla Bean Cheesecake Filling
1 and 1/2

packages (12 ounces total)

Brick-style full-fat cream cheese,

at room temperature (See Note 1)

1/2

cup (100g)

white granulated sugar

1/2

cup (113g)

full fat sour cream,

at room temperature

1

vanilla bean

(OR 1 teaspoon vanilla bean paste, or 1/2 tablespoon pure vanilla extract)

1/8

teaspoon

fine sea salt

1/8

cup (2 tablespoons)

white flour

2

large

eggs,

at room temperature
Strawberry Topping
1

cup (152g)

fresh strawberries,

stems removed and coarsely chopped

2

teaspoons

white granulated sugar

1

teaspoon

fresh lemon juice

Optional: fresh strawberries to top the cheesecakes with
Instructions
CRUST
Preheat oven to 325 degrees F. Line a 12-cavity (regular size) muffin/cupcake pan with cupcake liners.

Combine the graham cracker crumbs, white sugar, and melted (but not hot) butter. Divide the mixture between the cupcake liners (about 1 tablespoon per cup) and press into the bottoms. I like to use the lid of a milk container to press the crust into the bottoms evenly.

Bake crusts for 5 minutes and then remove from oven. Set aside to cool.
CHEESECAKE FILLING
Make sure your cream cheese, sour cream, and eggs are all at room temperature. Reduce the heat to 300 degrees F.

In a large bowl, combine the 8 ounces cream cheese and 1/2 cup white sugar using a hand mixer. Beat at low speeds and in the same direction to reduce beating air into the mixture (which will result in cracks later on). Add the 1/2 cup sour cream, vanilla bean seeds (or paste or extract), and 1/8 teaspoon sea salt. Beat on low speed until completely combined.

Scrape down the sides and add in the 2 tablespoons white flour. Beat on low speed until combined. Add the first egg and make sure to beat until the egg is completely incorporated. Add the second egg and again, still beating slowly, beat until combined.

Divide the batter evenly between the cupcake liners and fill most of the way. Disperse all of the batter evenly between the 12 cupcake liners.

Bake cheesecakes for 13 minutes, then turn off oven and leave the door closed for another 10 minutes. Crack the oven door open and allow cheesecakes to cool for 25 minutes; then pull out an place on the counter at room temperature. We are slowly lowering the temperature of the cheesecakes to keep the rising and falling (and resulting cracks) to a minimum.

Once the cheesecakes are at room temperature, transfer to the fridge to chill for 2-3 hours.

STRAWBERRY SAUCE: Add the 1 cup coarsely chopped strawberries, 2 tablespoons white sugar, and 1 teaspoon lemon juice to a small saucepan. Simmer on low for 10 minutes, mashing up strawberries with the back of a spoon. Remove from heat and allow to come to room temperature. Transfer the mixture to a food processor and blend until smooth. (if the strawberry seeds bother you, strain the sauce here by pressing the mixture through a fine mesh sieve.) Place in the fridge to chill before topping cheesecakes.

SERVE: When ready to serve, add a spoonful of the strawberry sauce and a fresh strawberry (if desired) to the tops of the mini cheesecakes. Store any leftovers (sauce separate from the cheesecakes) in the fridge.
Recipe Notes
Note 1: Room-temperature cream cheese becomes creamier when it is mixed and it incorporates much better with the other ingredients. If your cream cheese is too cold, it tends to stay lumpy and the batter doesn't mix as nicely. With cold cream cheese there is also a temptation to over-beat the batter which will cause it to rise and fall