A six-ingredient easy triple-layer chocolate pudding pie. A dessert dressed to impress with minimal effort. Perfect for a potluck or holiday celebrations!

This chocolate pudding pie only requires six ingredients!
When the sweet tooth strikes or you need a dessert that requires minimal effort, this chocolate pudding pie is the perfect solution. Not only is it quick and easy to make, it's also delicious and will definitely quell those chocolate cravings!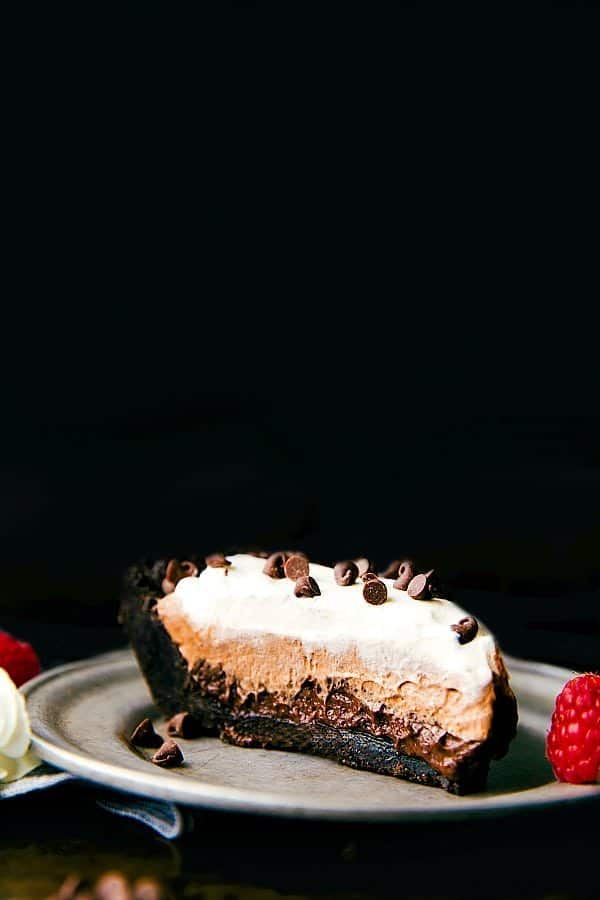 It may look elaborate or time consuming with the three different layers, but it couldn't be easier to make. All three layers originate from just THREE ingredients.
Pudding mix, milk, and whipped topping = best ever chocolate pudding pie.
The magic happens in mixing those three layers in different amounts. The bottom layer is the straight chocolate pudding, the middle layer is pudding + whipped topping mixed, and the final layer is straight whipped topping. And voila! Easy chocolate pudding pie for the win!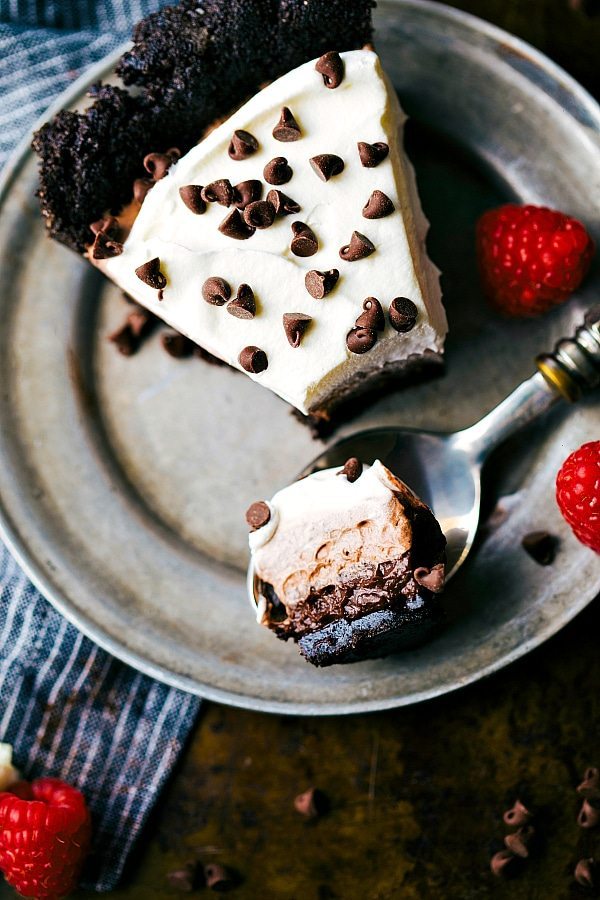 Chocolate pudding pie notes
Unfortunately low fat products aren't going to set up in this pie. Sugar-free pudding or sugar-free whipped topping is a no-go. They never get firm enough to get clean cuts of pie.
Speaking of "cuts" I found the best results with a sharp knife that I quickly ran under hot water, dried, and then cut into the pie immediately.
The reason I recommend using whole milk is because it will allow for the most firm set up of the pie. Lower the percentage of fat in milk and the less firm of a pie you'll get.
If you want an even easier pudding pie you can grab a pre-made chocolate crust on the baking aisle instead of making your own.
I used pre-made packaged whipped topping, but making your own whipped topping absolutely will work in this pie. It takes a little bit more prep and a few more ingredients (here's a how to make whipped cream tutorial), but it works great!
video tutorial
More delicious desserts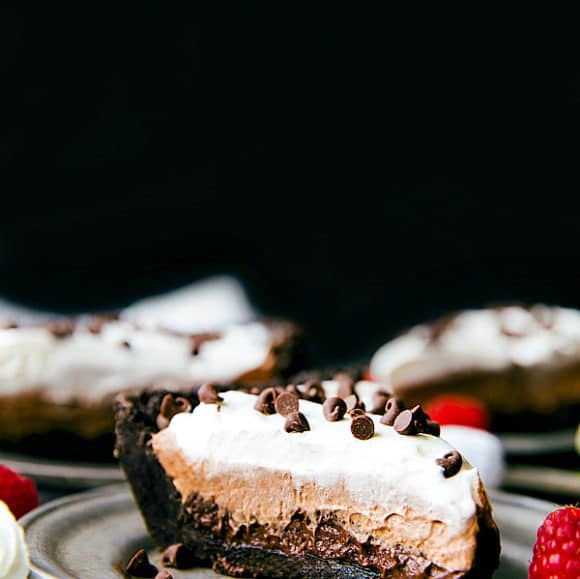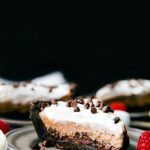 The Easiest Triple-Layer Pudding Pie
A six-ingredient easy triple-layer chocolate pudding pie. A dessert dressed to impress with minimal effort. Perfect for a potluck or holiday celebrations!

Ingredients
25

oreos or chocolate sandwich cookies

6-7

tablespoons

unsalted butter

1/4

cup

white sugar

optional

2

packages (3.9 ounces EACH)

instant chocolate pudding mix

2

cups

whole milk

1

container (8 ounces)

frozen whipped topping

thawed,

Optional: mini chocolate chips and/or raspberries
Instructions
Blend or pulse the oreos (no need to remove the filling) until they resemble fine crumbs.

Mix the crumbs with the sugar (only if desired and you like a really sweet dessert!) and melted butter (start with 6 tablespoons and add 1 more tablespoon if it isn't coming together enough).

Spray a pie pan (I use a 9-inch) with nonstick spray and press the cookie crust evenly along the bottom and slightly up the sides. Place in freezer while preparing the filling.

Briskly whisk the 2 packages of instant pudding mix with the cold milk and whisk for 2 minutes.

Remove 1 and 1/2 cups of the pudding and place in the bottom of the cookie crust. Spread evenly.

Combine the remaining pudding with half of the whipped topping and spread evenly on top of the chocolate pudding.

With a clean spatula, spread the remaining whipped topping evenly on top.

If desired sprinkle mini chocolate chips on top.

Chill in the fridge for at least 3 hours.

When ready to serve, warm a very sharp knife under hot water, dry, and then make quick clean cuts to serve.

If desired, serve with fresh raspberries.
Recipe Video
Recipe Notes
Cook time refers to chilling time