The BEST EVER Twix Cheesecake Bars with an easy (2-ingredient) caramel sauce and chocolate ganache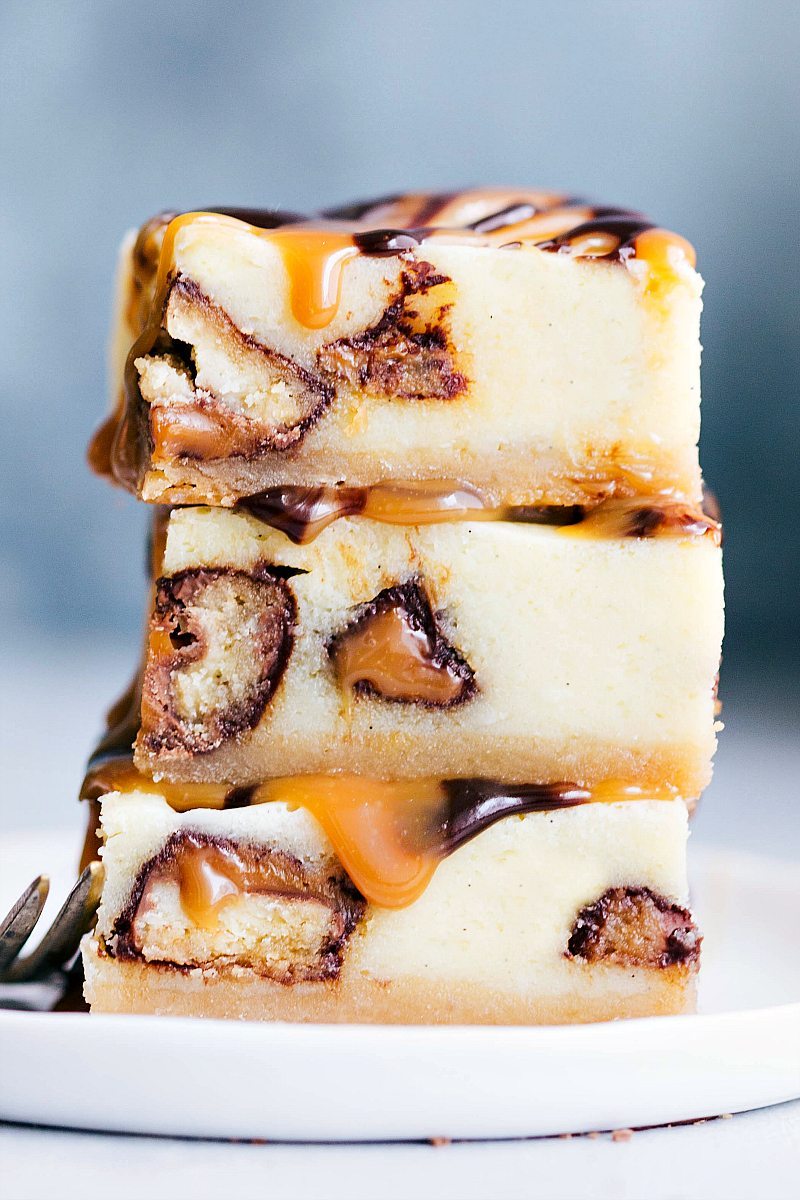 Twix has always been one of my favorite candies and since my family loves cheesecake so much, I thought twix cheesecake bars would be the perfect mash-up dessert. And honestly, it is! This twix cheesecake is unbelievable – creamy, flavorful, and has the perfect crust to filling ratio.
We've got an amazing shortbread crust, a classically sweet (and just enough tart) cheesecake filling with twix bites folded in, and we're finishing these off with a chocolate ganache and a caramel sauce. These twix cheesecake bars are an absolute hit whenever I make them!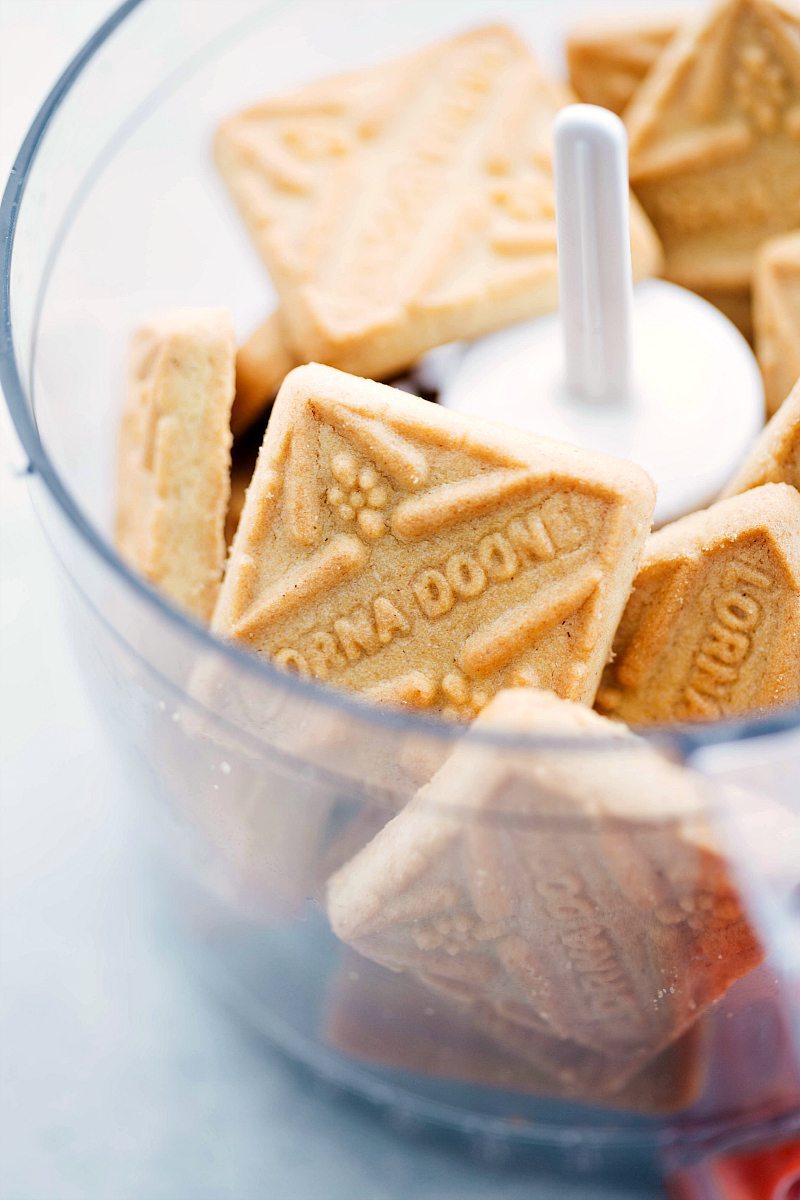 It might sound like a lot, but these twix cheesecake bars aren't too difficult to make at all. The crust and cheesecake is no more high maintenance than other cheesecake bars and I've kept the toppings as simple as possible. The ganache is only 2 ingredients and the caramel sauce is only 2 ingredients!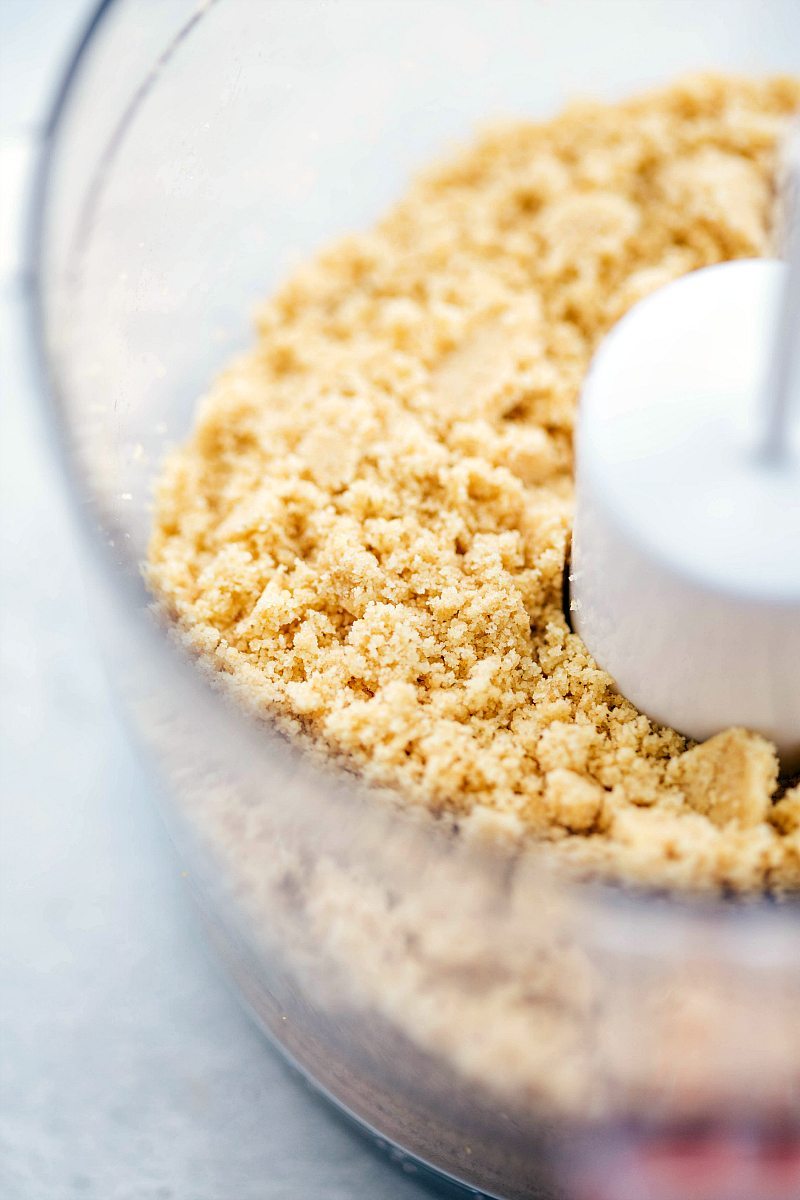 Here are some tips to make the perfect twix cheesecake:
Use ROOM TEMPERATURE cream cheese: room temperature cream cheese becomes creamier when it is mixed and it incorporates much better with the other ingredients in this recipe. If your cream cheese is too cold, it tends to stay lumpy in the batter doesn't fully mix. You'll also likely be tempted to over-beat the batter (which is no good for a cheesecake!) to get rid of the lumps. Quick tip to get room temperature cream cheese: remove the cream cheese from the packaging and microwave in bursts of 15-20 seconds until it is room temperature (not softened or melted at all) It's also important when you are using room temperature cream cheese that you also use room temperature eggs.
DON'T OVERMIX the batter: it's important to mix the cream cheese enough to remove the lumps and to combine the ingredients sufficiently, but over-mixing the batter will introduce too much air into the mixture. Too much air will cause the cheesecake to rise too quickly in the oven and then fall (how you get cracks in your cheesecake). You also want to mix the cheesecake at low and consistent speeds to again reduce the risk of beating in too much air.
Allow the cheesecake to cool COMPLETELY at room temperature: It might not seem like a big deal to expedite the chilling process of a cheesecake and put it in the fridge right out of the oven, but it you do this, the cheesecake tends to get an ugly appearance on top. This appearance comes from condensation that forms on top of the too quickly chilled cheesecake. If you chill the cheesecake too quickly, you can also get some cracks on it.
Slice the cheesecake with a very sharp and HOT KNIFE: To get the perfect slices, you'll want to use a large and very sharp knife. Run the knife under very hot water, quickly (but still completely) dry it off, and then make quick cuts to get a perfect chocolate cheesecake slice.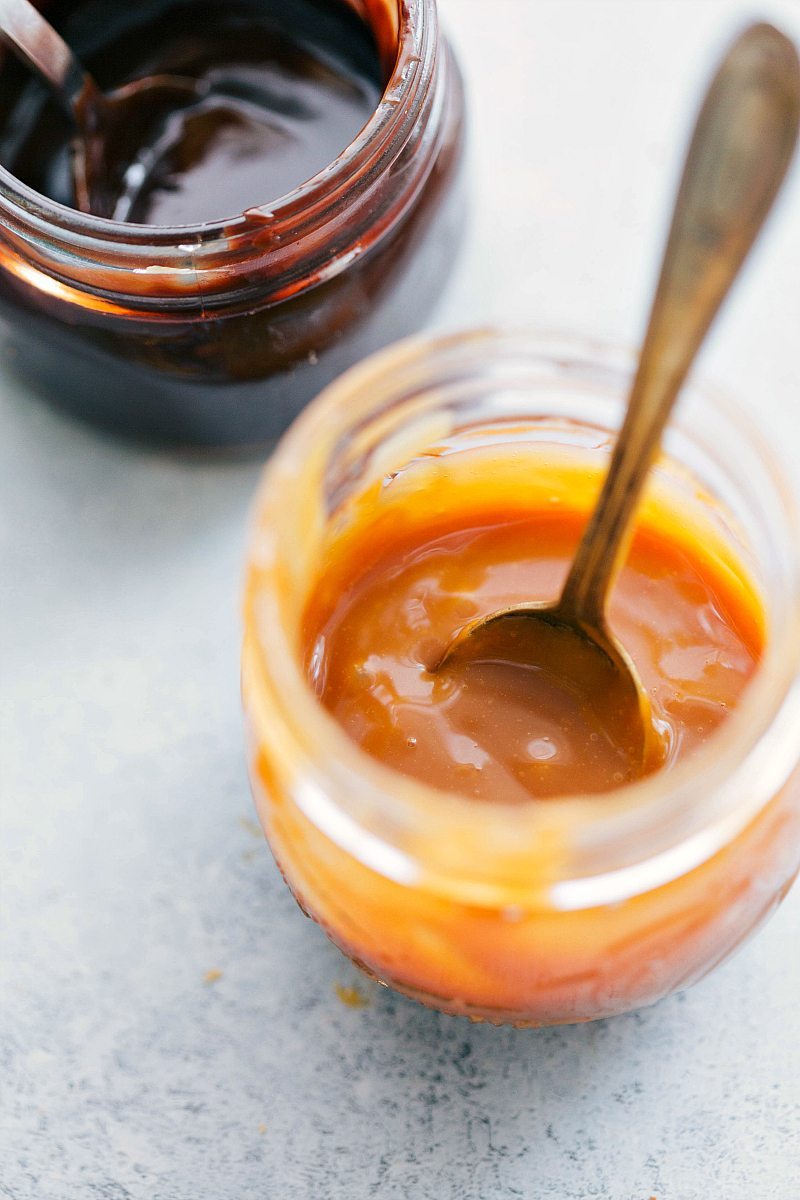 More Delicious Desserts:
Mini Vanilla Bean Cheesecakes with Strawberry Sauce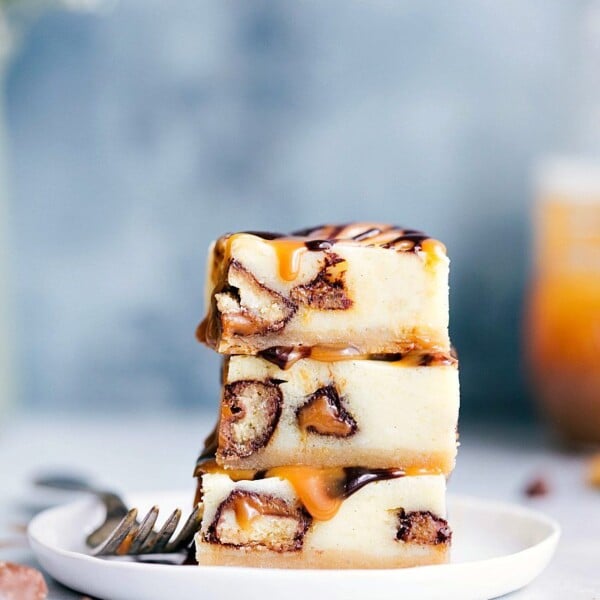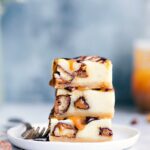 Twix Cheesecake Bars
The BEST EVER Twix Cheesecake Bars with an easy (2-ingredient) caramel sauce and chocolate ganache
Servings
:
1
9 x 9 inch pan (~20 bars)
Ingredients
Crust:
1 and 1/4

cups

crushed Lorna Doone Shortbread Cookies

(Can substitute crushed graham crackers)

5

tablespoons

unsalted butter,

melted

1/3

cup

light brown sugar,

packed

1/8

teaspoon

fine sea salt
Filling:
2

packages (16 ounces)

full-fat cream cheese,

at room temperature

1

cup

white sugar

1 and 1/2

tablespoons

white flour

1/4

cup

full fat sour cream,

at room temperature

1 and 1/2

teaspoons

vanilla bean paste (or 1 tablespoon pure vanilla extract)

1/4

teaspoon

fine sea salt

3

large eggs,

at room temperature

1

cup

Twix minis
Toppings:
1/2

cup

milk (or dark, or semi sweet) chocolate chips

1/4

cup

heavy cream

1

bag (4.51 ounces)

Werther's soft and chewy caramels,

unwrapped

2 and 1/2

tablespoons

evaporated milk
Instructions
Preheat the oven to 375 degrees F and set an oven rack in the middle position. Line an 9 x 9-inch baking dish with parchment paper (making sure you leave plenty of overhang so you can easily remove the bars) and spray the parchment paper lightly with nonstick cooking spray.

For the crust: In a medium bowl, combine the Lorna Doone shortbread cookie crumbs, melted butter, brown sugar, and salt. Press into the bottom and barely up the sides of the prepared pan. Bake the crust for 10 minutes, remove and set aside to cool. Reduce the oven temperature to 325 degrees F.

For the cheesecake batter: In a large bowl, (use a stand mixer or hand mixers) beat the completely room temperature cream cheese, sugar, and flour together on medium speed just until smooth. Add in the sour cream, vanilla, and salt. Beat at low until combined. Be careful to not overmix this batter and to keep the mixer at low even speeds. Add in the eggs, mixing just until combined after each addition. Gently fold the twix minis into the batter.

Pour the batter into the cooled crust and smooth into an even layer. Press down any twix minis that have popped above the surface. Bake for 38-43 minutes, until the center is just set and top is not shiny (the center might still be a little jiggly and that's perfect). Remove the bars from the oven and let cool at room temperature for 1 hour. After that, cover, and chill in the fridge for 4-6 hours (I always chill overnight and like that best!)

Lift the cheesecake out of the pan (using the parchment paper overhang) and using a very hot knife, slice into even bars. (I like to run the knife under very hot water, wipe it off, and then make one slice. Repeat until the cheesecake is all sliced up!) Serve with caramel and chocolate sauce as desired (directions below). You want to serve the cheesecake right out of the fridge, so store cut bars in the fridge while you make the sauces. These cheesecake bars are best 3-4 days after making.
Caramel Sauce and Chocolate ganache
Chocolate Ganache: In a small saucepan, heat the heavy cream over medium heat and bring to a simmer; do not boil! Place the chocolate chips in a heat safe bowl. Pour the simmering heavy cream over the chocolate chips and cover the bowl with the lid of a saucepan. Let stand for 5 minutes. Then remove the lid and stir for 2-3 minutes or until completely smooth. Let stand for a bit to firm up and then spoon over the cheesecakes.

Caramel Sauce: place unwrapped caramels in a small saucepan over medium heat. Add the evaporated milk and heat, stirring constantly, until the mixture is smooth. Let stand for 5 minutes and then spoon over the cheesecakes.