This simple quiche lorraine is packed with flavor! It's made with onion, bacon, and cheese and with a frozen pie crust to save you time (and energy!) Quiche makes a great addition to your breakfast/brunch spread or can even stand in as an easy lunch or dinner meal.
This quiche is quick to make (20 minutes or less of prep time), can be prepped ahead of time, and can be eaten warm or at room temperature.
For the ultimate brunch, pair this quiche lorraine with other breakfast favorites such as these homemade pancakes, french toast, or this blueberry coffee cake.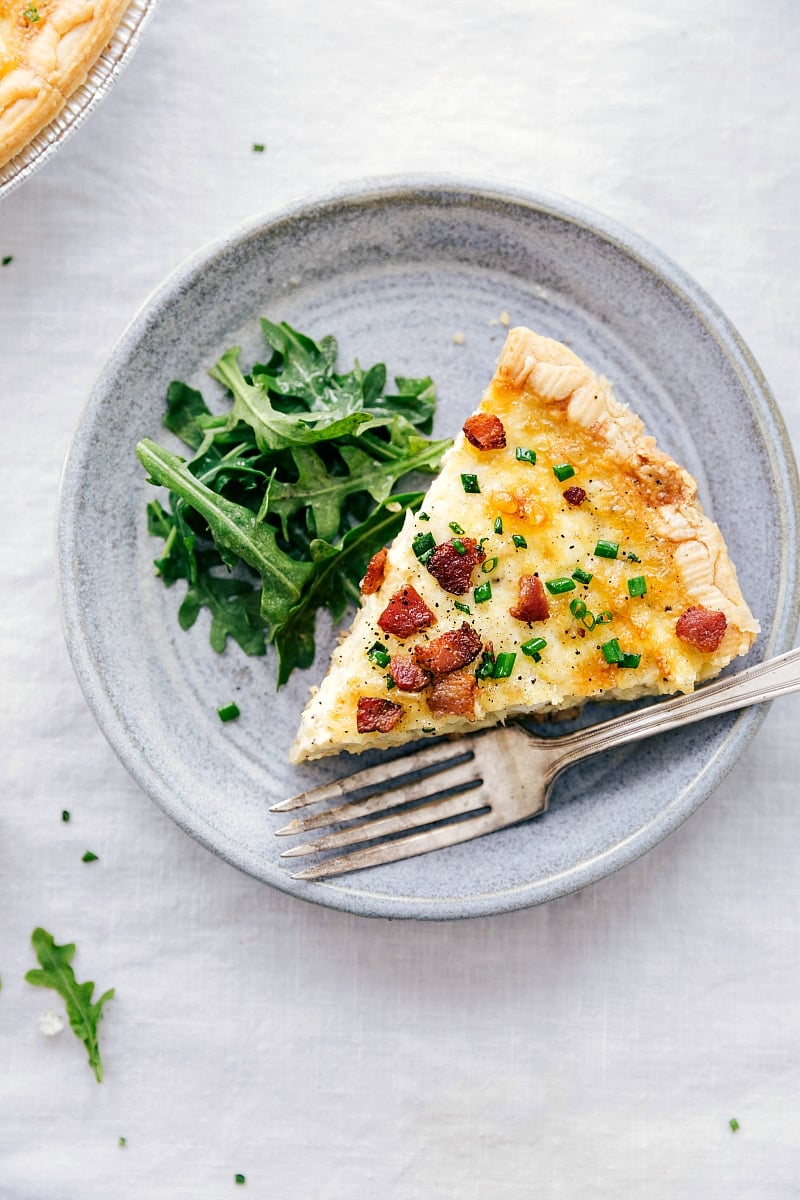 The restaurant I used to work at throughout high school and college hosted the most epic Easter and Mother's Day brunches. As employees, they were one of our favorite days. While they were extremely long days, we'd always get to fill up to-go boxes with leftovers from brunch. And there seemed to always be enough leftovers that we'd have breakfast and desserts for days.
Among some of the favorites from the brunch was an amazing bread pudding, perfect deviled eggs, and legendary asparagus salads. One of the dishes we were "known" for were the quiches. Quiche Lorraine to be exact was raved about by all the guests.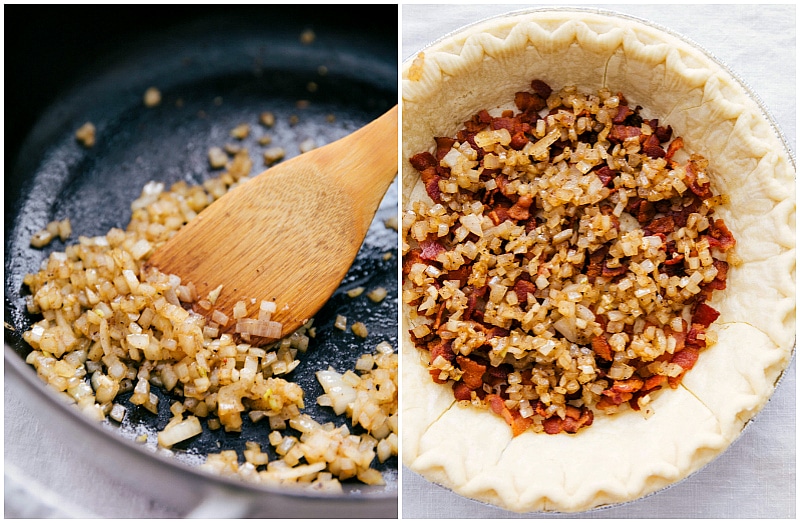 This quiche is the perfect addition to a brunch menu, because it doesn't require much time or effort to whip together and get on the table. In fact, you can have it prepped out in about 20 minutes or less. It also happens to be the perfect quiche for people that don't love eggs because it doesn't takes overly "eggy."
But, first things, first:
Why is it called quiche lorraine?
Quiche lorraine is named after the Lorraine region of France. A traditional quiche lorraine is similar to other quiches — it's a savory custard pie made with only bacon, eggs, and cream.
Since we've added some onion, garlic, cheese, and a few seasonings, this recipe isn't a truly authentic French quiche, but I think it's even better! 🙂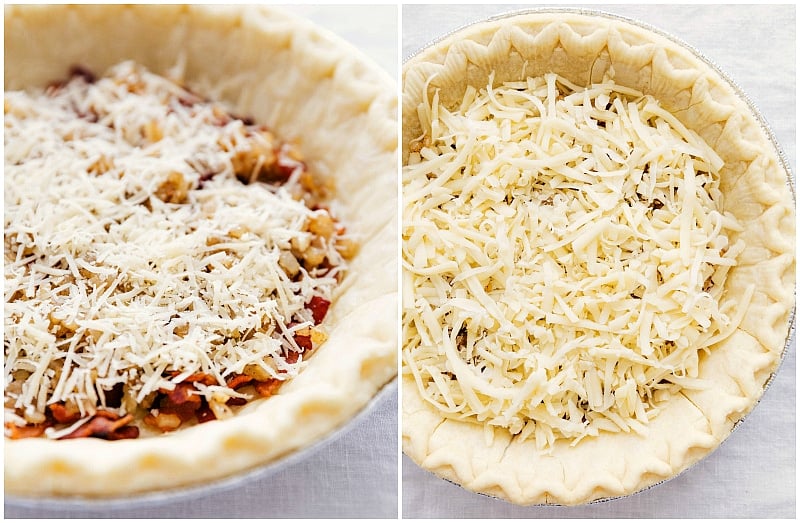 Quiche Lorraine is made of:
Pre-made crust: while you certainly can make your own crust (I'd recommend this recipe), I'm keeping things simple with this recipe and using a store-bought deep dish pie crust. You can find them pre-made and fitted into a pie tin in the frozen section of your grocery store
Bacon: we prefer center cut bacon for this recipe.
Onion and garlic: yellow onion and minced garlic cooked in bacon fat + butter because it's the right thing to do.
Two types of cheeses: Swiss and parmesan! Here's where you can get a bit creative and change up the cheeses: gruyere or cheddar are also delicious
Eggs: of course! They're quintessential quiche ingredients 🙂
Heavy cream: vital to the thick and creamy custard feel of this quiche
Seasonings: keeping it simple here with just the essentials: salt, pepper, and just a little bit of nutmeg! Nutmeg is the "secret" flavor enhancer to this quiche.
How to make quiche lorraine
Blind bake the crust: don't skip this step (more on it below). While the crust is baking, you have plenty of time to prepare the filling.
Cook the bacon, onion, & garlic: chop the bacon BEFORE cooking and cook up a few extra slices of bacon for a garnish on top. Layer the bacon, onion, and garlic right on top of the crust. Cheese goes on top and the important thing here is to make sure you've freshly grated the cheese. Pre-grated cheese has a cellulose coating to keep it from sticking together and will affect the flavor or your quiche.
Whisk together eggs, cream, and seasonings: in a separate bowl, the eggs get whisked with a fork and then you'll add in the cream and seasonings. Once this is all whisked together it's ready to pour over top of everything
Bake and garnish: bake the quiche in a preheated oven for 35-45 minutes. Check for doneness at 35 minutes by gently jiggling the quiche. It should still have a little wiggle which fully sets as the quiche cools.
If you've ever had a quiche with a "soggy" crust it's likely because it wasn't blind baked first. Blind baking is the process of baking a pie crust (or pastry crust) first WITHOUT the filling. It's necessary to blind bake the crust when it's going to be filled with an unbaked filling.
We blind bake to make sure the crust gets baked all the way through AND to prevent the bottom of the crust from getting soggy. If you make a homemade crust, you'll need to use pie weights, but when using a frozen pre-made pie crust, it's fine to bake without the weights.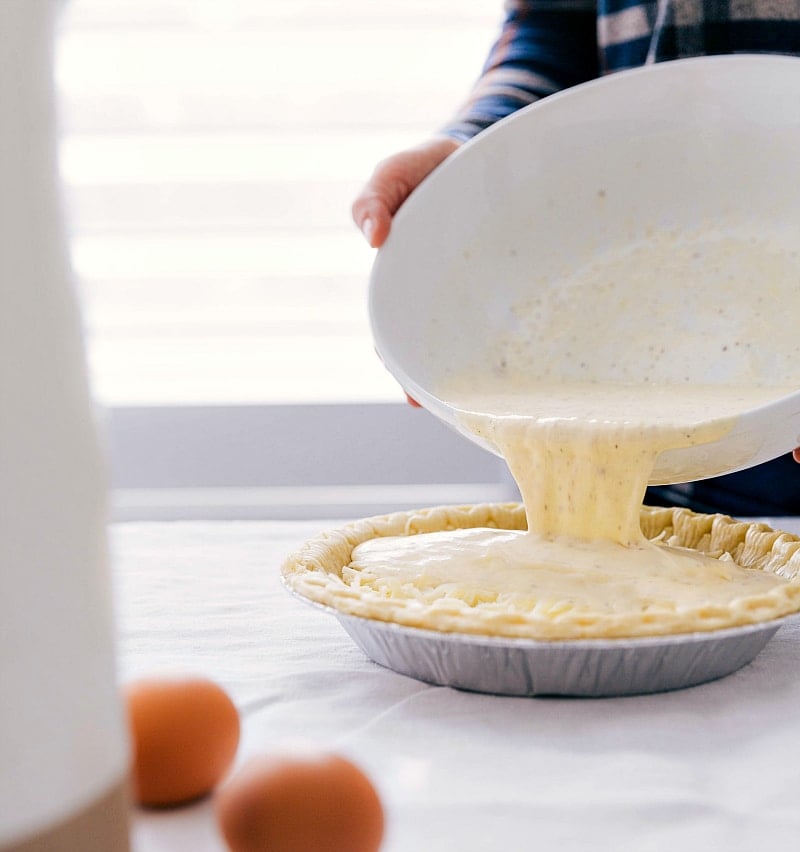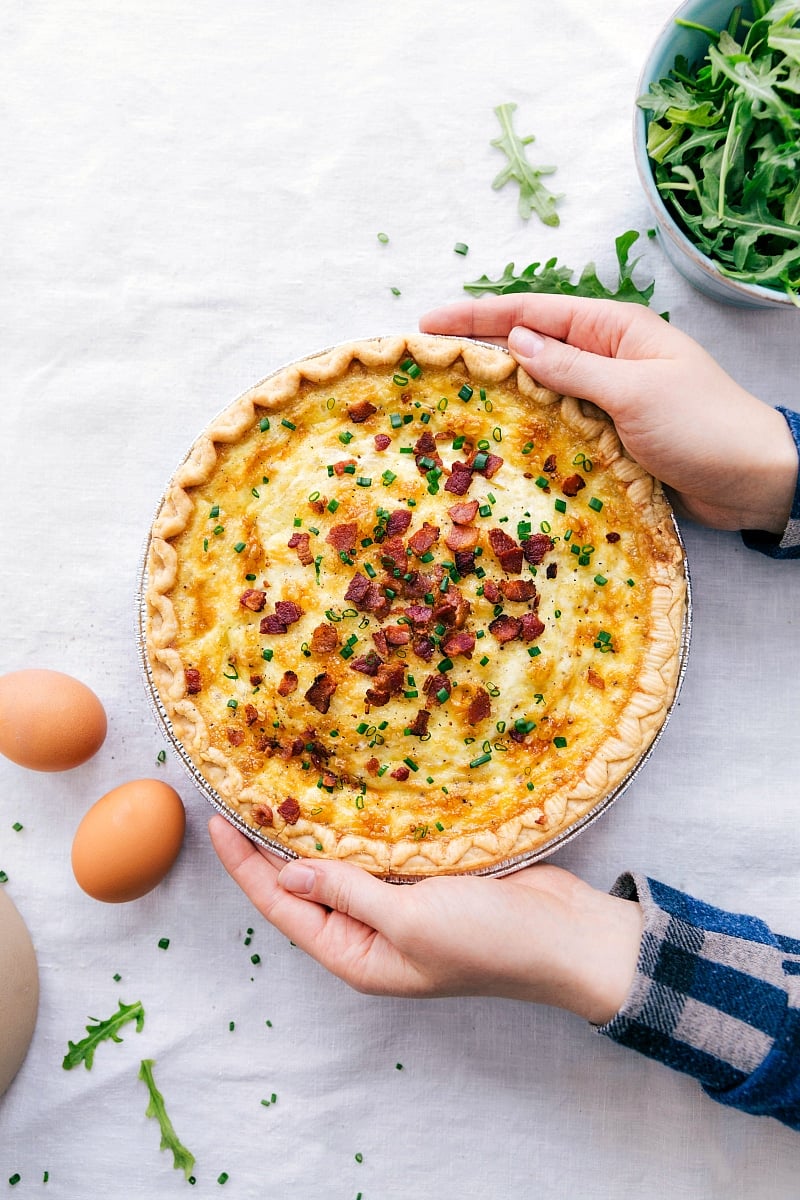 More easy egg recipes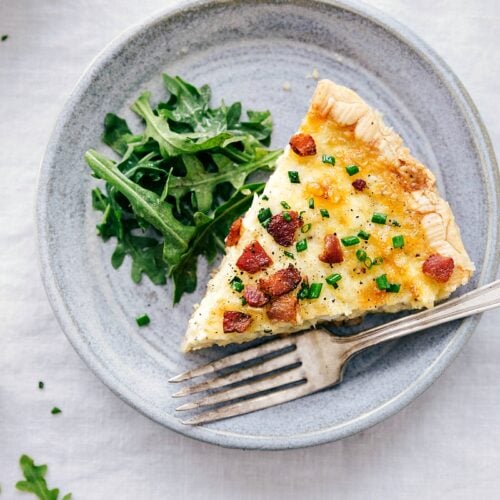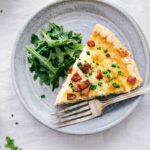 Quiche Lorraine
This simple quiche lorraine is packed with flavor! It's made with onion, bacon, and cheese and with a frozen pie crust to save you time (and energy!) Quiche makes a great addition to your breakfast/brunch spread or can even stand in as an easy lunch or dinner meal.
Ingredients
1

(9-inch)

frozen ready-to-bake pie crust (MUST be deep dish)

9

slices

center cut bacon

1

tablespoon

butter

1/2

cup

medium yellow onion,

diced

1

teaspoon

minced garlic

1/4

cup

freshly grated Parmesan cheese

1

cup

freshly grated Swiss cheese

4

large eggs

1 and 1/3

cup

heavy cream

1/4

teaspoon

ground nutmeg

Fine sea salt and freshly cracked pepper

Optional garnish: chopped chives
Instructions
Preheat oven to 400 degrees F. Place unwrapped frozen pie crust on a baking sheet and bake for 10 minutes. Remove and allow to slightly cool. (Keep crust on the baking sheet) Reduce the oven temperature to 350 degrees F.


Meanwhile, cut bacon strips into small strips/pieces. Add bacon to a large skillet over medium high heat. Cook until bacon is golden and then remove to a paper towel lined plate and allow to slightly cool. Remove 2 tablespoons of the bacon to reserve as a garnish for the top.

Drain off all the fat but 1 tablespoon of bacon fat. Add 1 tablespoon butter. Add the diced onion and cook until soft and translucent, about 5 minutes. Add in the garlic and stir for another 30 seconds to a minute. Remove right on top of the cooked bacon to drain and allow to slightly cool.

Place the bacon and onion/garlic mixture right on top of the par baked crust. Sprinkle parmesan cheese evenly on top. Sprinkle swiss cheese evenly on top.

In a large bowl, whisk the eggs until lightly beaten. Then whisk in the cream, nutmeg, and salt & pepper (to taste; I add 3/4 teaspoon salt and 1/4 teaspoon freshly cracked pepper). Whisk until smooth.

Pour cream/egg mixture into the par-baked pie crust (still on the baking sheet) and bake on the middle or lower oven rack (not the top one) for 35 to 45 minutes, or until quiche is set and very slightly jiggly in the center. (It will finish firming up outside of the oven). Avoid overbaking the quiche -- if there is a slight jiggle, it's done.

Serve warm with reserved bacon and fresh chopped chives.