Homemade bread pudding with fresh raspberries, fresh whipped cream, and a delicious vanilla sauce. With an easy prep time and tons of ideas to customize, this bread pudding recipe will quickly become your favorite!
This bread pudding is one of those recipes you'll want to whip out whenever you're serving a brunch or fun breakfast. Learn all my tips and tricks to make a super flavorful, custardy, and creamy bread pudding.
Bread Pudding Recipe
For years and years I hated bread pudding. I tried it every now and again wondering what I was missing because everyone else seemed to be obsessed. It wasn't until I was in my early twenties I finally had a bread pudding that converted me. At the restaurant I was working at, we threw a special brunch for Easter and that day a raspberry croissant bread pudding was served. After hearing about it ALL day and a bit of convincing from co-workers, I reluctantly tried the bread pudding.
It was insanely good! And I'm pretty sure at the time I claimed it was the best thing I'd ever eaten! For years I've tried to replicate that bread pudding and I've come close, but never got it exactly right until now. I'm so excited for you to try this bread pudding recipe!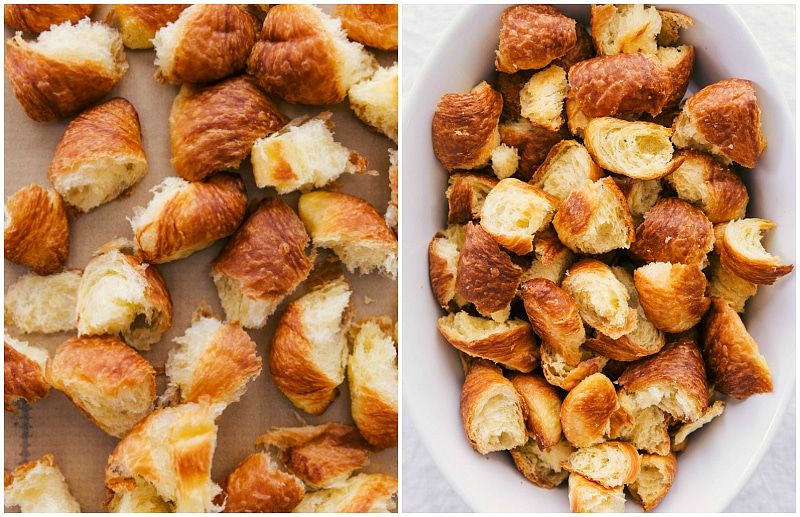 First off, we'll talk process, then ingredients, and finish with some tips for this bread pudding recipe.
How to make homemade bread pudding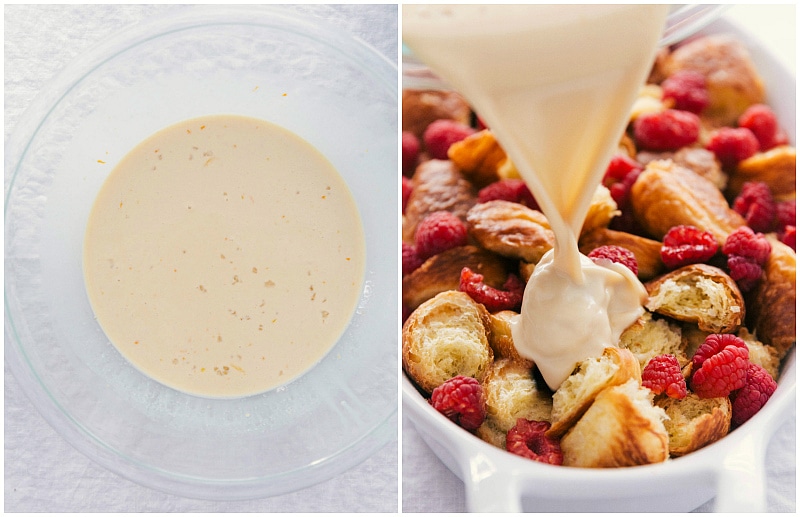 What is the best bread for bread pudding?
Arguably brioche or challah are the classic choices for bread pudding. While both would work really great in this recipe, I'm hooked on croissants! The bread pudding I fell in love with years ago had croissants, and it's my go-to choice for bread pudding. When choosing the bread you use, there are a few things to look for:
Available by a FULL loaf/full croissants: you don't want pre-sliced or cubed bread so you have the ability to rip the bread to the exact dimensions needed (in this case, 1-inch pieces)
Sturdy bread: since the bread is getting soaked in a custard you want to make sure the bread won't disintegrate. We toast the bread and use large pieces which helps avoid a soggy pudding.
Taste: obviously bread pudding relies on bread as the main ingredient so you definitely want to make sure the bread itself tastes delicious.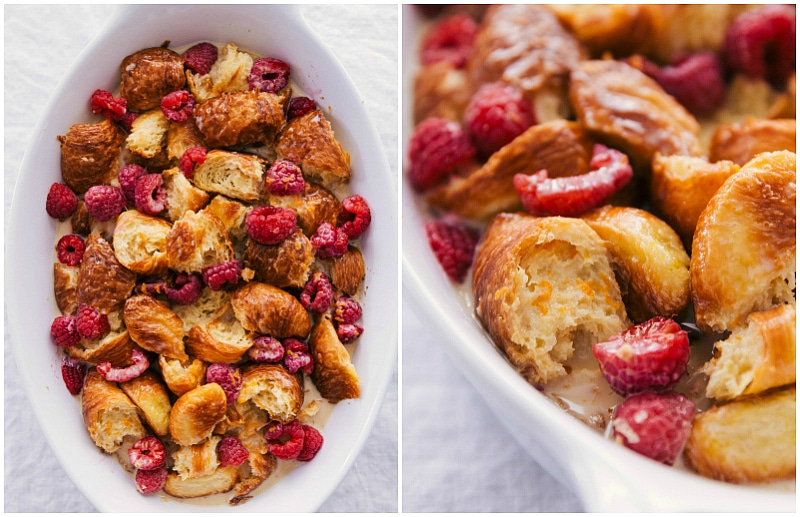 Ingredients
Most bread pudding recipes include (obviously) bread, eggs, and some kind of milk/cream mixture. I include a few "secret" or unique ingredients that really takes this bread pudding recipe over the top!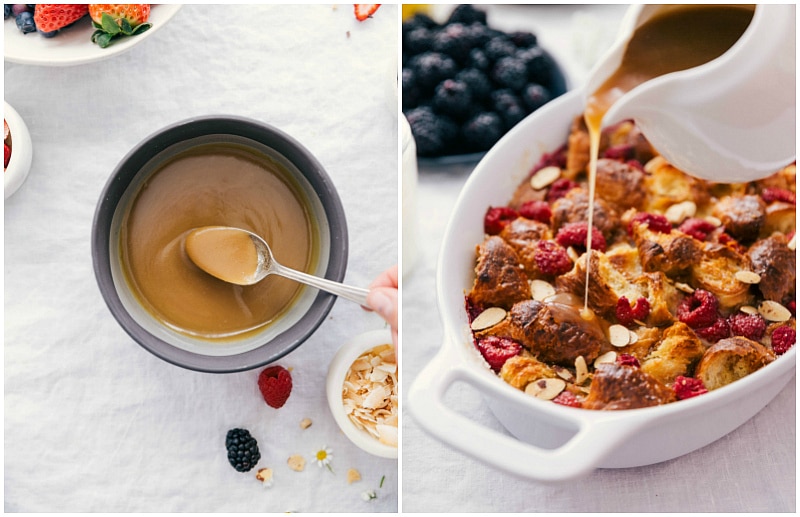 Recipe tips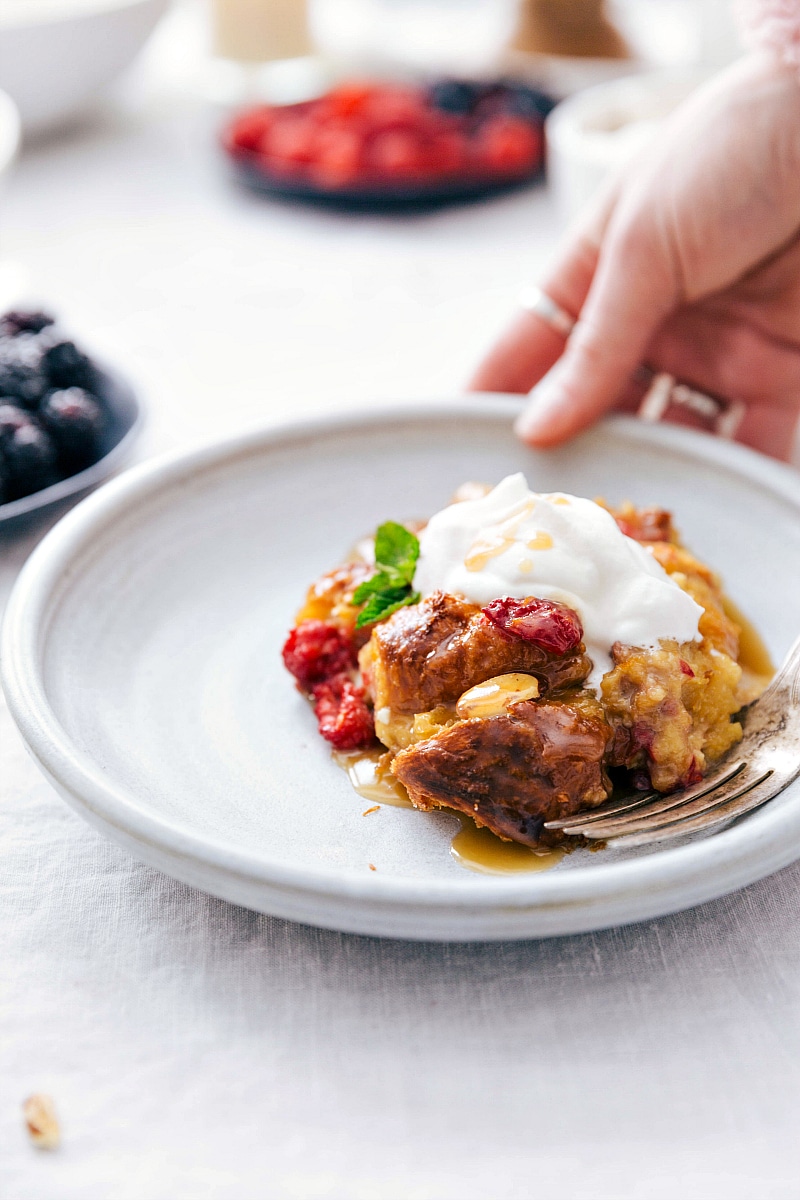 Serve this bread pudding alongside:
More Brunch Favorites: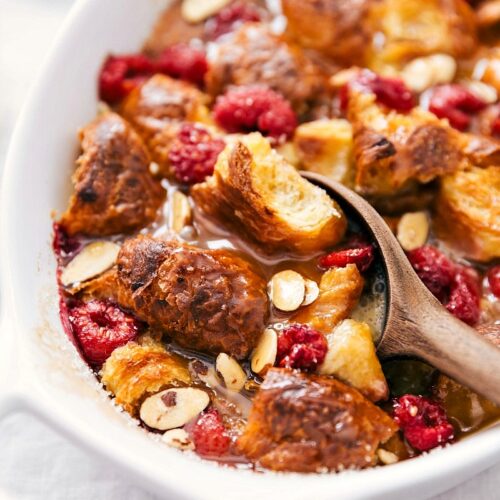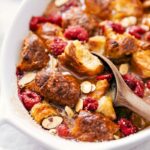 Bread Pudding
A delicious bread pudding recipe with fresh raspberries, fresh whipped cream and a delicious vanilla sauce.
Keyword:
bread pudding, bread pudding recipe
Ingredients
Bread Pudding
2

quart

shallow baking dish (8 x 8 pan works)

5 and 1/2

cups

day old croissants,

ripped into 1-inch pieces

1

cup

whole milk

1

cup

heavy cream

1/2

cup

light brown sugar,

lightly packed

1/4

cup

granulated white sugar

1

large

egg

1

large

egg yolk

2

teaspoons

vanilla extract

1/2

teaspoon

salt (I use fine sea salt)

1

teaspoon

orange zest

(finely grated)

3/4

cup

fresh raspberries,

halved

Optional: 2 tablespoons coarse sugar and 1/3 cup honey almonds
Whipped Cream (Optional)
1

cup

heavy whipping cream

1/4

cup

powdered sugar

1/2

teaspoon

vanilla extract
Vanilla Sauce
1/2

cup

unsalted butter

1/2

cup

granulated white sugar

1/2

cup

light brown sugar,

packed

1/2

cup

heavy cream

1

tablespoon

vanilla
Instructions
Preheat oven to 300 degrees F. Lightly grease (with cooking spray) a 2-quart baking dish.

Rip up croissants into 1-inch pieces and place them on a sheet pan lined with parchment paper. Bake, tossing halfway through (and reducing oven temperature if bread is getting too golden) until pieces are very dry and slightly toasted, 15-25 minutes. (The dry croissant pieces will absorb the custard without disintegrating, which is why this step is important.) Let cool, then transfer to the prepared 2 quart baking dish.

Meanwhile, in a large bowl whisk together the milk, cream, brown sugar, white sugar, egg, egg yolk, vanilla, salt, and orange zest. Whisk until combined and smooth.

Place the toasted croissants in a 2 quart baking dish (*I like something more shallow/surface area than an 8 x 8 inch pan, but an 8 x 8 inch pan will work -- it will be more creamy/custardy). Sprinkle halved raspberries across the top of the croissant pieces. Pour the liquid over the croissants and press the pieces down to be submerged in the liquid (to avoid burning croissants).

Cover with foil and refrigerate for 45 minutes to an hour.

Preheat the oven to 350 degrees F.

Remove the foil and gently press down croissants into liquid. If desired, sprinkle on the 2 tablespoons coarse sugar. Bake for 35-45 minutes or until custard is firm and set (bake time will be a bit longer for an 8 x 8 pan). If needed, tent the pudding with foil to keep the top from burning. If desired, sprinkle almonds on top.

While bread pudding is baking prepare the whipped cream and vanilla sauce (optional, but delicious additions)

Whipped cream: add the ingredients to a stand mixer with the whisk attachment and mix on high speed until stiff peaks are for formed. Chill until ready to serve.

Vanilla sauce: combine all sauce ingredients except vanilla in heavy bottomed pot. Cook over medium heat, stirring occasionally, 5-8 minutes or until mixture thickens and then comes to a full boil. Remove from heat and allow to slightly cool. Stir in the vanilla.

Top individual servings of warm bread pudding with whipped cream and vanilla sauce. Best eaten same time/day as prepared.
Recipe Notes
Nutrition Facts do not include whipped cream or syrup (just the base bread pudding recipe)