Easy to make and delicious meringue cookies with tips and tricks for success every time. PLUS the best ways to use meringue cookies to elevate a simple dessert!
You might be thinking these cookies don't fit into healthy post-holiday recipes, but at 25 calories a meringue, they're the perfect light treat! Other healthy dessert ideas: healthy brownies, healthy no bake cookies, or healthy banana bread!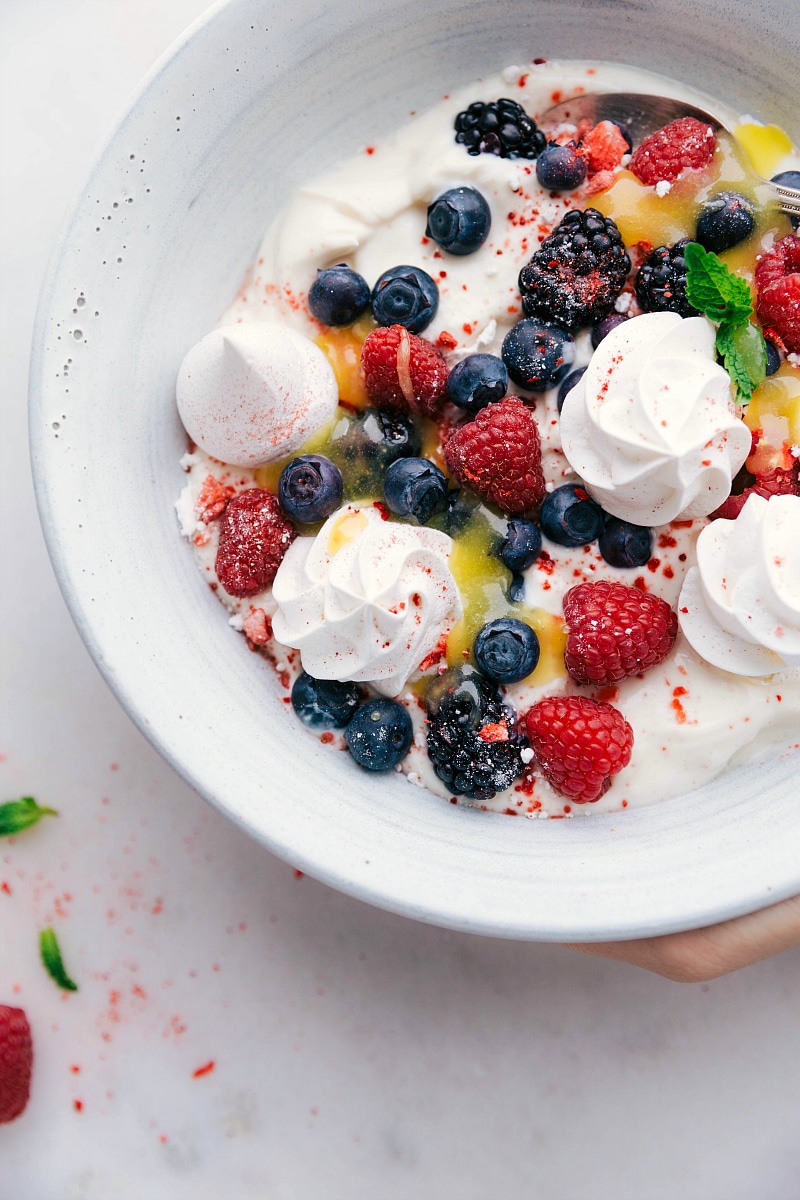 Meringue Cookies
I always thought meringue cookies were a little of boring (especially when you can have a snickerdoodle or oatmeal chocolate chip cookies!) UNTIL I visited Detroit last April. I went with a group of other food blogger's and Sarah introduced us to one of her favorite restaurants; the Grey Ghost. While the meal (and drinks) were truly amazing, it was the dessert that blew me away. Yes, almost a year later, I'm still craving it!
The dessert we were served: miniature sour cream cheesecakes with berries, lemon curd, and miniature meringue cookies. As full as I was, I polished every last piece of that dessert off and will admit it's one of my all time favorite desserts to this day. Today I'm sharing how to make perfect meringue cookies, and ALSO how to make a simpler version of that dessert that rivals the very dessert I fell in love with almost a year ago!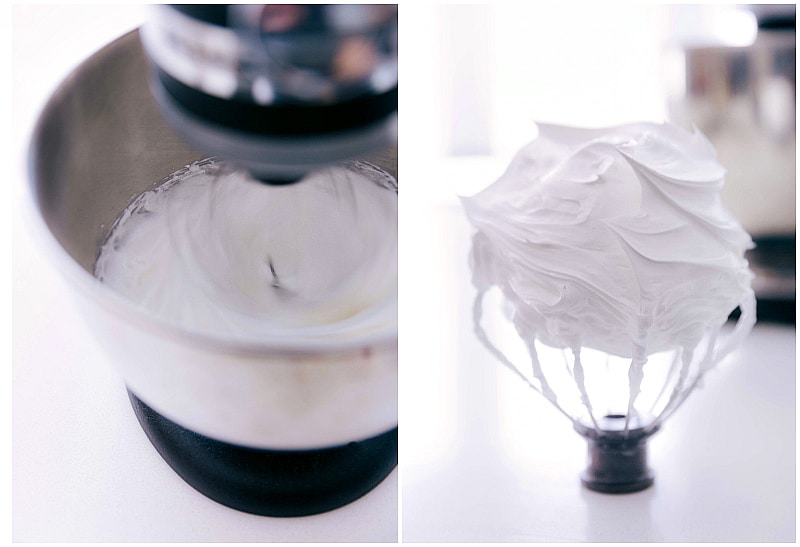 Let's talk about the process for making these cookies including tips for the perfect meringue cookies, troubleshooting meringue cookies, and finally I'll share some (INCREDIBLE) ways to use these meringue cookies.
How do you make easy meringue cookies?
Before you start making meringues:
Check the weather: meringue cookies are very sensitive to the weather. Avoid making meringue cookies on rainy or humid days – they'll absorb moisture from the air and become soft/sticky. You'll have the most success making meringues when it's dry outside
Make sure the bowl you're using is 100% clean and dry – any residual grease could result in your eggs not whipping to stiff peaks. You also want to avoid using plastic bowls – stick to metal!
Use room temperature ingredients. Pro tip: separate the yolks from whites when the eggs are cold out of the fridge and then let the whites come to room temperature (oftentimes it's more tricky to separate a room temperature egg). You'll get a fluffier, airier meringue by using room temperature eggs.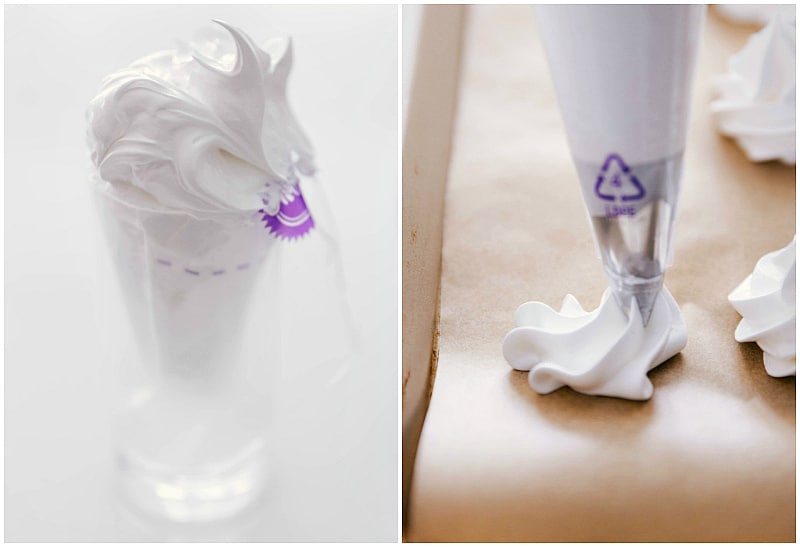 Making the meringues:
Steadily beat the egg whites: I add a pinch of salt at the very beginning to help stabilize the egg whites. As you beat the egg whites and begin adding other ingredients, avoid under or over-beating. Both will result in less than desirous meringue cookies.
Add sugar gradually: first off: granulated or castor/superfine sugar? Granulated will result a more "granular meringue" while superfine sugar will give you a smoother finish. If you add too much sugar at once, it will deflate the air you've whipped in.
Line your sheet pan with parchment paper: in testing, I found parchment paper yielded the best results. A silpat liner made these meringue cookies more chewy
Low and long bake time: meringue cookies are baked at a low temperature for 1 hour – this will ensure a crisp cookie without it browning or cooking too quickly.
Allow meringue cookies to stand in the oven after baking: this ensures your meringue cookies fully dry out and also cool down slowly to avoid cracks/crumbling.
My two favorite ways to serve meringue cookies:
If you're a regular reader of my site, you know I am not afraid of some hyperbole, but honestly, these desserts I'm sharing below using homemade meringue cookies are my current all-time favorite treats. Frozen or regular yogurt, lemon curd, berries and meringue = the absolute best!
Lemon Blackberry Frozen Yogurt:

Grab some frozen vanilla yogurt (right by ice cream in the freezer section) OR make your own vanilla frozen yogurt
Top it with homemade lemon curd (the BEST!) or store bought lemon curd in a pinch (usually found by pie fillings/baking asile in the grocery store).
Add some fresh berries and meringue cookies — either crumble some regular sized meringues or make tiny meringues for this dessert.

Berry Yogurt Bowls:

Fill the base or your bowl with a really delicious Greek yogurt (I like Greek God's honey vanilla yogurt for this treat)
Top the yogurt with a variety of berries. Add a few spoonfuls of lemon curd (optional) and meringue cookies — either crumble some regular sized meringues or make tiny meringues for this dessert.
Crumble some freeze dried raspberries or strawberries over everything.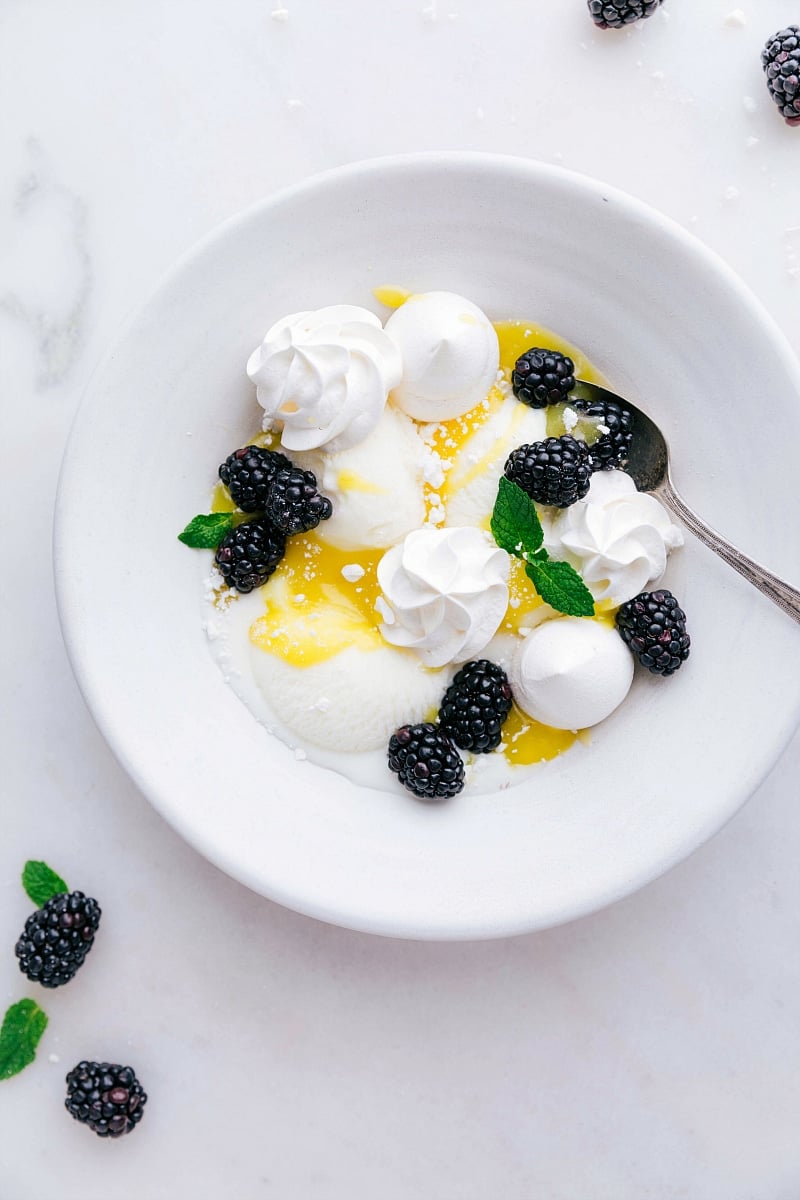 More Delicious Cookies: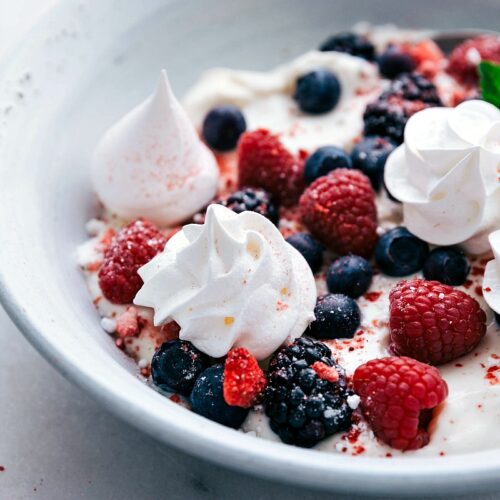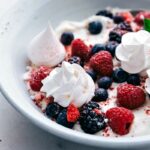 Meringue Cookies
Easy to make and delicious meringue cookies with tips and tricks for success every time. PLUS the best ways to use meringue cookies to elevate a simple dessert!
Keyword:
meringue cookies
Servings
:
40
-50 meringue cookies, depending on the size you pipe them
Ingredients
4

large

egg whites,

at room temperature

1/8

teaspoon

salt

1/2

teaspoon

cream of tartar

1

cup

superfine sugar (white granulated sugar works ok*)

1 and 1/4

teaspoon

pure vanilla extract

(use clear vanilla for a super white meringue)

1/4

teaspoon

pure lemon extract,

optional

Optional: melted chocolate to drizzle or dip meringues in, freeze dried strawberries or raspberries to crumble on top of cooked meringues, OR see last paragraph in post for my favorite ways to use these cookies
Instructions
I like to separate the egg yolk from white when the eggs are cold. Separate straight out of the fridge and then allow the whites to come to room temperature. It's very important to have room temperature egg whites for this recipe.

Preheat oven to 225 degrees F. Line two large sheet pans with parchment paper (not silpat/re-useable liners). Set aside.

In a completely clean and grease-free bowl (preferably metal bowl), combine egg whites, salt, and cream of tartar.

Using an electric mixer or a stand mixer (using whisk attachment), stir on low speed until mixture becomes frothy. Increase speed to high and beat until mixture is no longer translucent.

With mixer going on high speed, gradually add the superfine sugar, about a tablespoon at a time, stirring after each addition until sugar is dissolved (10-15 seconds in between each addition). You want to add sugar gradually so you don't deflate the meringue.

Beat until mixture is thick, sugar is completely dissolved, and you have stiff peaks.

Stir in vanilla and lemon extract. Transfer mixture to a large (new/clean -- avoid used and washed piping bags) piping bag that has been fitted with a star tip. (Or just snip the tip off of the piping bag and pipe from that).

Pipe cookies on prepared sheet pan. Since these won't spread, you can place them on the sheet pan pretty close together. Pipe large or small meringues -- whatever you'd like, but keep the sizes consistent.

Bake for 1 hour. Do not open the oven. Turn off the heat and leave the oven closed for 1 hour before removing the meringues.

Store meringue cookies in an airtight container away from any heat and moisture. If the meringues are getting soft.

To jazz up these meringues a bit: dip the bottoms in melted chocolate or drizzle melted chocolate over top, crumble freeze dried strawberries or raspberries on top of the meringues, OR serve in one of the healthier desserts listed in the blogpost. My FAVORITE way to use meringues: on top of vanilla frozen yogurt with homemade lemon curd and a few miniature (or crumbled) meringues. Literally, the best.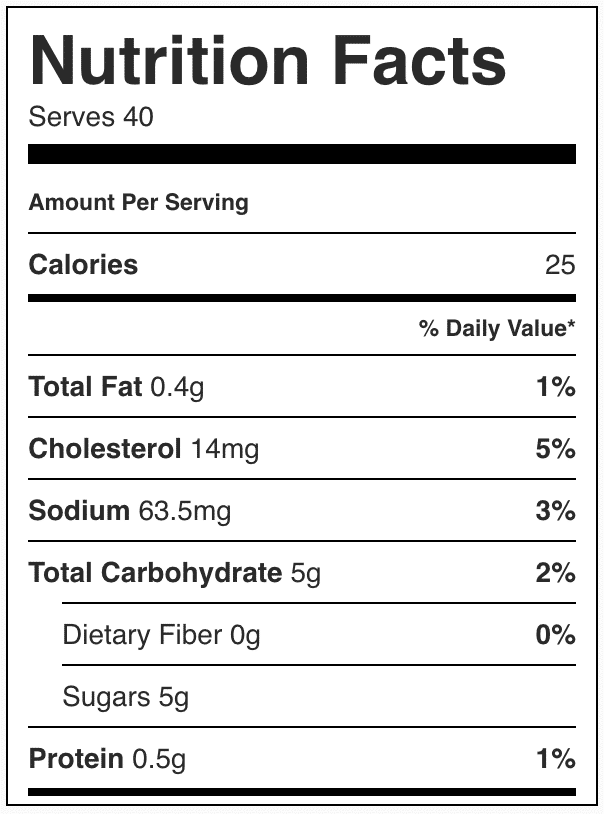 Just as an FYI:
What are the 3 types of meringue?