Cake in cookie form? Yes please! These cake batter cookies have the flavors you know and love from cake in a delicious cookie form. They've got soft and chewy centers with crisp edges, plenty of sprinkles, and a good amount of chocolate.
Jazz up these cookies for holidays or birthdays with seasonal sprinkle assortments and different colors or baking chips.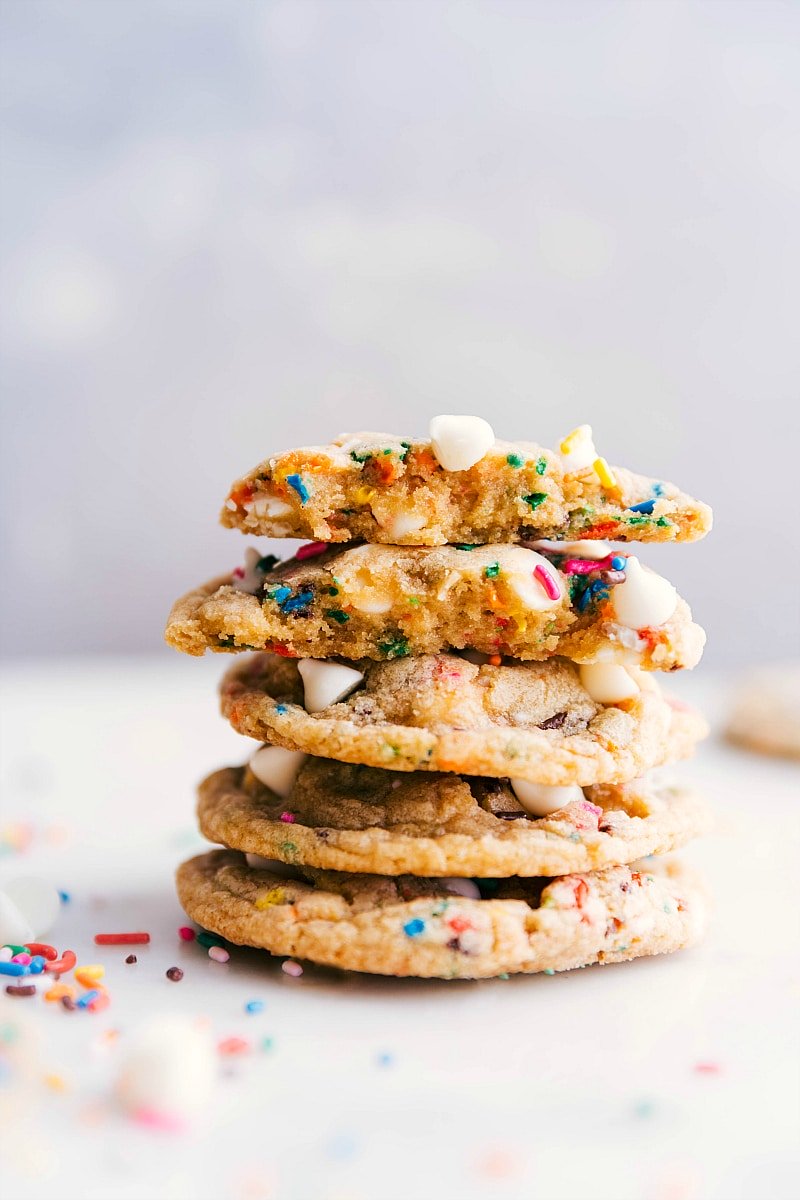 Cake Batter Cookies
These cake batter cookies are pretty simple to make and packed with flavor. They are like a cookie + cake flavor hybrid. The texture is still completely cookie-like — crisp edges with a chewy, soft interior. So while they don't have a cake-like texture, they do taste reminiscent of cake batter (funfetti cake batter)!
You can jazz them up with whatever you like with different sprinkles and different baking chips. We also love swapping out the regular rainbow colored sprinkles for holiday or occasion themed sprinkle blends.
How to make cake batter cookies
Cream butter and sugars: make sure to get the mixture ultra creamy, light, and fluffy before adding any other ingredients
Combine dry ingredients: in a separate bowl, whisk together all the dry ingredients until combined
Add dry to wet and mix: mix as little as possible — just until ingredients are combined. If you overmix flour it activates the gluten which will cause tougher cookies.
Gently fold in add-ins: using a spatula fold in the baking chips and sprinkles until well integrated.
Form balls of dough: form balls of dough that are higher rather than wider (see last picture) and then chill the balls of dough (covered) in the fridge.
Bake cookies on a siplat liner until edges are lightly browned and barely crispy and the centers are still soft and chewy

Cake batter cookie tips
Use sprinkle jimmies for the best texture and flavor. Jimmies also don't bleed into the cookie like other sprinkles (nonpareils) have the tendency to. Here's a great article about the differences between sprinkles. Other sprinkles work, but I'd recommend keeping the majority to jimmies.
Chill the dough: the dough needs time to chill allowing for the butter to re-solidify and the pudding mixture to be fully absorbed. This will ensure you don't have flat (and less flavorful) cookies. I don't recommend chilling the dough for more than 3-4 hours as it begins to dry out.
Good cake mix: a good cake mix makes a huge difference for these cake batter cookies. I highly recommend Betty Crocker's Super Moist cake mixes (not sponsored). As far as the cake mix goes, I've used rainbow chip (funfetti), yellow, and white in these cookies. Funfetti is our favorite!

Tips continued
The right type of pudding: there are so many different pudding mixes and it's easy to grab the wrong one since they all look so similar! Ensure you don't get cook & serve pudding and that you don't get a sugar free/low sugar version. Neither will work properly in these cake batter cookies.
Measure carefully: the most important measurement is the flour and cake mix. If you press a measuring cup into a bag of flour (or cake mix) you are likely packing in way too much which will yield cakey and less flavorful cookies. Spoon the flour into a measuring cup and level the top with the back of a butter knife. The printable recipe includes gram measurements if you prefer to measure using a scale.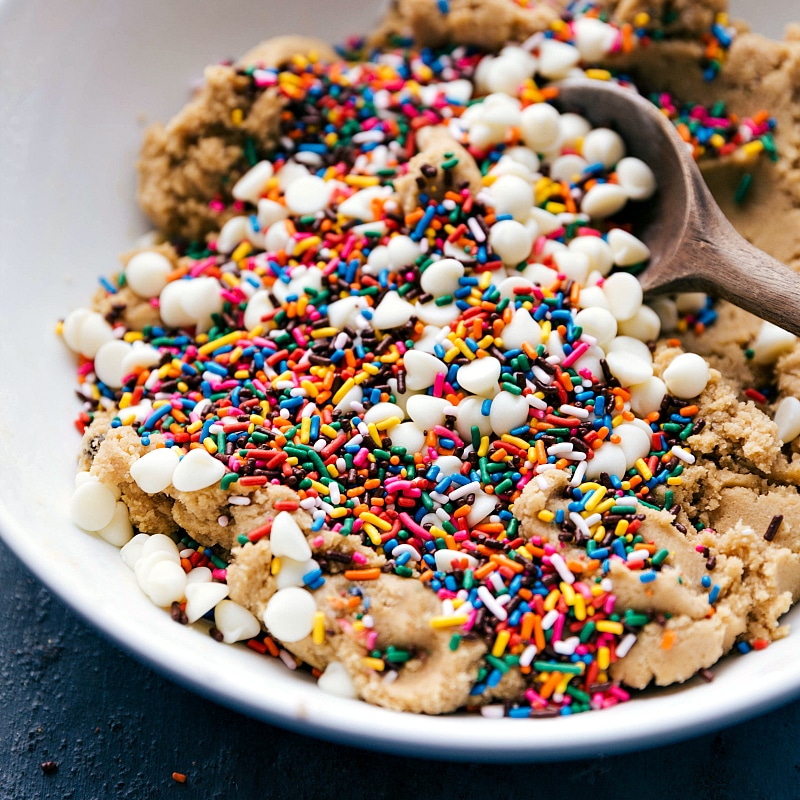 Variation ideas
Holiday themed: use special sprinkle blends on the holiday closest — red & green blends for Christmas, different shades of green for St. Patrick's Day, pastels for Easter, etc. I love using Sweetapolita sprinkle blends for these cookies! (Not sponsored)
Vanilla flavored: use vanilla cake mix instead of funfetti/yellow for more intensely vanilla flavored cake batter cookies
Swap out the chocolate: use milk or semi-sweet chocolate chips in place of the white chocolate chips (or use 1/2 cup of milk and 1/2 cup of white)! You can also use speciality chips like confetti chips, pastel chips, etc. depending on the occasion you're making these for.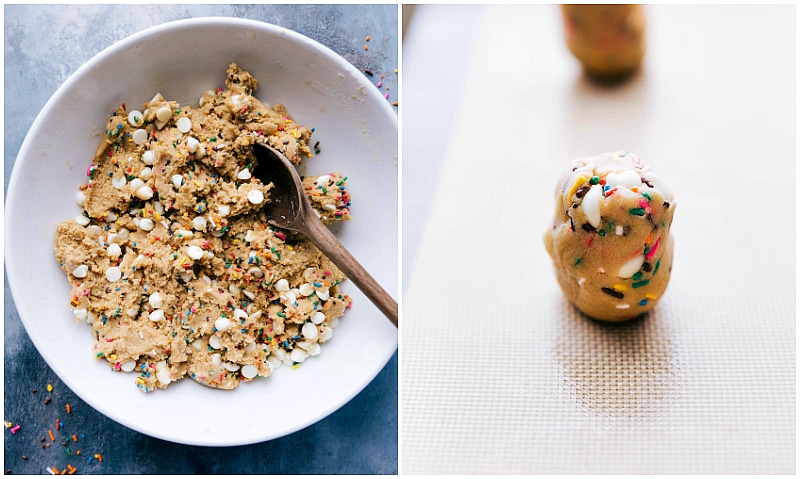 More delicious cookie recipes: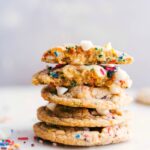 Cake Batter Cookies
Soft-baked Cake Batter Cookies that are easily decorated up for any holiday (or birthday) celebration!
Keyword:
cake batter cookies
Ingredients
3/4

cup (1 and 1/2 sticks; 170g)

unsalted butter,

at room temperature (not melted at all)

3/4

cup (165g)

dark brown sugar,

lightly packed

1/4

cup (50g)

white sugar

1

large

egg

1/2

tablespoon

pure vanilla extract

1/2

teaspoon

baking soda

scant 1/2

teaspoon

fine sea salt

(reduce if using table salt)

1/3

cup (54g)

instant vanilla pudding mix,

(dry, not prepared, NOT sugar/fat free)

1

cup (138g)

funfetti (or yellow) cake mix,

dry (I recommend Betty Crocker's Super Moist Party Rainbow Chip)

1 and 1/4

cups (147g)

white all purpose flour,

measured by spooning and leveling

1/2

cup (80g)

jimmies sprinkles

1

cup (181g)

white chocolate chips
Instructions
In a large bowl, beat together the butter, brown sugar, and white sugar. (TIP: The butter should not be melted AT all. Beat until ingredients are completely smooth and combined, and light & cream.

Add in the egg and vanilla extract and beat until combined.

In a separate bowl whisk together the baking soda, salt, unprepared pudding mix, unprepared cake mix, and flour. Stir until combined.

Add the dry ingredients to wet. Beat to JUST combine (do not overmix). The cookie dough gets exceptionally thick! Add in the sprinkles and chips and gently fold into the dough with a spatula.

Form cookie dough balls that are about 1.6 ounces in size. Chill in the fridge, covered, for at least 1 hour.

Preheat the oven to 350 degrees F. Line a baking sheet with parchment paper or a baking liner.

Place no more than 6 cookie dough balls per cookie sheet to give ample room for the cookies.

Bake for 9-13 minutes or until lightly browned at the edges and still soft (slightly under-baked in the center; we bake for about 11 minutes).

Remove from the oven and allow to continue to "cook" on the cookie sheet for another 3-4 minutes. While they are on the cookie sheet I add in a few more chocolate chips and sprinkles just to make them look pretty. This is, of course, optional. Remove with a metal spatula to a cooling rack until fully cooled. Cookies are best enjoyed the same day they're made.

Store any leftover (completely cooled) cookies in an airtight container at room temperature.
Christmas version: