Special thanks to Genova for sponsoring this post. As always, all opinions are my own!
Delicious and easy-to-make tuna salad (plus how to meal prep with this tuna salad!)
Once you've gotten hooked on this tuna salad recipe, you've got to try other reader favorite's including this chicken salad, cucumber salad, and quinoa salad.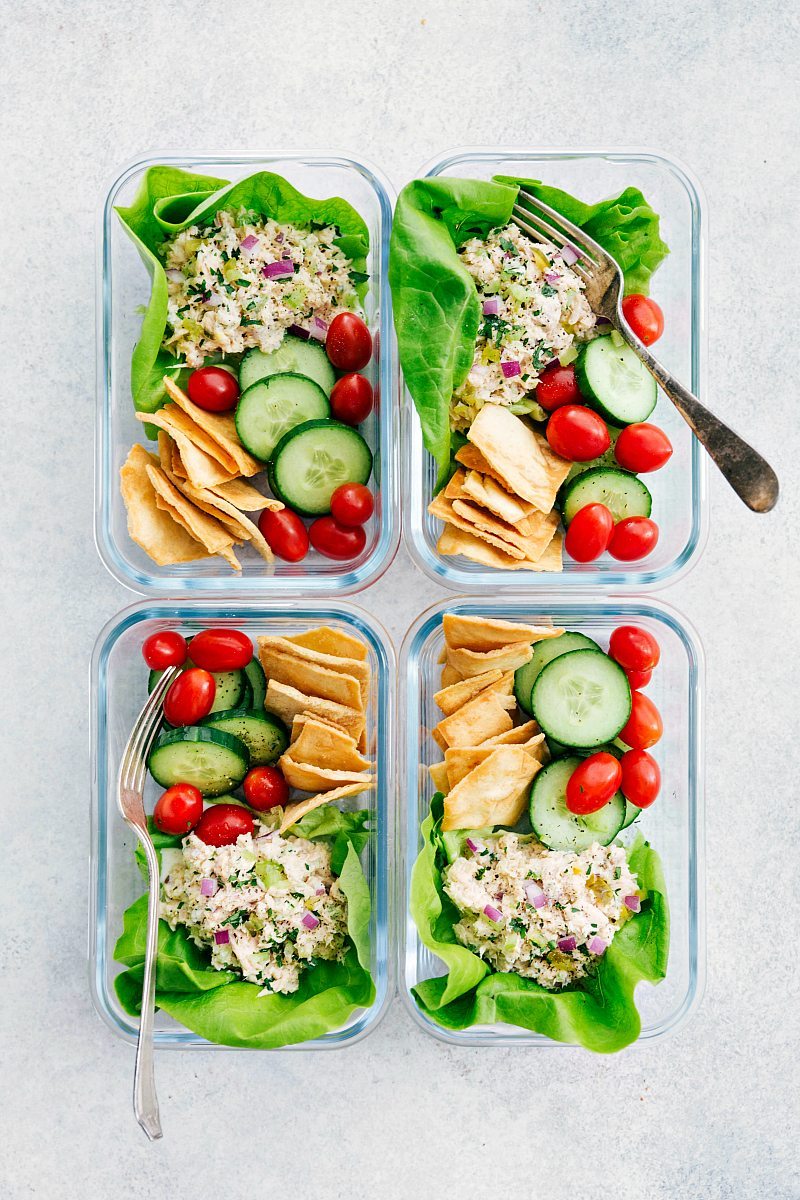 Tuna Salad
I've mentioned a few times that tuna salad is one of my go-to lunches during the week. It takes minutes to whip together, tastes great, and it's pretty healthy! These avocado tuna wraps are my go-to on a daily basis, but the one drawback about them — the avocado doesn't last over a day.
So lately I've been making a slightly bigger batch of a variation of that same tuna salad (without the avocado) and we eat it throughout the first few days of the week. Today I'm sharing my tips for a delicious tuna salad meal prep, but you can always use this delicious recipe to just make a batch of tuna salad to enjoy for a dinner/meal. 🙂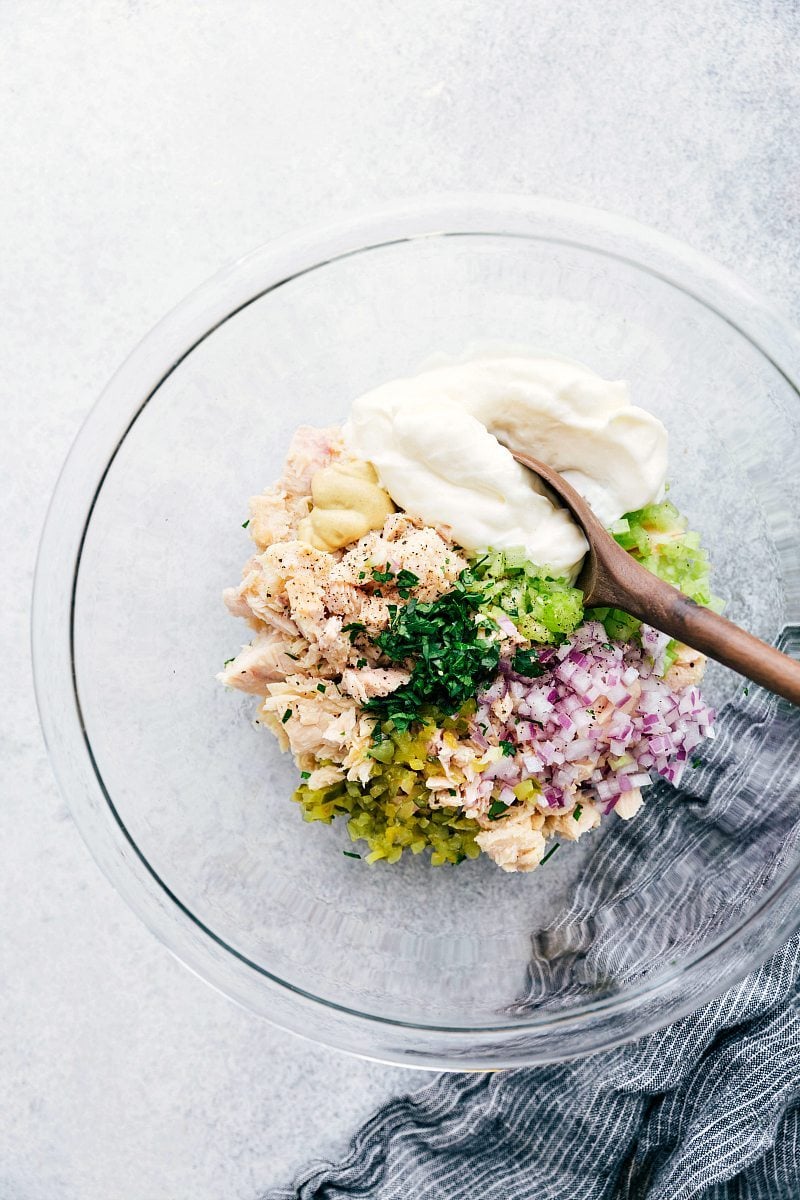 Unlike some of the other meal prep recipes on my blog, this tuna salad is best right after it's made. Instead of prepping it the night before, you'll want to prep this batch the same morning you'll be eating it. You can prep this into 3-4 containers as shown in the photos, but to add some variation I like putting it on a sandwich for a meal or two.
How long can you keep this meal prep tuna salad in the refrigerator?
3 to 5 days. If you store the tuna salad in airtight containers in the fridge it will last 3-5 days. I usually make this Monday morning and eat it through Wednesday or Thursday for lunches.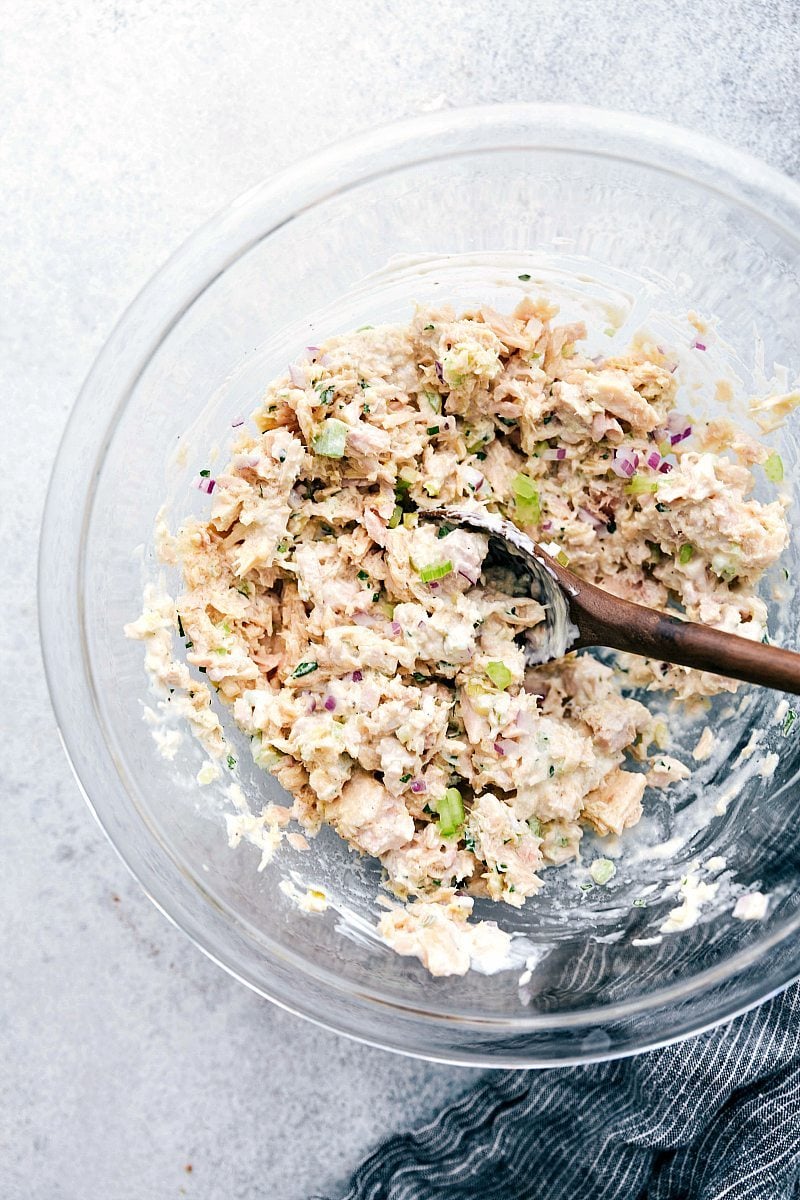 How do you make tuna salad?
Of course, you'll start with some good tuna. And by good tuna I mean Genova's Albacore Tuna in Olive Oil. It is truly the BEST canned tuna. Genova's tuna is packed in olive oil which really does make a big difference to the overall taste of this tuna salad.
After you've drained the tuna, you'll add it to a bowl with some red onion, pickle relish, freshly chopped parsley, mayo (I use an avocado-based mayo), dijon, celery, fresh lemon, a drizzle of olive oil, and salt + pepper.
Toss it all together and it's ready to go in the meal prep containers!

In these photos I show the tuna salad, veggies, and pita chips together, but I prefer storing the ingredients separately. I like to keep the tuna by itself in its own container. That way you can stir it up again (sometimes it tends to separate) and the rest of your meal prep "sides" don't taste like tuna 🙂
Add whatever meal prep "sides" you want to a separate bag and enjoy with the tuna salad. One of my go-to "sides" for this tuna salad is pita chips. I love eating them with the salad and they perfectly complement this recipe.

More Tuna Recipes: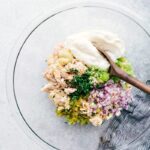 Tuna Salad
Delicious and easy-to-make meal prep tuna salad (or a regular batch tuna salad!)
Ingredients
3

cans (5 ounces)

Genova Albacore Tuna,

drained

3

tablespoons

finely chopped celery

2

tablespoons

finely chopped red onion

(soak in cold water for 5 minutes to take away the "bite" if desired)

2

tablespoons

pickle relish (or finely chopped bread and butter pickles)

2

tablespoons

finely chopped flat leaf parsley

1/3

cup

mayo (up to 1/2 cup for "creamier" tuna)

1

teaspoon

dijon mustard

1

tablespoon

freshly squeezed lemon juice

1

teaspoon

olive oil

Fine sea salt and freshly cracked pepper,

to taste
Meal Prepping Ideas
Fresh veggies such as cherry tomatoes, sliced cucumber, sliced bell peppers, snap peas, broccoli, etc.

Pita chips, crackers, or whole grain bread
Instructions
Thoroughly drain the tuna and place in a large bowl. Add the finely chopped celery, finely chopped red onion (drained if you soaked in water), pickle relish, parsley, mayo, dijon mustard, lemon juice, olive oil, and salt + pepper to taste.

Stir to combine and enjoy immediately OR separate into meal prepping containers.

To meal prep: separate the tuna salad into 3 or 4 parts and place in airtight containers. In separate containers/bags add some sides such as fresh vegetables, fresh fruits, pita chips, whole grain bread, etc.
Recipe Video