The best tuna macaroni salad bursting with flavor and so simple to make. This salad can be ready in less than 30 minutes!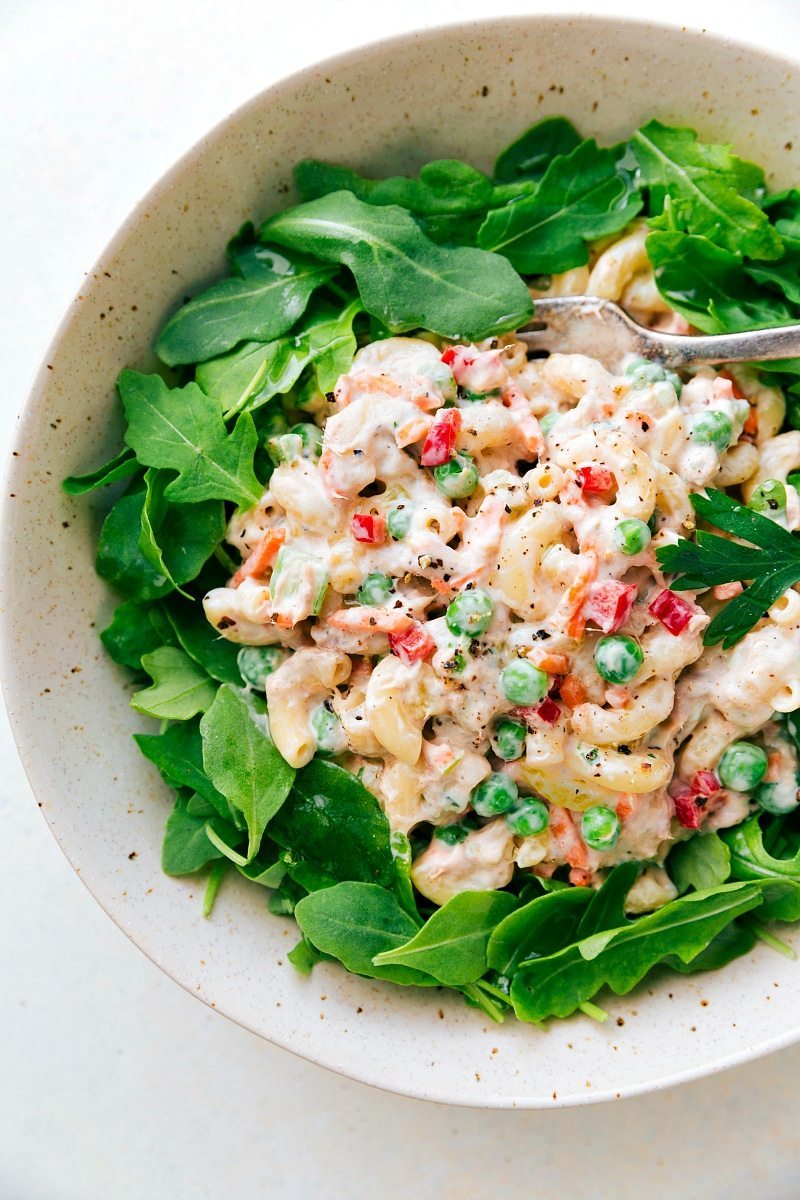 Tuna Macaroni Salad
I suppose this seems a little bit like a summery recipe, but a tuna macaroni salad screams colder weather to me! Growing up, my mom made tuna casseroles, cheesy tuna pastas, and tuna pasta salads only when the weather got colder outside. So this is my type of cooler weather comfort food. 🙂
We even used to have creamy macaroni tuna pasta salad (similar to this recipe) as a Thanksgiving side dish! And while you won't find this salad being highlighted too many places as a typical Thanksgiving side-dish, if you are looking to be a little unconventional, try this. You won't regret it!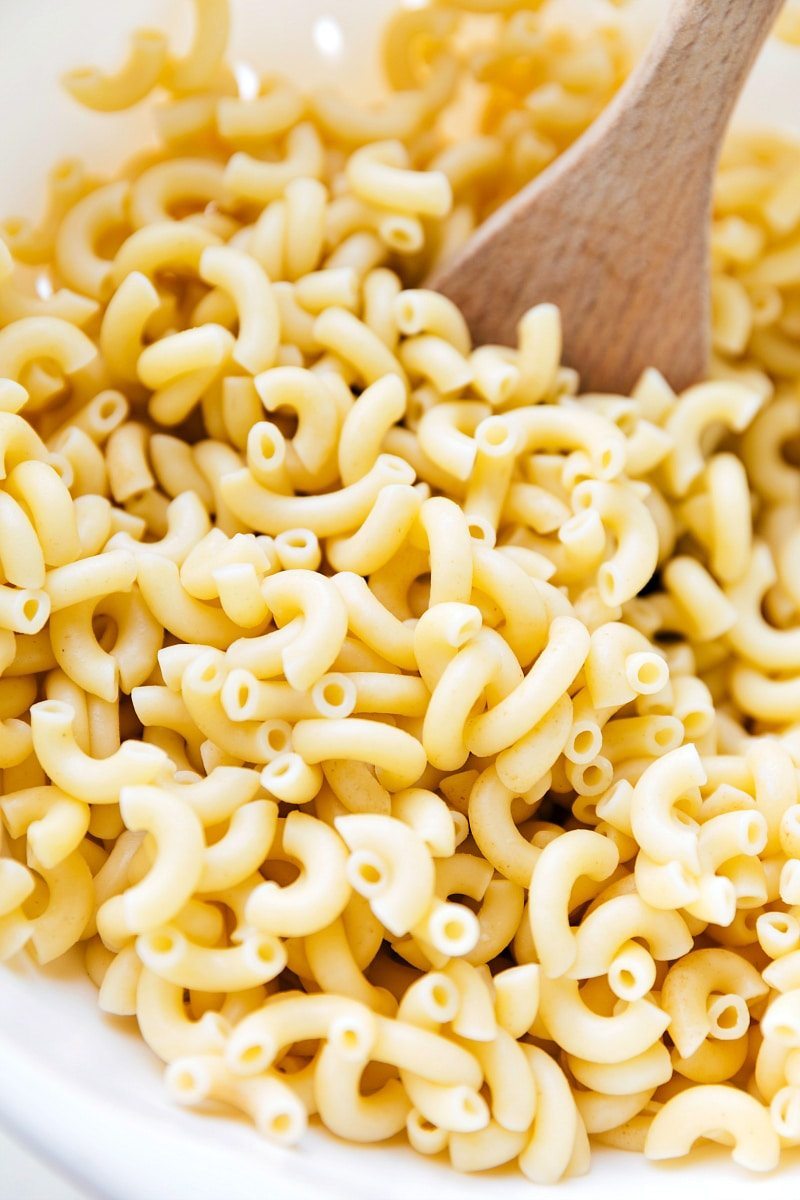 How to make Tuna Macaroni Salad
I've taken my mom's famous macaroni tuna salad and tweaked it over the years. As many times as I've tweaked this salad and tried other tuna macaroni salads, I'm convinced this one is the best around! A few things that make this one the best? First, the tuna. One of my all-time favorite canned tuna fish is 'Albacore Tuna' made by Genova Seafood. It's packed in pure olive oil which I think makes a huge difference in flavor.
The other ingredient that I consider one of the secrets to the phenomenal flavor of this salad? Ceasar salad dressing. I know, a little unique, but it's a huge flavor enhancer. It really complements the tuna and veggies nicely. It also adds a lot of seasoning flavor without adding tons of different herbs/spices. (My personal favorite is Marzetti's refrigerated Ceasar dressing)
And the last "secret" ingredient: bread and butter pickles. If you are a fan of combining tuna, pickles, and mayo (one of my favorites) then you'll be obsessed with this salad! The pickles add a nice tang and cut down on the sweetness of the salad. The real secret to adding pickles though is using "bread and butter" pickles. They are the best complement to the tuna and dressing!
The rest of the veggies are easily interchanged with veggies you might prefer more. The five I use: frozen peas, red pepper, onion, carrot, and celery. All these veggies are pretty finely diced in and add to the flavor and texture. But if you aren't a fan of one of these — leave it out! Or add in a different veggie in its place. 🙂
Enjoy!
More Delicious Salad Recipes: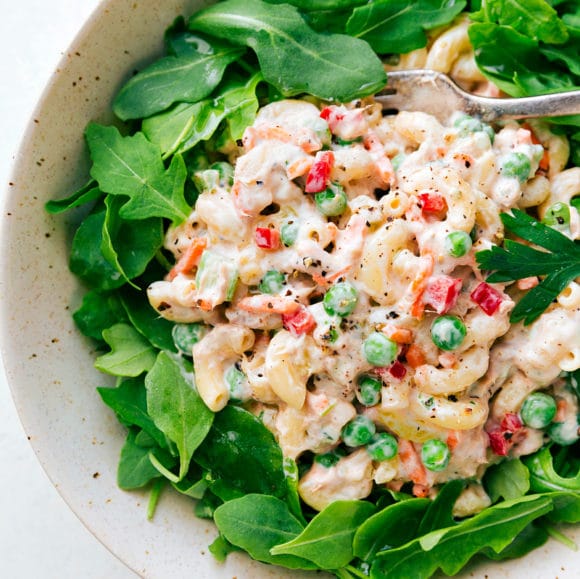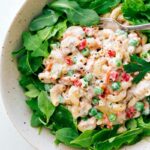 The BEST Macaroni Tuna Salad
The best macaroni tuna salad bursting with flavor and so simple to make. This salad can be ready in less than 30 minutes!
Keyword:
tuna macaroni salad
Ingredients
3 and 1/2

cups

COOKED elbow macaroni noodles

2

cans (5 ounces EACH)

Genova Albacore tuna fish

1/3

cup

prepared Ceasar salad dressing (made by Marzetti; found in the refrigerated produce section of most grocery stores)

3/4

cup

regular mayo

3/4

cup

sour cream

(I use fat-free)

Seasoned salt and pepper

1/2

teaspoon

garlic powder

1

cup

frozen peas

1/2

cup

bread and butter pickles

1/2

cup (1/2 of a pepper)

red pepper

1/2

cup (2 stalks)

celery

1

cup

carrot sticks

1/2

cup

onion

diced*
Instructions
Cook the macaroni noodles according to package directions.

Drain and rinse under cold water until cold.

Meanwhile, toss together the dressing: the ceasar salad dressing, mayo, sour cream, 1/2 teaspoon salt, 1/4 teaspoon pepper, and garlic powder.

Prep the veggies (measure all AFTER dicing): let the peas thaw, dice the bread and butter pickles, dice the bell pepper, dice the celery, dice the carrot sticks, dice the onion.

Add the veggies into the dressing.

Add in the cooled macaroni.

Thoroughly drain the tuna and mix that in.

Stir until everything is well coated.

Store in the fridge until serving (best served when the salad has been chilled)
Recipe Notes
*Use a shallot for less intense onion flavor. Also my husband hates onions, so I've made this salad without onions entirely and it's still so delicious!