Special thanks to Genova for sponsoring this post. As always, all opinions in this post are my own.
Delicious and seriously simple "sushi" stacks using canned tuna, fresh fruits and veggies, and leftover rice. These sushi stacks are super quick to assemble, good for you, and will satisfy your sushi craving!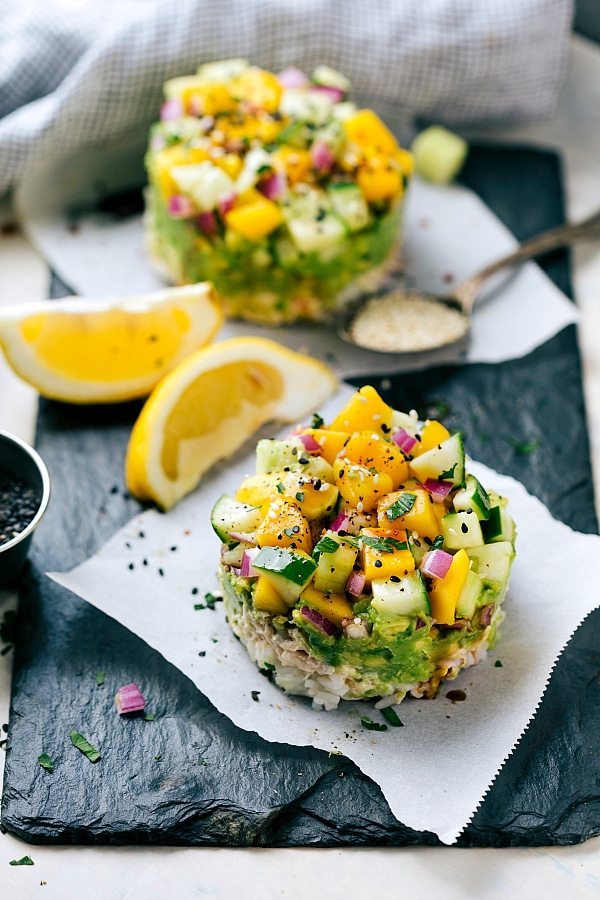 My toddler has a serious obsession with quick hyper-lapse foodie videos. It may be because he watches me make them (and often helps out with them — those adorably fat baby hands you see sometimes are his) or that he is obsessed with food or likely a combination of both.
He calls them "yummy videos" and says "yum-mmmmmy" several times throughout each video we watch. It doesn't matter if the video is for sweet or savory or even a kitchen hack — he loves them all!
One video we watched together was how to make California Sushi Stacks. After watching that video we both wanted those sushi stacks immediately for lunch. But without having several of the ingredients we whipped up something pretty different but still so good. Since making our take on those sushi stacks a few month ago, we've made dozens of variations. We both are obsessed with them and they are one of the quickest lunches that I feel great about giving him!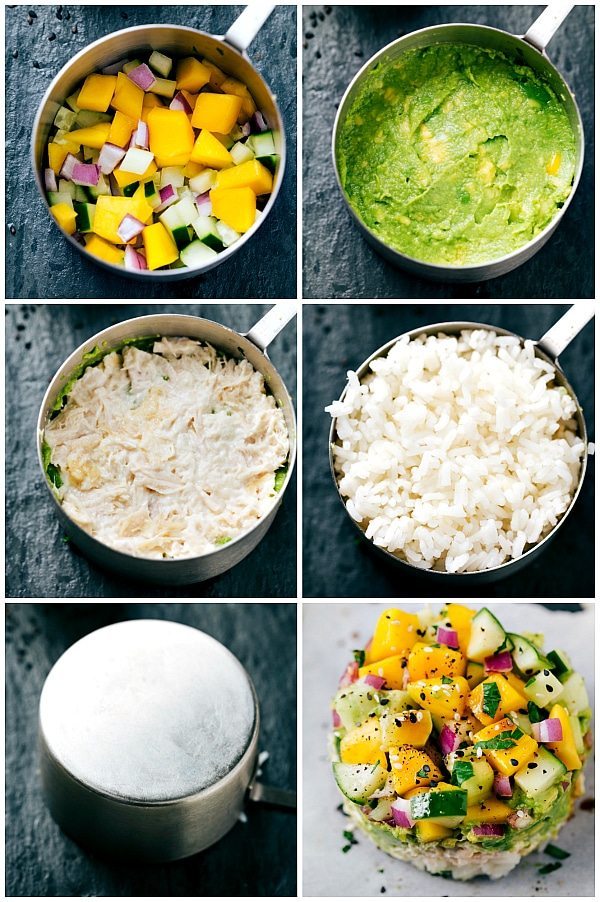 Since the tuna is really the star in these sushi stacks you will want to use good quality canned tuna. One of my all-time favorite canned tuna fish is "Albacore Tuna" made by Genova Seafood. One of the reasons I love it so much is it is packed in pure Olive Oil giving it a richer and fresher flavor. It seriously smells amazing and the taste is even better! It also has large chunks of tuna in the can which I love.
It's hard to not sneak 90% of the tuna from the can before getting it in these sushi stacks, but self control goes a long way because it's even better in these fun "sushi" stacks.
I did use Albacore Tuna in these stacks, but Genova also has a Yellowfin Tuna was is crazy delicious and you could use that here too.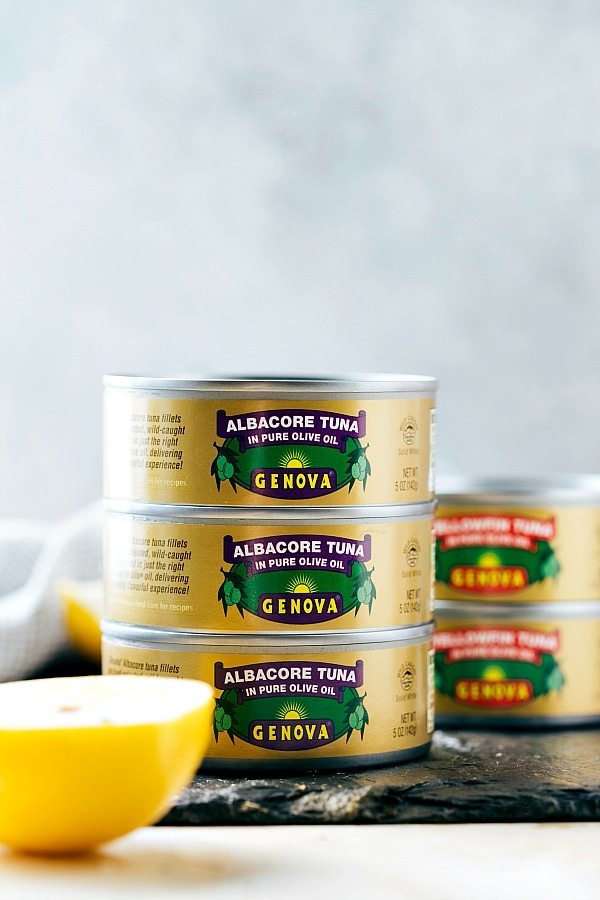 To make this dish super fast (I'm talking 10 minutes prep time) use leftover cold white rice. We have these so often for lunches that I will make a huge batch of rice at the beginning of the week to use. Another very quick alternative is minute rice. I use minute rice in a few of my tin foil dinners so we always have that on hand. The minute rice takes 5 minutes to make and in that time you can have all the veggies and the tuna fish prepped. If you are using minute rice, use 1 cup uncooked.
You can also prep the cucumber mango ahead of time and have an entire week's worth ready to go! With the rice & cucumber/mango mixture pre-prepared ahead of time, you can have these ready to go in about the time it takes to open up that can of tuna fish – FAST!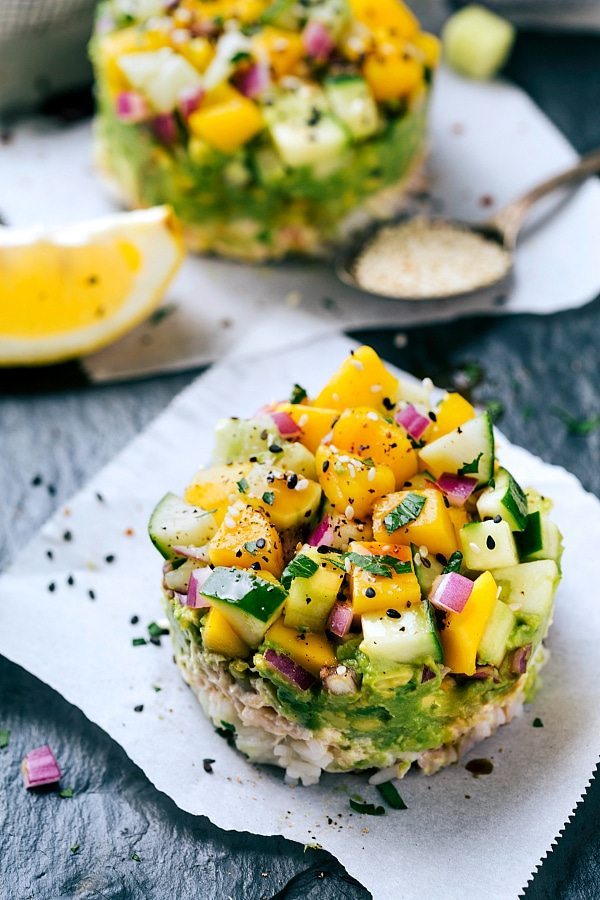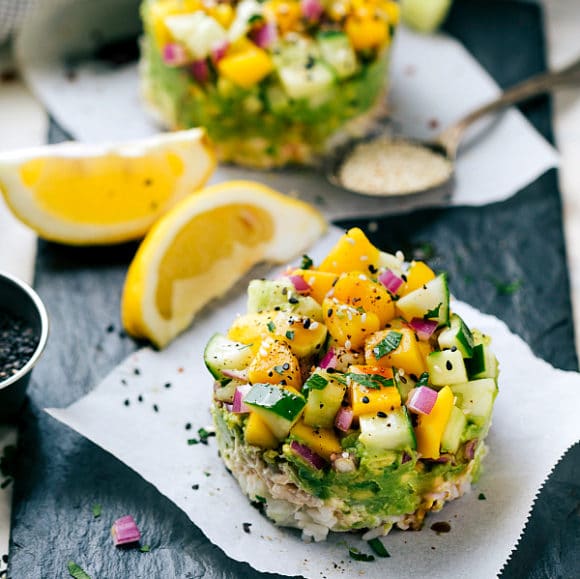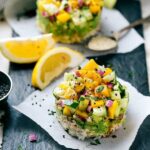 Tuna "Sushi" Stacks
Servings
:
3
-4 sushi stacks
Ingredients
1/2

cup

uncooked white rice

2

tablespoons

rice vinegar

1

mango

1/2

of a cucumber

1/4

of a red onion

1

large avocado

1

lemon

1

can (5 ounces)

Genova Albacore Tuna

1/2

cup

regular mayo

separated

1 and 1/2

teaspoons

Sriracha

3-6

teaspoons

low sodium soy sauce

Optional: salt and pepper, sesame seeds (I used black and white)
Instructions
First, prepare the rice according to directions. Toss cooked rice with rice vinegar and allow to cool completely. Alternatively use leftover rice or minute white rice (1 cup uncooked) for a super quick assembly.

Meanwhile, dice the mango, cucumber, and red onion.

Toss together with a squeeze of lemon juice

Mash a large avocado with some salt, pepper, and a squeeze of lemon.

Thoroughly drain the tuna and mix with 1/4 cup mayo and another squeeze of lemon.

To assemble: lightly spray a 1 cup measuring cup with nonstick spray. Press 1/3 of the mango mixture into the bottom of the cup.

Press 1/3 of the avocado mixture on top.

Press 1/3 of the tuna mayo mixture on top.

Press 1/3 of the rice mixture on top. Compress.

Lightly run a sharp knife around the edge of the measuring cup and then invert onto a plate.

Top with 1-2 teaspoons soy sauce, sesame seeds, freshly cracked pepper, and another squeeze of lemon as desired.

In another bowl stir together the remaining 1/4 cup mayo with the Sriracha sauce. Drizzle over the sushi stacks.

Enjoy immediately.
Inspired by SkinnyTaste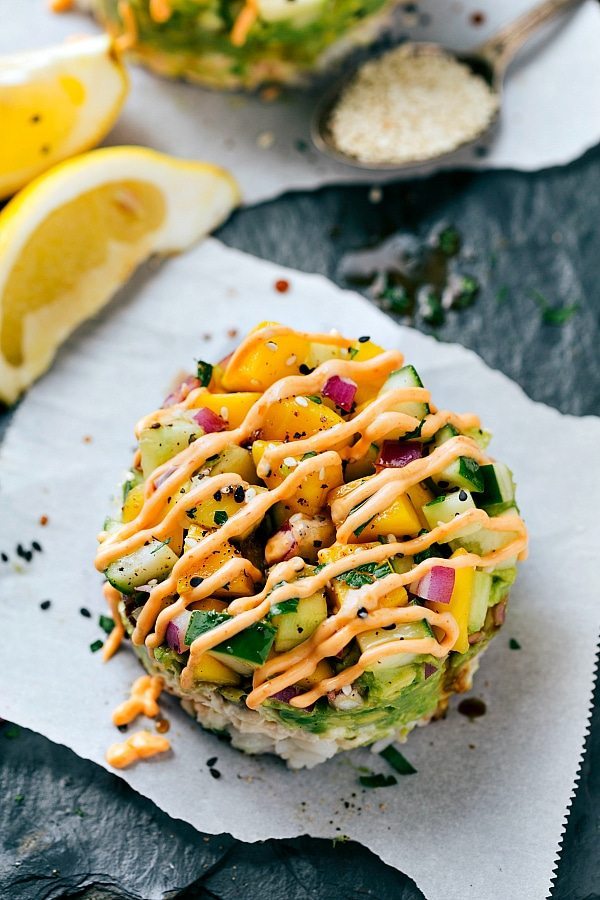 And with a drizzle of the Sriracha mayo over these sushi stacks it is going to be love at first bite!