Special thanks to Genova for sponsoring this post. As always, all opinions are my own!
Your favorite comfort food — tuna casserole: reinvented! This creamy tuna pasta with peas is made in one skillet.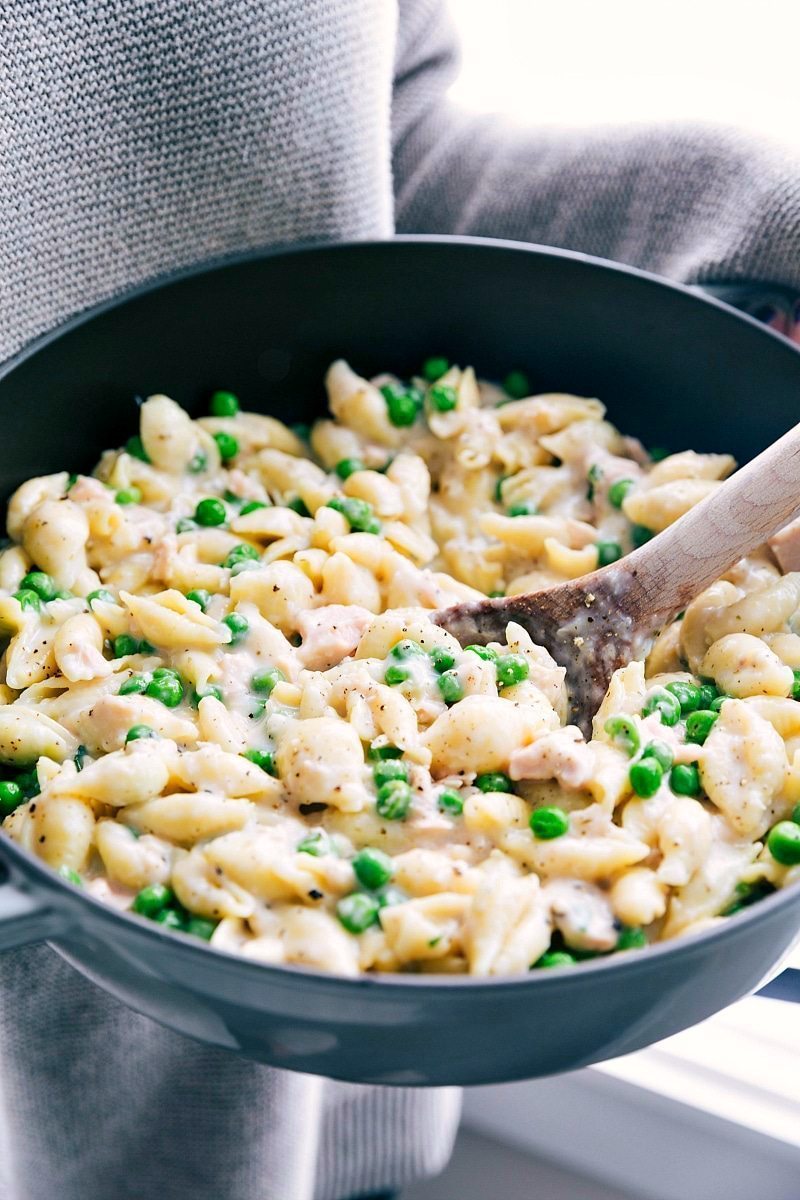 As soon as the weather starts really cooling down, it's hard to want anything other than comfort food! Soups, stews, pot roast, and a personal favorite: creamy tuna and pasta. My mom frequently made creamy tuna over rice growing up and it was one of our favorites! This recipe is adapted from her creamy tuna and rice, but with one major change: we're using pasta instead of rice.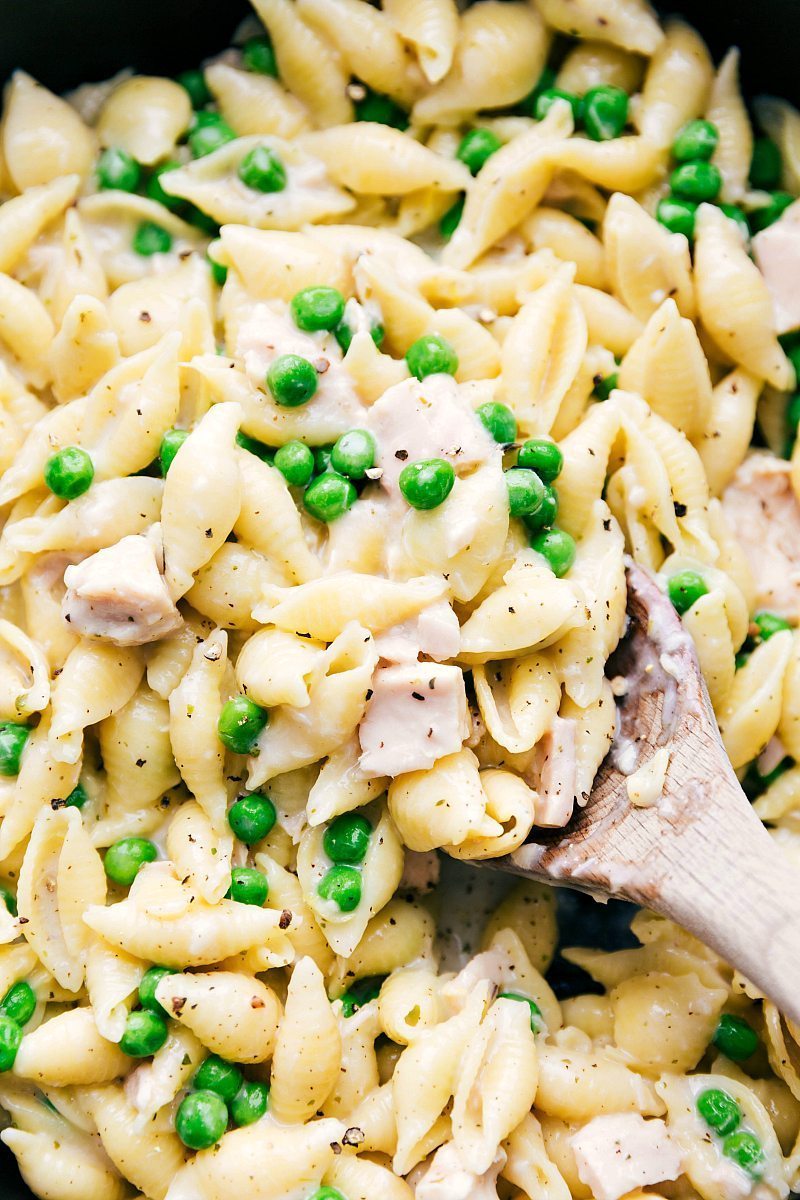 Part of the "fun" of this recipe (besides having hardly any dishes to wash!) is how customizable it is. You can really change up this dish with how you top it at the end.
If you're wanting more of a traditional tuna noodle "casserole" feeling, you can add crushed butter crackers, breadcrumbs, or potato chips
If you're wanting a more cheesy tuna dish, you can stir some freshly grated cheese into the dish AND top individual servings with a sprinkle of cheese
If you're wanting more of a seafood dish you can add in more lemon and even serve this dish with some lemon wedges and freshly chopped parsley
If you're wanting more of a "kid-friendly" "tuna helper" dish you can add in some miniature frozen carrots and corn
Whenever I'm asked what my favorite canned tuna is, it's not even a question — Genova's Albacore Tuna in Olive Oil is the BEST. Genova's tuna is packed in olive oil which really does make a huge difference to the overall taste and especially for this simple dinner recipe.
Beyond the quality and flavor of the tuna fish, Genova also sources 100% of their tuna from fisheries that are MSC certified (you can read more about that here!) Essentially to be MSC certified, the tuna fish has to meet rigorous standards that help protect the marine environments.

More Tuna Recipes: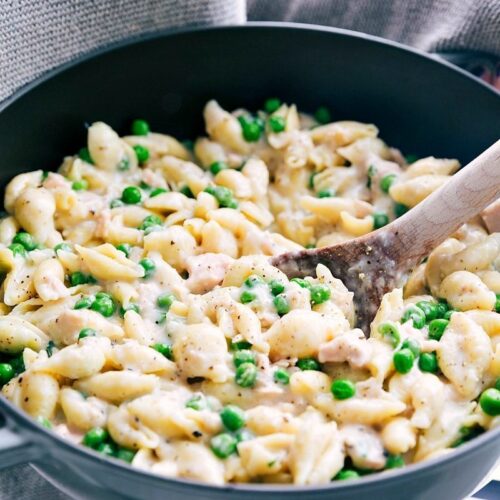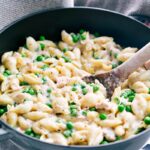 Creamy Tuna Pasta
Your favorite comfort food -- tuna casserole: reinvented! This creamy tuna pasta with peas is made in one skillet.
Ingredients
1/2

tablespoon

olive oil

1

yellow onion,

finely chopped

1

teaspoon

minced garlic

1

cup + 2 tablespoons

2% or whole milk,

separated

2

cups

water

2 and 1/4

cups

chicken broth (low-sodium)

1 package

(16 ounces)

small pasta shells

1

tablespoon

Dijon mustard

1

large

lemon

2 cans

(5 ounces EACH)

Genova Albacore Tuna in Olive Oil,

drained

1

cup

frozen peas

Salt and pepper

Optional: freshly shredded sharp cheddar cheese, fresh parsley, fresh lemon wedges
Instructions
In a large nonstick pot (the skillet in pictures was used only for photos to better show the dish -- use a pot). add in the olive oil. Turn the stove to medium-high heat and once the oil is shimmering, add in the onion. Saute for a few minutes and add in the garlic. Stir until fragrant, about 30 seconds.

Add in 1 cup of the milk, the water, broth, and UNCOOKED pasta shells. Add some salt and pepper to taste (I use about 1 teaspoon salt and 1/2 teaspoon freshly cracked pepper). Lower the heat and bring the mixture to a simmer and cook, uncovered, stirring often until the pasta is al dente (according to package directions) The pasta will continue to cook a bit over the next few minutes so don't overcook it here*.

Stir in the remaining 2 tablespoons milk, Dijon mustard, and 1 tablespoon fresh lemon juice. Add the drained tuna and mix gently until combined. Season with salt and pepper. Let the pasta rest for about 6-8 minutes. It will continue to thicken and get nice & creamy. Stir in the frozen peas.

Add freshly shredded cheddar cheese and fresh parsley as desired. Or serve without the cheese and with additional lemon as desired. Enjoy immediately.
Recipe Video
Recipe Notes
*Depending on the brand (and size) of your pasta there is some variance. You may need to add slightly more liquid toward the end of cooking time if the noodles are absorbing a lot of the liquid. But be careful to not add too much or it will get soupy. There should still be liquid left even after the noodles are tender (it thickens as it sits for a minute).