A quinoa black bean salad with roasted sweet potatoes, black beans, corn, red bell pepper, and a delicious cilantro dressing. This quinoa black bean salad makes a delicious meal, great weekly meal prep, or side dish.
Check out these other black bean recipes you'll love: vegetarian burrito bowls, cilantro lime shrimp bowls, or vegetarian tacos.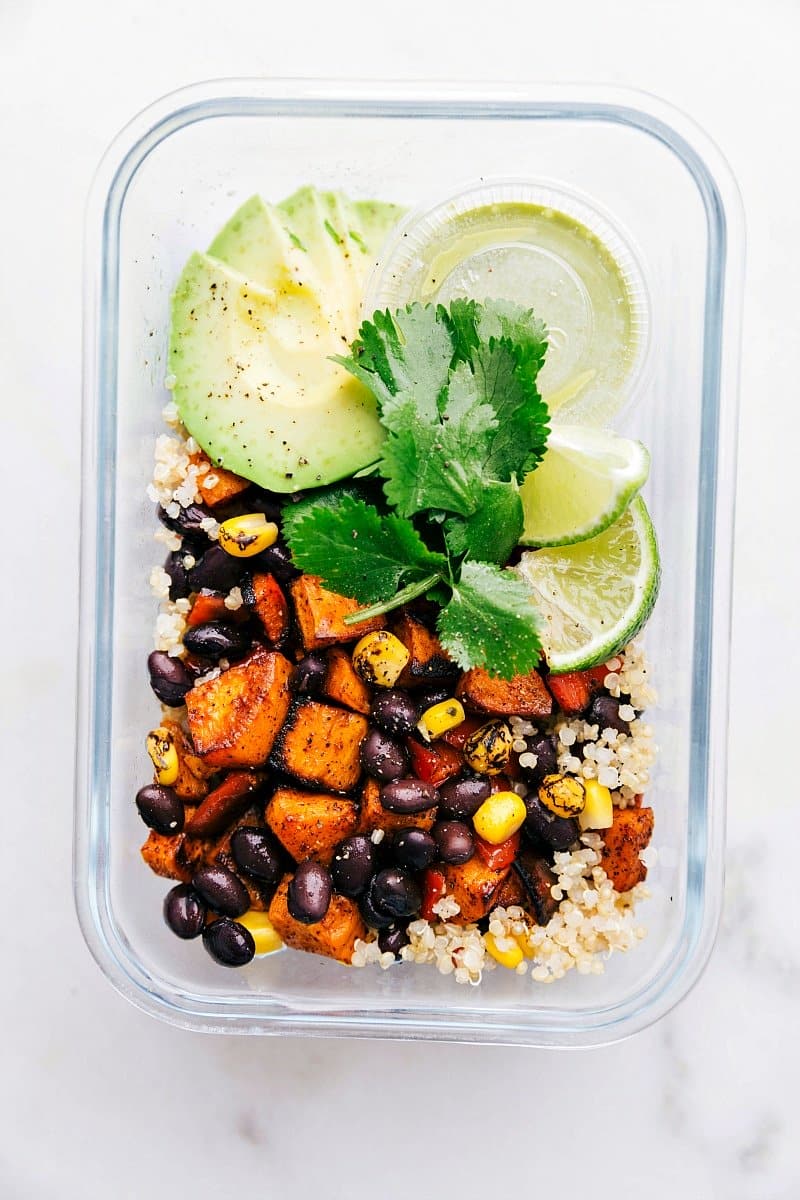 Quinoa Black Bean Salad
I've shared a lot of quinoa salad recipes over the years, and for good reason too! They're filling, packed with good ingredients, and most importantly- taste good!. Over the years, there have been two contenders for "most popular"quinoa salads – either this lemon roasted sweet potato quinoa salad or this avocado, cucumber, and tomato quinoa salad. Have you tried either?!
I hope this quinoa black bean salad is just as loved, because it might be my boys' new favorite. It's loaded with protein and veggies and dressed in the most delicious cilantro dressing.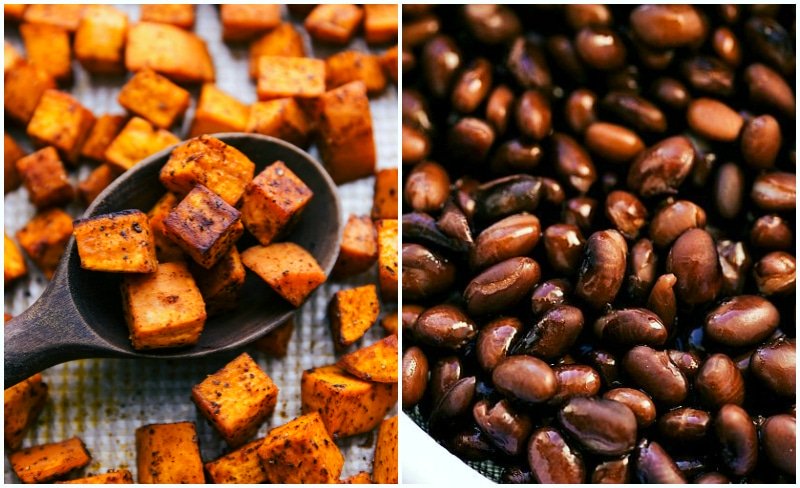 Let's talk process for making this black bean quinoa salad first:
How do you cook black beans and quinoa?
Sweet potato & black beans: peel and cube the sweet potato, toss it in olive oil + seasonings, and roast it in the oven (you'll also roast the red pepper with the sweet potato). Next, you'll toss the drained and rinsed (canned) black beans and corn to add some seasoning to them.
Cook the quinoa: I made step-by-step guide on how to cook quinoa here. You'll notice in the guide I suggest adding 1 teaspoon seasoning to the quinoa, but since we're adding the quinoa to a (seasoned) salad you don't need to add any additional seasonings beyond salt and pepper.
Make the dressing: this dressing is so simple – add all the ingredients to a blender or food process and pulse until combined.
Assemble: top the cooled quinoa with the roasted sweet potato, roasted red pepper, black beans, and corn. Add any additional desired toppings (avocado and/or cilantro) and coat in the dressing. Add a squeeze of fresh lime and enjoy!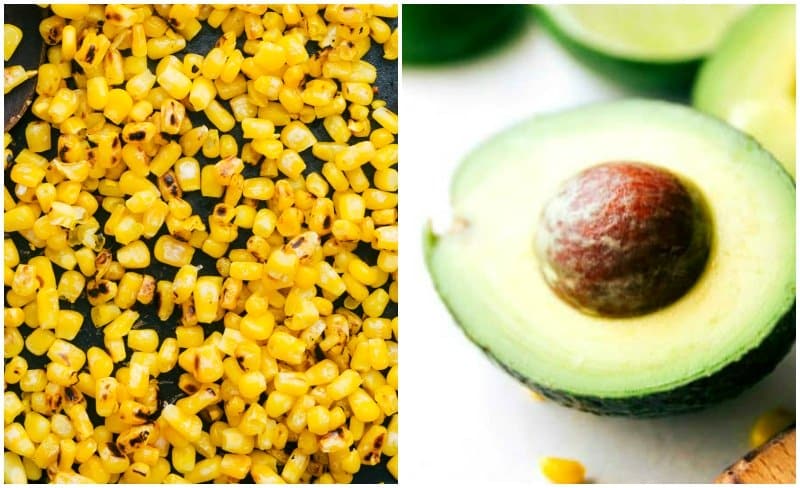 To meal prep (or make ahead) this salad:
First off, assembly: prepare the salad according to recipe instructions but do not add the dressing, avocado, or cilantro (read below). Toss the quinoa with the sweet potato, red pepper, black beans, and corn. Separate this mixture into 4 separate meal prepping containers (meal prep) OR one large tupperware container (make ahead)
Store dressing separately: this salad lasts a good 3-5 days WITHOUT the dressing.

To meal prep

, add dressing to separate containers and store separately with the salad. Shake up your dressing container before adding.

To make ahead

: this dressing can be made 1-2 days in advance and stores well for about 4-5 days in the fridge. Again, shake dressing before adding/tossing with salad.
Add fresh salad toppings daily: the avocado and cilantro doesn't sit/store well with the salad. If you want to add either to the salad, add on a daily basis, preferably right before eating. The avocado will last a few hours in a meal prep container, just make sure to squeeze some fresh lime or lemon juice over it first.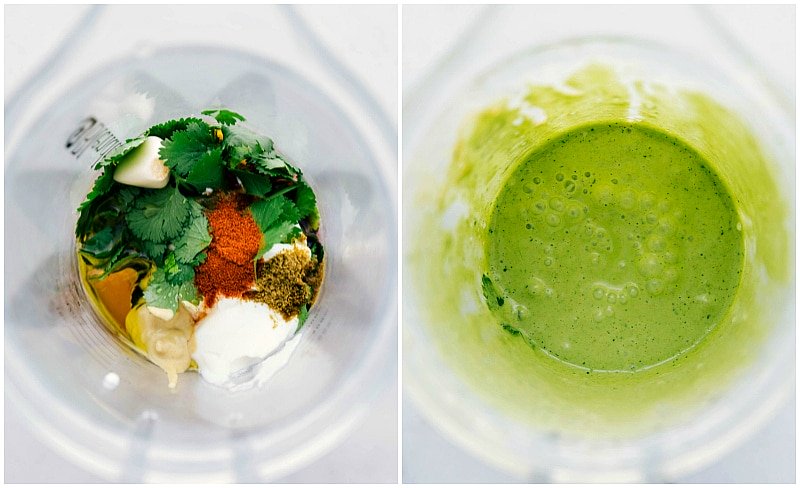 How to customize this black bean quinoa salad:
While we LOVE this salad just how it is, the great thing about quinoa salads is how easy they are to adjust to personal preference.
To make this quinoa salad with chicken and black beans: use this grilled chicken marinade recipe, grill up some chicken, and add it, chopped up, to this salad (or on the side)
To make a chickpea black bean quinoa salad: add in some roasted chickpeas alongside the black beans! (I highly recommend the seasoning and roasting process on this chickpea salad as it will go great with this salad)
To make a quinoa kidney bean salad: either replace the black beans with kidney beans OR add both (lots of protein!)
To make a red quinoa and black bean salad: easy! Use red quinoa in place of the white/regular quinoa I'm showing in these pictures. You can really use any variety of quinoa for this salad.
To make a quinoa black bean avocado salad: just make sure to add in the avocado! You can also add in a heaping spoonful of guacamole if you'd prefer.
Other additions: tomatoes (halved cherry or diced Roma), different varieties of peppers, a diced jalapeño for some heat, a few tablespoons diced red onion, etc.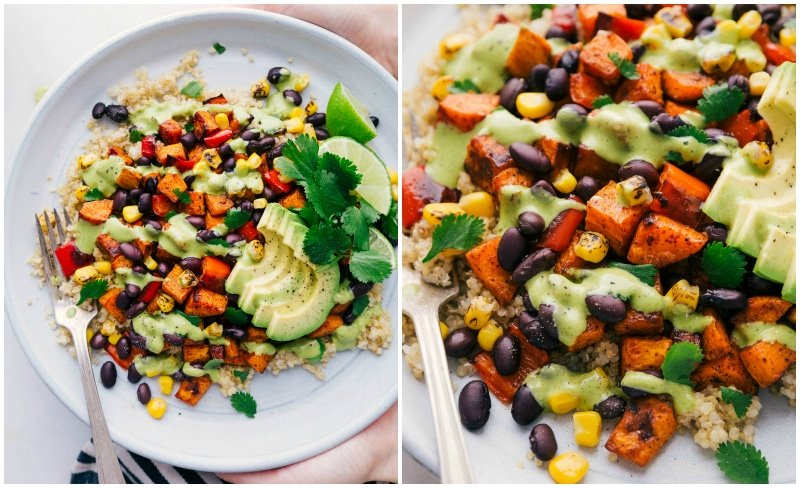 More Healthy Recipes:
Helpful Visual Guide: check out how to cut a bell pepper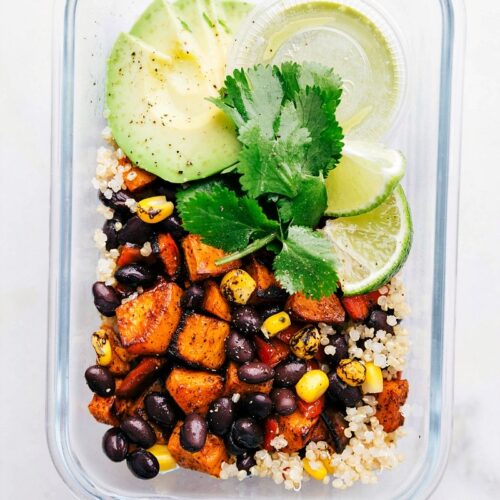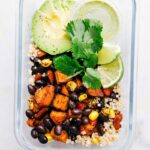 Black Bean Quinoa Salad
Roasted sweet potato quinoa salad with black beans, roasted corn, roasted bell peppers, and a delicious cilantro dressing. This quinoa black bean salad makes a delicious meal, great weekly meal prep, or side dish.
Keyword:
Black Bean Quinoa Salad
Ingredients
Salad:
1

cup

quinoa,

measured when dry

2

large sweet potatoes,

~4 cups

3

tablespoons

olive oil,

separated

1/2

teaspoon EACH:

paprika, chili powder

1

large

red pepper,

chopped

1

can (15 ounces)

black beans,

drained and rinsed

1

can (15 ounces)

fire-roasted corn,

drained

Optional: 1 large avocado (diced), 1/4 cup finely chopped fresh cilantro, fresh lime juice
Dressing:
1/2

cup

fresh cilantro

3

tablespoons

red wine vinegar

2

tablespoons

olive oil

1

tablespoon

honey

1

teaspoon

Dijon mustard

1/4

teaspoon EACH:

ground cumin, paprika

1

garlic clove

1/3

cup

fat free sour cream
Instructions
Preheat the oven to 425 degrees F. Start by cooking the quinoa*. Allow to cool before assembling the salad.

Peel the sweet potatoes and chop into bite-sized chunks. Toss the potatoes with 2 tablespoons olive oil, paprika, chili powder, salt, and pepper (to taste; I add about 1/2 teaspoon each).

Place the potatoes in the oven for 10 minutes. Remove from oven and add in the chopped peppers and toss around with the remaining 1 tablespoon oil. Return to the oven and cook for another 10-20 minutes or until the peppers are crisp tender and the potatoes are tender. (Big variance depending on the actual cut size of vegetables and variance in ovens).

Remove from the oven and toss with drained and rinsed (but completely dried to avoid sogginess) black beans and corn. Set aside to allow to come to room temperature.

Assemble the salad: Add quinoa to a bowl with the sweet potato, pepper, black bean, and corn mixture. IF enjoying immediately, add avocado, a squeeze or two of lime juice, and cilantro.

DRESSING: Combine all of the dressing ingredients into a powerful small blender (I use a Twister jar). Season to taste with salt and pepper and pulse to blend until smooth. Add dressing to individual salad plates/bowls and enjoy! I do not recommend adding dressing to any salad you want to have leftover -- this salad doesn't sit well after being dressed. You may not use all the dressing depending on how much you like your salads dressed. Store leftover dressing up to 5 days in your fridge.
Meal Prep/Make Ahead
Make ahead: salad can be prepped several hours in advance. Store dressing and avocado (if using) separately and add just before enjoying.

Meal prep: prepare salad and divide equally into 4 meal prep containers. Separate dressing into smaller containers and store by the side. If using avocado, add daily preferably right before eating. Add dressing right before enjoying.
Recipe Video