Fresh and flavorful marinated honey lime chicken. The chicken is marinated in a mix of fresh lime, fresh orange, olive oil, honey, and spices infusing it with incredible flavor.
While this grilled honey lime chicken can stand on its own, we love it in bowl form with cilantro-lime quinoa, veggies, and the best creamy cilantro sauce.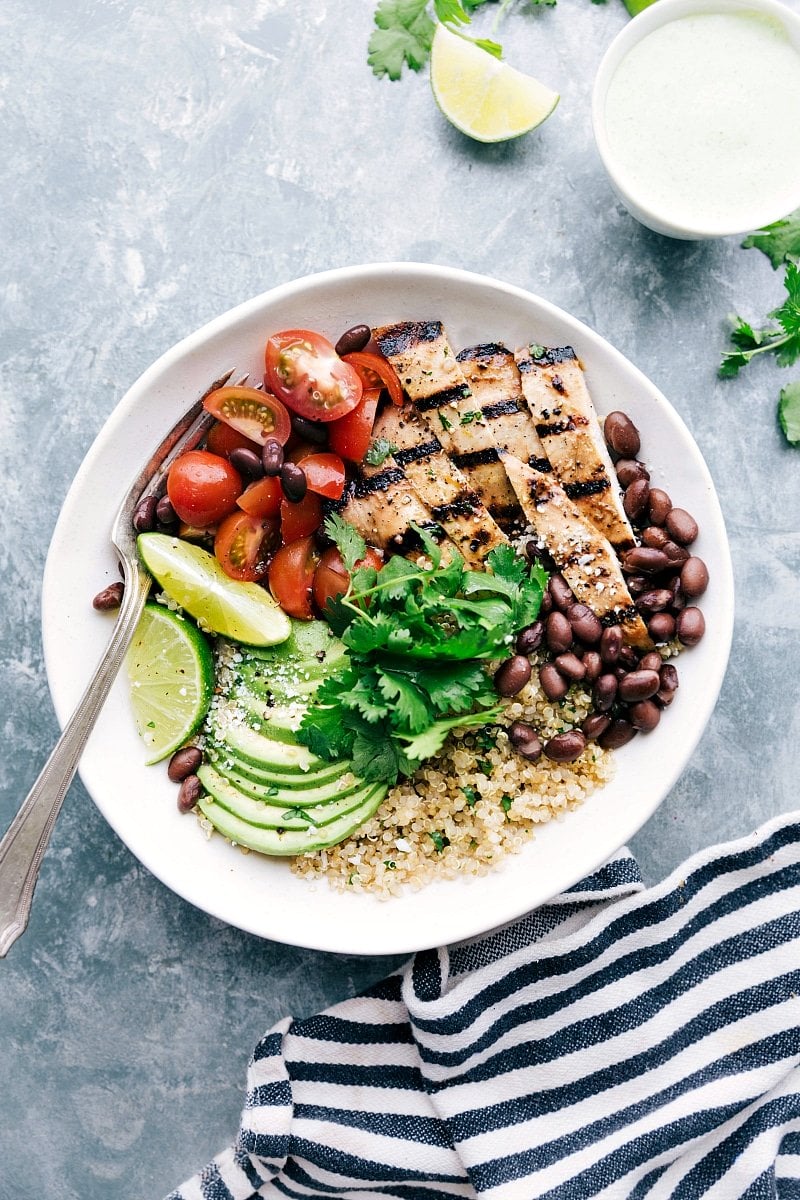 Honey lime chicken
This honey lime chicken marinade is one of my family's favorites! Not only is it tasty it's also made with healthy ingredients and combines all the components of a great chicken marinade.
A perfect marinade for chicken guarantees the chicken will be flavorful AND succulent. So marinades should always combine an acid (such as vinegar or lime juice), fat, and sweetness. Salt, herbs, and spices are also important contributing factors to the end flavor of marinated chicken.
This honey lime chicken marinade comes with all of that: we've got lime juice for the acid, olive oil as the fat (healthy fat!), and honey for (natural) sweetness. We've got salt, cumin, and garlic for further flavor enhancers.
Another important contributing factor to flavorful chicken is basting the chicken as it grills. So we'll remove some of the marinade before adding the raw chicken into the rest of the marinade. The reserved marinade will get brushed (basted) over the chicken as it cooks further improving the flavor and juiciness.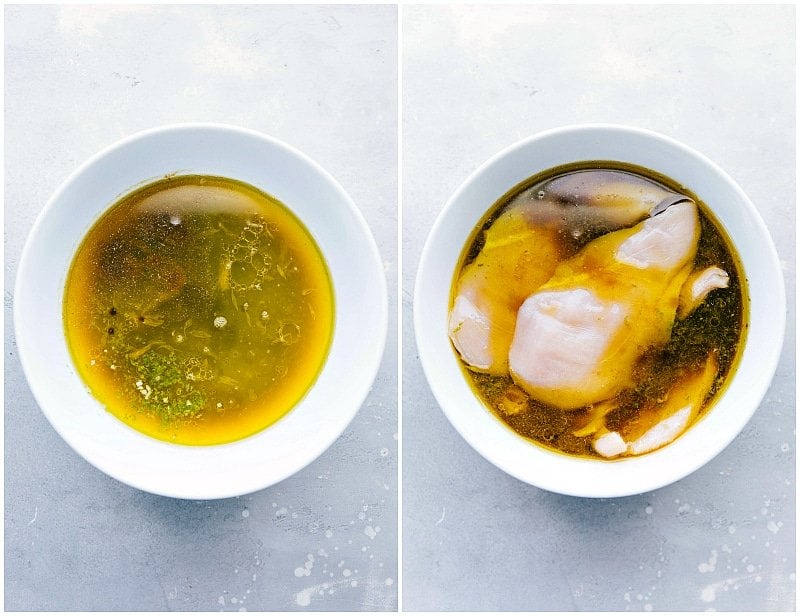 Cooking Tips
Make sure to slice the chicken in half, or pound them into an even thickness before marinating. This allows the chicken to soak up more flavor from the marinade (which improves the taste), and the even thickness will allow them to grill evenly.
If grilling, generously oil your grill grates. I do this by rolling up a few paper towels, drenching them in oil (use any high heat oil such as vegetable or canola), and using tongs, rub the drenched paper towels along the grill grates. Doing this will contribute to a beautiful sear, and ensure the chicken doesn't stick to the grates.
If grilling, fully preheat your grill. I know it's hard to wait, but adding meat to a fully preheated grill will sear the surface of the meat which will give you a juicier chicken. It also allows the chicken to get a great char.
Once it's finished, let the cooked chicken rest, tented with foil, for 5-10 minutes before cutting in!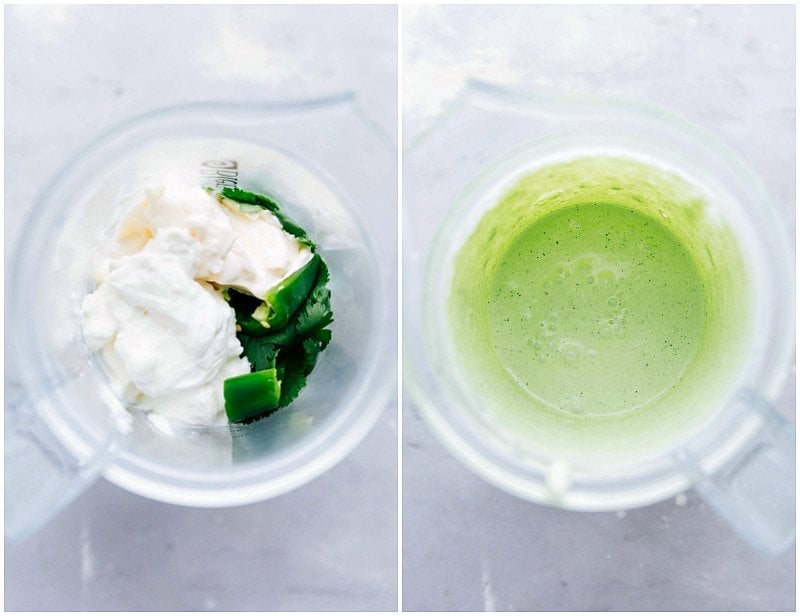 Pair honey lime chicken with
Like I mentioned, this chicken IS delicious on its own, but with a few great sides, you'll be obsessed with this meal. Our favorite is a cilantro lime quinoa base. If you aren't a fan of quinoa, replace it with white or brown rice. Couscous is another great option. If you aren't familiar with cooking quinoa be sure to check out the guide I wrote: how to cook quinoa.
With the flavored quinoa as the base and chicken on top, feel free to add your favorite veggies. We love a ripe, creamy avocado and crisp cherry tomatoes as sides for the chicken. Black beans are also a nice flavor add and protein booster.
To tie everything together, I love adding a creamy cilantro lime sauce. This sauce is mega popular on my site (it debuted with these famous shrimp tacos) and it's the perfect complement to the flavors of the honey lime chicken. Serve your loaded bowls with some fresh lime and be prepared to add this meal to your dinner rotation 😉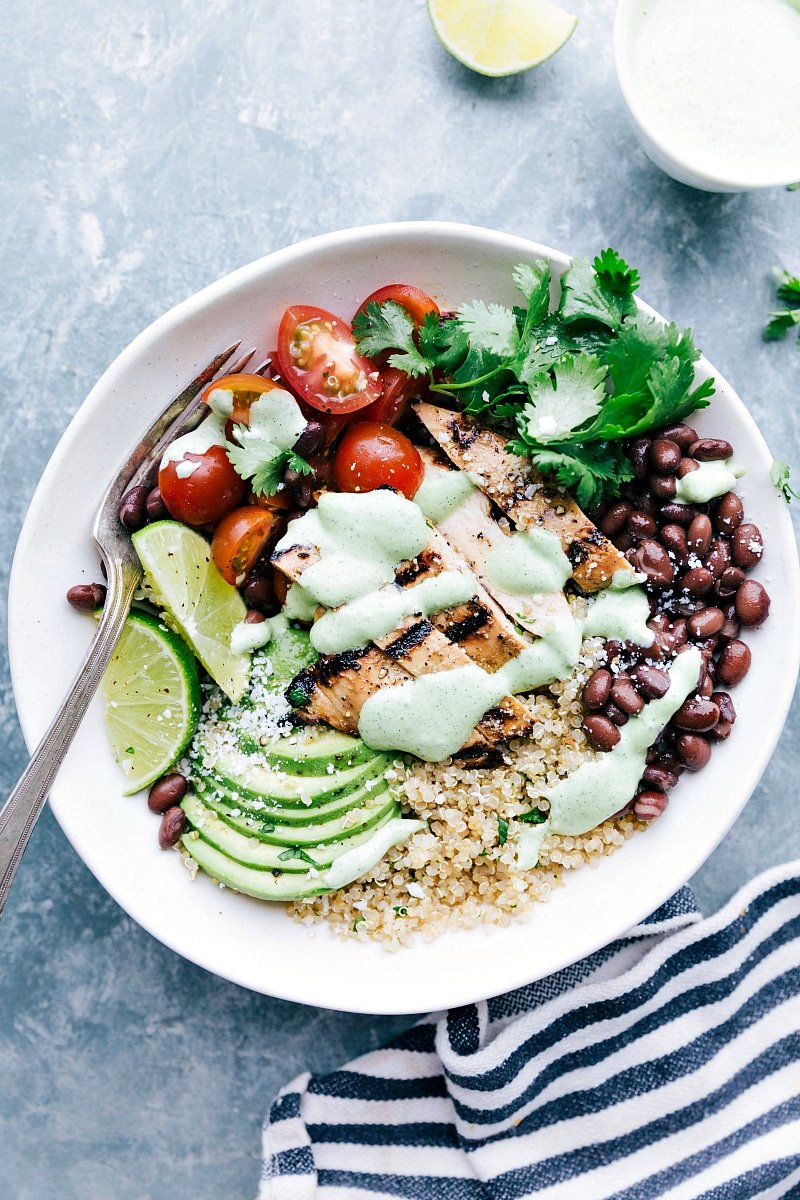 Alternate cooking methods
Cooking times will vary depending on several factors so I always recommend using a thermometer to test your chicken as it cooks. Aim to hit 160 to 165 degrees Fahrenheit. (Undercooked = unsafe; Overcooked = dry chicken) (If the chicken is at 160 degrees, carryover heat will bring it to the safe temperature of 165 degrees)
Baked Honey Lime Chicken: Preheat oven to 425 degrees F. Place marinated chicken (discard remaining marinade) on a baking sheet lined with parchment paper. Bake for approximately 18 minutes, flipping and basting the chicken with reserved marinade halfway through. Remove from the oven, and loosely cover sheet pan with foil. Let the chicken rest for 5-10 minutes.
Skillet Honey Lime Chicken: Heat 1 tablespoon oil in a nonstick skillet over medium-high heat. Add marinated chicken (discard remaining marinade) and cook for 4-6 minutes per side until the chicken is cooked through and the juices run clear. As you saute the chicken, brush it generously with the reserved marinade. Transfer the chicken to a clean plate, and loosely cover with foil. Let the chicken rest for 5-10 minutes.
Honey Lime Chicken Skewers: cut the chicken into large chunks (2 inches) and skewer on (soaked and drained) wood skewers. Add your favorite veggies, our favorites are sweet bell peppers, onions, zucchini, and pineapple. Cook over medium high heat. Grill chicken kabobs until cooked through (165 degrees F) about 6 to 8 minutes, turning once. Timing will depend on the size of chicken and actual grill temperature.
Honey Lime Chicken in the Slow Cooker: I recommend this recipe from Carlsbad Cravings
Honey Lime Chicken Tacos: chop the marinated and grilled chicken and add to a tortilla with thinly sliced avocados, lettuce, and the cilantro sauce in the recipe!
More delicious chicken dinners: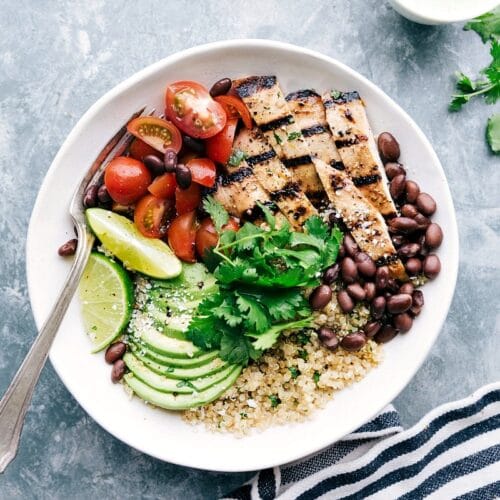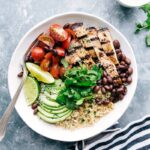 Honey Lime Chicken
Fresh and flavorful marinated honey lime chicken. The chicken is marinated in a mix of fresh lime, fresh orange, olive oil, honey, and spices infusing it with incredible flavor.
Keyword:
honey lime chicken
Ingredients
Chicken
3/4

cup

freshly squeezed orange juice

(~1 to 2 large juicy oranges)

1/2

cup

olive oil

1/4

cup

freshly squeezed lime juice

(~2 juicy limes)

1/4

teaspoon

lime zest

2 and 1/2

tablespoons

low sodium soy sauce

2

teaspoons

honey

1

teaspoon

cumin

1

teaspoon

minced garlic

1 and 1/2

pounds

boneless skinless chicken breasts (or thighs)

Salt and pepper
Cilantro-Lime Quinoa
2

cups

chicken broth

1

cup

quinoa

1/2

teaspoon

minced garlic

2

teaspoons

freshly squeezed lime juice

1/4

cup

cilantro,

finely chopped
OPTIONAL Cilantro Lime Sauce
1

large (or 2 small)

lime(s),

juiced and zested (3 tablespoons juice + 1/2 teaspoon zest)

1-2

cloves

garlic add to desired preference,

minced

1/2

of 1 large bunch

cilantro

1/2

jalapeno

(or 1 full jalapeno for a spicier dressing)

1/2

cup

regular full fat mayo

1/2

cup

sour cream

I use fat-free
Other (Optional) Additions
Halved cherry tomatoes, thinly sliced or chopped avocado, additional lime wedges, additional chopped cilantro, heated (drained and rinsed) canned black beans, queso cotija cheese blend
Instructions
CHICKEN MARINADE: in a bowl, whisk together orange juice, olive oil, lime juice, lime zest, soy sauce, honey, cumin, and minced garlic. Remove 1/3 cup of the marinade (put in an airtight container in the fridge for later). 

CHICKEN MARINADE CONT: Halve chicken breasts horizontally. Using a meat mallet or the bottom of your frying pan, pound breasts to even thickness (you don't want the meat super flat, just even in thickness). Season the chicken breasts to taste (both sides) with salt and pepper. I use about 3/4 teaspoon salt and 1/2 teaspoon pepper, but add to preference. Place the prepared chicken in a large plastic bag and pour the remaining marinade mix over. Seal the bag without air and knead to coat all the chicken in the marinade. Place in the fridge for 30 minutes up to 6 hours. (IF you're making the optional sauce (Step 5), make it now too so it has a chance to sit and flavors can intensify.)

COOK CHICKEN:  Preheat a grill or grill pan to medium-high heat (about 400 degrees F.) Generously oil the grill (I drench a roll-up paper towel in vegetable oil and, holding it with tongs, rub it over the grill grates. Don't skip this step.) (Grill pan: add 1 tablespoon oil to the pan) Place the marinated chicken on the grill. Discard any leftover marinade in the bag. Grill for 10-12 minutes, flipping once in between halfway, or until chicken juices run clear and internal temperature is at 160 to 165 degrees F. (160 degrees will carry over heat to get to 165 degrees F). Tent chicken with foil and let stand for 5-10 minutes before slicing against the grain.

QUINOA: Thoroughly rinse the quinoa. Add the chicken broth, quinoa, and minced garlic to a small pot over high heat. Bring to a boil and once it reaches a boil, reduce the heat to low, cover and cook for an additional 10-15 minutes or until all the liquid is absorbed. Remove from heat but keep covered and allow to sit for about 5 minutes. Lightly fluff with a fork. Stir in the lime juice and cilantro. Season to taste with salt and pepper (I usually add 1-2 to 3/4 teaspoon salt and 1/4 teaspoon pepper).

SAUCE: Zest and juice 1 lime to get 3 tablespoons juice and 1/2 teaspoon zest. Add the juice and zest to a powerful blender or mini food processor along with the garlic cloves, cilantro, 1/2 of the seeded jalapeno (add more of the jalapeno for a spicier sauce, add slowly if you're worried about the heat), and mayo. Add salt and pepper to taste and blend or pulse until smooth. Add in the sour cream and pulse once more to combine. Taste and adjust seasonings to personal preference. Intensity of flavor does increase as it sits.

ASSEMBLE: divide quinoa evenly among plates/bowl. Add grilled chicken on top. Add any desired toppings to the side and drizzle sauce over everything. Serve with lime wedges and enjoy. If desired add a small sprinkle of queso cotija cheese blend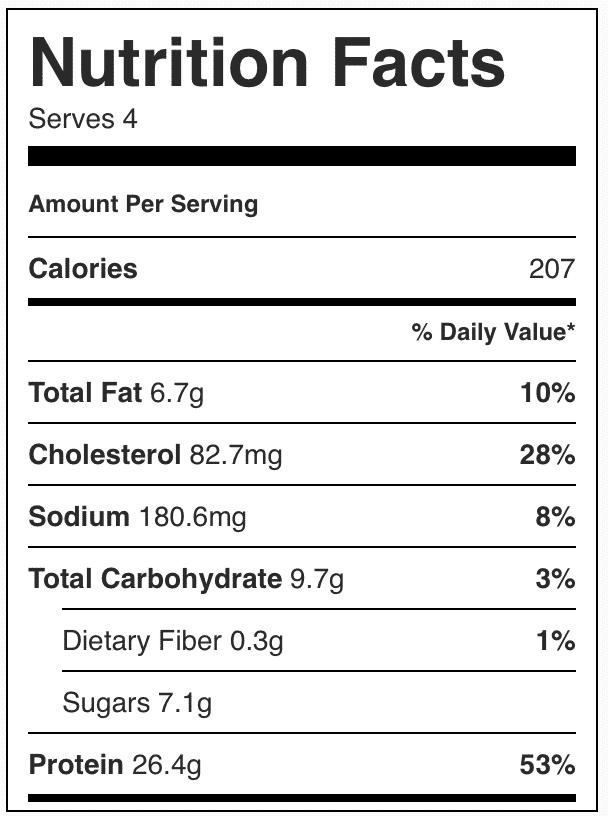 (Calories are for the chicken and marinade)