I'm so excited to be partnering with Reynolds to bring you this delicious Spaghetti Squash with Turkey Meatballs recipe! As always, all opinions are my own.
Easy sheet pan spaghetti squash with turkey meatballs and marinara. A delicious low carb and healthful dinner!
Pair this delicious dinner with some homemade dinner rolls and a big Italian salad!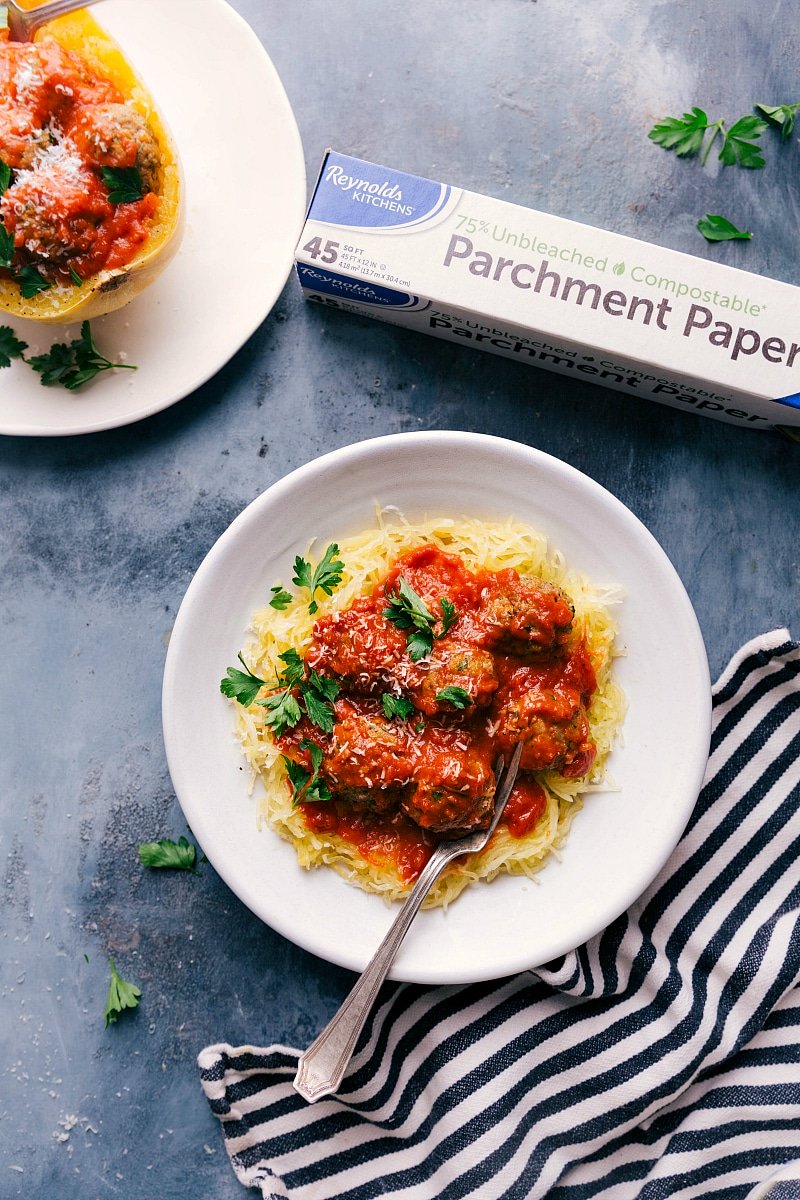 Spaghetti squash with turkey meatballs
It's been a bit since I've shared a sheet pan recipe and I'm so excited to be sharing this wholesome, low-carb, and low-calorie recipe today. This spaghetti squash and turkey meatballs meal can be made on two sheet pans — one pan for the squash and one for the meatballs.
And thanks to Reynolds Kitchens Unbleached Parchment Paper, we're keeping clean-up to a minimum!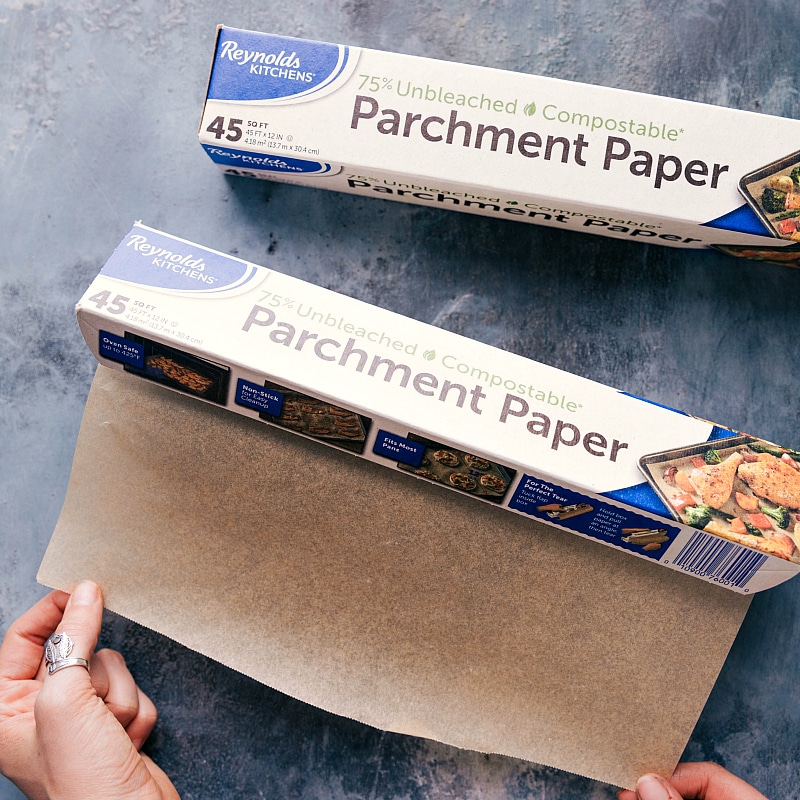 Using Reynolds Kitchens Parchment Paper in this spaghetti squash with turkey meatballs recipe
Parchment paper makes cooking, baking, and especially clean up such a better experience. Which is why I encourage using it in any recipe where food is placed on a tray. Today I'm excited to share about Reynolds Kitchens Unbleached Parchment Paper. This parchment paper is an environmentally conscientious alternative to traditional parchment paper without the sacrifice of quality or ease of use! A few of my favorite things about this parchment paper:
It's compostable, 75% unbleached, totally chlorine free, and made with responsibly sourced fibers

It is naturally non-stick which makes it perfect for lining a pan before baking without added oil or grease

It conveniently comes in 12″ wide rolls making it a great fit for sheet pans!

How to cook spaghetti squash
One of my favorite veggies: spaghetti squash! This is my favorite way to cook it for tender shreds of slightly caramelized squash:
Preheat the oven to 400 degrees F

and line a large baking sheet with Reynolds Kitchens Unbleached Parchment Paper (easy clean-up!)

Prick the squash down the center with a fork and

microwave for 5 minutes

Let slightly cool and then use a very sharp chef's knife to

cut the spaghetti squash in half

.

Use a large spoon to s

coop out the spaghetti squash seeds

and discard them.

Drizzle the insides of each squash half with oil. Season with salt and pepper

Bake for 35 to 45 minutes

or until interiors are easily pierced through with a fork.

Time variance depends on the sizes of the squash.

Once the squash is done baking,

fluff the interiors with a fork

to make squash "spaghetti"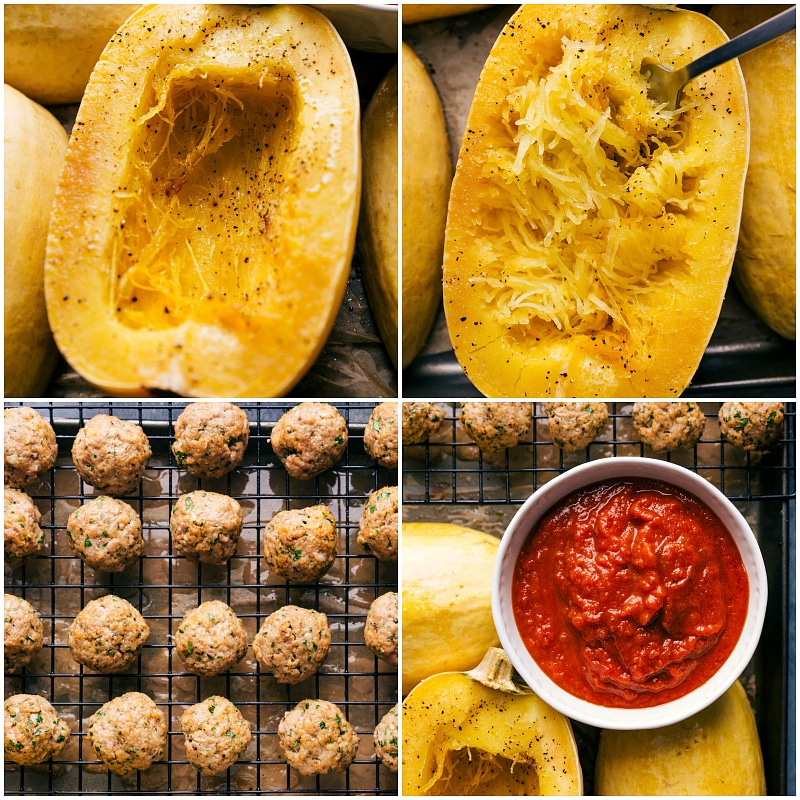 How to make turkey meatballs
These turkey meatballs come together nice and easy — essentially we're adding everything to a large bowl and kneading to combine the ingredients. Then it's time to roll the meat into balls.
And to keep ball sizes consistent, I recommend using a small ice cream scoop or 1/8th cup (2 tablespoons) measuring cup. For this recipe you should get around 28 to 29 meatballs. (When cooking a batch of meatballs with a myriad of different sizes, smaller meatballs will end up dry and overcooked, while the larger ones will end up undercooked.)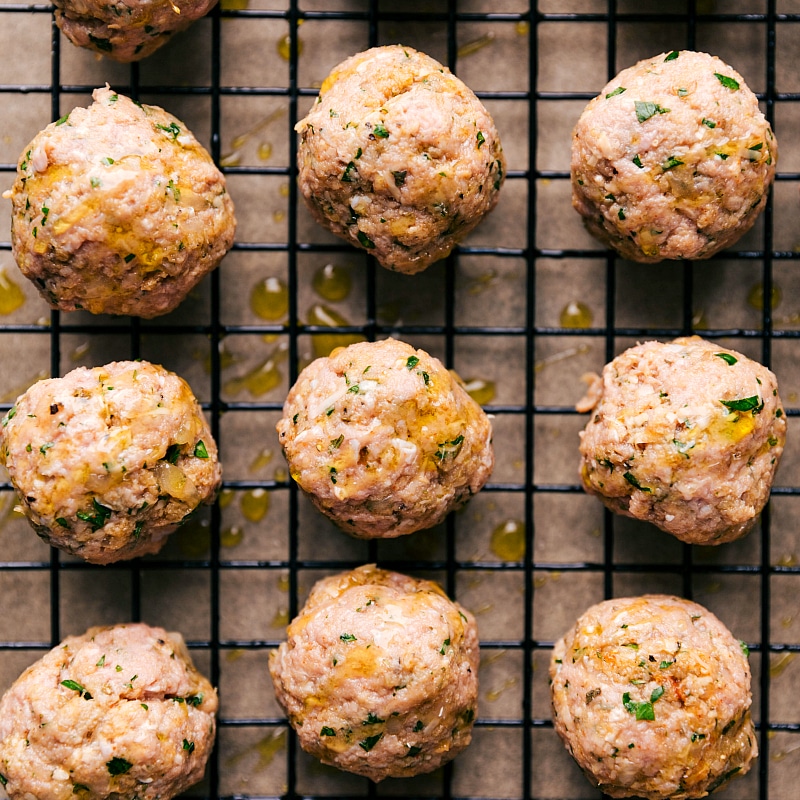 Spaghetti squash with turkey meatballs tips
Keep the ground turkey as COLD as possible

: ground turkey is easiest to form into meatballs when it's cold. Grab it out from the fridge right when you need it and be careful to not overwork it (which will also warm it up).

Use a microplane

: I recommend grating Parmesan cheese and garlic on a microplane to get the best texture and even dispersion of ingredients in these meatballs.

Use a

good quality marinara sauce

or make your own from scratch.

Don't forget to taste and season

. Each component of this dish (the squash, marinara, and turkey meatballs) should be independently seasoned, but don't forget to give everything a taste together and adjust seasonings.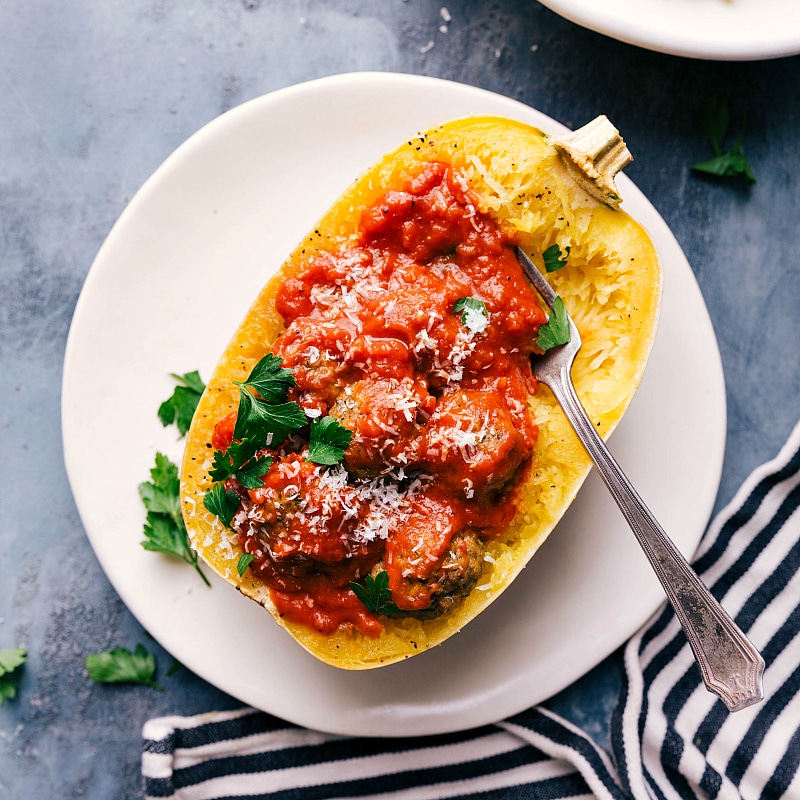 More delicious sheet pan recipes: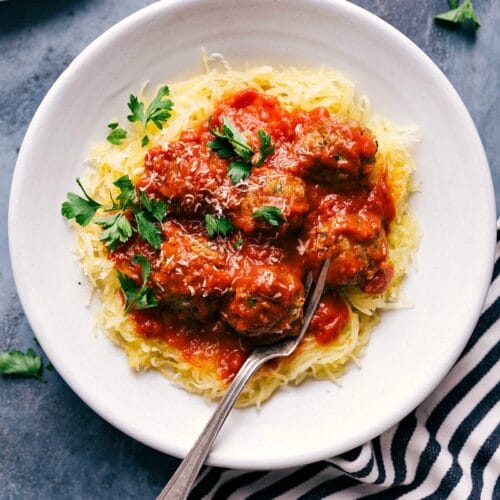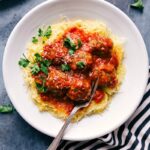 Spaghetti Squash with Turkey Meatballs
Easy sheet pan spaghetti squash with turkey meatballs and marinara. A delicious low carb and healthful dinner!
Keyword:
spaghetti squash, turkey meatballs
Servings
:
4
large servings
Ingredients
Turkey Meatballs
1

large

yellow onion,

grated (and measured to 2/3 cup)

3

garlic cloves,

finely minced

1 and 1/2

teaspoon

fine sea salt

1

teaspoon

sweet paprika (not smoked)

1/2

teaspoon

EACH: oregano, basil, freshly cracked pepper

1/4

cup

flat leaf parsley,

finely chopped

1/2

cup

Parmesan cheese,

freshly grated (on a microplane)

1/2

cup

Panko,

(breadcrumbs)

1

large

egg

2

teaspoons

Worcestershire sauce

1 and 1/2

pounds

lean ground turkey

(90% lean)
Spaghetti Squash
2

small to medium

spaghetti squashes

Olive oil, salt, and pepper

3

cups

marinara sauce

(homemade or store bought)

Optional toppings: fresh Italian parsley, freshly grated Parmesan cheese
Instructions
SPAGHETTI SQUASH: Pierce the squashes down the middle of one side with the tines of a fork. Place on a plate (one at a time) and microwave for 5 minutes. Remove, let cool until able to handle. Cut off the stem and base. Then cut the squash in half, lengthwise with a sharp knife. Scoop out the seeds and discard. Drizzle each side of squash with oil (I use about 1 tablespoon per half of squash) and sprinkle to taste with salt and pepper. Place on a parchment paper lined sheet pan cut side down. Roast for 35-45 minutes on the bottom rack of the oven or until fork tender (easily pierced with a fork).

MEATBALLS: Preheat the oven to 400 degrees F. Using the large holes on a cheese grater, grate an onion until you have 2/3 a cup. Add to a very large bowl. Finely mince OR grate the garlic on a microplane and add to the bowl. Add the salt, paprika, oregano, basil, pepper, finely chopped parsley (measured AFTER being chopped), finely grated Parmesan cheese (I like to use a microplane here to grate the Parmesan), Panko, egg, and Worcestershire sauce. Stir until all the ingredients are well combined. Add in the ground turkey straight from the fridge (keep the turkey as cold as possible as it's easier to work with). Gently knead the ingredients until combined being careful to not overwork the meat. This will yield tough/rubbery meatballs.

MEATBALLS CONT.: Shape the meat mixture into meatballs. I use a 1/8th measuring cup (2 tablespoons) to ensure meatballs all end up the same size. Place measured balls on a large plate and refrigerate the first half while working on forming the last half of the meat into meatballs.

BAKING: Line a large sheet pan with parchment paper (don't skip or clean up is a lot harder!) Add a wire cooling rack right on top and spray with nonstick cooking spray. Arrange meatballs on the rack. Brush the meatballs with oil (about 2-3 teaspoons total). Bake until browned, on the top rack of the oven, about 15 to 20 minutes. A thermometer should read 160 degrees F. (Carry over heat will increase it to 165 degrees F).

SERVE: Using a fork, pull the strands from the cooled spaghetti squash and transfer to a plate OR serve right in the squash. Prepare homemade marinara or use store bought (you'll need about 3 cups); toss meatballs with marinara and top squash with the meatballs. If desired, garnish with fresh parsley and freshly grated Parmesan cheese. Add additional cracked pepper and a drizzle of olive oil to plates if desired.