Deliciously seasoned ONE PAN healthy dinner — garlic parmesan chicken and veggies (Healthy Meal Prep Option!)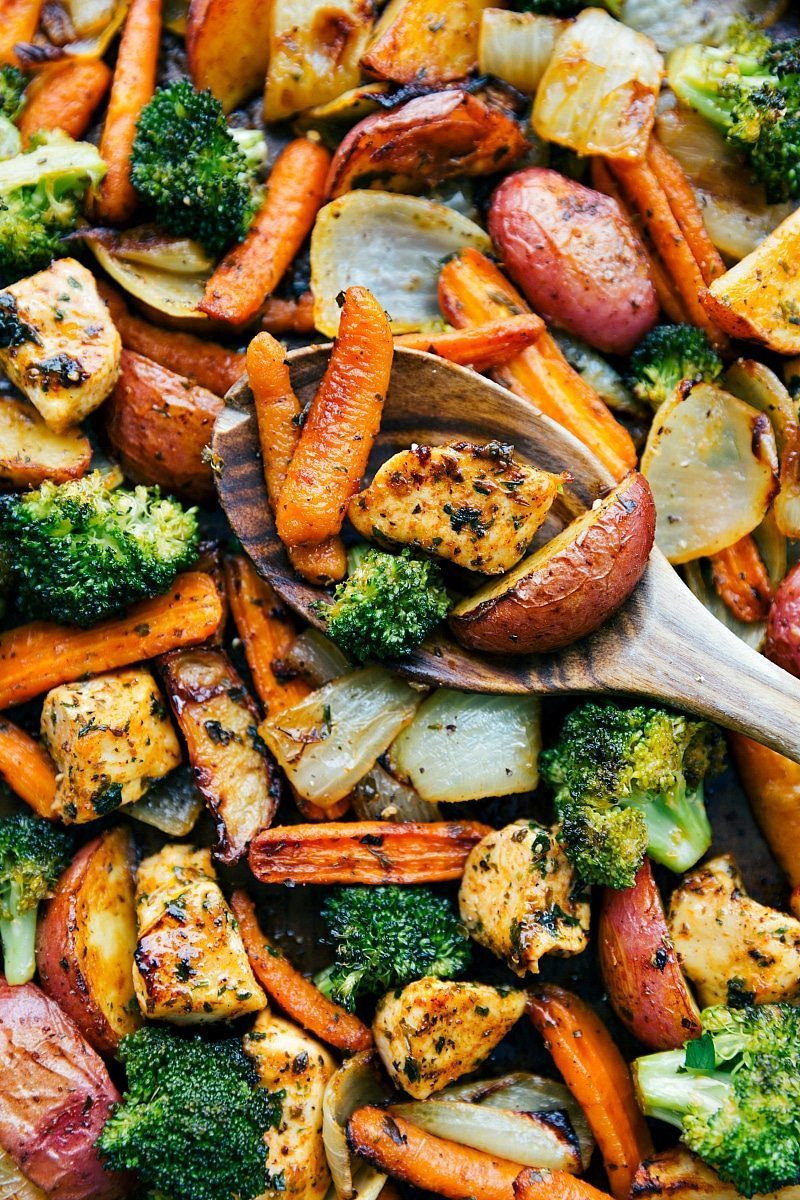 The babe's 2nd birthday was earlier this week but we're celebrating this weekend and I *think* he understands what's going to happen based off of his brother's recent birthday. I've told him a few times it's almost his birthday and he literally squeals and yells, "YES!" When I ask him if he wants chocolate cake he gives another emphatic "YES!" Annnnnd the same if I ask him if he wants a vanilla cake. So, maybe I'll nix both flavors and just make a pumpkin carrot cake because the whole family is obsessed with that!
The one thing I know for sure? The "theme" of his party will be puppies. I've never seen such a little kid SO obsessed with animals; he goes crazy around just about any animal, but especially around puppies. His grandma has the cutest little puppy that I'm certain is his best friend (after me of course ;)).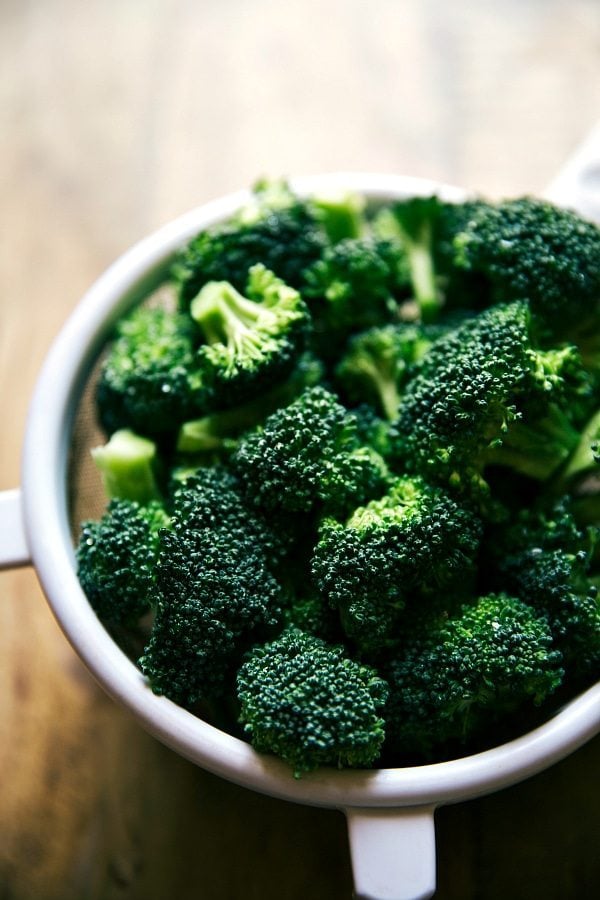 Our little animal lover babe even gets concerned about his own stuffed animals. He has no short of a dozen little animals (everyone's go-to gift to him!) and the other day he had me cut off every attached single tag, string, or blemish on each of his animals. He wouldn't let me do a thing until they were free of anything & everything he deemed to be bugging the animals (or him…!)
He also thinks his animals need milk and food, so he'll "feed" them resulting in no short of a ridiculous amount of messes. Usually whatever we make him for breakfast, lunch, and dinner also gets fed to whatever animal(s) he's lugging around at the time.
As much as he loves his animals though, he would NOT part with the carrots or the red potatoes from this dinner. Not one of his animals got a single bite of those ? Now the broccoli, well, that's a different story… And for the record, his stuffed animals had no part in eating that broccoli either…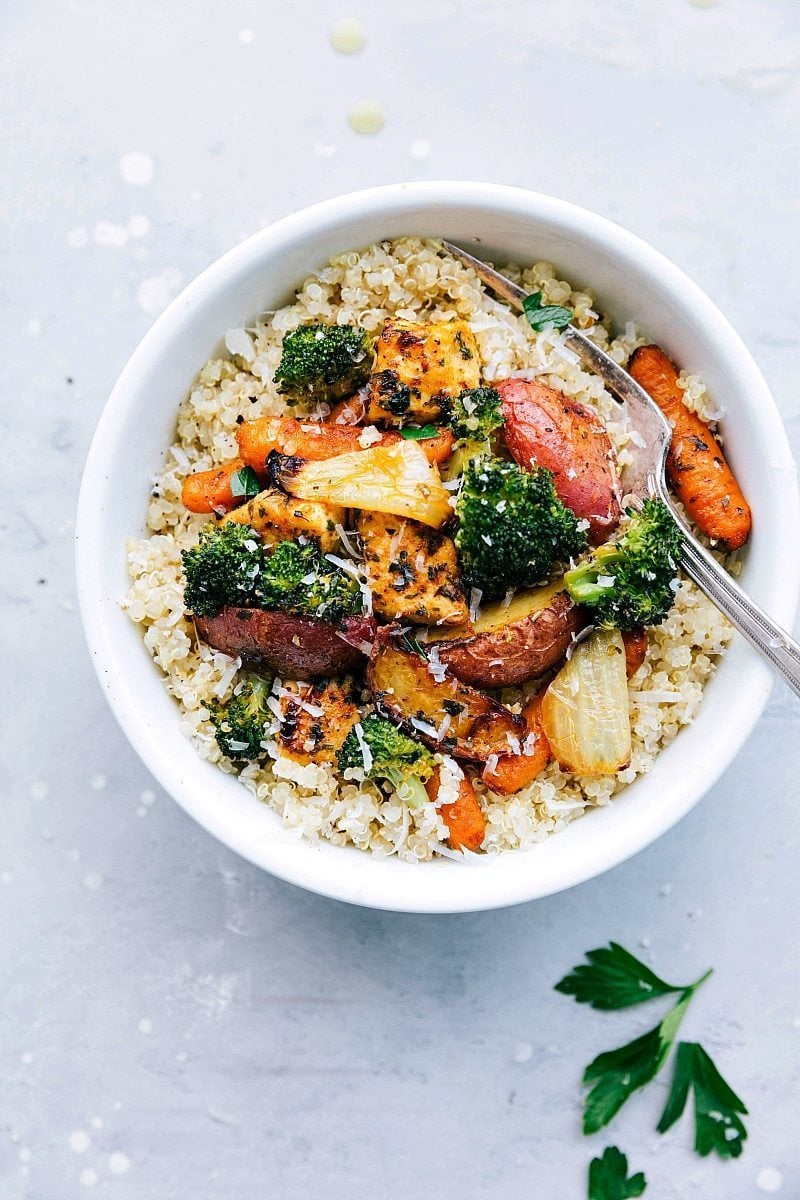 This sheet pan dinner has become one of our new favorites and it's perfect for the cooler weather with the heartier root veggies. Lucky for me, my husband hates onions, so I get a double helping of them and they are actually my favorite part of this dinner! They get slightly caramelized and are so full of flavor! At the end of the baking time, you'll broil the sheet pan on high for a couple of minutes which gives all the veggies and the chicken a nice char.
Not only is this dinner made on one pan, but the same seasoning mix is used three times. You'll toss it first with the chicken (and let it marinate for a little bit while you prep everything else), next with the first set of veggies that get baked, and finally with the broccoli. Even with a bit of veggie prep, this dish really doesn't take too long to prep because you aren't dicing anything — quick and coarse chops for the most part 🙂
The cook time of this dish is staggered to ensure each of the veggies are at optimal tenderness and the chicken doesn't get overcooked. The first batch of veggies are cooked for 20 minutes and then you'll add the broccoli and the chicken to the sheet pan and finish cooking. It's such an easy dinner to make and one the whole family will enjoy! OR if you want to keep this all for yourself (and trust me, I do not blame you!) it makes a great, super healthy meal prep option!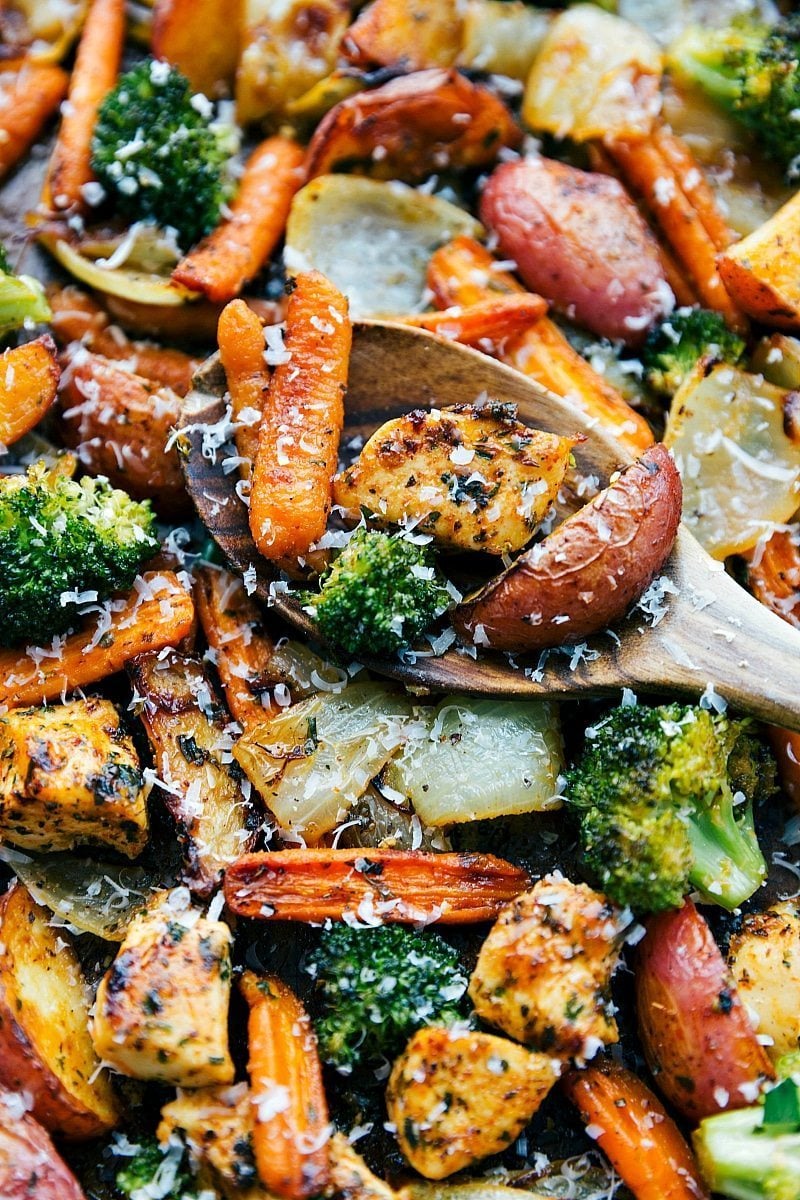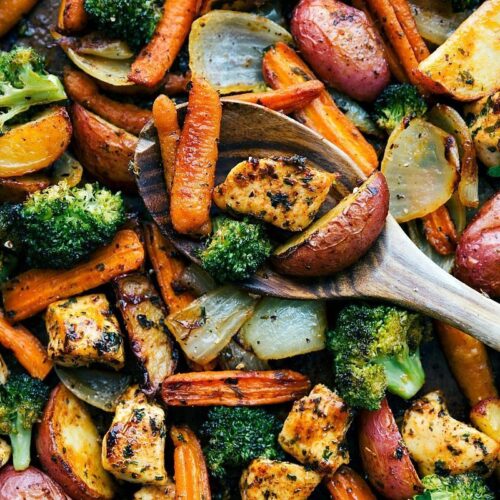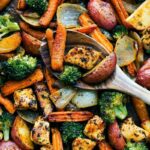 One Pan Roasted Garlic Parmesan Chicken and Veggies (Great Meal Prep)
Deliciously seasoned ONE PAN dinner -- garlic parmesan chicken and veggies (Healthy Meal Prep Option!)
Ingredients
1

pound

boneless skinless chicken breasts

1

tablespoon

dried parsley

2

teaspoons

dried oregano

1/2

teaspoon EACH:

garlic powder, onion powder

1

teaspoon

paprika

Seasoned salt and pepper

1

large

lemon, juice and zest

5

tablespoons

olive oil,

separated

1

heaping cup (5 ounces)

baby carrots,

sliced in half

1 and 1/2

heaping cups (1/2 pound)

baby red potatoes,

sliced

1

large

yellow onion,

coarsely chopped

1

head (1 heaping cup)

broccoli,

chopped

1/2

tablespoon

minced garlic

Freshly grated Parmesan cheese

For Meal Prep:

1 cup quinoa or rice

Optional: 1/4 teaspoon red pepper flakes
Instructions
Dab the chicken breasts with paper towel to dry. Remove any fat and then chop the chicken into 1/2 inch pieces. Place in a medium sized bowl.


In a small bowl, combine the parsley, oregano, garlic powder, onion powder, paprika, seasoned salt (to taste; I use 1/2 teaspoon), and pepper (to taste, I use 1/4 teaspoon). If desired, mix in the 1/4 teaspoon red pepper flakes. Stir to combine and then take half of the seasoning mix and add to the chicken with TWO tablespoons olive oil and the zest and juice of 1 lemon. With your fingers, toss the chicken, olive oil, lemon, & seasoning mix until the chicken is well coated. Cover and place in the fridge for 30 minutes (while everything else is being prepped and cooking).

Preheat the oven to 425 degrees F. Line a very large baking sheet with parchment paper for easy clean-up. Halve the baby carrots lengthwise, Halve the baby red potatoes (or quarter for large ones), and coarsely chop the onion (halve it, halve each half, and then cut each half into 2 or 3 sections -- see pictures for general size).

Place the carrots, red potatoes, and onion on the prepared sheet pan. Add another 2 tablespoons olive oil and most of the remaining seasoning mix (leave 1 teaspoon). Toss with your hands to generously coat everything and place in the preheated oven for 20 minutes.

Meanwhile, chop the broccoli into bite-sized pieces. Remove the pan from the oven and toss the veggies and section them off to one half. Add the broccoli and minced garlic to the other half and toss with the last tablespoon olive oil and last teaspoon of seasoning mix. Toss to coat and then toss the broccoli with the other veggies and section to one half of the tray.

Remove the chicken from the fridge and drain off ALL the liquid (I like to pick up the chicken with a cupped hand and shake it off a few times). Add to the sheet pan and ensure the chicken pieces are separated (not on top of each other) so they can fully cook.

Return to the oven and cook for another 15-20 minutes or until chicken registers 165 degrees F and vegetables are to desired tenderness. While the sheet pan is in the oven, change to a HIGH broil and cook for 1-2 more minutes (adds a nice char :)) Watch it carefully to avoid burning.

Remove from the oven and top with freshly grated Parmesan cheese and enjoy immediately or use for meal prep.

To meal prep: prepare 1 cup uncooked quinoa or rice according to package directions and then separate it evenly into 4 separate containers. Place an even amount of the sheet pan dinner into each container. Cover and place in the fridge. Enjoy by warming in the microwave.
Recipe Video
Recipe Notes
Nutrition Label below does not include Parmesan cheese (depends on how much you add) OR the option to add quinoa/rice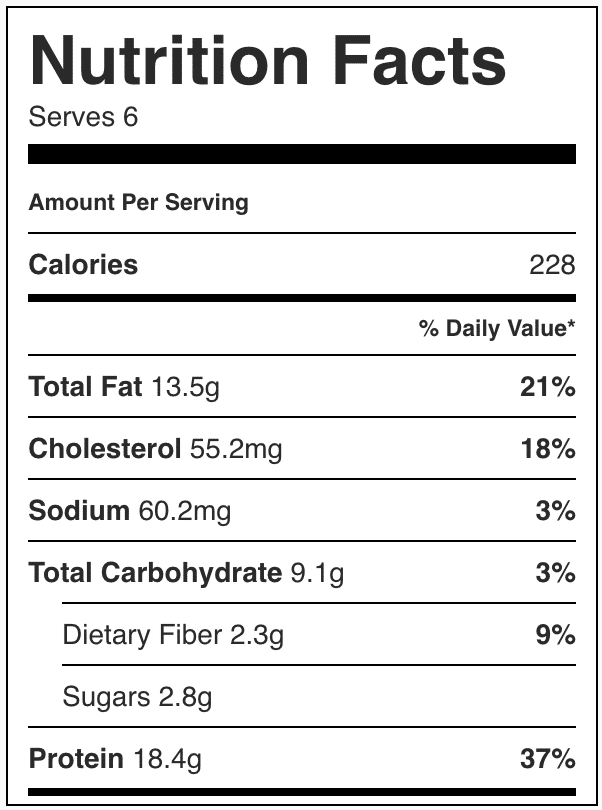 More ONE PAN Dinners: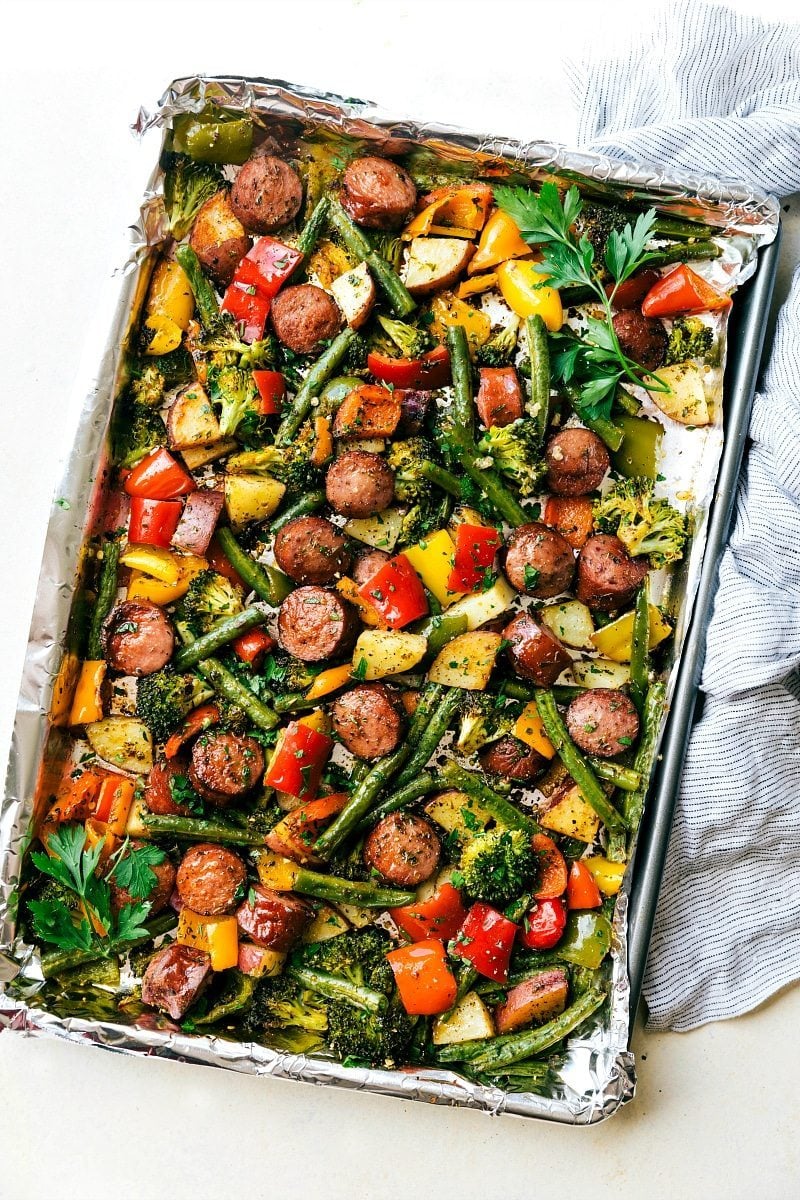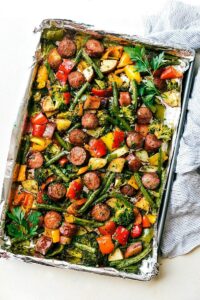 One Pan Healthy Sausage and Veggies (Another great MEAL PREP option)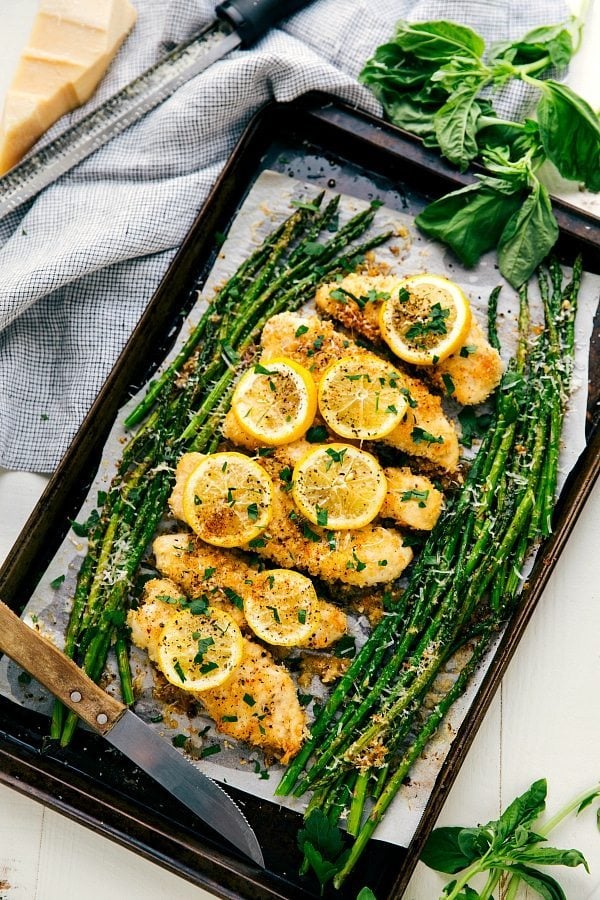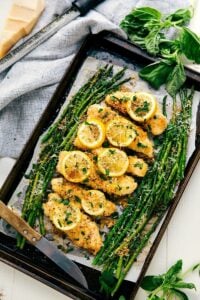 One Pan Lemon Parmesan Chicken and Asparagus