A delicious take on the famous Italian Caprese Salad with a simple basil dressing.

This is a sponsored post written by me on behalf of Italian Trade Commission / The Extraordinary Italian Taste. All opinions are 100% mine.
Caprese Salad
I've shared a little bit about our trip to Italy this Spring and how inspired I've been by Italian ingredients and cuisine. We were able to take a few cooking classes in the cities we stayed in and our favorite was a class in Siena. The class was in the upstairs kitchen of a farmhouse owned by a very lively Italian grandma.
She taught us how to make several authentic Italian dishes (including a caprese salad which served as the inspiration for this recipe!) and shared tips and tricks that have come from a lifetime of learning (and owning a restaurant).
Her very first "lesson" for us was all about ingredients. She very emphatically told us the importance of using good quality, authentic ingredients. For homemade pasta, it is a "must" to have 00 "Tipo" Flour. While she said getting the best ingredients can often be more costly, the ingredients are what makes the food amazing. And with high quality ingredients, you can use fewer overall ingredients and still create amazing masterpieces. Each dish we made focused on high quality Italian-made ingredients.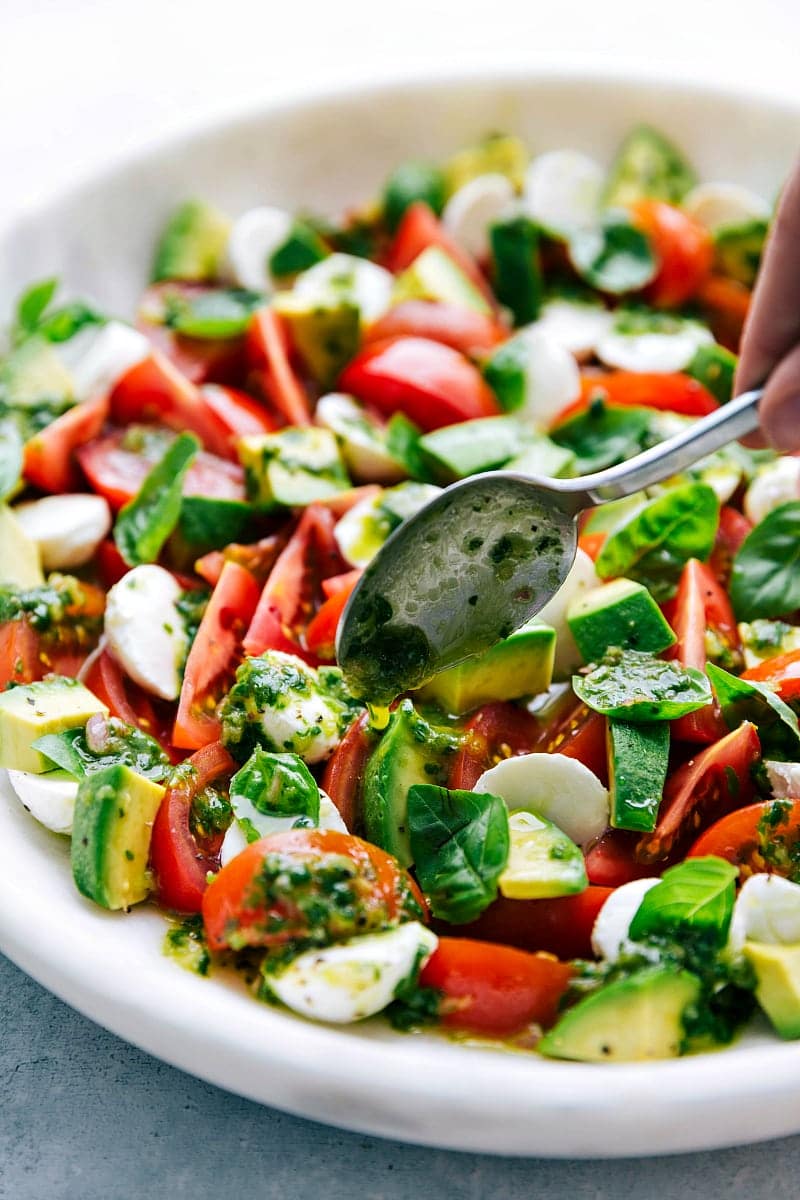 Quality Ingredients
While in Italy my husband and I bought as much extra virgin olive oil and balsamic vinegar as our suitcases would hold. Why you might ask? Nothing beats the real thing. And let me tell you, the Italians know a thing or 2 about making olive oil and balsamic vinegar:)
The more I've practiced homemade pizza, pasta, gelato, this caprese salad, and other recipes we learned in Italy, the more I recognize what a difference high-quality ingredients make!
Authentic Italian products have made such a difference in my cooking. Especially for salad dressings – and that certainly holds true for the dressings for this caprese salad.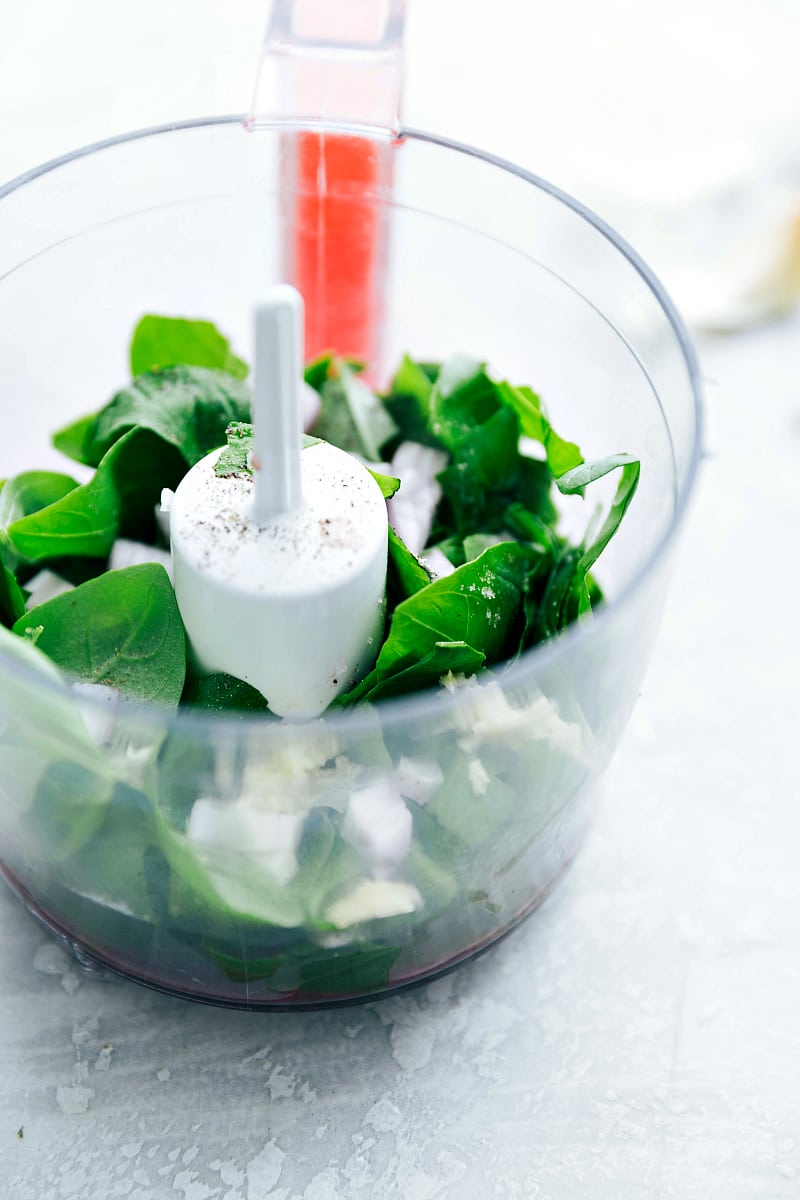 So how do you know if a product is an authentic Italian product? Simple! The label on the product will say "Made in Italy." A lot of products are "Italian-sounding," or "Italian-looking" but aren't really made in Italy. By giving labels a quick check you can be sure you're getting the best authentic Italian ingredients! If the products are genuine and authentically Italian you know you're getting a high quality product! You can learn more about Italian products on ItalianMade.com
For this caprese salad I'm using Mozzarella di Bufala Campana PDO and Italian Extra Virgin Olive Oil (PDO/IGP) for the dressing. It makes a world of difference in a salad with so few ingredients 🙂 Other than that I've got some garden fresh basil (and if you know about my BLACK thumb, then you know I couldn't have possibly grown it haha! I have my husband to thank for that) and garden fresh tomatoes. Add in an avocado and you've got a delicious variation on the classic Caprese salad.
Enjoy!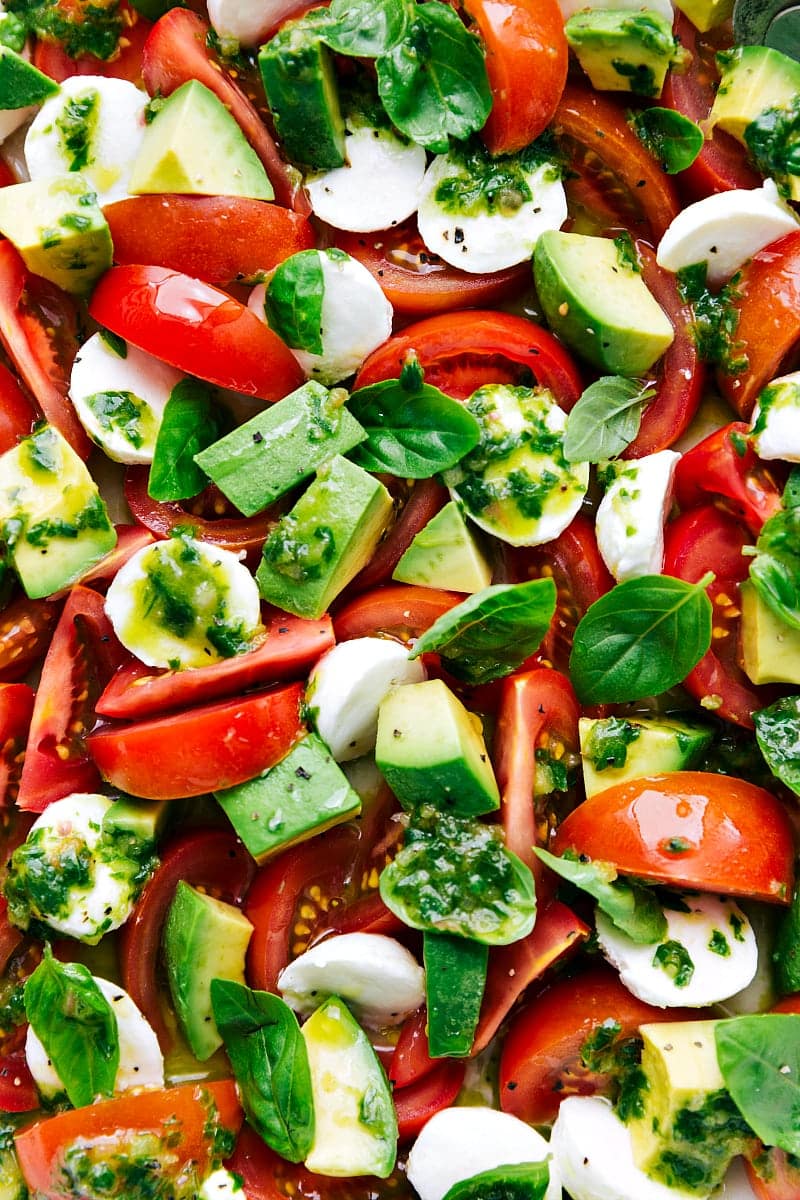 More Delicious Salads: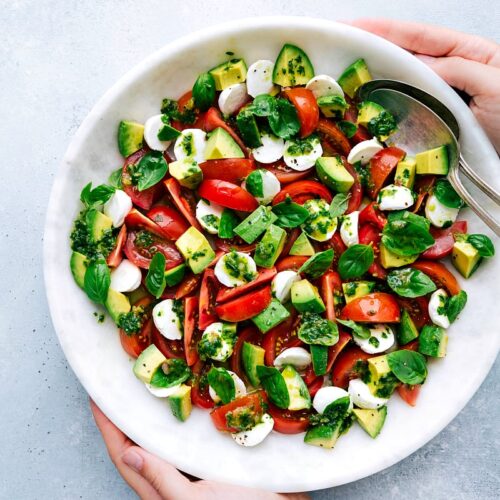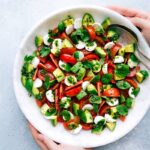 Caprese Salad with Basil Dressing
A delicious take on the famous Italian Caprese Salad with a simple basil dressing
Ingredients
Basil Dressing
1

small garlic clove,

minced

1

tablespoon

shallot,

minced

1

cup

packed basil leaves,

coarsely chopped

1 and 1/2

tablespoons

red wine vinegar

1

tablespoon

fresh lemon juice

1/4

cup

Italian Extra Virgin Olive Oil,

look for PDO/IGP certifications

Sea Salt and Freshly Cracked Pepper
Caprese Salad
6

cocktail-style tomatoes,

sliced

6

ounces

Mozzarella di Bufala Campana PDO

1/3

cup

fresh basil

1

large avocado,

skin and pit removed
Instructions
For the Basil Dressing
In a food processor, pulse the garlic and shallot a few times.

Add the basil and pulse until finely chopped.

Add the red wine vinegar, fresh lemon juice, and salt + pepper to taste (I use about 1/2 teaspoon of salt and 1/4 teaspoon pepper).

Pulse a few times and while running, drizzle in the extra virgin olive oil and pulse until smooth. (Avoid pulsing the mixture too much with the olive oil as sometimes oil with metal can have a metallic reaction and alter the taste of the dressing.)
Caprese Salad
Slice the tomatoes and add to a large bowl.

Cut the mozzarella into small pieces and add to the bowl.

Tear the basil and add on top.

Remove the skin and pit of an avocado and then chop.

Add to the bowl (I like to add a squeeze of lemon to the avocado to keep it from browning).

Dress the salad with the basil dressing to taste. Add additional salt and pepper if needed. Enjoy the same day this salad is made. (Leftovers do not keep well).