Gooey marshmallow-filled, chocolate-layered, graham-cracker crumb coated oatmeal cookie bars.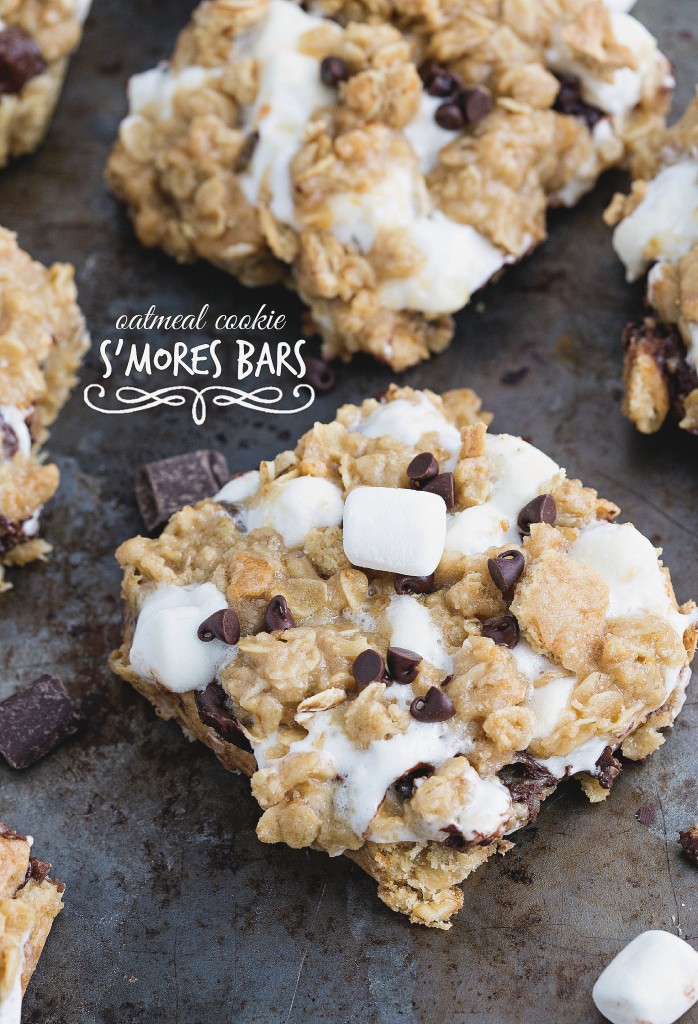 So did you all notice the whole new-and-improved site? I've been dying in anticipation for it to go live because I love it so much.
It's be a long time in the coming…I've wanted to get one done for a while now, but just haven't found what I was looking for. Until I got referred to Julie from Deluxe Designs. (Thanks Karen!!)
If anyone is looking for any kind of designer, here's my official shout-out. Julie is awesome! Not only is she supa talented, but she's also quick. She had my site ready to go in about two weeks! She designed all the fun elements throughout the site and the different pages and went WAY over and beyond. I'm so happy about it! P.S. Do you love the whisks everywhere? 🙂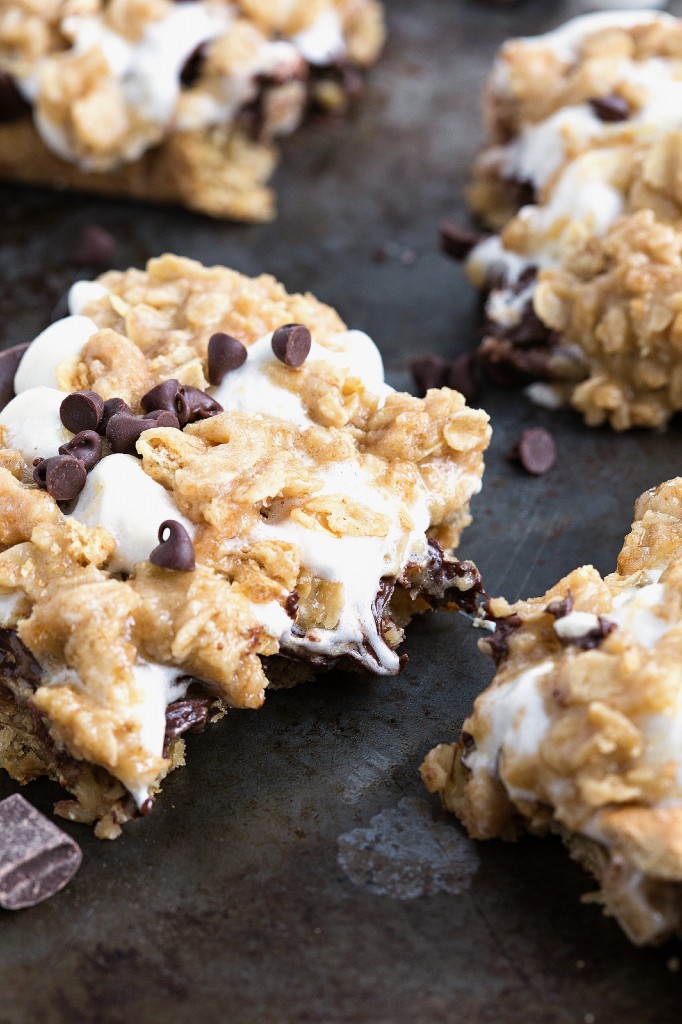 But enough about design since you are probably here about the food.
And oh.my.gosh. do I have a dessert for you! This is officially my favorite S'mores dessert ever. Truly, my absolute favorite. I'm such a sucker for melty chocolate, gooey marshmallows, and oatmeal cookies – of course this would be my favorite.
When I was brainstorming for S'mores week, I wanted to make some kind of S'mores gooey bars. When I started to create and think more about the idea, it kind of morphed from one of my favorite desserts on this site – cookie butter oatmeal bars.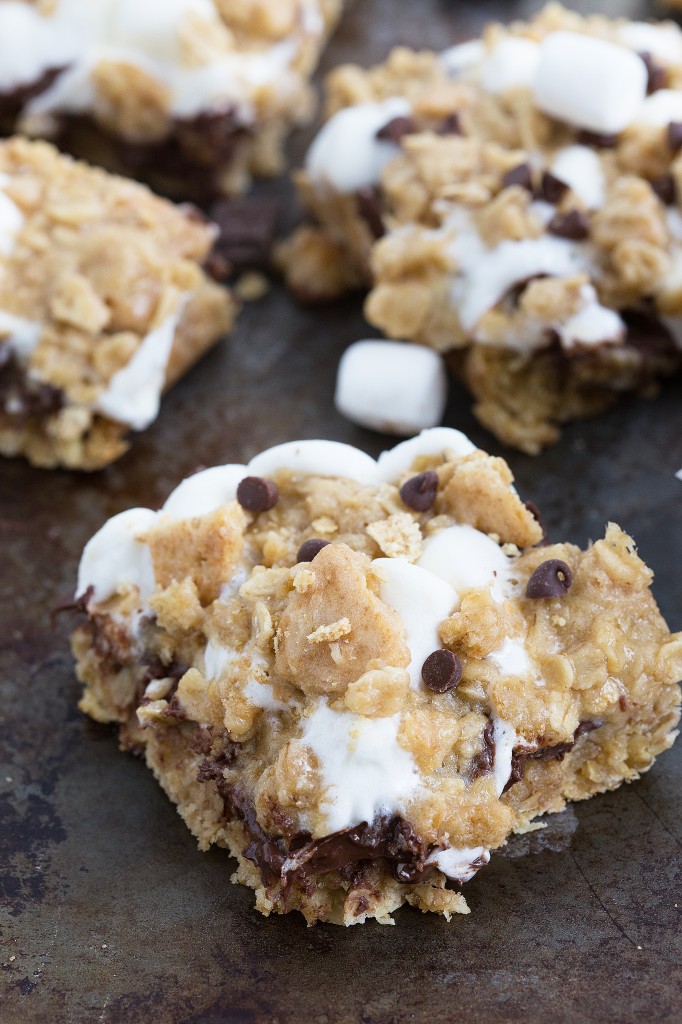 I took the base from that recipe, changed it a bit, and then added lots of marshmallows and chocolate for the center.
More oatmeal cookie pieces on top makes for the perfect finishing touch.
These bars are also SO quick to make. Faster than making a batch of oatmeal cookies and waiting for the dough to chill… And don't be intimidated by the layers – it's just one layer of the cookie dough, then chocolate chips sprinkled on top, then marshmallows, and finally the remaining cookie dough on top. SO easy, SO delicious, and S'MORES!!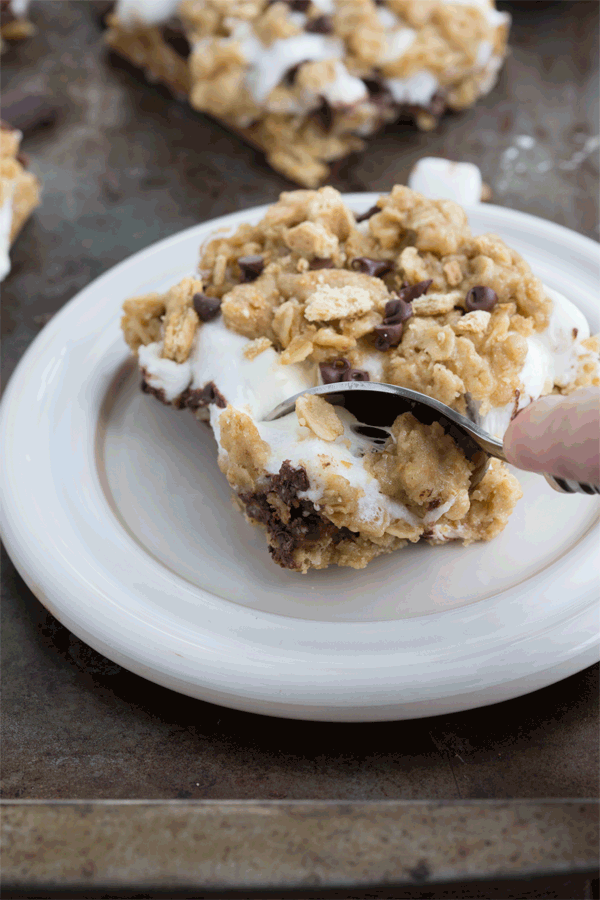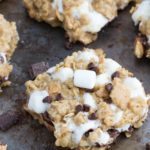 Oatmeal Cookie S'mores Bars
Ingredients
Bottom Layer:
1

cup

old-fashioned oats

1

cup

all-purpose flour

1/2

cup

light-brown sugar

packed

1/2

teaspoon

baking soda

1/4

teaspoon

salt

1/2

cup

butter

softened

1

teaspoon

vanilla extract
S'mores Layer:
1 and 1/4

cups

semi-sweet or milk chocolate chips

1 and 1/2

cups

miniature marshmallows
Top Layer:
6

tablespoons

light brown sugar

6

tablespoons

butter

softened

3/4

cup

old-fashioned oats

3/4

cup (3 full)

graham crackers

crushed

6

tablespoons

all-purpose flour

Optional: handful of miniature chocolate chips
Instructions
Bottom and Middle Layer
Preheat the oven to 350 degrees F. Line an 8 x 8 baking pan with parchment paper and set aside.

In a small bowl, combine all of the ingredients for the base layer. Stir until a crumbly type of dough has been formed. Press this "dough" into the bottom of an 8 x 8 baking pan.

Cook for 10 minutes or until lightly browned on top and remove from the oven.

Sprinkle the chocolate chips on top to melt.

Sprinkle the marshmallows on top of the chocolate chips.
Top Layer
Beat together the brown sugar and butter until light and creamy. Stir in the oats, coarsely crushed graham crackers, and flour.

Scoop the dough (with a cookie scoop) over the marshmallow layer. The dough doesn't cover it completely, but will cook together somewhat. Just evenly disperse scoops of dough on top of the marshmallows and briefly spread out the scoops.

Return to the oven for about 5 minutes (it will still be a bit gooey), then remove and allow to cool. These taste great right out of the oven, but take a good hour to fully set. If you don't mind messy bars, then dig in!

If desired, top the mostly cooled bars with a handful of miniature chocolate chips
Here are some more S'mores recipes: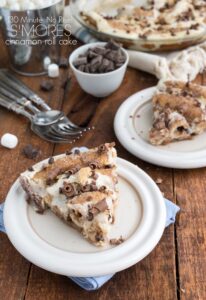 S'mores Cinnamon Roll Skillet Cake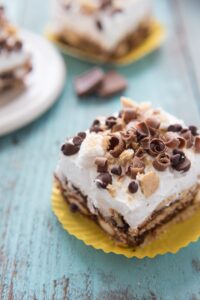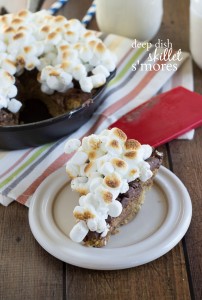 Deep-Dish Skillet S'mores