Delicious and flavorful oatmeal pecan cookies — crisp on the edges and chewy in the center!
These oatmeal pecan cookies are a classic that everyone loves! If you aren't sure about nuts in your cookies, this is the perfect recipe to start with! OR click if you'd like to stick with oatmeal chocolate chip cookies (no nuts).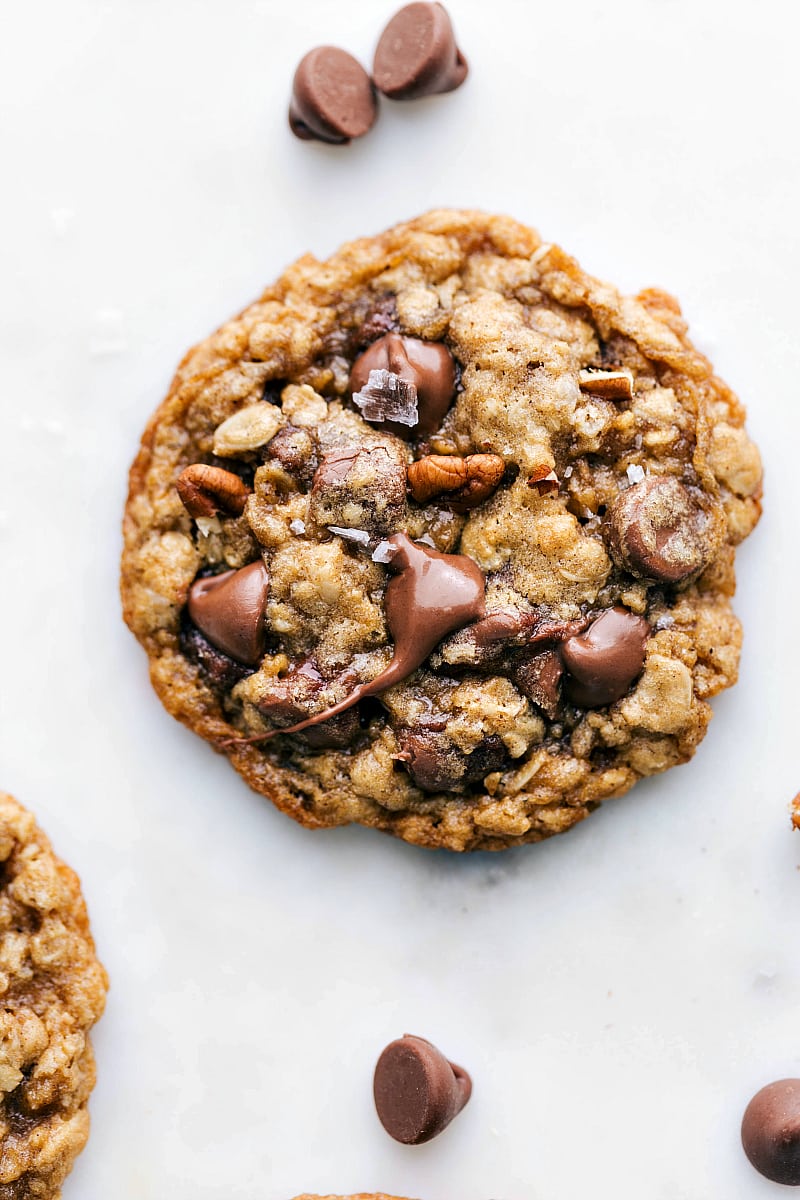 Oatmeal Pecan Cookies
I'm so excited to share with you these oatmeal pecan cookies! Not only are these my absolute FAVORITE oatmeal cookies ever, but they have been tested and tested and tested so I am way excited for you all to try them! They've been made so often mostly because the toddler and I love making cookies (way too often), but also because I sent them to a few of my friends, so a lot of batches had to be made 🙂 I participated in a mailing cookie exchange with this recipe and it was so fun. How it works? Pick a few friends, perfect a cookie recipe, and mail a dozen (or however many you want) cookies to everyone. In exchange you'll get their favorite cookies in the mail back! It's a fun thing to do around the holidays if you're away from family/friends!
What can you expect from this Oatmeal Pecan Cookies Recipe?
My favorite cookie (ever) is an oatmeal chocolate-chip cookie (does that make me boring?!). So, I wanted these to be the very best. The "very best" (in my mind) is a soft & chewy oatmeal cookie that has crisp edges/bottom and an ultra soft, slightly under-baked center. These cookies fit that bill. They've got those crispy & crunchy sugary edges, a soft slightly underbaked center, plenty of melted chocolate throughout, and overall plenty of chewiness.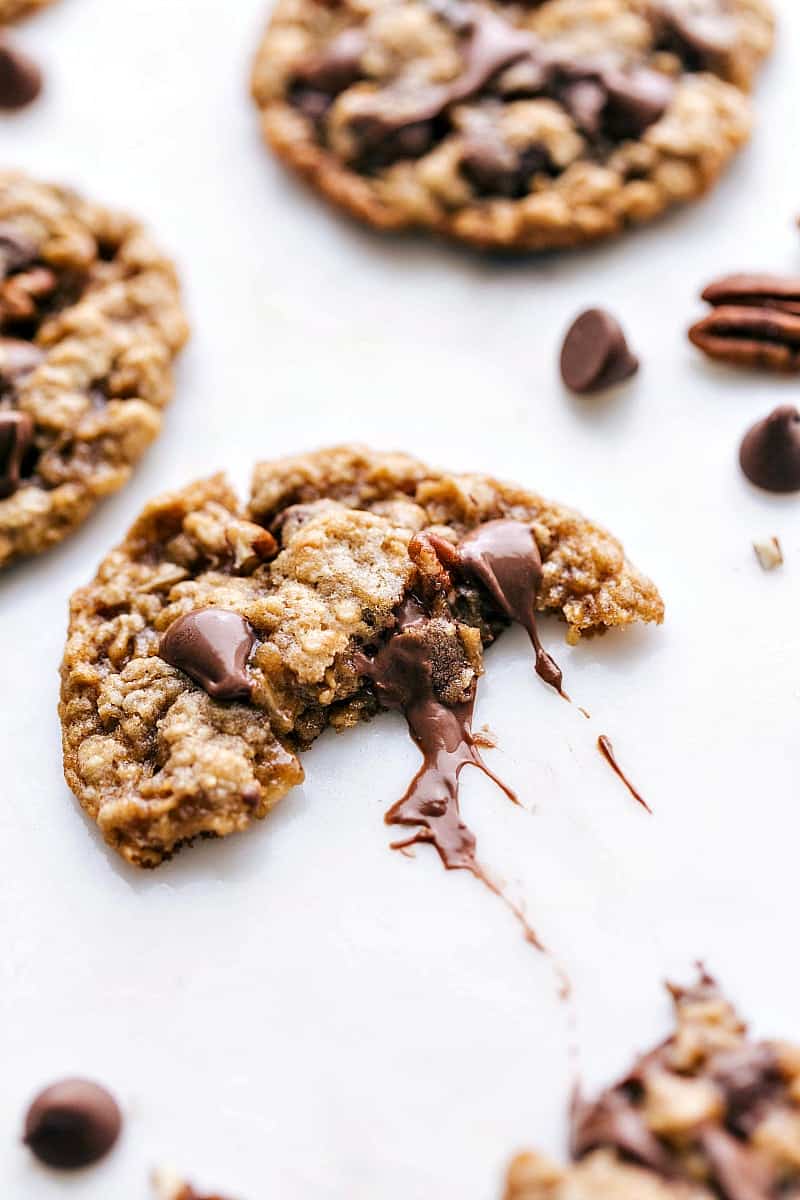 What ingredients should you use for these Oatmeal Pecan Cookies?
It's important to use the right ingredients in this recipe. Margarine doesn't substitute for real unsalted butter, a large egg is essential, and don't use any other kinds of oats besides Old Fashioned Oats! The oats are particularly important because old fashioned oats is what gives these such a great texture. When you use quick oats, the cookies are much drier and cake-like. Because quick oats are so small they basically act like a flour and will make your cookie have a completely different texture (not necessarily bad, but they won't work in this recipe!). Steel cut oats won't work at all.
Good quality chocolate chips, or even chopping up a high quality chocolate bar really heightens the flavor and gives these cookies something special! I prefer Ghirardelli or Guittard chocolate chips for these cookies. To me, there's nothing better than milk chocolate chips in an oatmeal cookie, but you can use semi-sweet or dark chocolate if you prefer that in your cookies.
Tips to make the BEST Oatmeal Pecan Cookies:
It's important to have room temperature butter for this recipe. Allow the butter to come to room temperature on its own for best results. I LOVE melted or soft butter in most my cookie recipes, but it results in a greasy oatmeal cookie. Don't microwave or melt the butter!
Creaming the butter and brown sugar is really important for this recipe so make sure to do that with hand mixers for a good 3 minutes. The other important part of the method for making these is chilling the dough and then rolling the dough balls.
The flour measurement is very important. If you press your measuring cup into a bag or carton of flour and then pull it out, you are compressing a lot more flour into that cup. For these cookies, I spoon the flour into a measuring cup and then level it to the very top of the measuring cup.
Chill the cookies: I know, I know, who wants to wait for cookies after making delicious dough? But honestly, these cookies don't work without being chilled. Chilling matters because the fats need to re-solidify and the oats need time to absorb the "liquid" in this recipe. If the dough is baked immediately, the cookies will spread while baking and become thin, hard, and crispy. The longer the fat stays solid, the less the cookies will spread. I also chill the dough again quickly after forming the dough balls because our hands warm up that dough and you want the dough balls going into the oven as cold as possible.
Possibly the best tip I can give for these cookies: watch the bake time! They will go from soft, chewy, and delicious to overall crispy and blah with just a few extra minutes in the oven. I pull them out even when they look a little gooey in the center because they cook more after being removed from the oven and when they set up they are super soft and chewy. Watch the bake time carefully as that will impact the overall end texture of these cookies!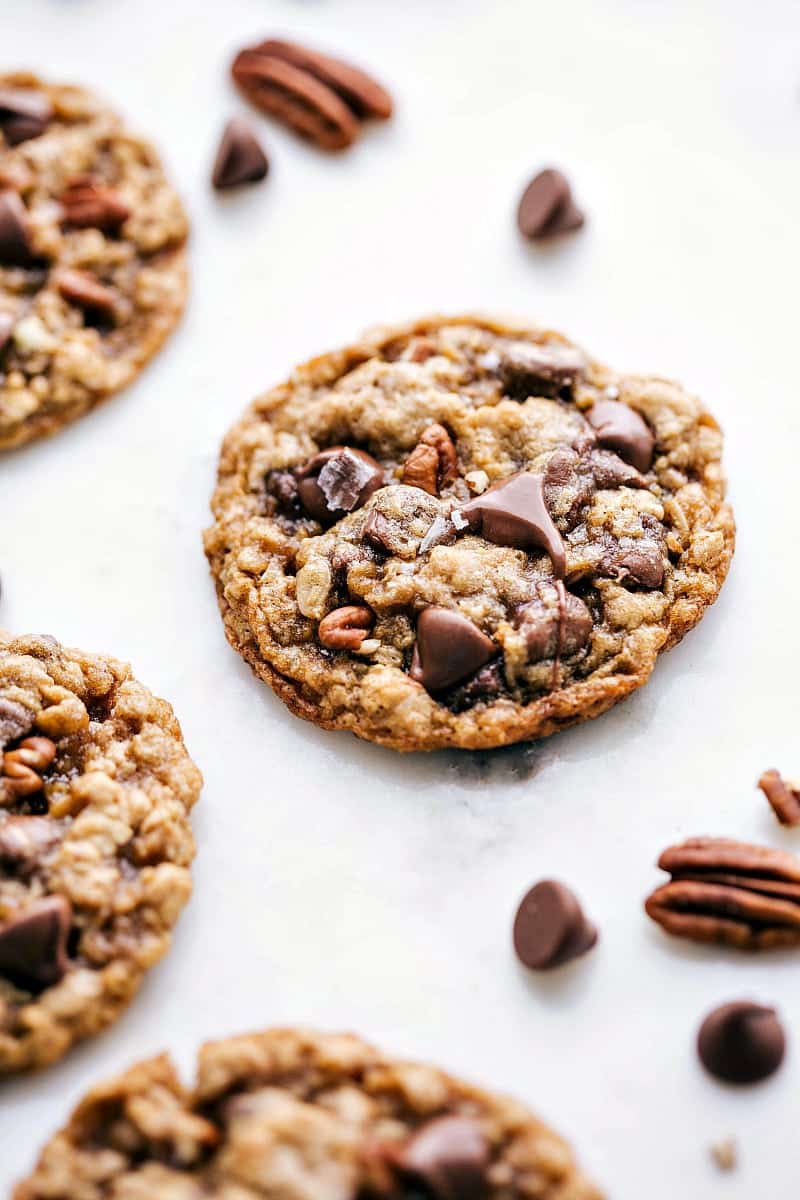 More Amazing Cookie Recipes: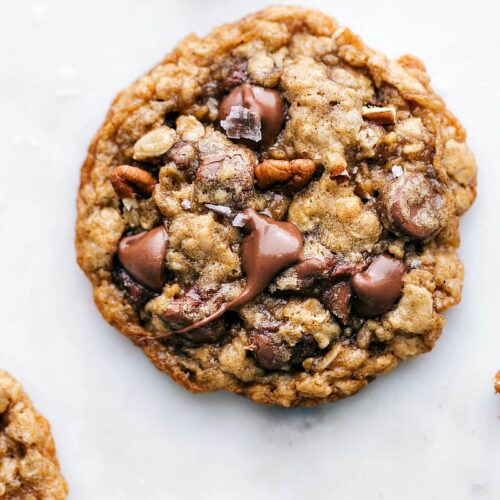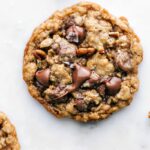 Oatmeal Pecan Cookies
Delicious and flavorful oatmeal pecan cookies -- crisp on the edges and chewy in the center!
Keyword:
Oatmeal pecan cookies
Ingredients
1

stick (the equivalent of 1/2 cup or 8 tablespoons)

unsalted butter,

at room temperature, NOT melted

1/2

cup (110g)

dark brown sugar,

packed

1/2

cup (100g)

white sugar

1

large

egg

2

teaspoons

vanilla extract

1/2

cup + 3 tablespoons (86g)

white flour

(when you measure make sure to spoon and level)

1/2

tablespoon

cornstarch

1/4

cup (25g)

oat flour

(blend up regular oats in the blender)

1/2

teaspoon

baking soda

1/2

teaspoon

salt

1/8

teaspoon

nutmeg

1/2

teaspoon

ground cinnamon

1 and 1/2

cup (147g)

old fashioned oats

(not quick oats)

1

cup (180g)

milk chocolate chips,

plus more for adding to the tops of the cookies

1/3

cup

chopped pecans
Instructions
Make sure your butter is at room temperature and not melted.

Cream together the butter, brown sugar, and white sugar until light and creamy, at least 3 minutes. Beat in the egg and vanilla.

In another bowl add the flour and cornstarch. To make oat flour, blend up regular oats in a blender or food processor until they resemble flour. Measure to get 1/4 cup and add that in. Add in the baking soda, fine sea salt, nutmeg, cinnamon, and old fashioned oats.

Add the dry to the wet and mix until just combined. Stir in the chocolate chips. Coarsely chop the pecans and add them in.

Stir together all of the ingredients and then cover tightly and chill for at least an hour. These cookies don't cook well without being chilled.

Preheat the oven to 350 degrees F. Scoop out balls of dough (if you have a food scale, do cookie balls about 1.8 ounces in size)


Line a cookie sheet with parchment paper or a baking liner. Place balls of dough (no more than 9 cookies at a time) on the cookie sheet. Return the tray of cookies to the fridge for 10 minutes.

Bake for 7-9 minutes or until lightly browned at the edges (even if the center looks a little under-done -- it cooks more after being pulled out of the oven). These cookies set up and become extremely delicious and chewy if they're slightly underbaked.


Err on the side of slightly under-baking these cookies for soft, chewy, and tender cookies!


Press some extra chocolate chips into the tops of the cookies if desired. If desired, add a sprinkle of sea salt to the cookies. Cookies best enjoyed within 2-3 days.