White-chocolate and sprinkle-covered rice krispie treats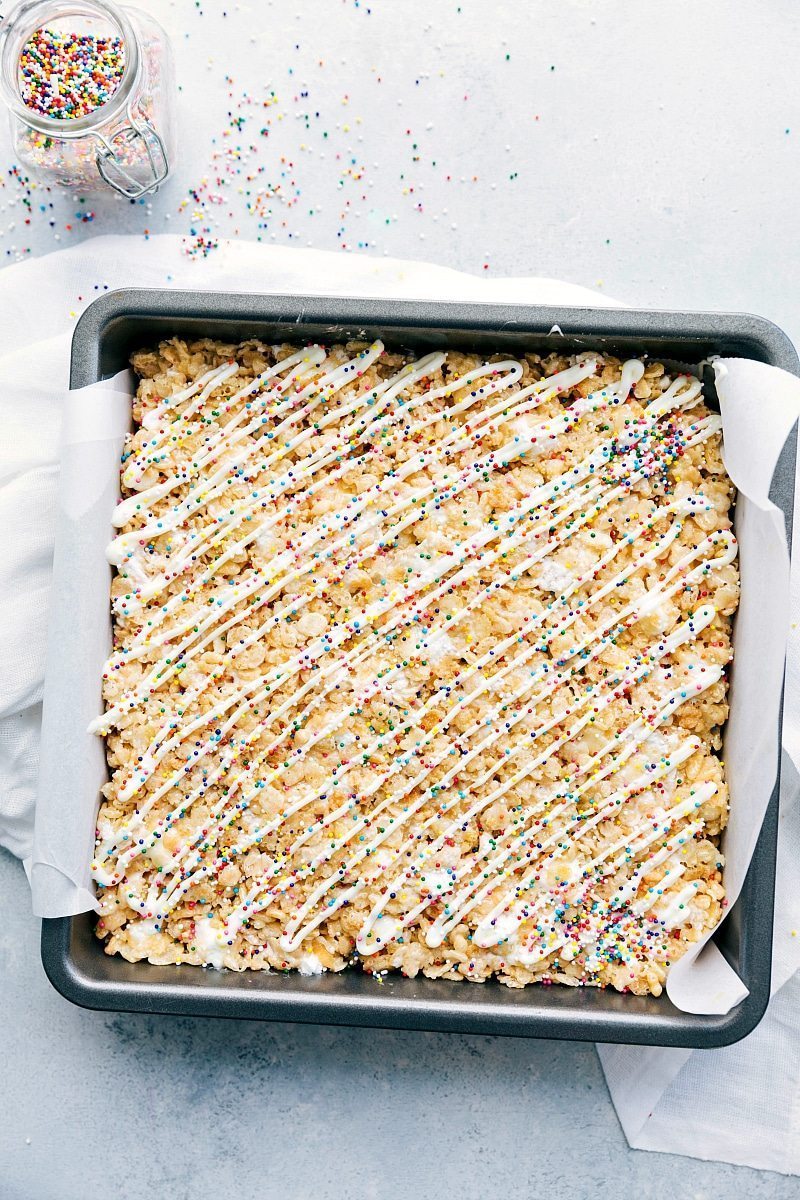 Happy Monday! I'm so excited about this post and recipe today, but first off how was your weekend? Did you do anything exciting?
We had some sick kiddos (seriously summer flus should not be a thing), but they seem to be on the mend…fingers crossed. 🙂 So basically this weekend I snuggled my boys and we listened to Taylor Swift's latest song on repeat. ? My toddler loves the "snake" song as he calls it. He's pretty mesmerized with the lyric video and the snakes slithering across the screen.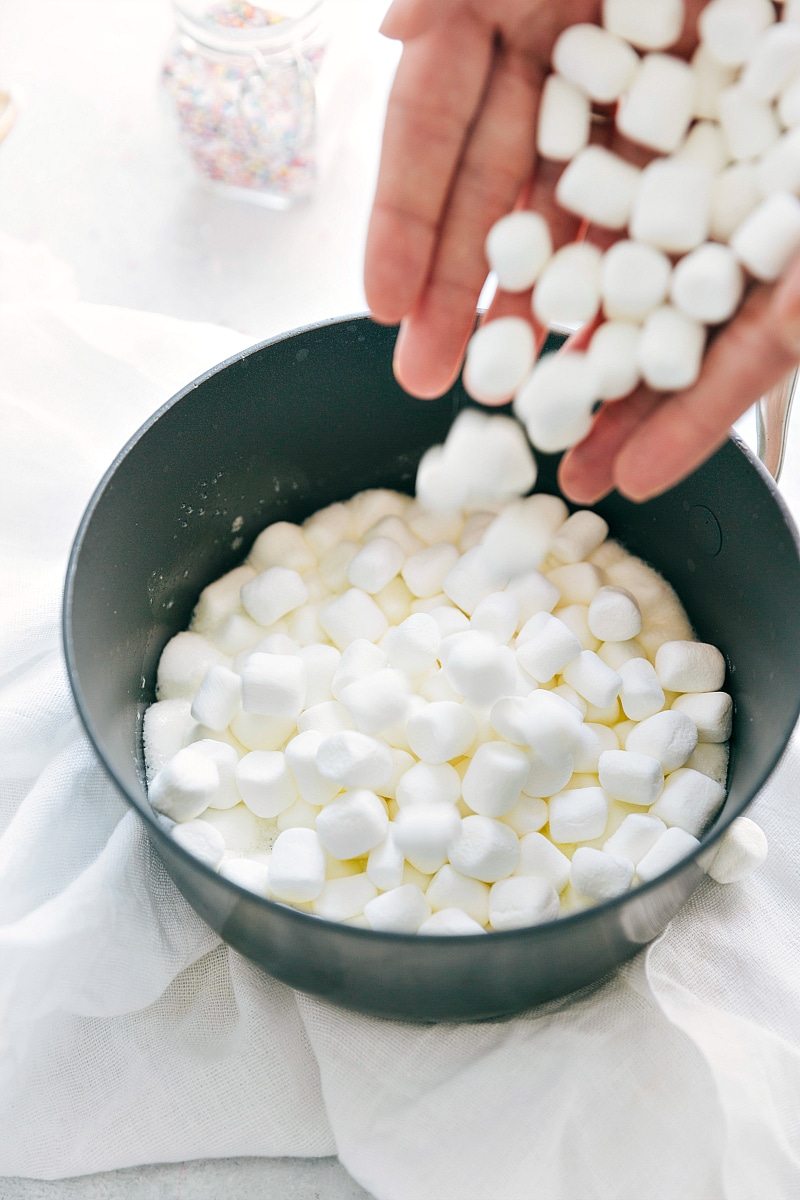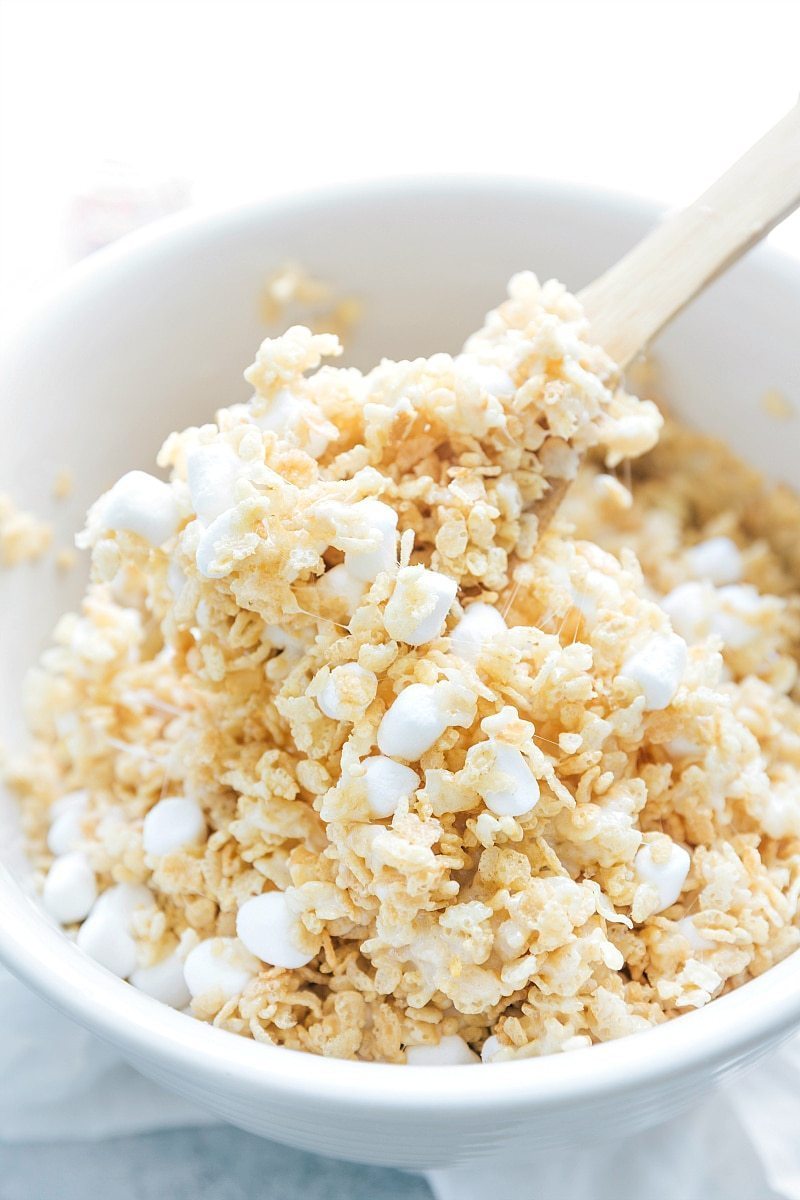 Anyways, I'm really excited about this post because today we are celebrating Sally from Sally's Baking Addiction. Her and her husband are expecting a little baby this coming month and I'm so excited to celebrate with them today!
Sally (and her husband, Kevin) will make the BEST parents — they're both some of the kindest and most genuine people I know. Not to mention how lucky that little girl is to get to taste test Sally's creations! Everyone loves Sally's delicious desserts (I shared her banana cake recipe here and that is always a hit.)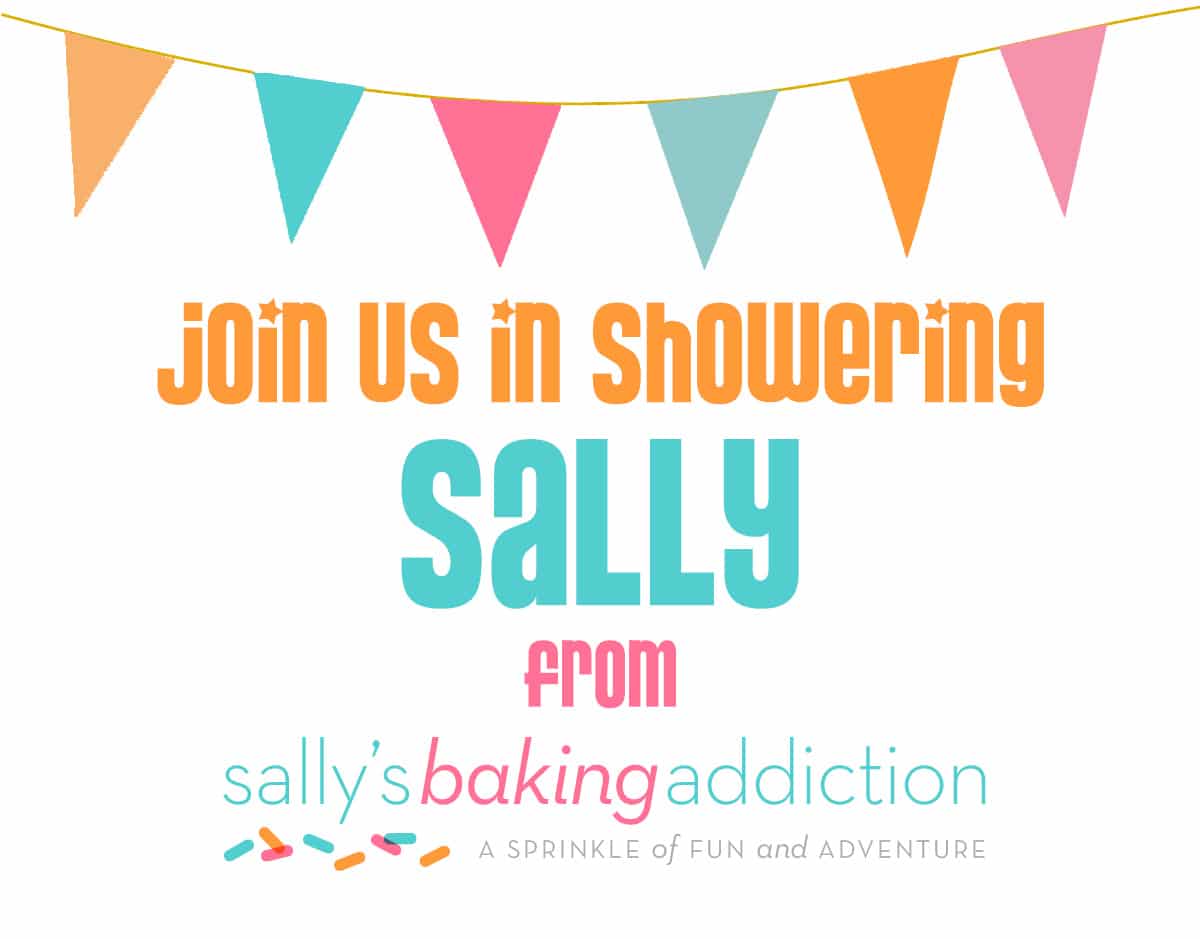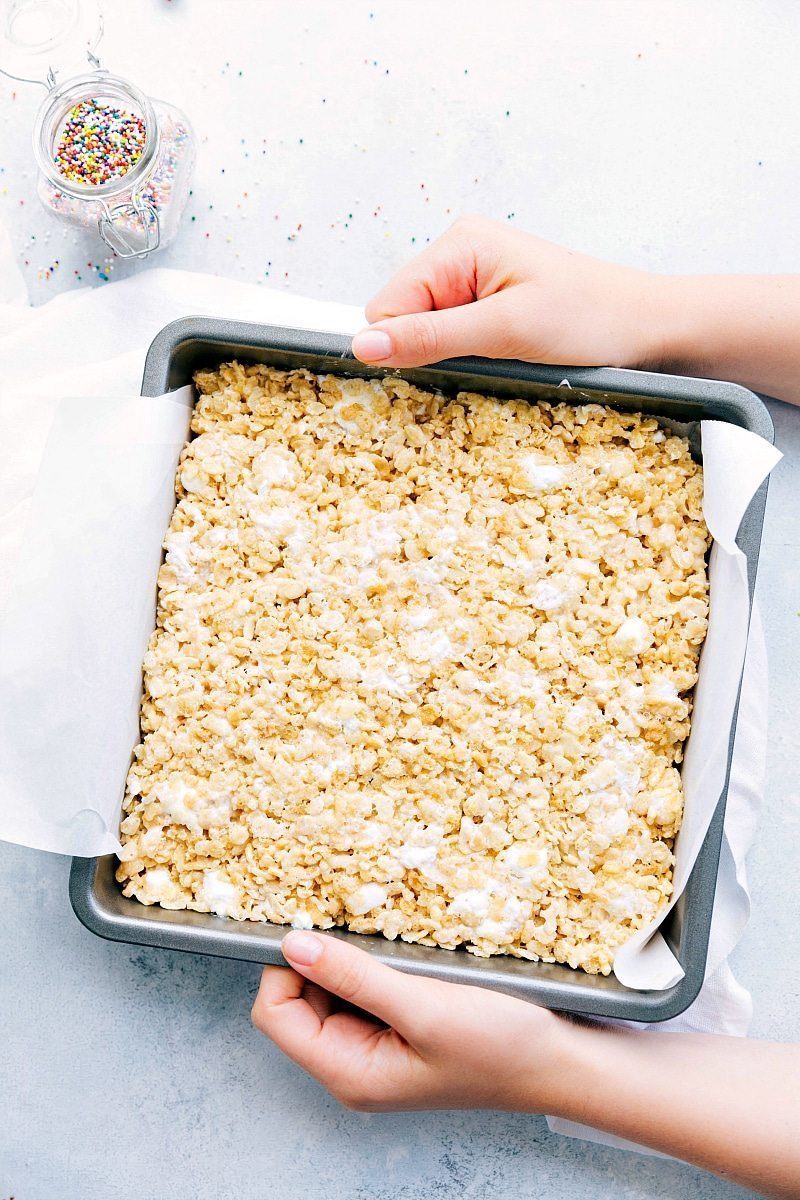 So today I decided to bring sprinkle-covered krispies treats to the "virtual shower." If you aren't familiar with Sally's blog, she is obsessed with all things sprinkles!
And when I think of sprinkles I immediately think about rice krispies treats! The treat my mom most frequently made growing up was rice krispies treats. She made them ALL the time and it is definitely her quick go-to treat. She has sprinkles for every holiday and would always quickly "jazz" up the tops of the krispies treats with sprinkles based on whatever holiday was coming up. Black and orange for Halloween, red and green for Christmas, Green for St. Patrick's Day, and on and on.
So for me, sprinkles are an instant connection with rice krispies treats AND they always make me think about my mom. <3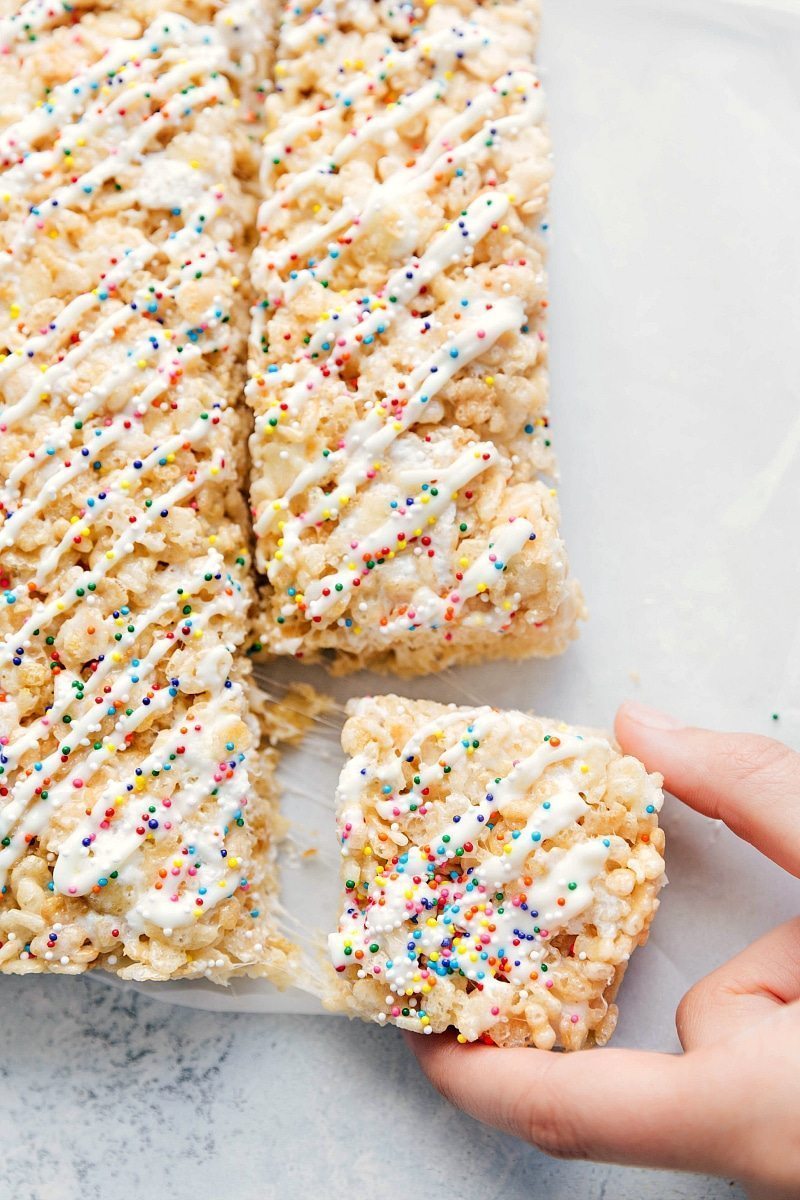 Best wishes and a huge congratulations Sally and Kevin!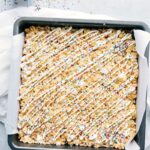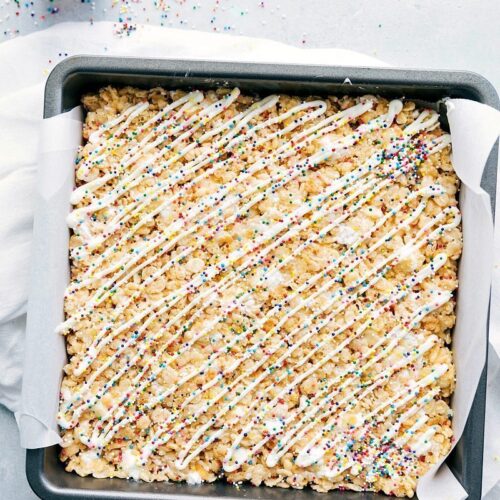 White-Chocolate Rice Krispies Treats
White-chocolate and sprinkle-covered rice krispies treats
Servings
:
1
9 x 9-inch pan
Ingredients
5

tablespoons

unsalted butter

2 bags

(10 cups)

miniature marshmallows,

separated

6

cups

Rice Krispies cereal

1/2

teaspoon

salt

1

teaspoon

vanilla extract

1

cup

white chocolate

1

teaspoon

vegetable oil

Nonpareil sprinkles
Instructions
Line a 9 x 9 pan with parchment paper (or foil) and lightly spray with cooking spray. Set aside.

In a large pot, add the butter and place over medium heat. Melt, stirring occasionally. As soon as the butter is melted, add 8 cups of the miniature marshmallows. Stir constantly until the marshmallows are JUST melted.

Remove from the heat and stir in the salt, vanilla extract, rice krispies cereal, and remaining 2 cups of miniature marshmallows.

Mix until all the ingredients are well incorporated and then press the mixture gently into the prepared pan. Lightly spritz your hands with cooking spray and then gently press down the krispies treats. Don't press them too hard as you'll get a denser krispie treat.

Set the krispies aside and add the white chocolate and vegetable oil to a microwave safe bowl. Microwave in bursts of 15 seconds stirring in between each burst for 10 seconds until the chocolate is melted and smooth.

Using a spoon drizzle the melted white chocolate over the bars (or you can transfer the chocolate to a plastic bag, cut off the tip, and drizzle evenly over the bars).

Immediately add the sprinkles and allow the bars to set up at room temperature.

These bars are best enjoyed the same day.
Recipe Notes
These krispies treats are adapted from Cookies and Cups! I've tried dozens and hers have always been my favorite 🙂