These thick, chewy, and marshmallow filled rice krispie treats are easy to make and loved by adults and kids alike. I'm sharing all my tips and tricks to make these treats taste even better than what you'd get from a bakery!
These bars make for the perfect treat to jazz up for a special occasion or holiday by drizzling on chocolate and/or adding sprinkles on top. They're the perfect last minute treat to make and can be ready in less than 30 minutes. If you're looking for an inexpensive dessert that is dressed to impress, make these bars!
After you've gotten hooked on this original version, be sure to try these fun variations: peanut butter rice krispie treats, scotcheroos, or fruity pebble rice krispie treats.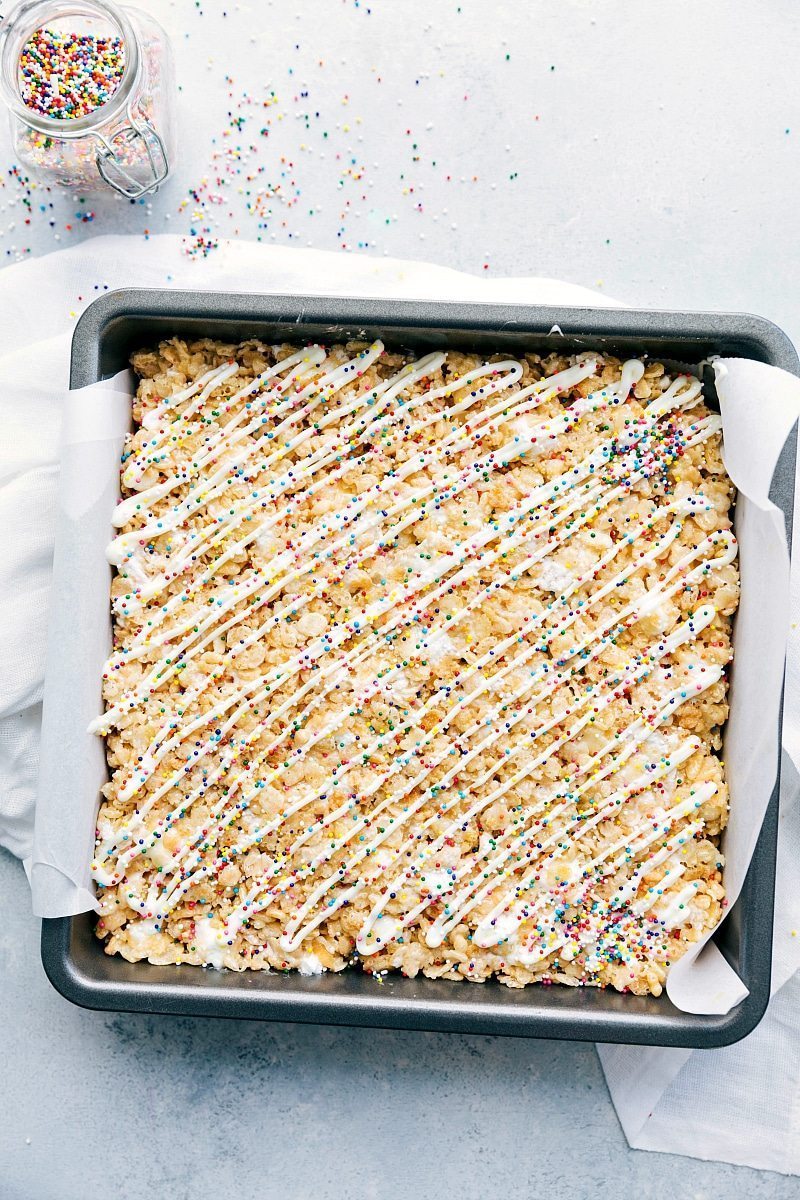 If you're not familiar with this fun dessert, Rice Krispie Treats are made by using rice krispies (or any crisp rice cereal), marshmallows, and butter. These treats, first made by home chefs, gained so much popularity that Kellogg's actually began to make and market these treats in stores beginning in 1995.
While you can buy these treats from just about any grocery store, there is NOTHING like a homemade rice krispie treat! Of all the treats my mom made growing up, rice krispie treats or these carmelitas were the two treats she made most frequently. My mom had a drawer filled with festive sprinkles for every holiday and would always "jazz" up the tops of the treats with sprinkles based on whatever holiday was coming up. Occasionally the krispie treats would get a milk or white chocolate drizzle AND sprinkles which was always the most popular combination.
Over the years I've learned how to perfect rice krispies to make them more flavorful and gooey. Read on for the process and all my top tips!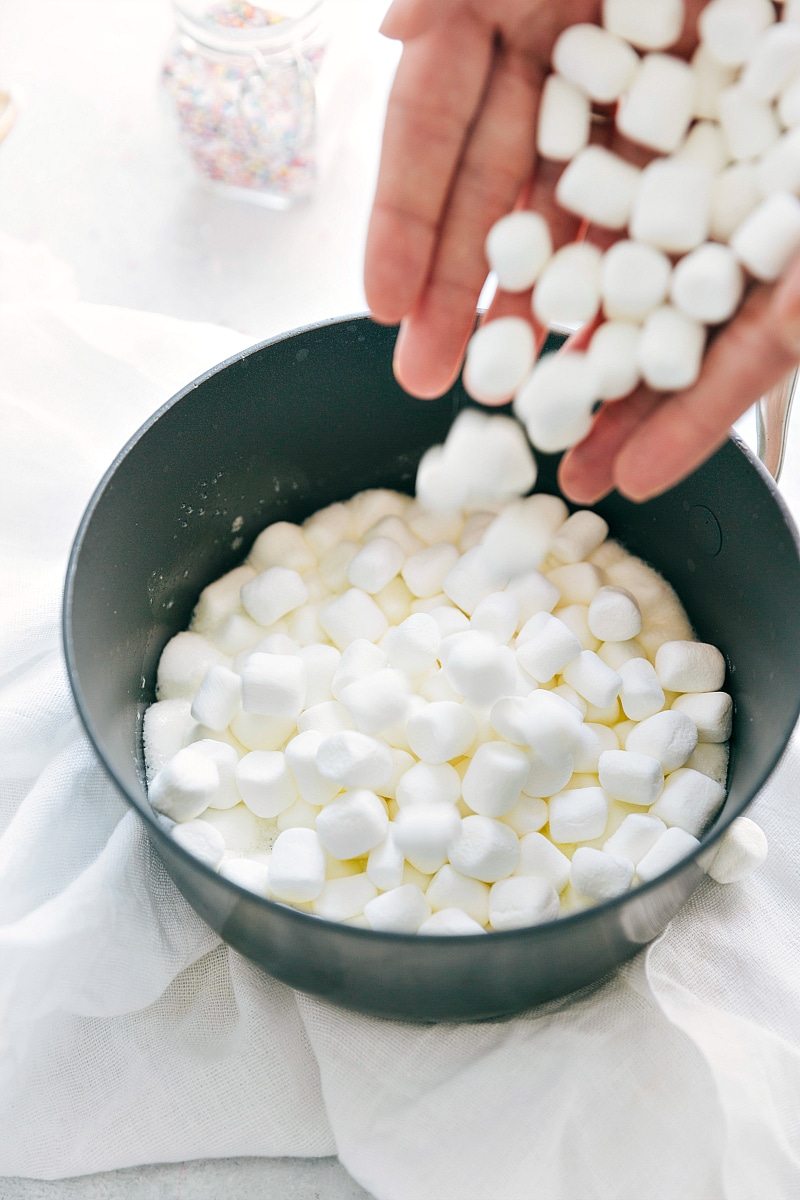 How to make the BEST Rice Krispie Treats
Melt Butter and Marshmallows: make sure to melt the butter first and then add in the marshmallows. Stir constantly until the marshmallows are JUST melted and then remove from heat to avoid burnt or tough mallows.
Add Other Ingredients: add everything else into the melted butter and marshmallow mix. Stir gently, but ensure all the ingredients are well coated in the marshmallows so you don't have dry sections in the bars.
Press into Pan: very gently press everything into a pan. One of the quickest ways to get dense/hard krispie treats is compressing them with too much pressure into the pan.
Optional: Decorate! Add a drizzle of white chocolate, milk chocolate, dark chocolate, semi-sweet chocolate, or even a colored candy melt to the top of your bars. Before the chocolate sets, you can also add on some sprinkles.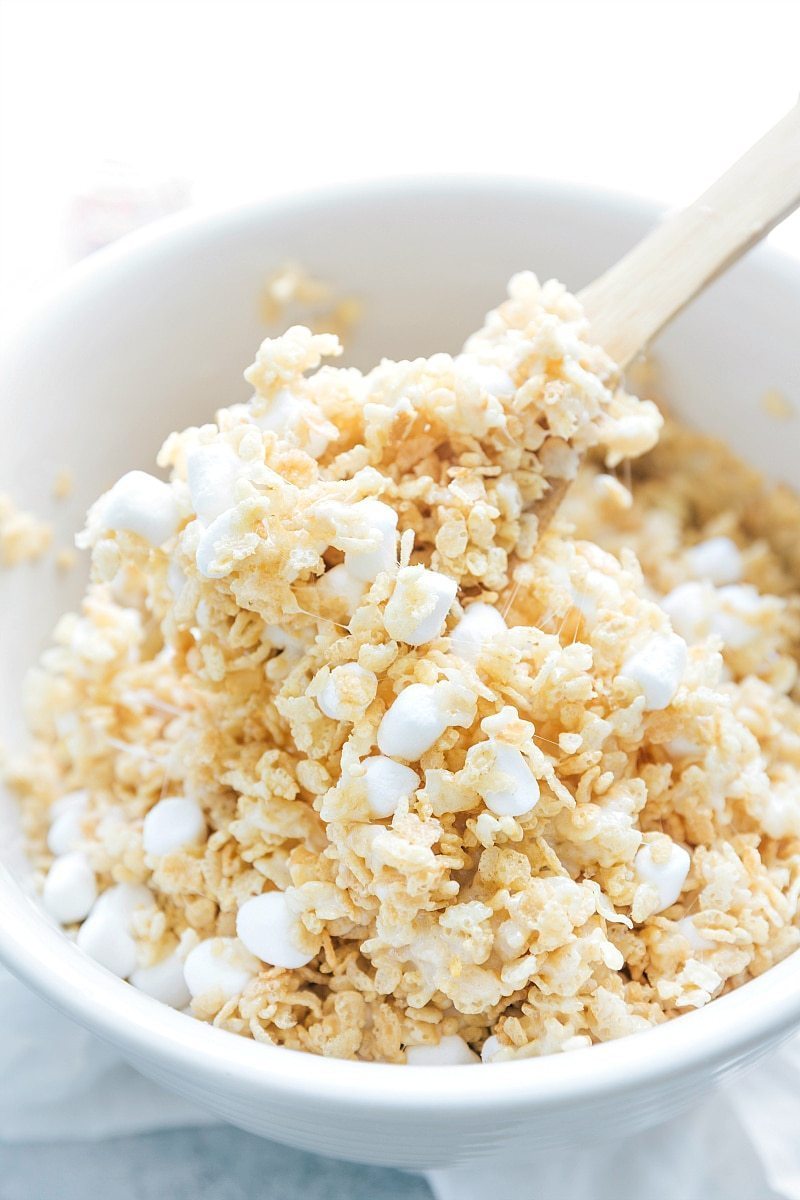 Tips for these krispie treats
Low heat: when marshmallows are exposed to high heat, they harden and will make your bars rock hard. Keep the heat as low as possible and remove the marshmallows as soon as they're melted.
Use extremely FRESH marshmallows: the fresher your marshmallows, the softer and more enjoyable your fruity pebble rice krispie treats will be. I generally buy marshmallows the same day I make these. And while you're buying marshmallows, feel the bags for the softest ones!
Don't overcook the marshmallows: stir them over low heat until they are *just* melted and then immediately move them from the heat. Make sure you are also stirring the marshmallows near constantly while they are melting.
Avoid compressing: don't push the krispie mixture into the pan. Instead, place them in the pan and gently press them down. The less you compact the bars, the better they will be. When you press heavily compress the mixture, it makes the treats much harder.
Ingredients in these bars
The ingredient list is pretty standard to most krispie treats. There are two things that really set these bars apart — lots of marshmallows (more than most recipes) and vanilla extract.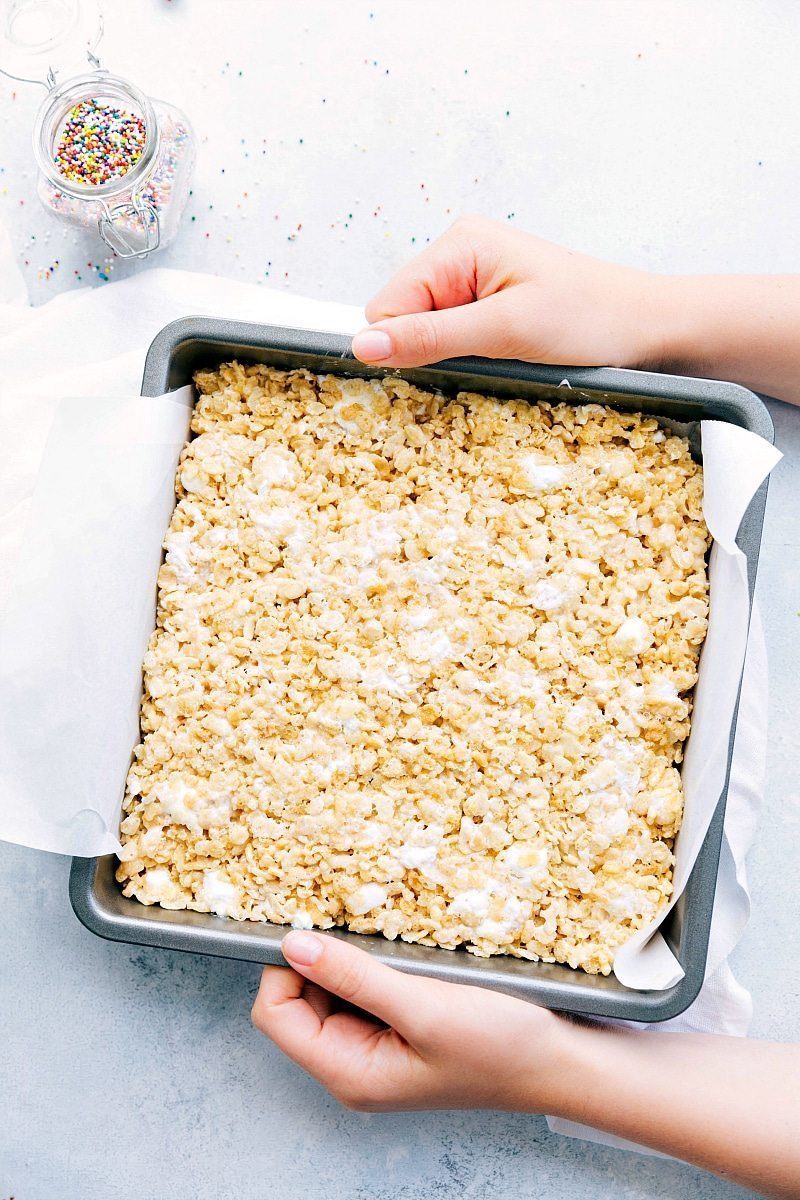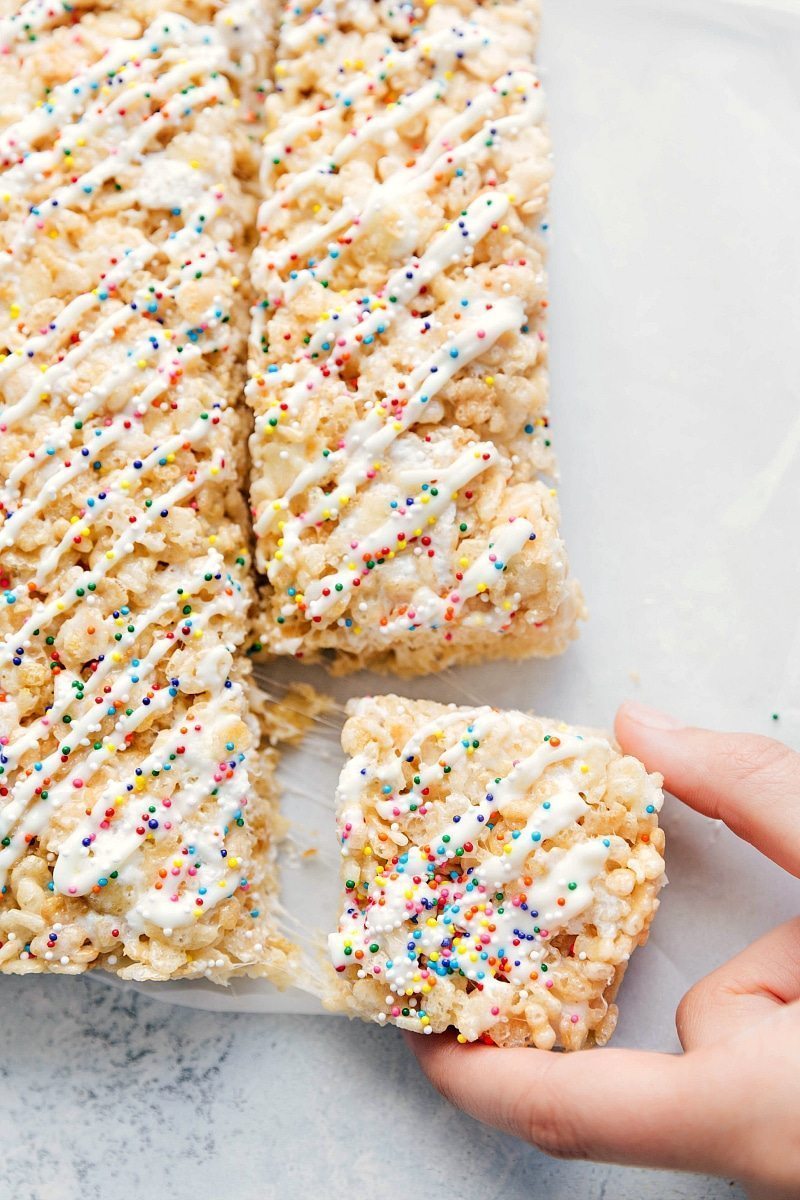 More easy dessert bars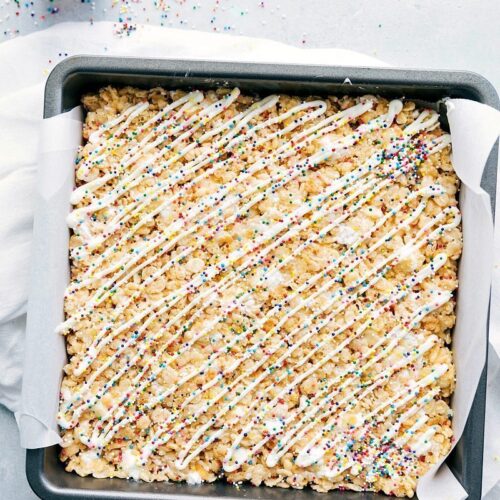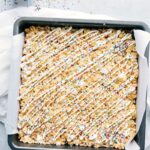 White-Chocolate Rice Krispies Treats
White-chocolate and sprinkle-covered rice krispies treats
Servings
:
1
9 x 9-inch pan
Ingredients
5

tablespoons

unsalted butter

1

bag (16 ounces)

miniature marshmallows,

separated

6

cups

Rice Krispies cereal

1/2

teaspoon

salt

1

teaspoon

vanilla extract

1

cup

white chocolate

1

teaspoon

vegetable oil

Nonpareil sprinkles
Instructions
Line a 9 x 9 pan with parchment paper (or foil) with an overhang and lightly spray with cooking spray. Set aside.

In a large pot, add the butter and place over medium heat. Melt, stirring occasionally. As soon as the butter is melted, add 8 cups of the miniature marshmallows. Stir constantly until the marshmallows are JUST melted.

Remove from the heat and stir in the salt, vanilla extract, rice krispies cereal, and the rest of the marshmallows (2 and 1/2 cups)

Mix until all the ingredients are well incorporated and then press the mixture gently into the prepared pan. Lightly spritz your hands with cooking spray and then gently press down the krispies treats. Don't press them too hard as you'll get a denser krispie treat.

Set the krispies aside and add the white chocolate and vegetable oil to a microwave safe bowl. Microwave in bursts of 15 seconds stirring in between each burst for 10 seconds until the chocolate is melted and smooth.

Using a spoon drizzle the melted white chocolate over the bars (or you can transfer the chocolate to a plastic bag, cut off the tip, and drizzle evenly over the bars).

Immediately add the sprinkles and allow the bars to set up at room temperature.

These bars are best enjoyed the same day.
Adapted from Cookies and Cups