The best soft and chewy white chocolate snickerdoodle blondies!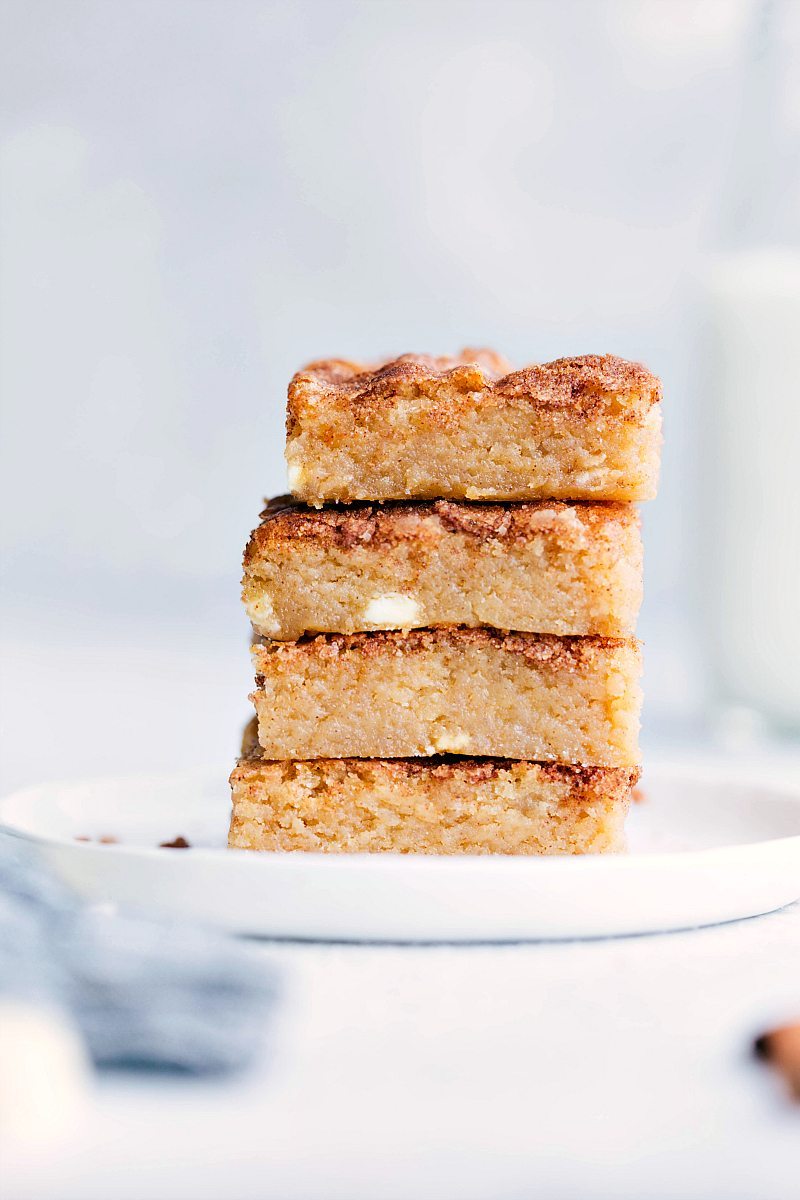 These snickerdoodle blondies are one of the easiest dessert bars you can make! They're soft, chewy, and dense with a crinkly cinnamon-sugar topping and a deep, rich, and buttery cinnamon flavor. With white chocolate chunks sprinkled throughout and a slight tang from the cream of tartar these blondies are going to quickly become your favorite!
I'm picky with blondies as they typically haven't been a dessert I'd pick first (just give me a brownie or a thick, chewy cookie, but not a mediocre mix of the two!) so these have been months in the making to get the texture and flavor just right. If you're a fan of snickerdoodles, you are going to go crazy for these snickerdoodle blondies.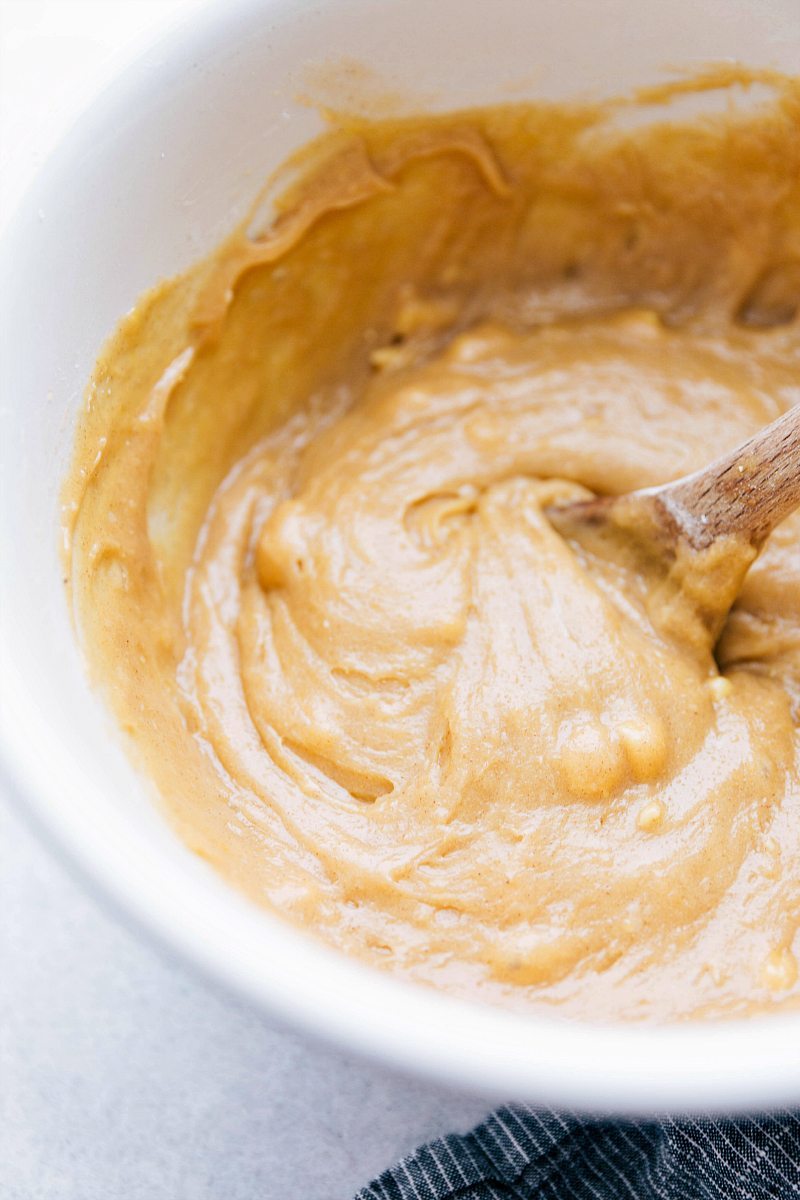 Over the years I've tried dozens and dozens of blondie recipes and have never been able to say I've loved blondies. The main problem I've had with versions I've tried is the overall texture. They tend to end up more cake-like OR like a too-hard cookie. I can promise you these blondies deliver on soft, brownie-like, chewy texture (They honestly taste like snickerdoodle brownies!). To get this texture we use some dark brown sugar, lots of eggs, and just enough flour to give them a dense, chewy texture but not make them cakey. (You'll notice these bars have a lot less flour than most blondie recipes.) And the other secret to chewy brownies is making sure they are slightly underbaked. If you over-bake these bars you'll lose that soft and chewy texture. You can also chill your bars in the fridge after they're baked to keep that chewy texture.
The other problem I've had with blondies? I've found they can often be a little flavorless when compared to a rich cocoa brownie or a thick chocolate chip cookie. The solution to that? Dark brown sugar, lots of cinnamon, a cinnamon-sugar coating, and melted white chocolate in addition to the white chocolate chunks. Just like homemade brownies start with a good amount of melted chocolate, we're applying that to the concept of blondies. These blondies are perfectly sweet without being cloyingly rich.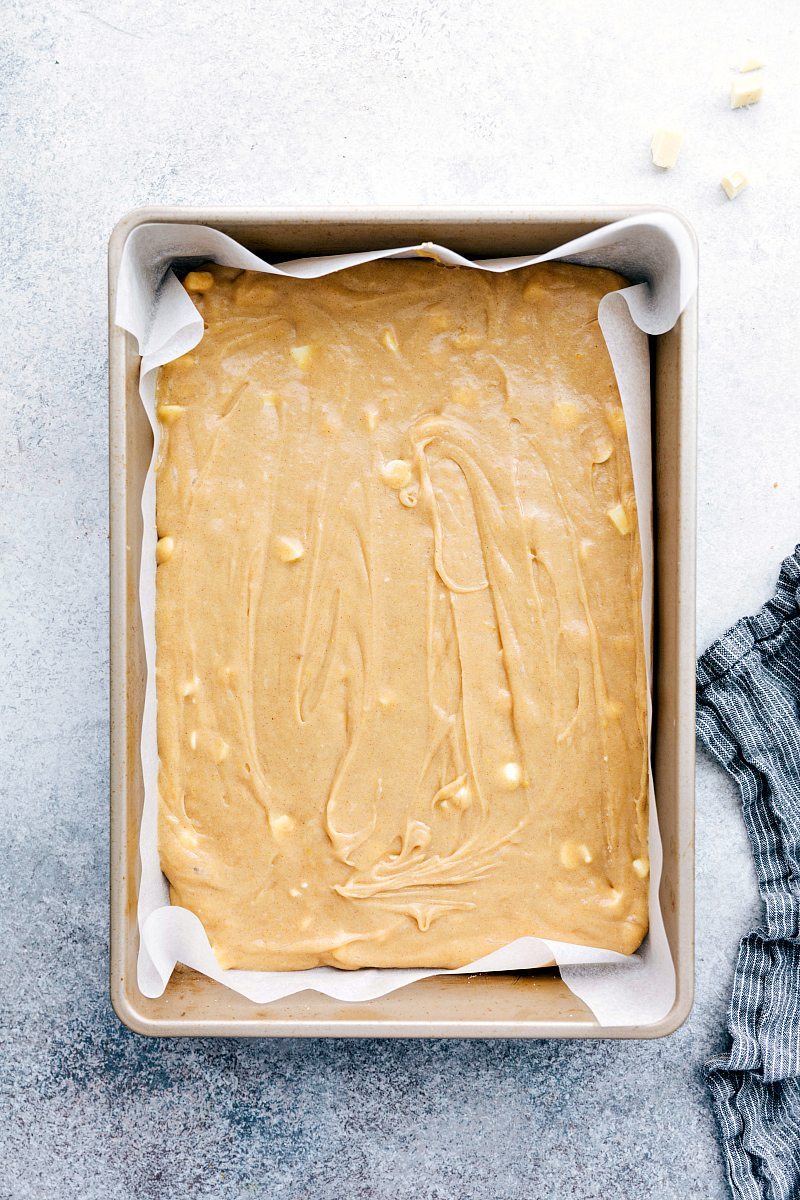 How to make the BEST White Chocolate Snickerdoodle Blondies:
These snickerdoodle blondies are super simple to make and can be whipped together in ONE BOWL. To do that, make sure you have a microwave safe large bowl. Add the chopped butter and chopped white chocolate to that bowl and microwave to melt. You want to be careful and patient while microwaving so you don't burn the chocolate. Microwave the mixture in bursts of 30 seconds making sure to stir the mixture for a good 10-15 seconds in between each burst in the microwave. Melting continues to happen out of the microwave so you don't want to melt more than needed.
Next, you'll add in the sugars. I love dark brown sugar for a super rich and deep flavor, but light brown sugar works well too. To make sure these bars aren't too moist, we'll also be using white sugar. Whisk together and don't be alarmed by the weird texture; it will all come together 🙂 Add in some vanilla and then some eggs. I like to whisk the mixture after each egg is added to ensure each egg is well incorporated.
And then right to the bowl you can add your dry ingredients. Only four: sea salt, cinnamon, cream of tartar, and flour. The acid in cream of tartar is going to give the famous distinctive tangy "snickerdoodle" flavor to these bars. I add 1 and 1/2 teaspoons cinnamon to the batter but if you are a huge cinnamon fan, you can increase that to 2 teaspoons. Just keep in mind you'll have some more cinnamon as the crunchy top 🙂
After everything is mixed together you can add in some more white chocolate if desired and these bars are ready to bake! I like to very slightly under-bake these bars to keep them soft and chewy. There is a fine line though because too under-baked and you'll get unpleasant gooey bars. The best way is to check these bars with a toothpick inserted into the center of the bars. If the toothpick comes out wet, they need another couple of minutes and if it comes out dry (with a few crumbs) these bars are ready to get pulled out.
I hope you love these soft and chewy white chocolate snickerdoodle blondies!

If you loved these Snickerdoodle Blondies, try these next:
Best EVER Snickerdoodle Cookies
Substitute for Cream of Tartar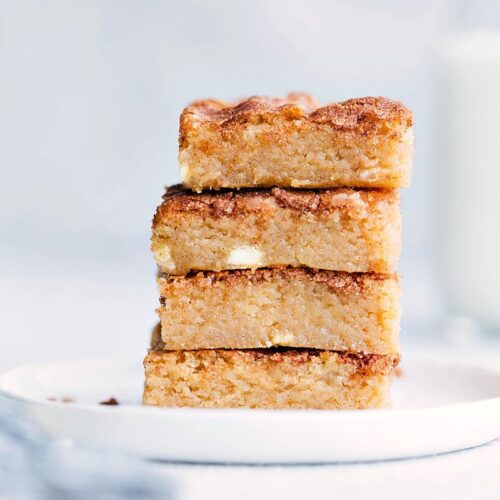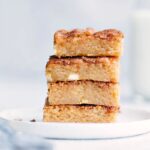 Snickerdoodle Blondies
The best soft and chewy white chocolate snickerdoodle blondies! These soft, chewy, and dense bars are like a snickerdoodle brownie!

Keyword:
Snickerdoodle Blondies
Ingredients
1

cup (16 tablespoons)

unsalted butter,

cut into chunks

2

packages (4 ounces EACH)

good quality baker's white chocolate,

separated

1

cup

white granulated sugar

1/2

cup

dark brown sugar,

packed (light brown sugar is ok.)

1/2

tablespoon

pure vanilla extract

4

large

eggs,

at room temperature

1/2

teaspoon

fine sea salt

1 and 1/2

teaspoons

ground cinnamon

3/4

teaspoon

cream of tartar

1 and 1/2

cups

white flour

Optional: 1/2 cup white chocolate chips
Topping
2

tablespoons

white sugar

1/2

tablespoon

ground cinnamon
Instructions
Preheat the oven to 350 degrees F and line a 9x13 inch pan or line with parchment paper. I like to leave a bit of an overhang of parchment paper to make it easier to lift out the finished bars.

Separate the white chocolate so you have 6 ounces for the bars. Coarsely chop those 6 ounces.


In a microwave-safe bowl, combine the chunks of butter and 6 ounces of chopped white chocolate (1 and 1/2 bars). Place in the microwave and microwave in bursts of 20 seconds, stirring in between each burst for 15 seconds until melted and completely smooth.

Whisk in the white sugar and brown sugar and stir until smooth. Add in the eggs and vanilla extract an again, whisk until smooth. Add in the sea salt, cinnamon, and cream of tartar. Stir until combined. Add in the flour and stir until just combined. You don't want to overmix the batter. Chop the remaining 2 ounces of white chocolate and gently stir into the batter along with the 1/2 cup white chocolate chips if desired. Transfer the batter to your prepared pan.

In a small bowl stir together the sugar and cinnamon. Sprinkle this mixture evenly over the batter.

Bake for 30-35 minutes. Test the bars by inserting a toothpick into the center. If it comes out wet the bars need a few more minutes. If it comes out dry (with a few crumbs), they're done! (I like these on the softer/more chewy side so I take them out around 30 minutes. Leave them in longer for firmer bars). Remove and allow to completely cool before cutting into bars.