Extra gooey & delicious peanut butter rice krispies treats with miniature reese's cups and a chocolate topping.

Rice Krispies treats are kind of my mom's "signature" thing. She makes them ALL the time and growing up we could count on getting them at least once a week as an after school snack. She's all about easy desserts that are super delicious and rice krispies are definitely one of those desserts.
For Valentine's Day she'd make heart shaped rice krispies treats and dip them in chocolate. To me, whenever rice krispies are dipped in a thick layer of chocolate it has been upgraded to become the ultimate treat. She would also decorate the krispies treats with sprinkles and change up the color or sprinkles based on the holiday or season we were in.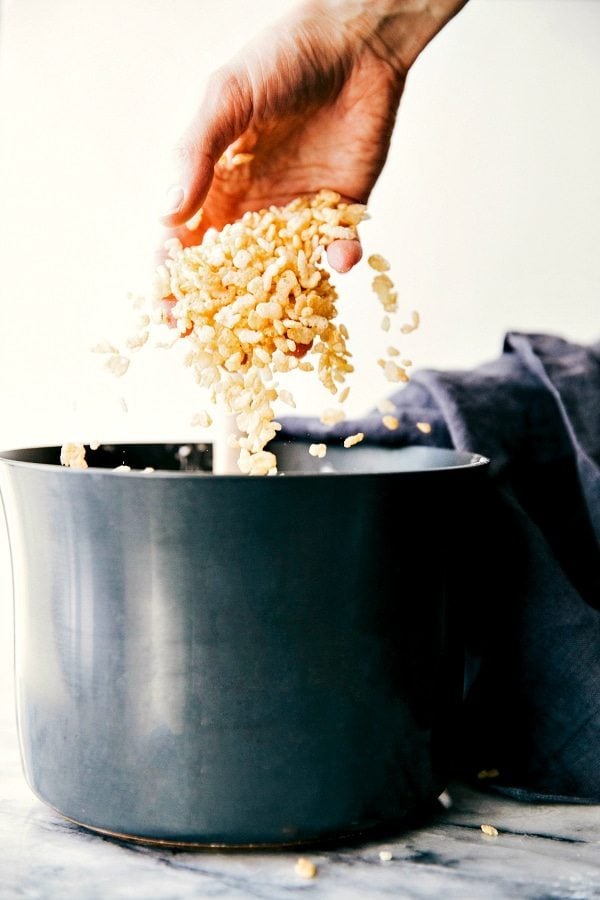 The one thing she NEVER did to a krispies treat is add peanut butter. But it was for good reason — my brother is extremely allergic to peanut butter. We didn't even have peanut butter in the house because the smell would make him sick! So if you've wondered why I have peanut butter in just about everything on this site, it's because I had to make up for my peanut butter deprived childhood 😉
So now that I've moved out and fully embraced ALL the peanut butter, I knew it was time to make a peanut butter themed rice krispies treat. And by adding some peanut butter and miniature peanut butter cups to the mix, well you've got a crazy delicious rice krispies treat.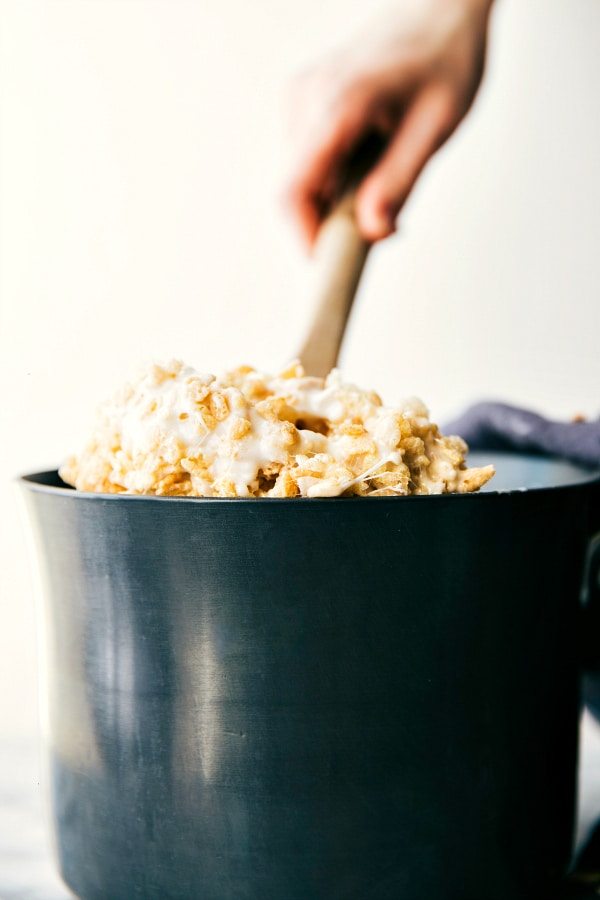 A few tips to making super delicious peanut butter rice krispies treats:
Use extremely FRESH marshmallows. As fresh as possible will keep these softer and much more enjoyable.
Don't overcook the marshmallows. Stir them over heat until they are *just* melted and then immediately move them from the heat. Make sure you are also stirring the marshmallows near constantly while they are melting.
Don't "push" these into the pan instead place them in the pan and very, very gently press them down. The less you compact them the better they will be. When you push them into a pan with a lot of pressure it's going to make the treats much harder.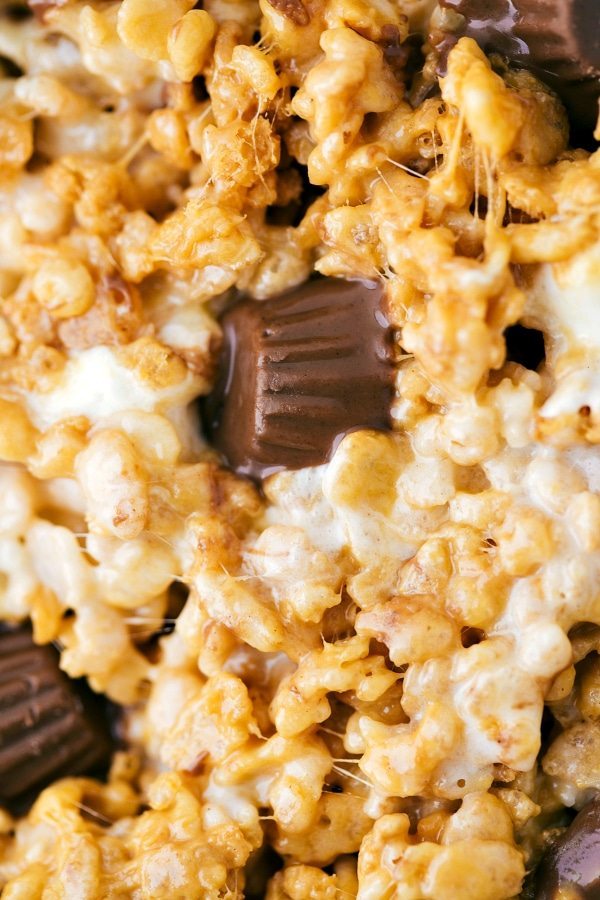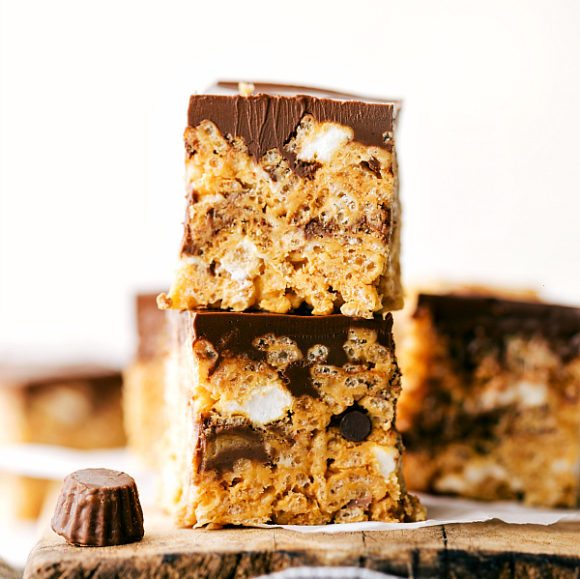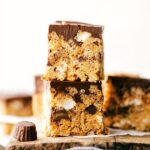 Peanut Butter Rice Krispies Treats
Extra gooey & delicious peanut butter cup rice krispies treats with miniature reese's cups and a chocolate topping.

Keyword:
Peanut Butter Rice Krispies Treats
Ingredients
1/2

cup

unsalted butter

3/4

cup

brown sugar

1/3

cup

heavy cream

1/3

cup + 2 tablespoons

creamy peanut butter,

separated

2 and 1/2

cups

mini marshmallows,

separated

Pinch of fine sea salt

1

teaspoon

vanilla extract

5

cups

Rice Krispie cereal

3/4

cup

mini Reese's cups (not the miniatures, but the unwrapped "minis" in a bag)*

1

cup

milk (or semisweet; we prefer milk) chocolate chips
Instructions
Prepare a 9 x 9-inch baking pan by lining it with parchment paper. In a large pot, melt the butter over medium high heat. Once the butter is completely melted, add brown sugar and stir until the sugar is dissolved.

Stir in the heavy cream, and bring to a boil, stirring constantly. Boil for 1 minute, then turn the heat down to medium low. Stir in 1/3 cup peanut butter, 2 cups miniature marshmallows, and pinch of sea salt. Stir until the marshmallows are melted and then remove from the heat and stir in the vanilla extract. Add the cereal and remaining 1/2 cup marshmallows. Stir until well coated. Then stir in the miniature Reese's cups (they'll get a bit melty!)


Press the cereal mixture into the bottom of the prepared pan.

In a small microwave safe bowl, combine chocolate chips and remaining 2 tablespoons peanut butter. Microwave in bursts of 15 seconds, stirring in between each burst for 10 seconds until melted and smooth.

Spread the chocolate peanut butter mixture over the cereal bars in an even layer. Chill 30 minutes to set the chocolate, and then remove from the pan and cut into bars.

Best eaten the same day they are made.