This post may contain affiliate links. Please read my disclosure policy.
Robustly flavored pecan pie with a dark brown sugar and maple custard base, plenty of pecans, and a foolproof pie crust! This easy pecan pie recipe does NOT include shortening or dark corn syrup!
Other holiday favorite desserts to try next: this apple crumble, apple fritter bread, pumpkin cheesecake bars, or this simple pumpkin cake.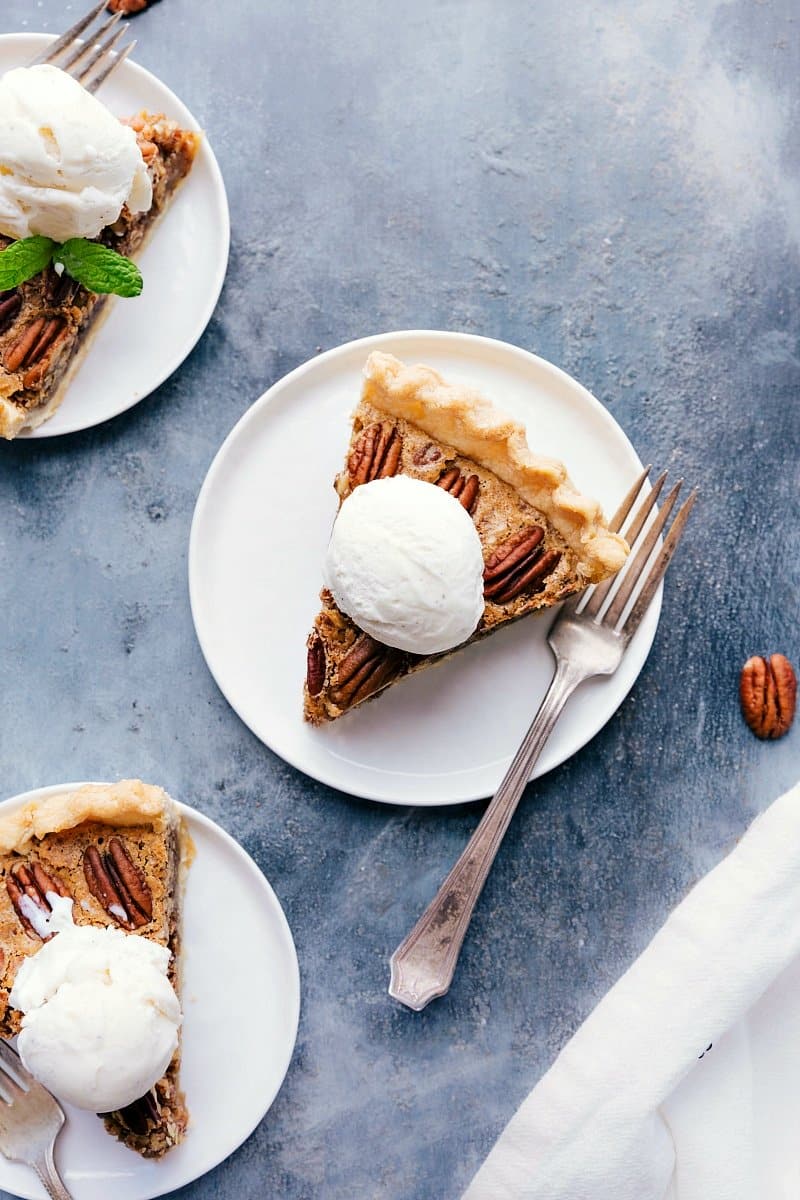 Pecan pie recipe without corn syrup
My dad's favorite pie and probably all time favorite dessert is pecan pie. Naturally, it's always been a recipe I've wanted to get perfect for him. And thanks to Gemma's new book, Bigger Bolder Baking (affiliate link), I'll finally be able to make him the best pecan pie. If you aren't familiar with Gemma, she's a YouTube sensation and incredible baking blogger. She just released a new cookbook where she's sharing over 100 flavor-packed recipes with minimal effort.
I've barely adapted this pie from her book and we've become obsessed with it. It's definitely got a place at our Thanksgiving table this year. And one of my favorite things about it? It's got MAPLE syrup instead of dark corn syrup. The rich maple flavor pairs perfectly with the pecans and the slight molasses flavor from the dark brown sugar.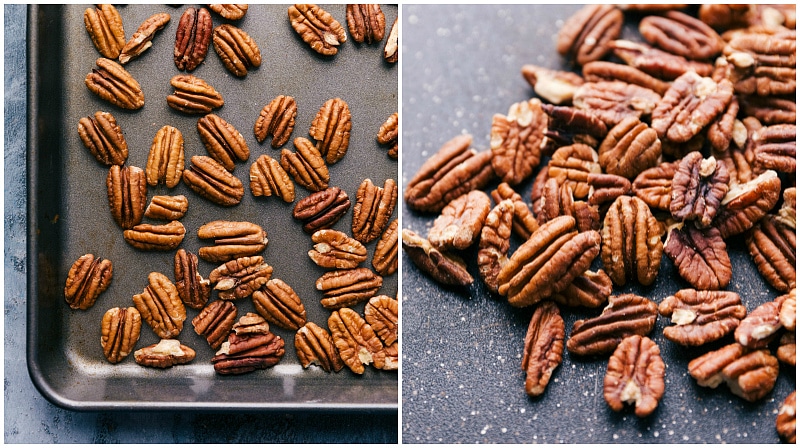 Toasting pecans
For this pecan pie you'll want to toast the pecans first. We toast the pecans to enhance the flavor and texture of the pecans and the pie. The texture is especially improved because they'll stay crisp in the pie instead of getting overly soft and/or soggy. The Kitchn goes into more detail on why it's so important to toast nuts before baking.
So how to toast them? Simply spread them in a baking pan and bake at 350 degrees Farenheit until golden brown, stirring about halfway through. Generally, nuts will be toasted in 6-10 minutes. Watch them carefully; nuts can go from perfectly toasted to burned quickly.
How to make pecan pie
Throughout this post I've broken down the steps for making this pecan pie in picture form, and below is a description of what's happening in each of the numbered photos.
Pictures 1-4: the making of the pie crust
1: Cutting the cold butter into the flour + salt + sugar. The 2 best pie crust tips: keep things as cold as possible and handle as little as possible.
2: Add the egg yolk + water mixture into the flour + butter mixture. Gently mix and then knead until *just* combined; you don't want to over mix or over knead.
3: Wrap the dough into a flat even disc and wrap tightly with plastic wrap (we don't want the dough to dry out). Refrigerate for at least 30 minutes and preferably 2 hours. This allows the butter to resolidify and gluten to relax.
4: Roll out the dough and fit it into the pie crust. Crimp the edges if desired (it's not as hard as it looks! See below for more info)
Pictures 5-8: (pictures below) the making of the filling
5: Combine the filling ingredients. Tip: make sure ALL the filling ingredients are the same temperature — room temperature for best results. Do not add in hot butter to cold ingredients or they'll separate and the fat will curdle.
6: Chop most of the toasted pecans; fairly small pieces as you can see from the photo
7: Add chopped pecans to the rest of the filing.
8: Pour the filling into the prepared pie crust and bake.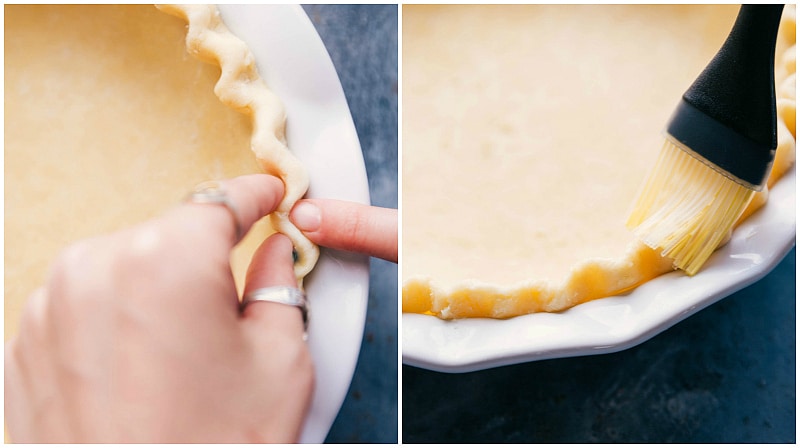 Crimping pie crust
There are many ways to finish the edges of your pecan pie, but I like the crimped edges best.
To do so: cut off any large amounts of excess pie dough and then fold the remaining excess under the edge and seal together into a thick snake-like crust edge. Even out the thickness around the edge and make sure the dough is sitting on the rim of the pan pan. Use both index fingers and your thumb to press the dough into a crimping pattern. Make sure your fingernails are short for best results!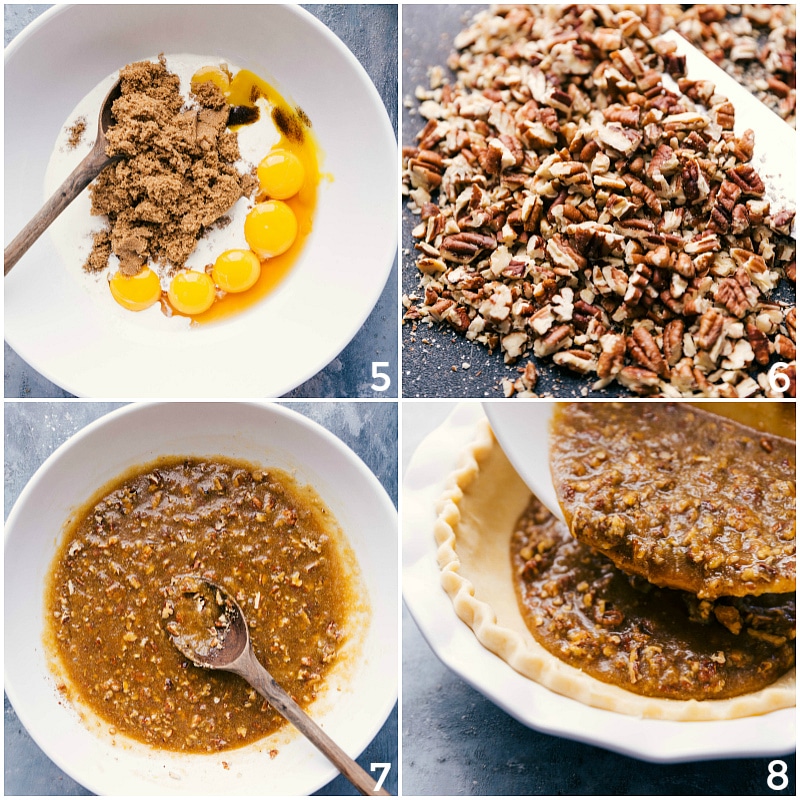 Pecan pie FAQs
What does pecan pie look like when done?
Pecan pie is done as soon as the center of the pie is fairly solid with a very slight jiggle. Other ways to tell:
A knife inserted in the center will come out clean.
Using a kitchen thermometer, the internal temperature of the pie should register 200 degrees F in the center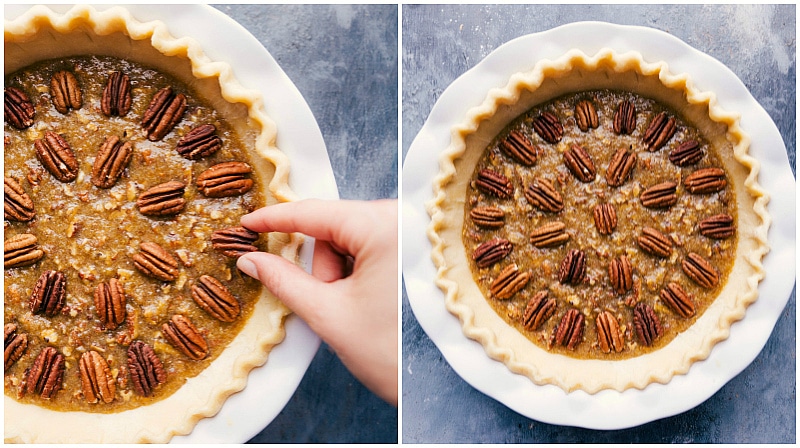 More amazing desserts: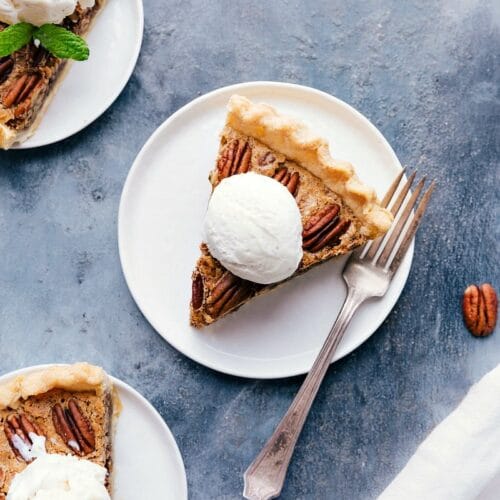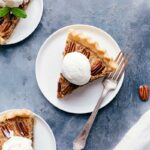 Pecan Pie
Robustly flavored pecan pie with a dark brown sugar and maple custard base, plenty of pecans, and a foolproof pie crust! This easy pecan pie recipe does NOT include shortening or dark corn syrup!
Ingredients
Pie Crust
1 and 1/3

cups (158g)

all purpose flour

1/4

teaspoon

fine sea salt

1

tablespoon

powdered sugar

7

tablespoons (100g)

unsalted butter,

cubed and chilled

1

large

egg yolk

2- 3

tablespoons (28g)

cold water
Filling
6

large

egg yolks,

at room temperature

1/2

cup (142g)

pure maple syrup

2/3

cup (136g)

dark brown sugar,

packed

1/4

cup (58g)

heavy whipping cream

6

tablespoons (85.1g)

unsalted butter,

melted and cooled to room temperature

2

cups (150g)

pecans,

separated

1/4

teaspoon

fine sea salt

1

teaspoon

pure vanilla extract
Instructions
CRUST: In a large bowl, combine the flour, salt, and powdered sugar. Stir. Add in the butter and using a pastry cutter, cut it into the dry ingredients until the mixture resembles coarse bread crumbs. In another separate bowl whisk together the egg yolk and water until smooth (reserve this bowl for later). Pour egg yolk mixture into the center of the dry ingredients and stir with a wooden spoon until combined as much as possible. Gently knead with your hands to form a crust (add extra tablespoon of water IF needed). Handle the dough as little as possible and once it's formed into dough, wrap it in plastic wrap and gently flatten into a small disc. Refrigerate for (at least) 30 minutes to allow the gluten to relax before rolling. You can make the crust ahead of time and refrigerate for 1-5 days.

TOAST PECANS: (Melt your butter right now so it has time to cool to room temperature.) Preheat the oven to 350 degrees F. Spread full pecans over a rimmed baking sheet and toast them for 8-10 minutes or until fragrant and lightly browned. Remove and let cool. Separate toasted pecans reserving 3/4 cup for the top of the pie. Chop the remaining 1 and 1/4 cups to add into the filling mixture.

FILLING: Combine the ROOM TEMPERATURE (it's very important all ingredients are same temperature for this filling) egg yolks, syrup, brown sugar, and cream in a large bowl. Whisk until smooth. Once the melted butter is completely to room temperature gradually drizzle it in while whisking constantly. Fold in the chopped pecans.

ASSEMBLY: Roll out the pie crust on a lightly floured surface. Turn the dough about a quarter turn after every few rolls until you have a 12 inch circle of dough. Use the rolling pin to lift up the dough and gently place place into a 9-inch pie pan (preferably glass or ceramic; avoid metal). Gently tuck it in with your fingers, making sure it is smooth and then crimp the edges of the crust. Chill for 15 minutes in the refrigerator or freezer (don't skip this step!).

ASSEMBLE CONT.: Preheat the oven to 350 degrees F. Pour the prepared filling right on top of the chilled crust (you don't need to blind bake the crust) Press the remaining 3/4 cup whole pecans on top. Place the pie on a lined sheet pan. Use a pastry brush to brush any tiny remains of the egg yolk and water mixture (from the reserved bowl; you didn't need to leave some specifically, there should just be a bit leftover) onto the crust. Place into the preheated oven.

BAKE: Bake for 40-55 minutes, or until the filling is set. The filling is "set" when it's very slightly jiggly in the center. It should not slosh around at all. If it is sloshing, don't hesitate adding it back into the oven for another 10-20 minutes (baking times can greatly vary with pecan pies). IF the edges of the crust begin to brown, cover with a pie shield. Once the filling is set, remove the pie and let cool completely on cooling rack, 3 to 4 hours, before slicing. Serve warm with vanilla ice cream.