A simple-to-make (no hand mixers or stand mixers required!) pumpkin pie with a delicious sugary-pecan streusel. The (optional) two-ingredient maple whipped topping takes this pie over the top!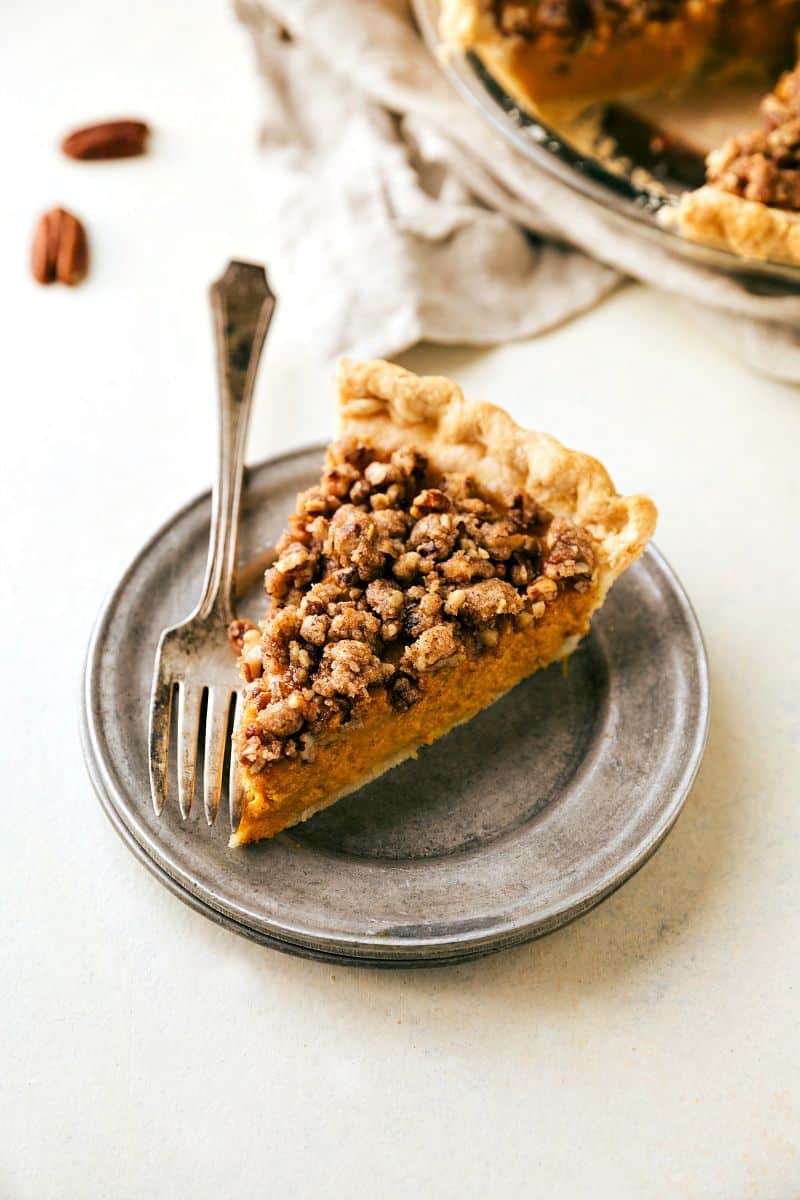 How was your Halloween? I wasn't too sure the toddler would get all that excited about Halloween regardless of all the treats we've been making and how much we've talked about "trick-or-treating." But I was 100% wrong. He woke up ready for the day and declared at 6 am that he was ready to go trick-or-treating with dad.
The rest of the day was a pretty brutal waiting game for him (me?) as he asked about every ten minutes when dad would be home and when he could go trick-or-treating.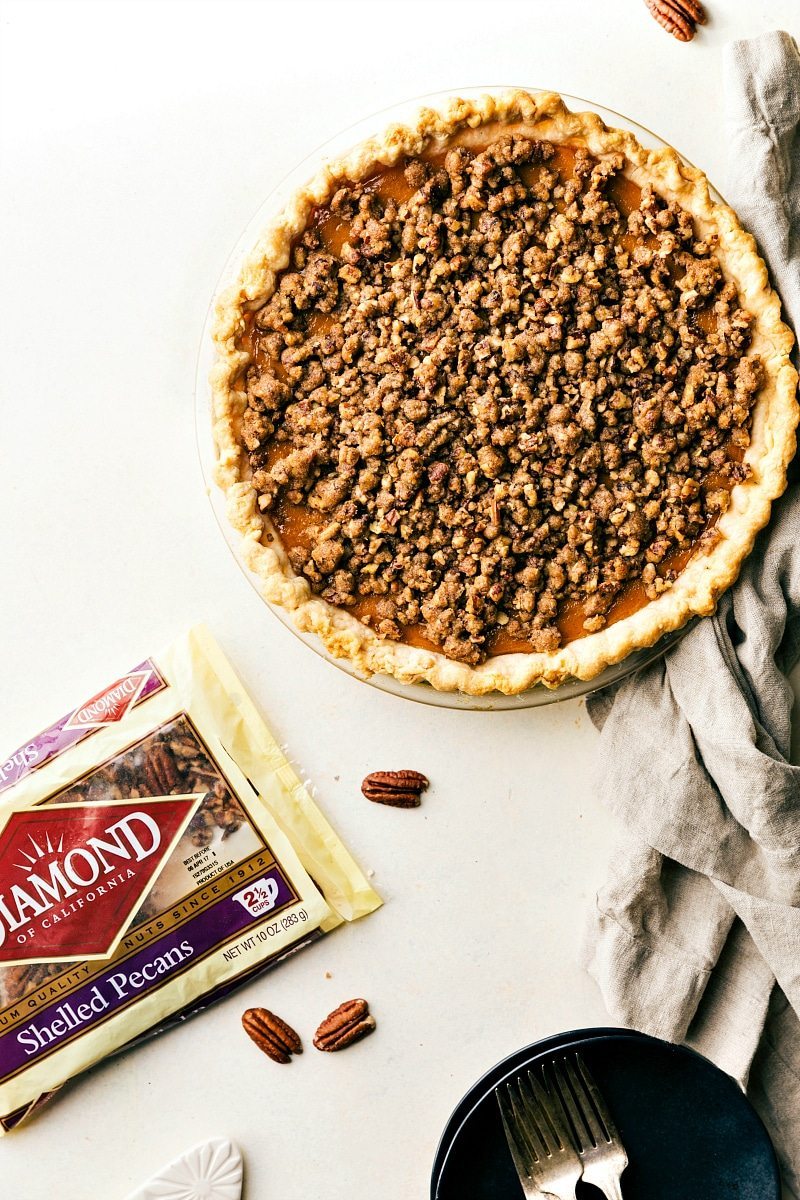 We got a few early trick-or-treaters before his dad was home from work and that had the toddler more excited than he was for his own birthday. He self-appointed himself to open the door and pass out candies while I was "allowed" to stand back and watch. Instead of letting the trick-or-treaters pick out a candy, he would grab his least favorite from the bowl and give them out. After only twenty minutes the bowl was pretty much completely M&M's (his favorite candy that he could not part with.)
But the second his dad walked in the door, he was ushering him out to go get his own candy.
Within a few minutes he was a pro trick-or-treater. And by the end of the night he was telling people if they gave him a good or gross candy. ??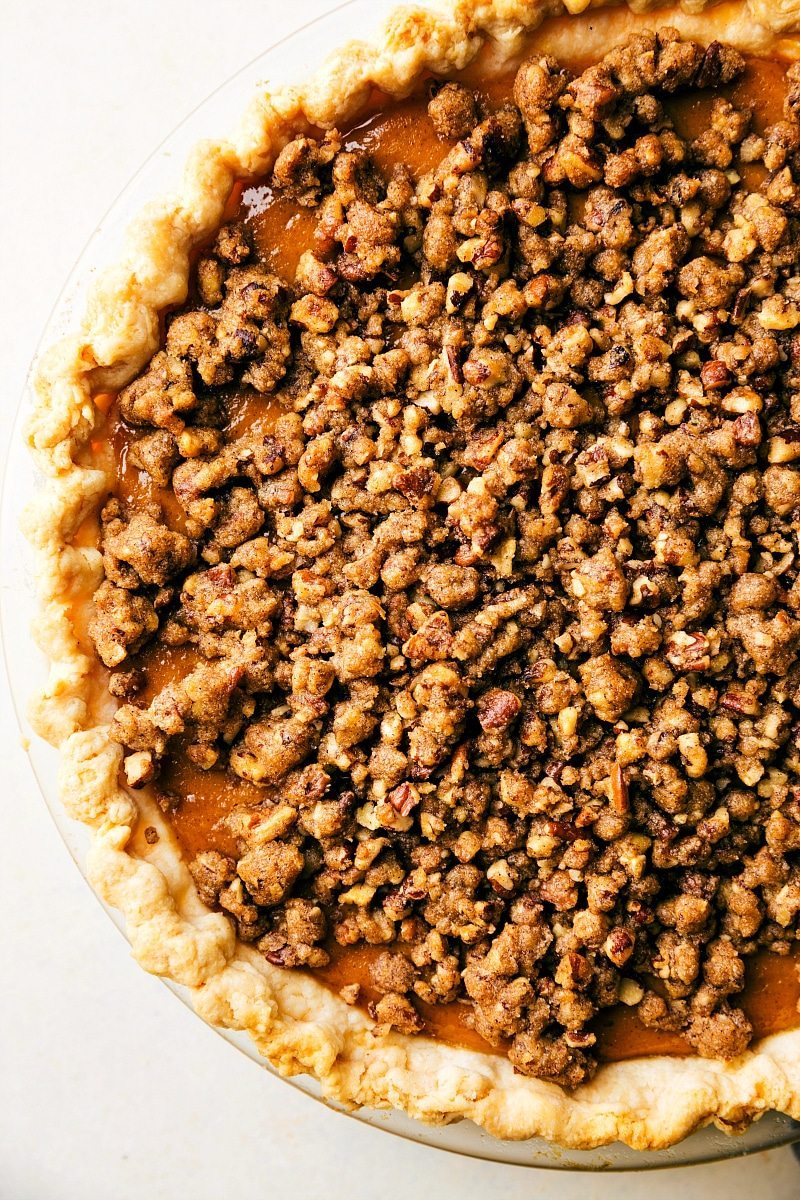 All in all, I'd say Halloween for us was a huge success. It's my favorite holiday and I can't believe it's already over. The one thing that makes that easier is knowing that two other pretty great holidays are coming up. Namely…THANKSGIVING!
This pie is a fun Thanksgiving twist that the entire family will love. If you can't decide between pumpkin or pecan pie OR you're wanting something a little unique, this is the pie to try.
The pumpkin filling is smooth and creamy with a crunchy & delicious pecan topping. It might sound like a lot to do for a pie, but it's a relatively easy and quick pie to make. First is the crust — pretty standard stuff there. While it's chilling for a little, you whip together the filling. Easy ingredients that only require a hand whisk.
The streusel happens to be my favorite part of this entire pie. It's sugary-sweet and perfectly crunchy thanks to the pecan addition. I'm using my favorite baking nuts, Diamonds of California pecans, in this pie — all you do is chop them up and they're ready to go in the streusel.
Last but not least, there is an optional whipped cream that is only 2 ingredients — heavy whipping cream and maple syrup. Generously topping this pumpkin pie with a creamy thick whipped cream is the perfect finishing touch!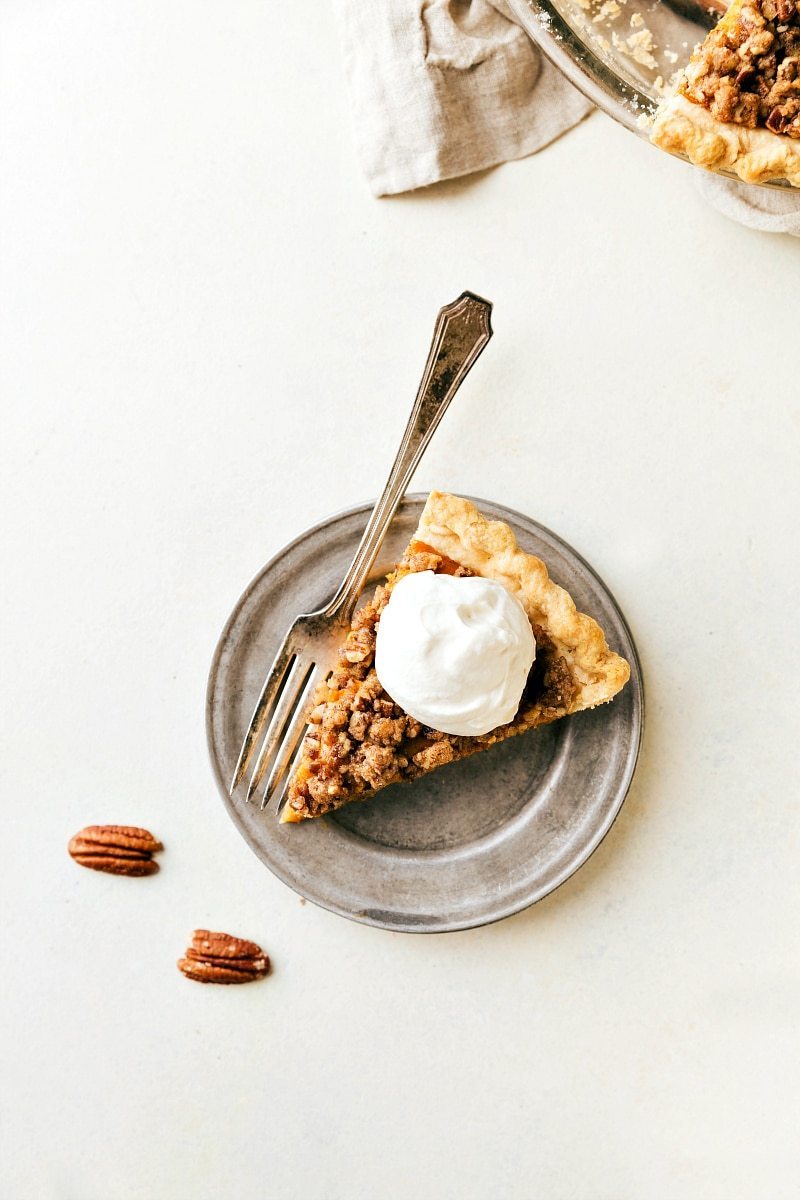 More Pumpkin Desserts:
The ingredients may seem a little overwhelming, but I sectioned them off into each part of this pie (for easier reading/following of the recipe) so lots of the ingredients overlap!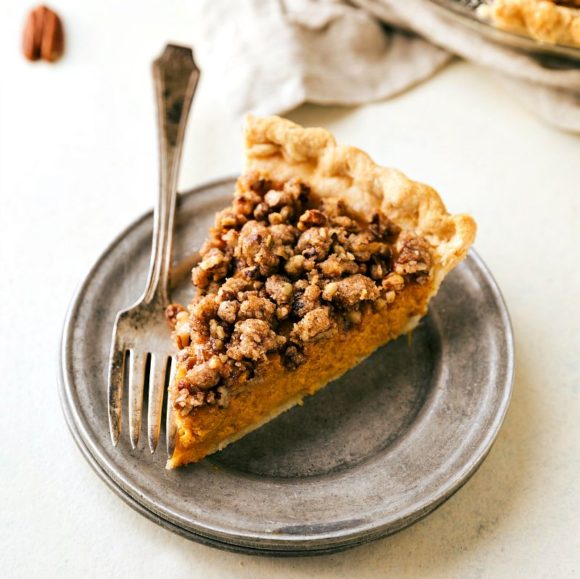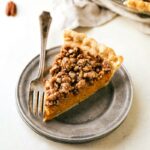 Pecan Streusel Pumpkin Pie
Ingredients
Crust
1 and 1/2

cups

white flour

3/4

teaspoon

salt

1/2

tablespoon

white sugar

6

tablespoons

unsalted butter

COLD

3

tablespoons

shortening

butter-flavored, COLD

3-4

tablespoons

ice cold water

1

large egg + 1 tablespoon milk
Pumpkin Filling
1

can (15 ounces)

pumpkin puree

4

large

eggs

separated, (you will use 1 whole one and 3 yolks)

1

can (14 ounces)

sweetened condensed milk

1

teaspoon

ground cinnamon

1/2

teaspoon

ground ginger

1/2

teaspoon

salt

1/2

teaspoon

ground nutmeg

1

teaspoon

vanilla extract
Streusel
3/4

cup

Diamonds of California pecans

1/3

cup

brown sugar

lightly packed

2

tablespoons

flour

1/2

teaspoon

ground cinnamon

2

tablespoons

unsalted butter
Optional Maple Whipped Cream
1

cup

heavy whipping cream

3 and 1/2

tablespoons

maple syrup
Instructions
Crust
Toss together the flour, salt, and sugar.

Dice the extremely cold butter into small pieces and add to the bowl along with the cold shortening.

Cut the butter and shortening into the flour with a pastry blender or two knives until the dough forms coarse crumbs.

Very slowly, add in 4 tablespoons of ice cold water -- add 1 tablespoon at a time until the dough can form into a ball.

Stir the mixture a few times with a wooden spoon and then spoon it all onto a large sheet of plastic wrap.

Knead just a few times to get it into a ball and then wrap tightly in the plastic wrap. Chill for at least 30 minutes up to overnight.
Filling
Preheat the oven to 375 degrees F.

Whisk the pumpkin puree with 1 large egg, and 3 egg YOLKS. Once combined whisk in the sweetened condensed milk.

Add in the cinnamon, ginger, salt, nutmeg, and vanilla extract. Whisk until combined.

Roll out the pie dough (I roll the dough in between two sheets of plastic wrap) and fit it into a 9-inch pie pan. Fold the edges up one time and then crimp those edges with your fingers.

In a small bowl, whisk together the egg and milk and brush that over the crust.

Add pie weights to the crust (Or put foil in the bottom and fill it with dried beans or rice). In a small bowl, whisk together the egg and milk and brush that lightly over the edges of the crust.

Bake just the crust for 10 minutes.

Preheat the oven to 425 degrees F.

Remove the pie and pour the filling into the pie pan. Tap a few times to release extra air.

Put in the oven and bake for 15 minutes at 425 degrees F. Then reduce the heat to 350 degrees and cook for another 25-30 minutes.
Streusel
Meanwhile, chop the pecans into small pieces.

Toss the pecans with the brown sugar, flour, and cinnamon.

Finely dice the cold butter and then using a pastry blender (or your hands), cut it in with the other ingredients until a thick streusel is formed.

Remove the pie after cooking for 25-30 minutes and top it evenly with the streusel.

Return to the oven for another 10-15 minutes or until set at the edges and barely jiggles in the middle. (If needed, use a pie shield to keep the crust from browning too much)

Remove from the oven and let cool completely.

Serve the pie chilled or at room temperature.
Optional Maple Whipped Cream
In a bowl of a stand mixer, pour in the cold heavy whipping cream. Whip for 1-2 minutes and then gradually pour in the maple syrup.

Whip until soft peaks form.

Chill until ready to serve.

Generously spoon the maple whipped cream over the pie and enjoy!