The BEST ever moist and perfectly spiced pumpkin cake with a luscious cream cheese frosting and optionally garnished with candied pecans

Everyone loves this recipe!
Pumpkin cake has been on my list to perfect every Fall time, and after creating this pumpkin carrot cake, I thought my work was done. (Seriously that cake is unbelievable!) But as August started approaching this year I was dying to pull out the pumpkin and experiment so I set to making the best pumpkin (without carrot!) cake.
To have the perfect pumpkin cake it needs to be moist, sweet, perfectly spiced, AND have the perfect cream cheese frosting. I'm excited to tell you this cake ticks all the boxes (and then some) and it's been a hit with everyone that's tried it — especially my pumpkin obsessed boys!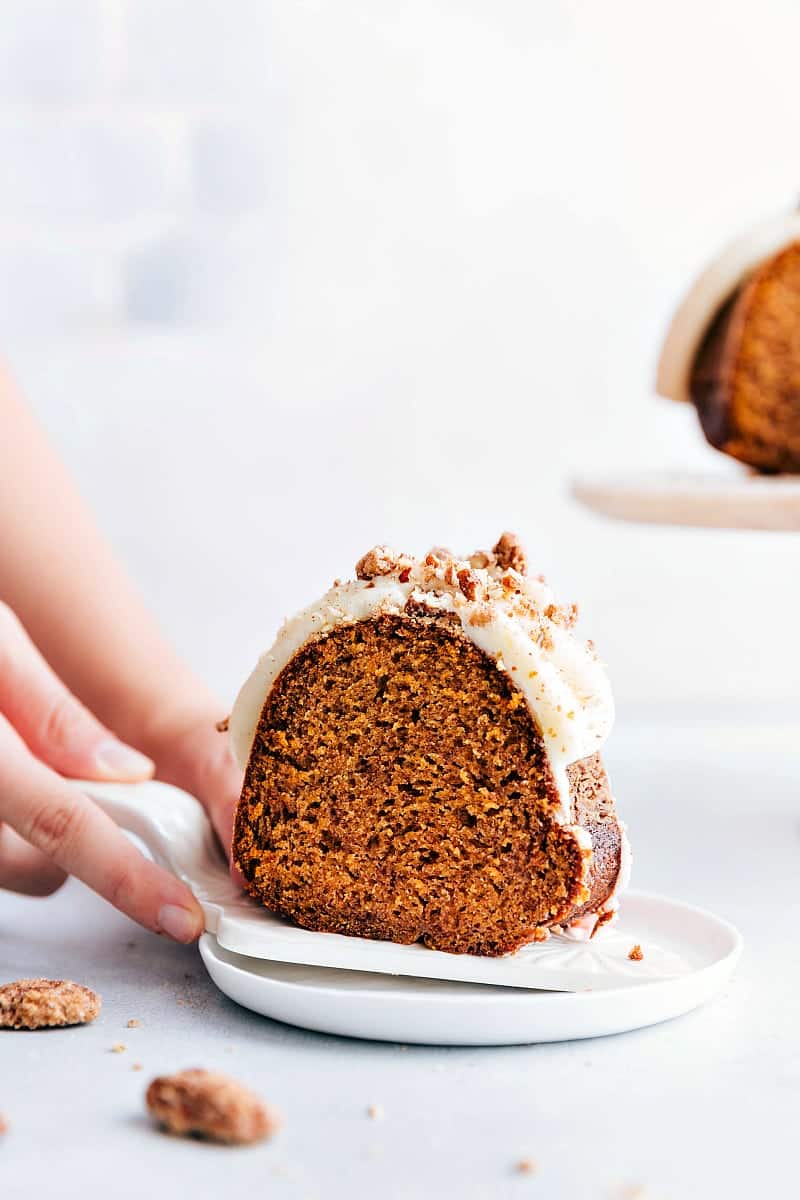 How do you make a pumpkin cake?
This pumpkin cake is exceptionally easy to make! It's as easy as mixing together the wet ingredients (pumpkin, eggs, oil, vanilla, brown sugar, & white sugar) in one bowl, mixing the dry ingredients (flour, baking soda, salt & lots of pumpkin-y spices) in a separate bowl, and combining the two! You don't need a stand mixer to make this cake — hand mixers will work just fine! Once the mixture is combined you can pour it into a prepared pan (greased and floured) and bake it!
While the pumpkin cake is baking, you can whip up the frosting and frost the cake the minute it's completely cooled!
Can you make this pumpkin cake with canned pumpkin? Fresh pumpkin?
This recipe is made with a good solid-packed canned pumpkin. I highly recommend Libby's canned pumpkin (not sponsored) as I've found it always has the best results as far as moisture content, color, and overall flavor. However, you can use fresh pumpkin at the same volume (1-3/4 cup fresh puree for 1-3/4 cup canned for this specific recipe) so long as you've drained excess moisture.
If you are using fresh pumpkin you'll want to make sure you drain any excess moisture to avoid a pumpkin cake that is "too wet" and doesn't cook properly. To drain fresh pumpkin: rest a fine mesh strainer over a large bowl. Line that mesh strainer with cheesecloth and then add the fresh pumpkin puree to the lined strainer. Let the pumpkin stand (at room temperature) and drain for 1-2 hours or until the pumpkin is thick and can hold its shape when pressed together in the cheesecloth. Once the pumpkin is to this consistency, you can use it in this recipe!
Tips for success
Don't over mix the batter. Over mixing the batter activates the gluten in flour (great for breads and rolls, not so much for cakes and cupcakes!) which will result in a denser cake as opposed to a light and airy cake.
Correctly measure the flour: If you press a measuring cup into a bag of flour you will pack in way too much flour (which will result in a pumpkin cake with the wrong texture — way too dense!). To properly measure your flour, spoon the flour into the measuring cup until its overfilled. Then use the back of a butter knife to level the measuring cup at the top. You'll have a perfect flour measurement now!
Use room temperature eggs: This ensures the eggs disperse more evenly into the batter giving this cake a lighter texture (the eggs trap air). Soaking refrigerated eggs in a bowl of warm (not hot) water for about 10 minutes is a quick way to do this. Otherwise, pull the eggs out of the refrigerator about 30 minutes before use.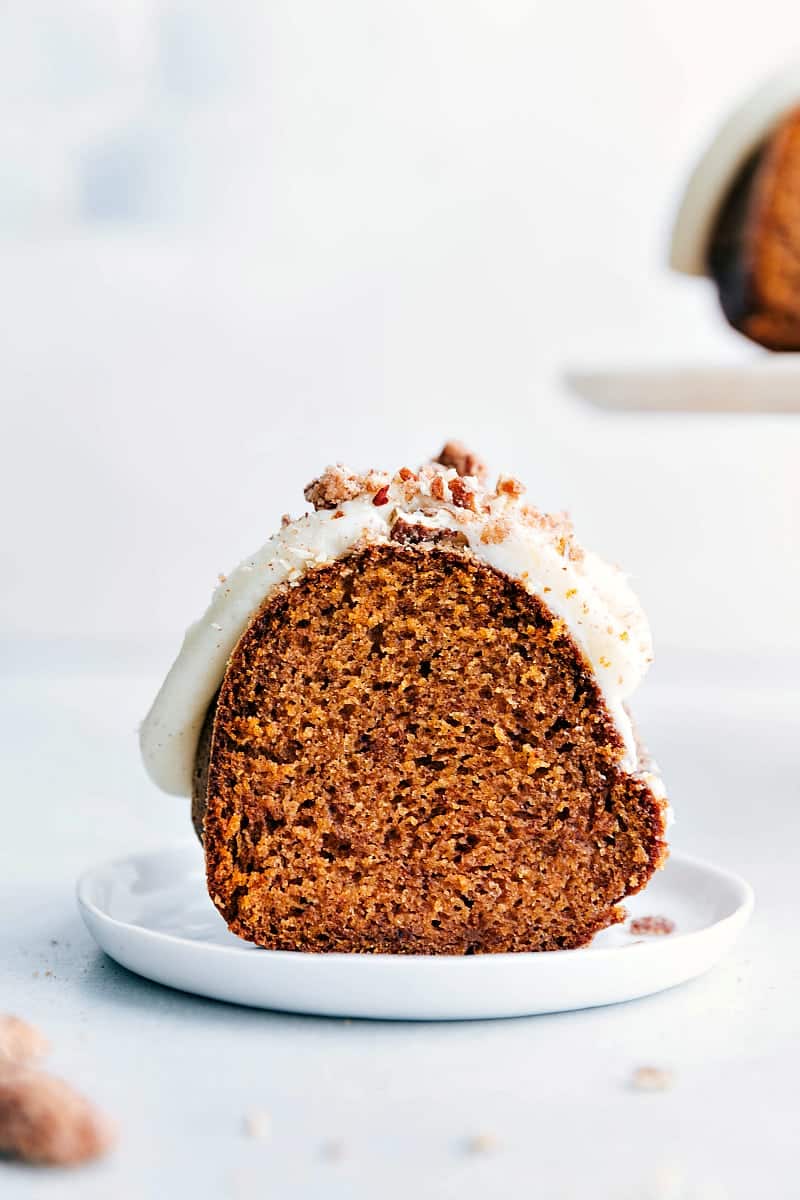 Is this a healthy pumpkin cake?
I wouldn't consider this a healthy cake, but using a vegetable like pumpkin in a cake is always going to make it a better option than say a chocolate or vanilla cake :). This cake has pumpkin, eggs, and so many different delicious spices (which are zero calories). For more details on calories you can see our nutrition facts below the recipe. 🙂
For healthier substitutions, you can use a white whole wheat flour in place of the white flour (1:1 substitution), reduce or omit the frosting, and can reduce the sugar by up to 1/2 cup. For the best results on a rich and delicious pumpkin cake, follow the ingredients listed 🙂
This pumpkin cake recipe has cream cheese frosting on it which is my all-time favorite! If you want to try a different frosting you could try:
You can cover this pumpkin cake in a glaze (which is especially pretty on a bundt cake). For this pumpkin cake I'd suggest using a glaze like this one.
If you like the combination of chocolate and pumpkin i'd recommend using this milk chocolate frosting. If you're going the chocolate + pumpkin route, I'd also add 1 cup of miniature chocolate chips to the cake batter!
Finally, this cake would also be really good with a brown butter frosting. I'd recommend this brown butter frosting.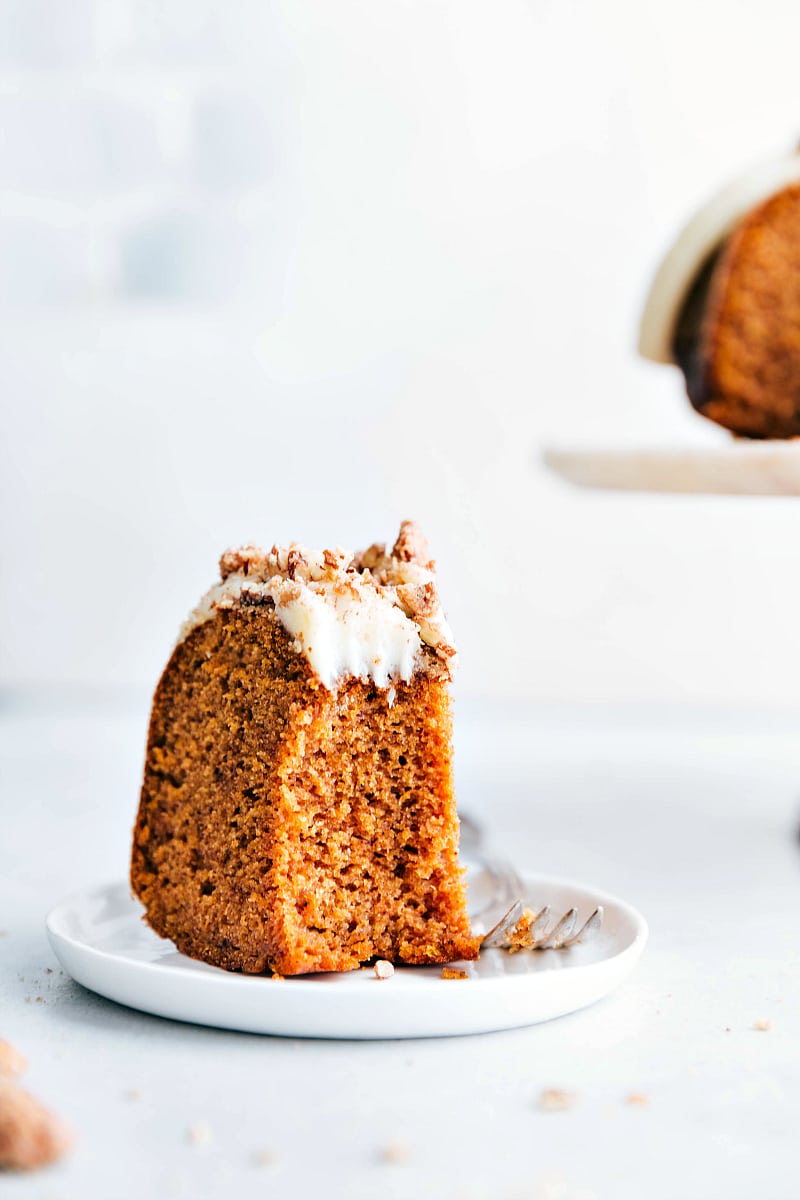 Can I freeze pumpkin cake?
You CAN freeze this pumpkin cake. Pumpkin cake pre-baked will freeze well and retain its moisture and flavor for up to 2 months. (After 2 months you can expect the flavor to change a little and it may have more of a dry texture.)
If freezing this cake, I would suggest freezing just the cake base and making the frosting fresh. (If you're in a pinch, cream cheese frosting is one of the best frostings to freeze, but I tend to prefer that frosting made fresh.)
To freeze: make sure you cover the cake well before freezing! I like to wrap it in plastic wrap several times before freezing When you take it out of the freezer, expect it to take about 1-2 hours (at room temperature) to defrost. In that time you can whip up the frosting 🙂 Frost the pumpkin cake only when it is fully defrosted for best results.
How far in advance can you make this pumpkin cake?
Fresh pumpkin cake like this will last about 3-4 days at its peak. If you keep it refrigerated it should last about a week. If you frost this pumpkin cake with cream cheese frosting, you'll want to refrigerate it (covered tightly) the first day you've made it.
I actually like this cake best the SECOND DAY it's made! The spice flavors and moistness have intensified and I think it's the very best on the second day. Whenever I make this cake to share with others, I make it 1 day in advance 🙂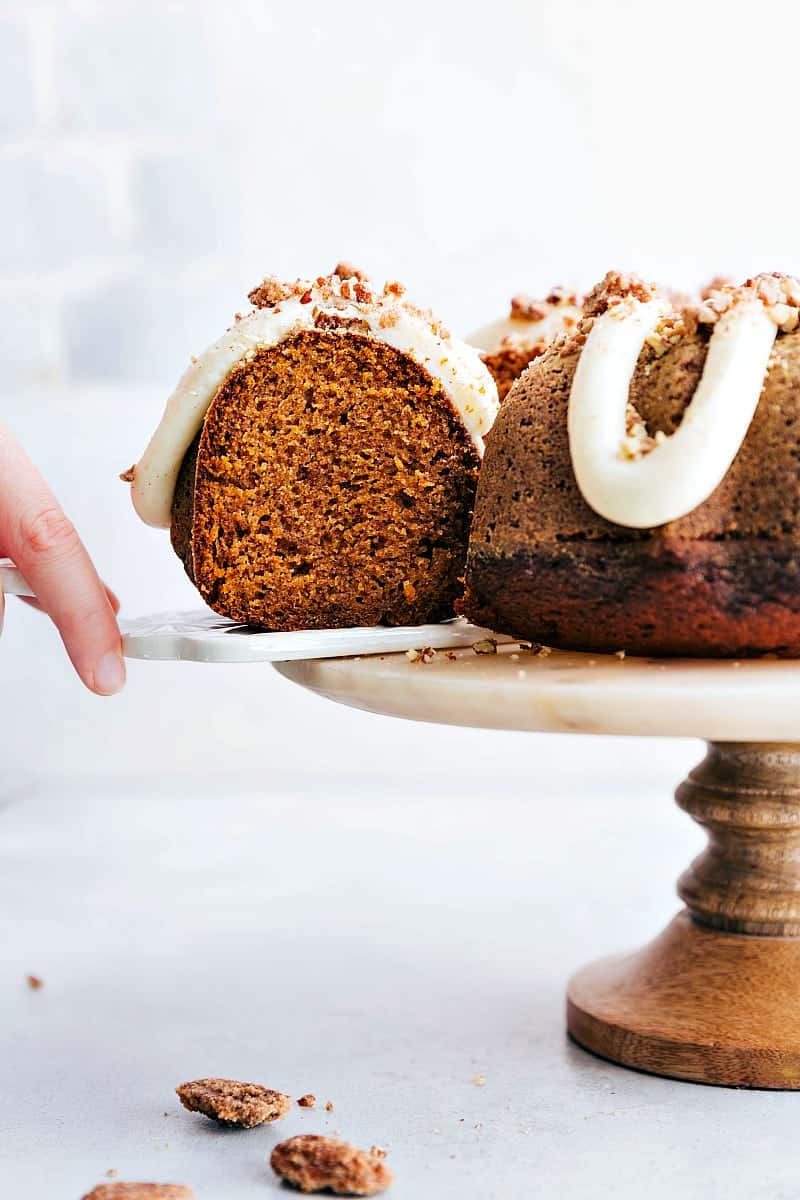 More Amazing Pumpkin Treats: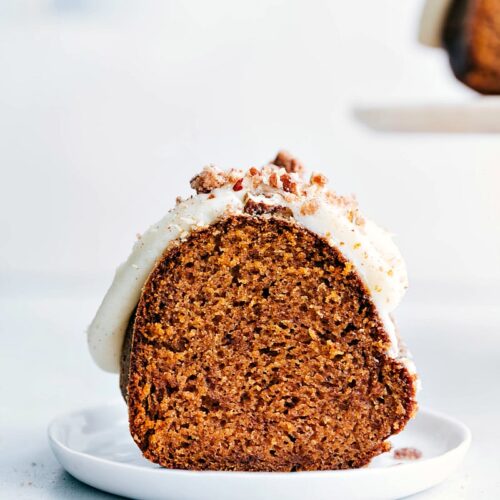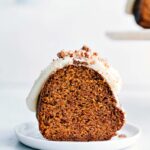 The BEST Pumpkin Cake
The BEST ever moist and perfectly spiced pumpkin cake with a luscious cream cheese frosting and optionally garnished with candied pecans. Feel free to make this cake the night before, we like it best on the second day!
Ingredients
1

can (15 ounces) or 1-3/4 cups

solid-packed pumpkin (I highly recommend Libby's)

1 and 1/2

cups

white granulated sugar

1/2

cup

light brown sugar,

packed

4

large

eggs

1

cup

vegetable oil

1

teaspoon

vanilla extract

2

cups

all purpose white flour

2

teaspoons

baking soda

2

teaspoons

ground cinnamon

3/4

teaspoon

ground cloves

1/2

teaspoon

salt

1/2

teaspoon

ground ginger

1/4

teaspoon

ground nutmeg

1

teaspoon

pumpkin pie spice
Cream Cheese Frosting
1

package (8 ounces)

full fat cream cheese,

at room temperature

1/2

cup

unsalted butter,

at room temperature

3

cups

powdered sugar

1/4

teaspoon

pumpkin pie spice

1

teaspoon

vanilla extract

1/8

teaspoon

salt

Chopped (plain or candied) pecans,

optional
Instructions
Preheat the oven to 350 degrees F. Generously grease and lightly flour a 10-inch bundt pan. Set aside.

In a large bowl, add the canned pumpkin (if you have wet/fresh pumpkin make sure to drain off excess liquid), white sugar, brown sugar, eggs, oil, and vanilla extract. Beat with hand mixers until combined and well blended.

In another bowl, combine the flour, baking soda, cinnamon, ground cloves, salt, ground ginger, ground nutmeg, and pumpkin pie spice. Whisk until combined. Add the dry ingredients into the wet and beat until just combined. Use a spatula to ensure all of the ingredients are fully incorporated.

Pour mixture into prepared bundt pan and bake for 50-65 minutes or until a toothpick when inserted into the center comes out clean or with moist cake crumbs. The cake should spring back when lightly touched. Remove from the oven and cool on a wire cooling rack for 10 minutes before inverting the cake onto the cooling rack to cool completely.

For the frosting: in a large bowl, beat ROOM TEMPERATURE cream cheese and butter until completely smooth. It's important the cream cheese and butter are at the same temperature so you don't get bumpy cream cheese! Add powdered sugar, pumpkin pie spice, vanilla and salt; beat until completely smooth. Pipe over the completely cooled cake. If desired, garnish with chopped candied or plain pecans. (See recipe notes for my candied pecan recipe).
Recipe Video
Recipe Notes
To make candied pecans, click here.
Highly Adapted from Taste of Home
For more delicious recipes, follow along on Pinterest, Instagram, Facebook, and YouTube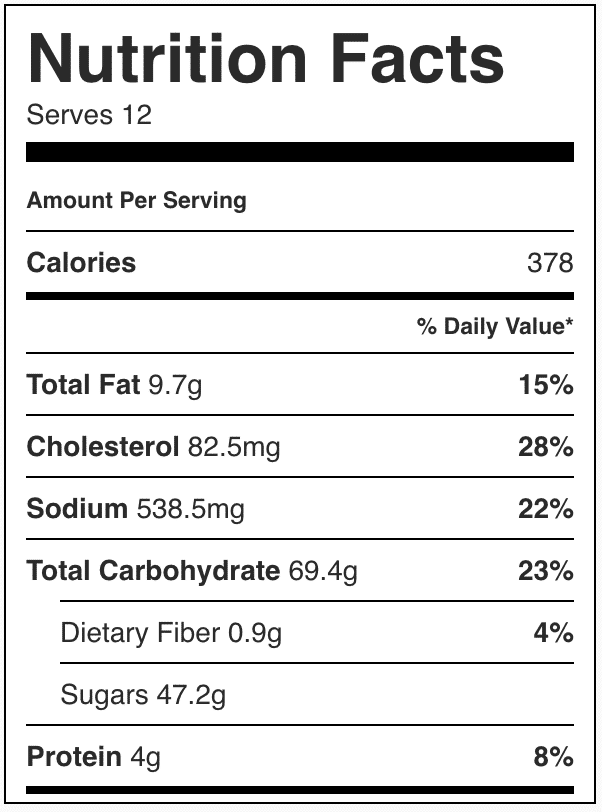 How many calories are in one slice of this pumpkin cake?
378 calories per slice of cake.