This post may contain affiliate links. Please read my disclosure policy.
This post is sponsored by the California Walnut Board, but all opinions are my own.
No baking required to make this incredible and rich coconut cream pie with a walnut graham cracker crust, fresh homemade whipped cream, and toasted coconut to top it off.
I'm obsessed with all things coconut as evidenced by the archive of coconut recipes on the site. And when a creamy custard coconut filling is paired with a walnutty-graham cracker crust, topped with sweetened whipped cream, and finished off with a generous dose of toasted coconut…well, there aren't too many things better than that!
And especially when you don't have to turn on the oven to have any of it! That's right, this coconut cream pie requires zero baking 🙂
So let's get talking about the ins and outs of this pie, starting with the incredible walnut graham cracker pie crust.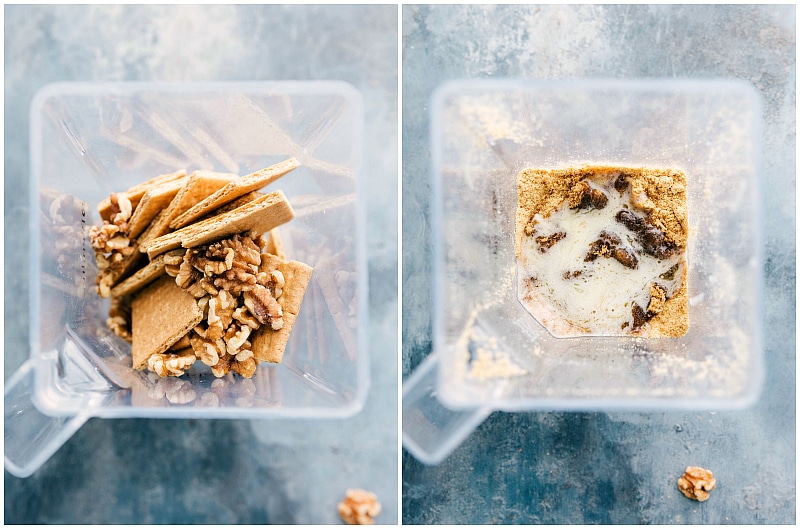 Walnut graham cracker crust
The walnut graham cracker crust is the perfect base for this coconut cream pie. It starts with graham crackers and walnuts that we pulse to crumb consistency. Next we add in some brown sugar and butter. I love using dark brown sugar as it pairs really nicely with the walnut and graham cracker flavors.
Mix it all together and press it into your pie tin and you're ready for the filling!
Adding walnuts to the crust enhances both the flavor and the texture of the crust while also offering good fats (13g/oz polyunsaturated and 2.5g/oz monounsaturated fat including 2.5g of alpha-linolenic acid, the plant-based omega-3), protein (4 g/oz), and fiber (2 g/oz). Walnuts are nutritious and have a variety of potential health benefits. So beyond their delicious flavor, the walnuts are also adding a nutritious component to the pie. (1)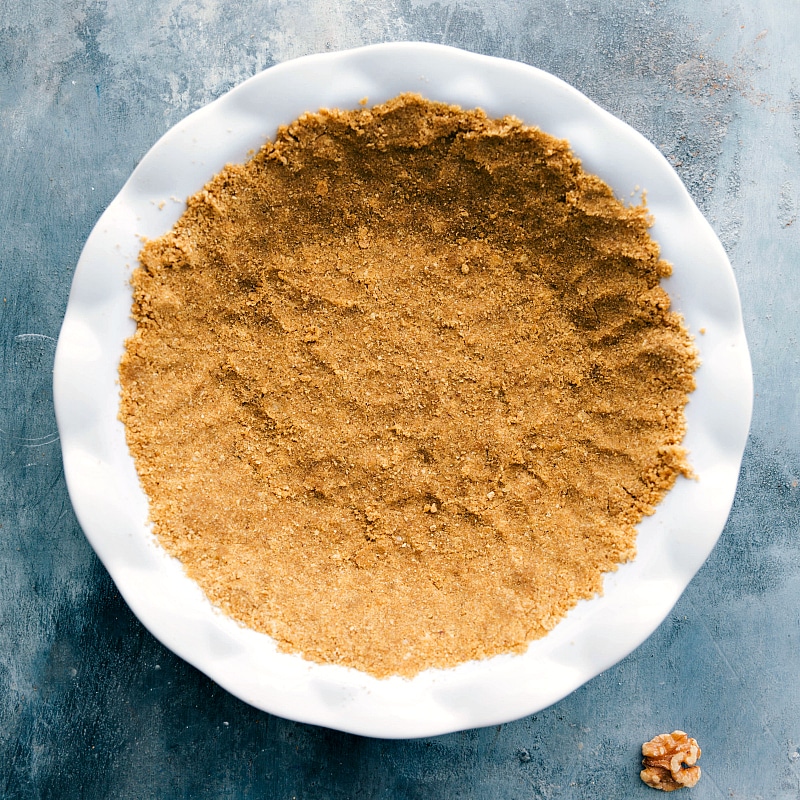 Coconut cream pie filling
The filling is a custard/pudding consistency. It's thick, rich, and luxuriously coconut flavored. Below I'll share a quick breakdown of the ingredients that come together to make it.
We use

egg yolks

and

cornstarch

for thickness and we'll temper the eggs, just like in this

creme brulee

recipe.

Next, full fat

coconut milk

which gives this pie that classic coconut flavor.

See more on this ingredient below!

Along with the coconut milk is also

heavy whipping cream

which also contributes to the rich and thick consistency and flavor

Next some

vanilla bean paste

(or

vanilla extract

) and

coconut extract

further boost and enhance the flavor. I love using vanilla bean paste because of the slightly stronger flavor and the gorgeous specks of vanilla beans throughout the pie.

Last, but not least, a little bit of

butter

helps the mouthfeel and creaminess while also keeping the ingredients from separating.
Most coconut cream pies also have coconut folded into the filling, but my family prefers toasted coconut on top instead! If you like coconut in the filling, feel free to fold some in gently.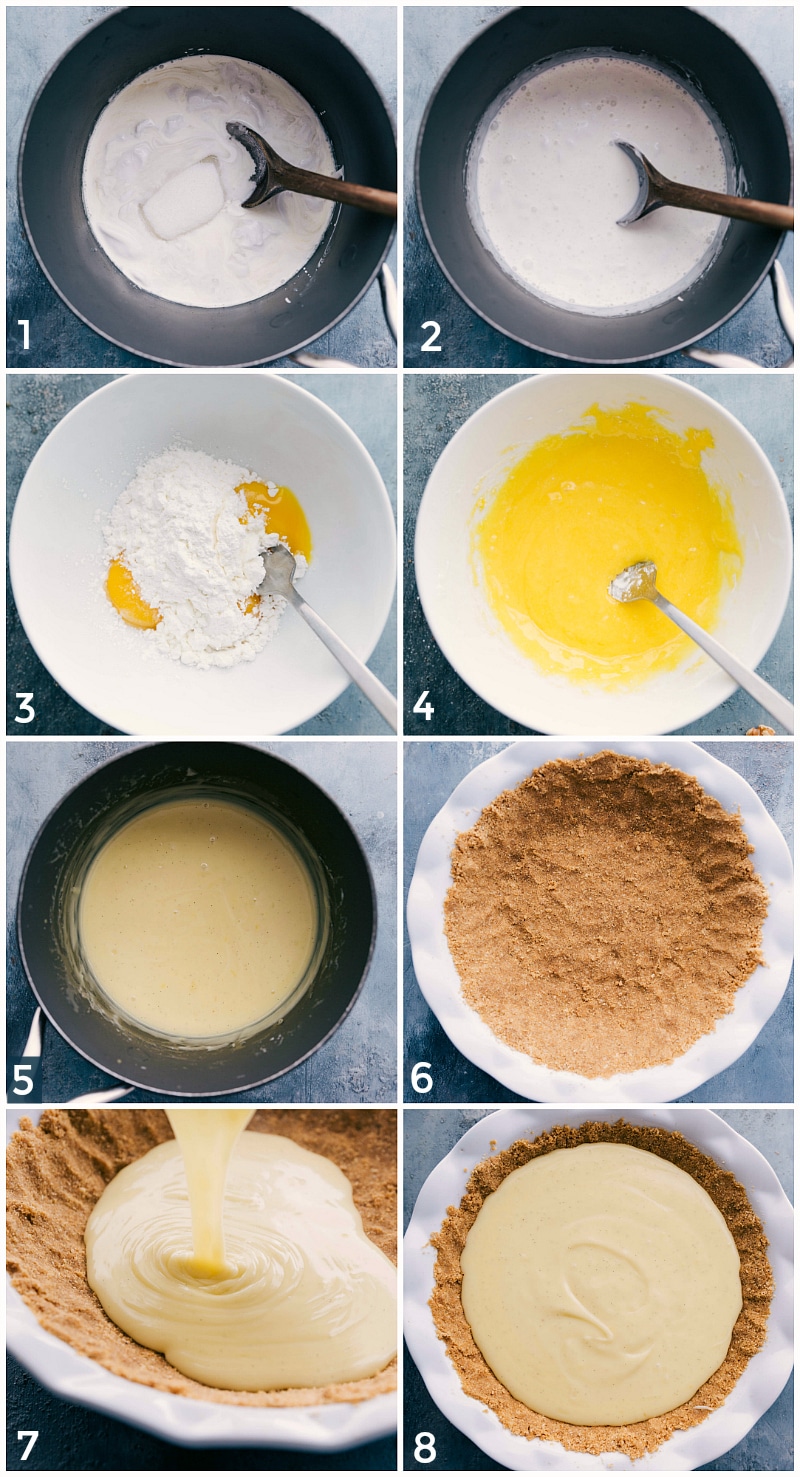 How to make coconut cream pie
Above I've broken up the steps for making this pie in picture form, and below is a description of what's happening in each photo.
Image 1-2

: coconut milk, heavy cream, sugar, and salt getting mixed together

3-4

: egg yolks and cornstarch being mixed together until smooth

5

: add in butter and extracts, stir until smooth

6

: finished chilled crust

7-8

: pour filling into crust and smooth it out
Is cream of coconut and coconut cream the same thing?
No, and they aren't interchangeable in this recipe! To give you a quick background….
Coconut milk

has the liquid consistency of cow's milk. It's made by simmering

1 part shredded coconut to 1 part water

.

Cream of coconut

is a sweetened version of coconut cream. It's generally used in drinks or desserts.

Coconut cream

has a much thicker and richer consistency than coconut milk. Coconut cream is made from simmering

4 parts shredded coconut to 1 part water

.
You definitely will want to use canned full fat coconut milk. If you get lite or low fat coconut milk, this pie won't set up properly. This pie also won't set up with the refrigerated coconut milk, make sure to get canned coconut milk. Canned coconut milk is generally in the Asian section of the grocery store.
Coconut cream pie topping
After the filling is set, it's time to make the whipped cream and toasted coconut. I shared a tutorial on how to make whipped cream here.
If you've never toasted coconut, it's very easy to do! The toasted coconut not only tastes better, it also makes for a gorgeous presentation. Here's a step by step process on how to toast coconut.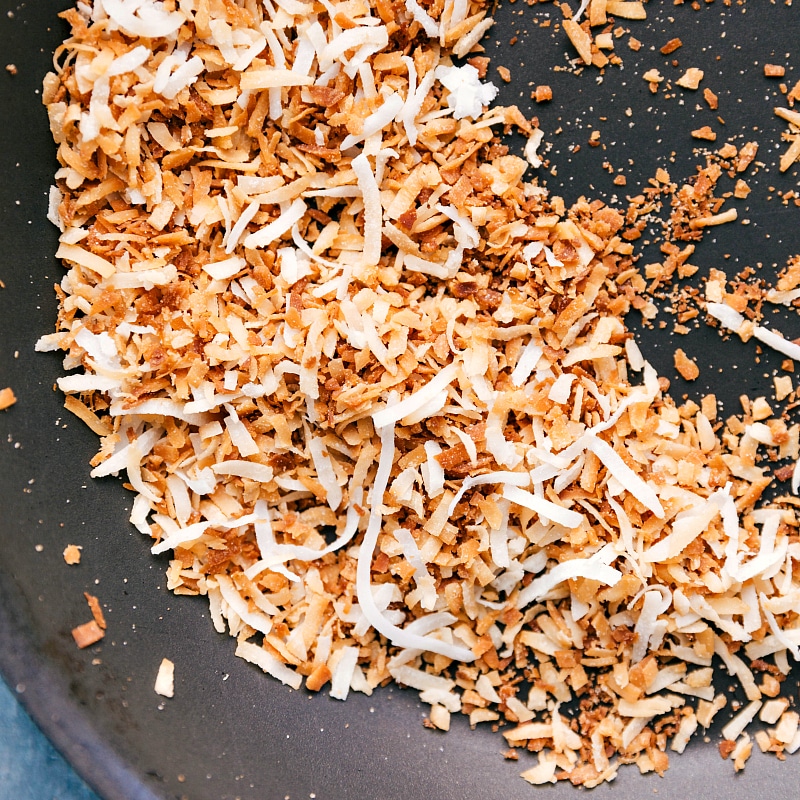 Quick tips
Make this pie the night before

: not only does it set up better, it also tastes better! The ingredients have a chance to meld and intensify and the pie further solidifies.

As the pie filling is setting up in the fridge, add plastic wrap right to the surface of the filling

. We do this whenever making a custard or curd (like this

lemon curd

) to keep the layers from separating or to keep a film from developing.

Add coconut extract gradually

. Not all coconut extracts are made the same, so start with a little and add slowly remembering it does intensify after sitting.
Does coconut cream pie need to be refrigerated?
Yes! This pie needs to be refrigerated to properly set up. Additionally, any leftovers should be promptly returned to the fridge. Make sure to cover the pie tightly to keep it as fresh as possible.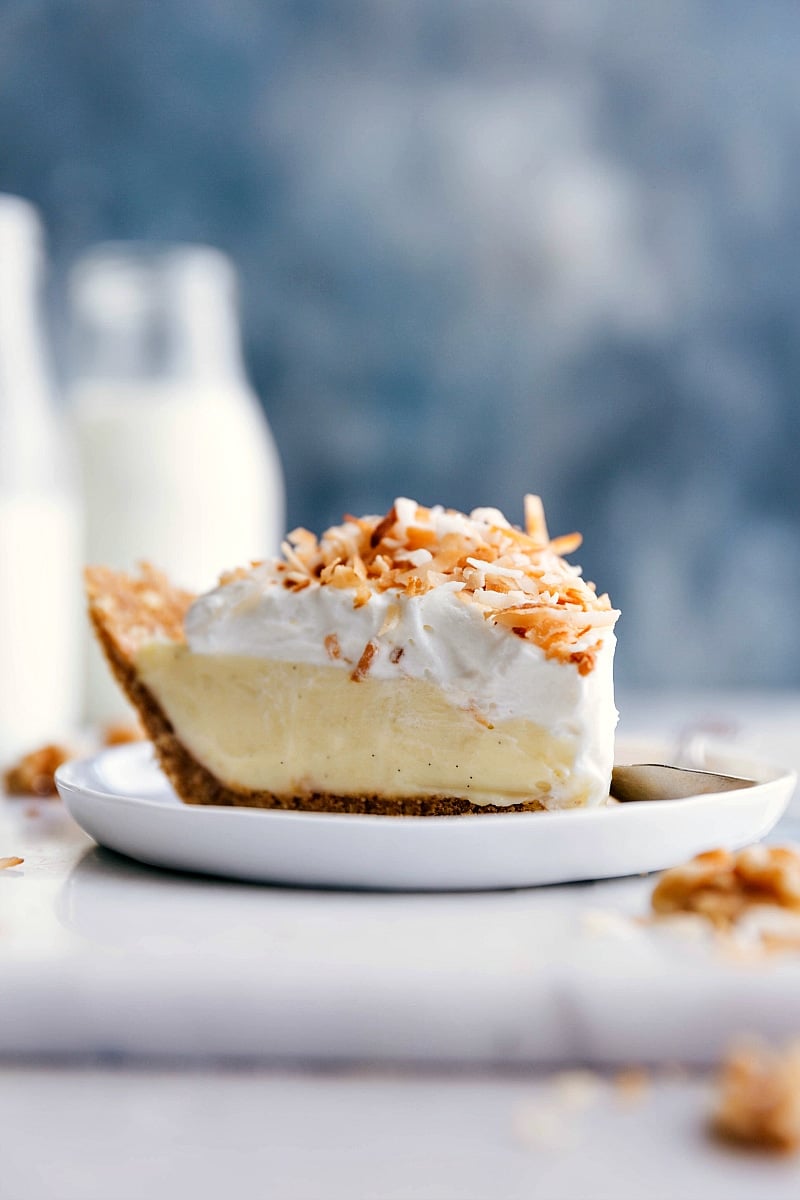 More delicious desserts: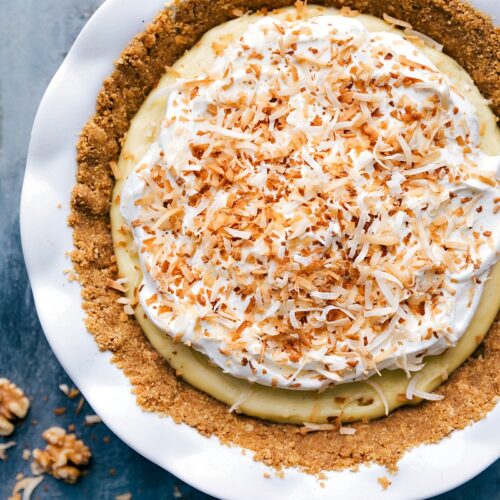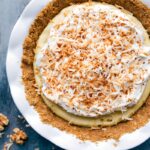 Coconut Cream Pie
No baking required to make this incredible and rich coconut cream pie with a walnut graham cracker crust, fresh homemade whipped cream, and toasted coconut to top it off.
Keyword:
coconut cream pie
Ingredients
Crust
11 whole

(171g)

graham cracker sheets

1/2

cup (51g)

walnuts

5

tablespoons (70g)

unsalted butter,

melted

1/4

cup (56g)

dark brown sugar,

packed (light works ok)

Tiny

pinch

fine sea salt
Filling
4

large

egg yolks,

discard the whites or save for a different recipe

4 and 1/2

tablespoons (36g)

cornstarch

1

can 13.66 ounces (403g)

full fat coconut milk

(canned; in Asian section of grocery store)

1

cup (219g)

heavy cream

3/4

cup (146g)

white granulated sugar

1/4

teaspoon

fine sea salt

2

tablespoons (25g)

unsalted butter

1

teaspoon

vanilla bean paste (or vanilla extract)

1/4 to 1 full

teaspoon

coconut extract

(to taste; intensity will vary depending on the brand you use!)
Topping
1

cup (219g)

heavy whipping cream

2-4

tablespoons

powdered sugar

(add to desired sweetness)

1/2

teaspoon

vanilla bean paste (or vanilla extract)

1

cup

sweetened shredded coconut
Instructions
CRUST: Gently grease a deep 9-inch pie pan. Add graham crackers and walnuts to a (powerful) blender and pulse until coarsely ground. Do not over-blend, just until everything is crumb consistency. Add in melted butter (slightly cooled), brown sugar, and salt. Stir until well combined and the crumbs are completely moistened. Use hands if needed. Press into the bottom and sides of prepared pie pan. Press the crust in firmly to compress. Place in the fridge to chill while preparing the filling. (Note 1)

FILLING: Give the can of coconut milk a good shake and then pour into a medium-sized pot. Add the heavy cream, sugar, and salt. Stir until smooth over medium heat. Stirring occasionally, bring the mixture to a very gentle boil. Switch to a whisk and whisk near constantly for 2 minutes watching carefully the mixture doesn't boil over. If the mixture rises, barely reduce the heat. Reduce the temperature to medium low heat. In a small bowl, whisk the egg yolks and cornstarch together with a fork until completely smooth. Pour a tiny bit of the mixture from the stovetop into the yolks while whisking the eggs constantly. Add a bit more to add about 1/3 cup total. Continually whisk the eggs so they don't scramble. Now the eggs are tempered! Pour them in a slow and steady stream into the coconut milk mixture whisking constantly.

FILLING CONTINUED: The mixture will begin to bubble and thicken. Stir constantly and watch carefully for bubbles that come to the surface and burst. Whisk near constantly cooking over medium heat for 1 and 1/2 minutes. Remove from heat and immediately add in the butter. Stir until smooth. Add in the vanilla and coconut extract (add to taste, adding slowly).

FINISHING PIE: Pour warm filling into chilled pie crust. Cover tightly with plastic wrap directly on the surface of the pudding (to prevent a skin from forming) and refrigerate for at least 3 hours or overnight until chilled and thickened. Add whipped cream (see next step) to the center of the pie and topped with toasted coconut (see next step).

WHIPPED CREAM AND TOASTING COCONUT: Pour heavy whipping cream, powdered sugar (add to sweetness preference; we like 4 tablespoons), and vanilla into the cold bowl (attached to a stand mixer) and whisk on low speed to combine. Gradually increase to high speed until medium to stiff peaks form, about 1 minute. Watch carefully to avoid over-beating. Near the end of the minute, taste and adjust sugar to taste (adding more if needed). Keep cream as cold as possible at all times. To toast coconut: add the 1 cup unsweetened coconut to a large skillet. Cook over low-medium heat, stirring frequently, until the flakes are mostly golden brown. This takes 3-6 minutes. Remove from heat and transfer to a plate immediately. Let cool completely before adding to the pie.
Recipe Notes
Note 1: You can completely prepare the crust 24 hours in advance of filling and cover with plastic wrap to make your pie making even easier!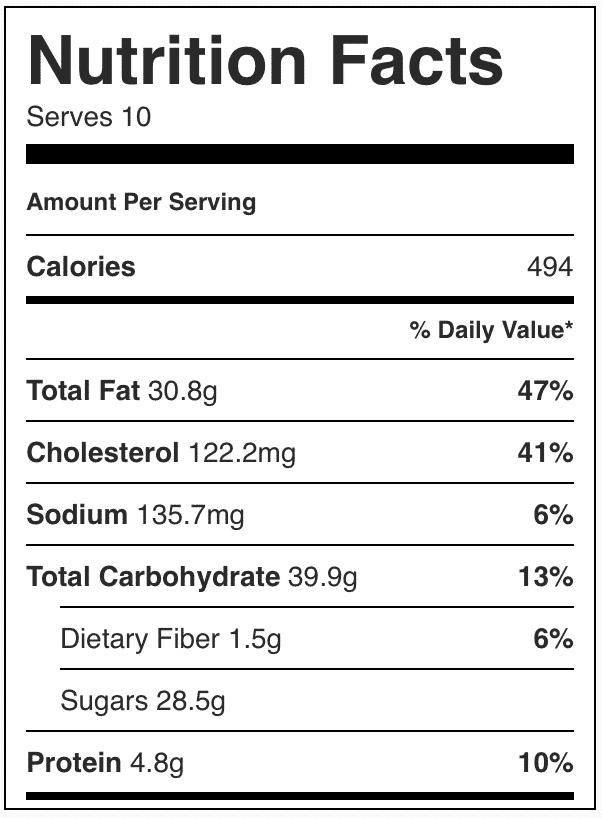 Recipe adapted from Add a Pinch.
1 Walnuts offer a variety of antioxidants (3.721 mmol/oz), including polyphenols (69.3 ± 16.5 μmol catechin equivalents/g) and gamma tocopherol (5.91 mg/ounce). The data for antioxidant capacity of foods generated by test-tube methods cannot be extrapolated to human effects. Clinical trials to test benefits of dietary antioxidants have produced mixed results.