This one pot dish tastes just like fajitas without the tortilla! (But you can definitely use them if you want!) This meal takes less than 30 minutes, is all made in one pot, and is full of flavor while keeping the ingredients to a minimum.
Two one-pot meals two posts in a row?! You can probably guess that someone is getting molars right now. Hint: I've already got mine. Yeah, the little guy hasn't been feeling the greatest in these parts and we can feel one poking through in the back. (Poor little guy!)
And since he doesn't take teething too well… there's been a lot of tears, a few tantrums (okay maybe more than a few), some mega-clinginess, and lots of snuggles/back-scratches (<–he loves those). Which means, when I go into the kitchen to make food, he's not loving that. Chopping vegetables with a baby on my hip? I'm pretty sure I look really awesome in the attempt. (Read: not so awesome.)
So these one pot meals are seriously a lifesaver. Which, P.S., I see a lot more coming in the future of CMA since, well, he's got a lot more teeth that need to come in. The great news is, this meal definitely made him feel much better; he absolutely loved it. Which, I have to admit, with all the veggies, I was skeptical how much he would like it. But, seeing as he ate pretty much the same portion that I did, this recipe is a keeper!
In the last one pot meal I did, like uh, three days ago, the recipe has you shred the chicken instead of cubing it.
I love shredded chicken, but this dish would work just as well with cubed chicken. Just cube the chicken into small bite-sized pieces and cook with a little olive oil (until completely cooked through) then move onto the next step. BUT if you love shredded chicken, this is the way to do it! Another way we've had this meal and loved it was with rotisserie chicken. Mmmm that stuff is just plain good. If you start with rotisserie chicken, you can just pull it apart into thin strips and add that in at the end!
The veggies can easily be substituted and changed out for whatever. To me, fajitas consist of bell peppers, poblano peppers, and onions, but add what you like. I'm thinking some mushrooms or corn would be good in these. Oh yeah, and while we are talking about it, what the heck is a poblano pepper? Well first of all, they are delicious and add a different flavor from the sweet bell peppers – essentially it is a very mild chili pepper. Second, they are generally right by other peppers in the grocery store. (There is a picture of one right above.) And thirdly, if you are not feeling a poblano pepper, a green pepper would be a great substitution. Or just more sweet bell peppers would also work.
As far as the rice, white is the only that will work with this dish. So if you are set on another type of rice, you'll have to use another pot (sad face). However, quinoa is a substitution that would work for the white rice, it just takes a little longer to cook, but only by a few more minutes.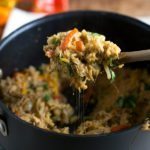 {One Pot} Chicken, Rice, and Veggie Fajita Bowls
Ingredients
1

pound

boneless skinless chicken breast

2

cups

assorted sweet bell peppers

I used miniature

1

cup

yellow onion

1

poblano pepper or sub a large green pepper

next to the bell peppers in the grocery store

1

small jalapeno

optional

1/2

teaspoon

minced garlic

2

tablespoons

olive oil

1

cup

regular white rice

9

cups

chicken broth*

or water; separate (Can sub chicken boullion cubes or powder for broth)

1

package (1.12 ounces)

fajita seasoning mix

1 and 1/2

cups

cheddar cheese

Optional toppings: sour cream, chopped cilantro, freshly diced tomato or avocado, lime juice
Instructions
Bring a large pot of 6 cups water or chicken broth to boil *The broth gives the chicken much more flavor. I used chicken bouillon powder/cubes mixed with water (6 teaspoons boullion powder + 6 cups water)

Remove any fat from the chicken breasts and cut them into 2 inch pieces. Place the chicken pieces in the boiling water and cover the pot. Allow to boil for about 10 minutes or until the chicken is all the way cooked through.

Drain water from the chicken and shred it with 2 forks. Set the chicken aside on a plate

While the chicken is cooking, prepare the vegetables. Remove stems and/or seeds and thinly slice lengthwise the sweet bell peppers, yellow onion, and poblano pepper. Remove seeds (or leave them in if desired) from the jalapeno and finely mince.

Add all the sliced vegetables and minced garlic to the same pot you cooked the chicken in.

Pour in the olive oil and saute until the vegetables are mostly tender, about 6-8 minutes.

Add in the white rice and continue to saute for 1-2 more minutes. Then pour in the remaining 3 cups chicken broth or water. Add in the fajita mix and stir well.

Bring the mixture to a boil on high heat and then reduce the heat to medium low (a little bit above low temperature) and cover with a lid.

Everyone's stove is going to cook a little differently so watch the pot. If the rice isn't cooking quick enough, maybe increase the heat a little and if the water is evaporating before the rice is cooked, add a little more chicken broth or water and stir occasionally so the rice doesn't stick to the pot. Mine takes right around 10 minutes when I make this meal.

When all the liquid has been absorbed and the rice is cooked through, turn off the heat, add the chicken back in, and stir in the freshly grated cheddar cheese.

Season with salt and pepper if desired and then dish up.

Top each plate with desired toppings: a dollup of sour cream, some freshly chopped cilantro, a diced tomato, avocado, and/or a squeeze of lime juice
  Here are some more one pot/skillet dishes:
Creamy Broccoli, Rice, and Chicken Divan (Lightened Up!)
One Skillet Sweet Potato Burrito Bowls
One skillet red and white pasta dish
One Skillet Chicken Enchilada Pasta Dish