Super simple, tasty, and healthier Chicken Fajita Bowls. Start your bowl with rice, top it with chicken "fajitas," and finish it with your favorite fajita toppings.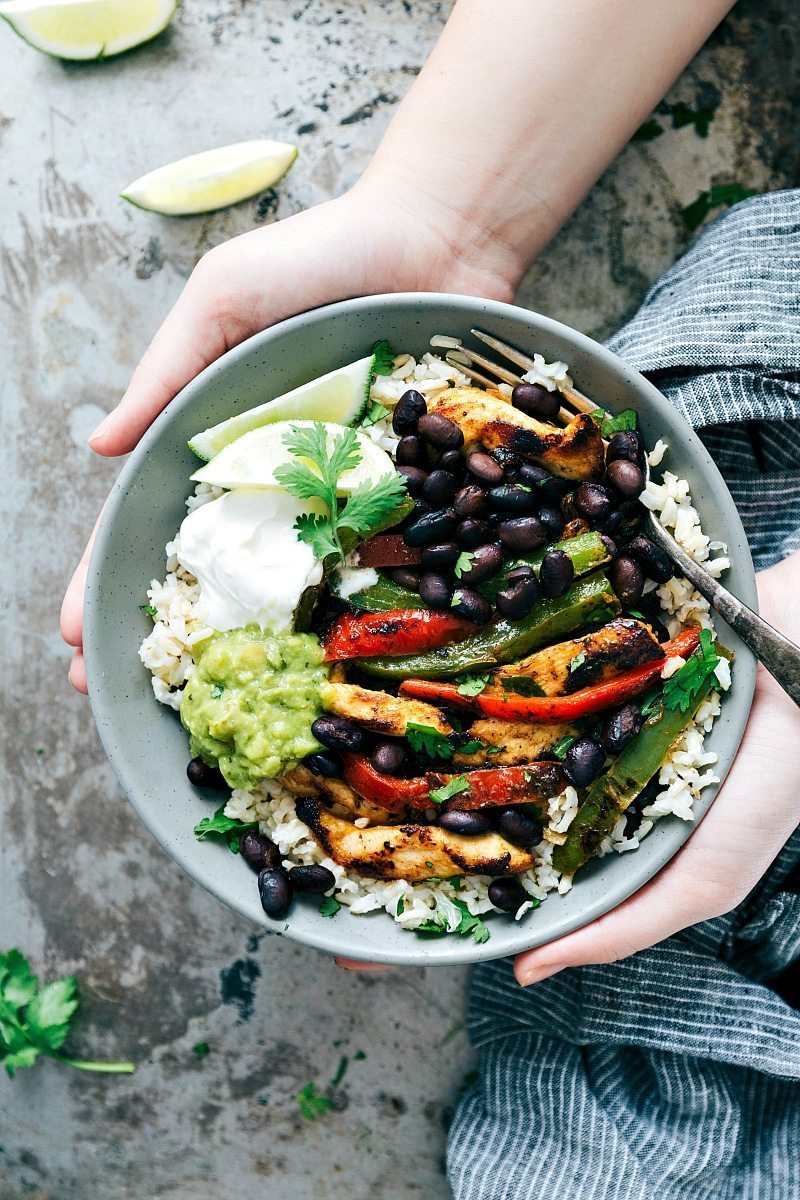 The first "family car" we had was a super light and tan fabric interior. This past January we switched out the car and my choice was black EVERYTHING — black outside, black interior, and black leather. I was certain that was the solution to keeping a car (with messy boys) clean.
An unrelated fact to my story: the toddler named this car and yes, we all refer to the car with this name… "Bubbles." He also named my husband's car (a bright red exterior), "Blueberry." If you'd like an awesome name for your car, let me know and I'll get the toddler right on that.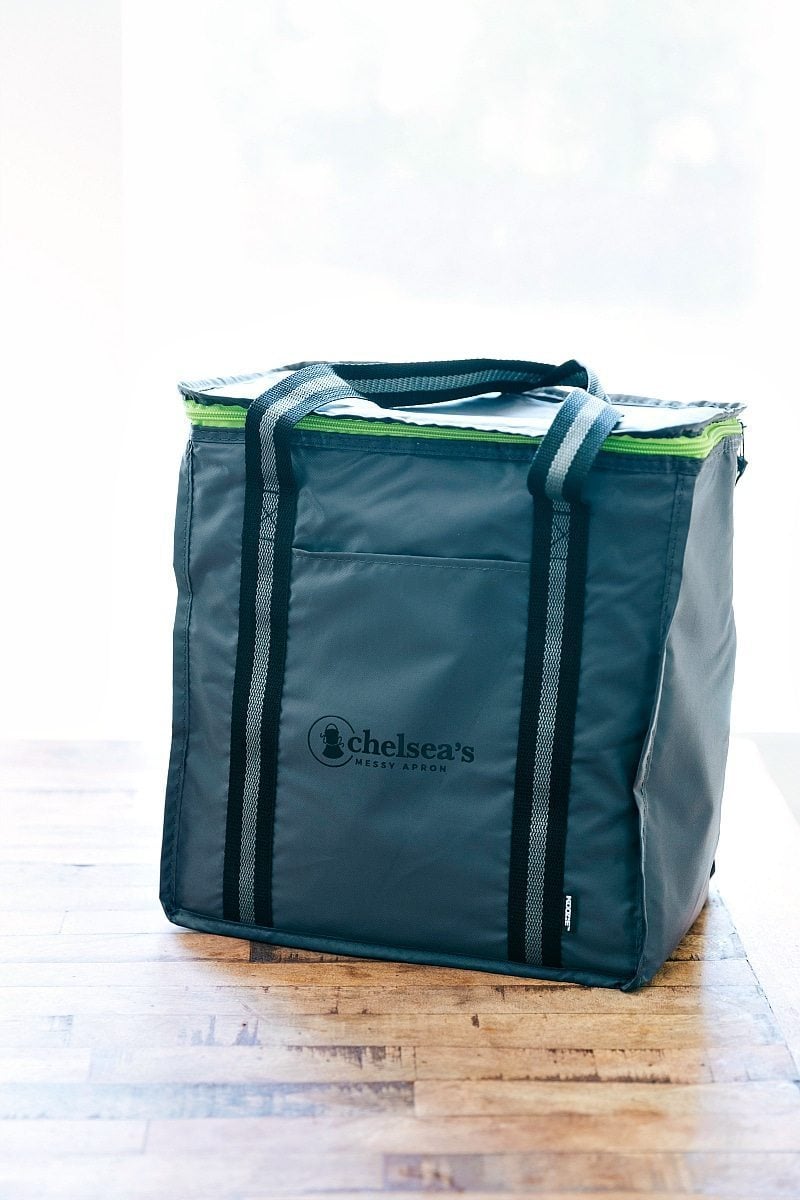 Anyways, the black is definitely easier to clean and I love the car. The thing I wasn't quite anticipating (never had a dark car) was how quickly that car heats up! A few hot days has me like WOAH.
So you can imagine how much I have LOVED these Grocery Totes. They are super high quality, hold a ton of groceries, and they keep them cool. Even in my hot black car.
If you look closely, you'll also see one more reason I'm obsessed with these bags. It's got my "Chelsea's Messy Apron" logo on it!! How fun right?!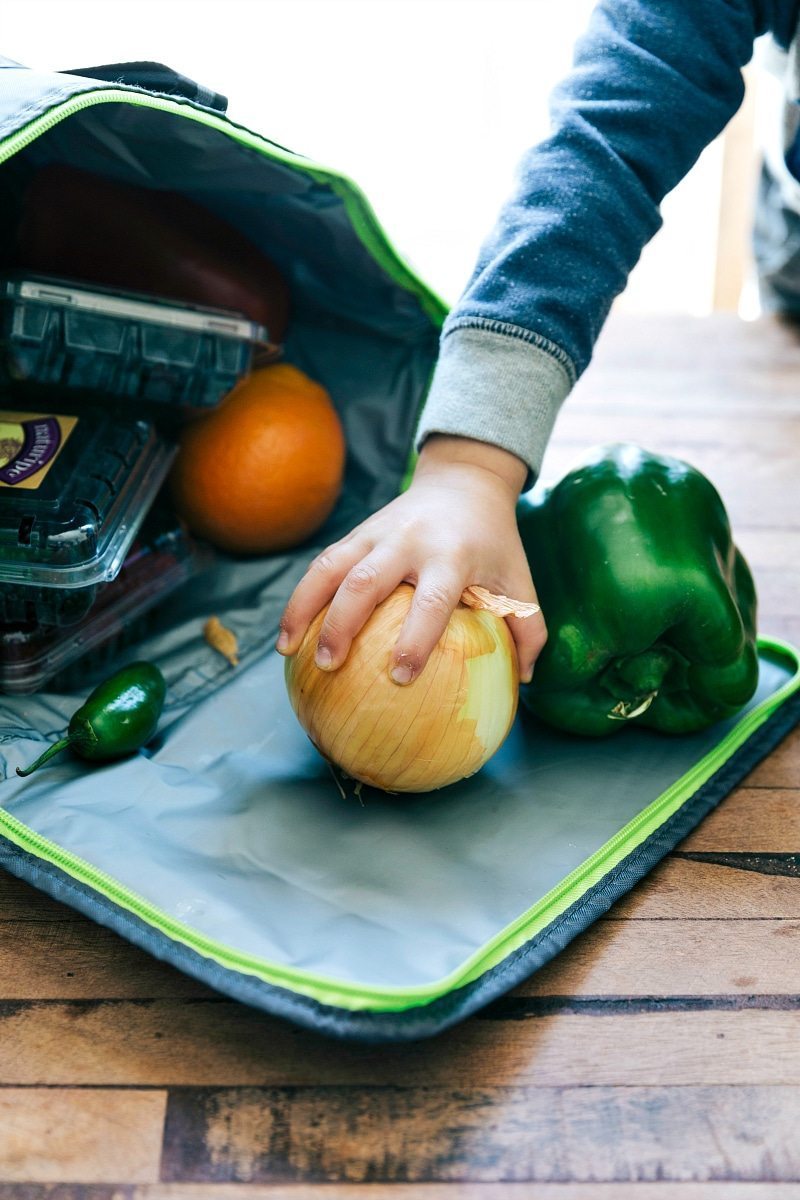 It's been fun to give out these bags and hear how much people have enjoyed the quality of them! They are so great for holding your groceries, bringing dishes to a potluck (and keeping them cool), or keeping drinks cool in your car.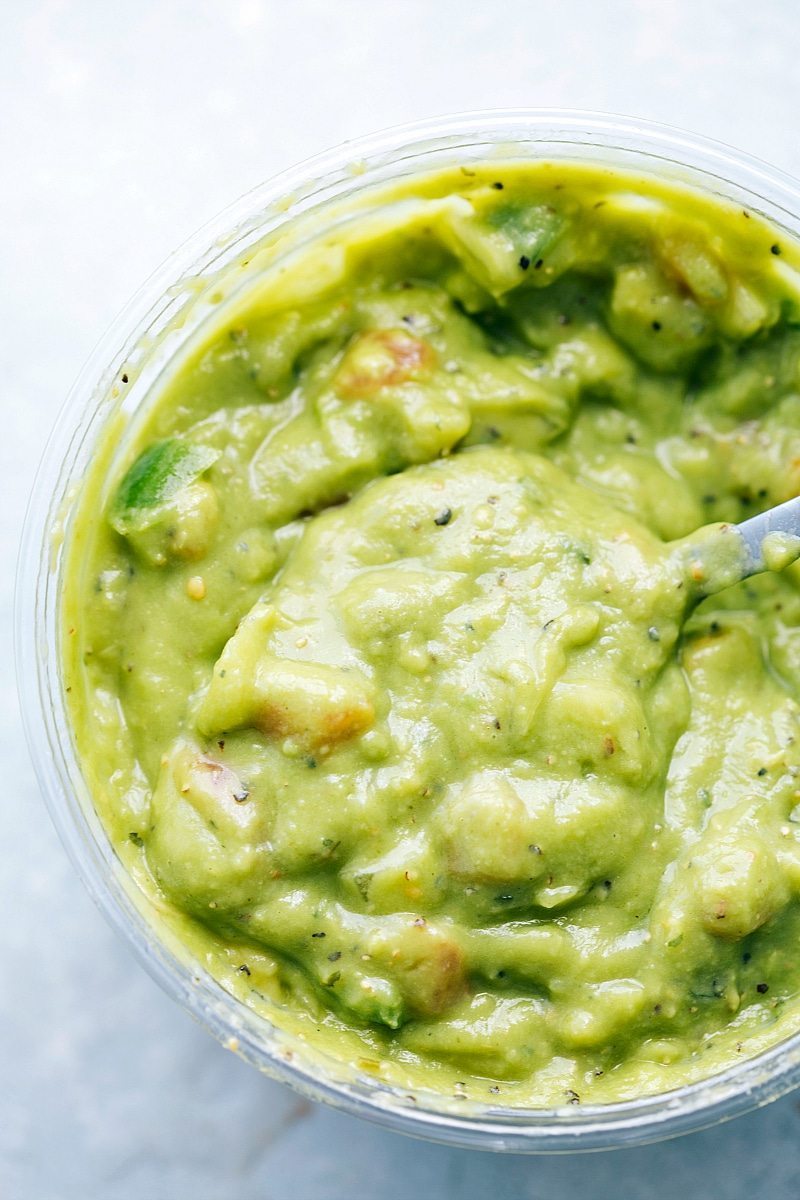 So, a little bit about this dish. First off, these are the absolute best chicken fajitas I've ever had in a bowl! It's a healthier dish to serve fajitas over brown rice instead of in a tortilla and honestly I think it's easier to eat with tons of toppings (my actual favorite part of fajitas anyways ?)
We loved this dish so much I even made it for my mom's birthday dinner a few weeks ago and everyone raved! The chicken takes minutes to get marinating and the rice is super simple to make. After that, it's all about toppings which also can be super simple if you buy them store-bought ready. (Or homemade if you're feeling ambitious!)
Our favorite toppings for these Chicken Fajita Bowls:
Guacamole
Pico de Gallo
Sour Cream (we use fat-free to keep these healthier!)
Lots of fresh lime
Fresh cilantro
Black beans
SO good! Enjoy 🙂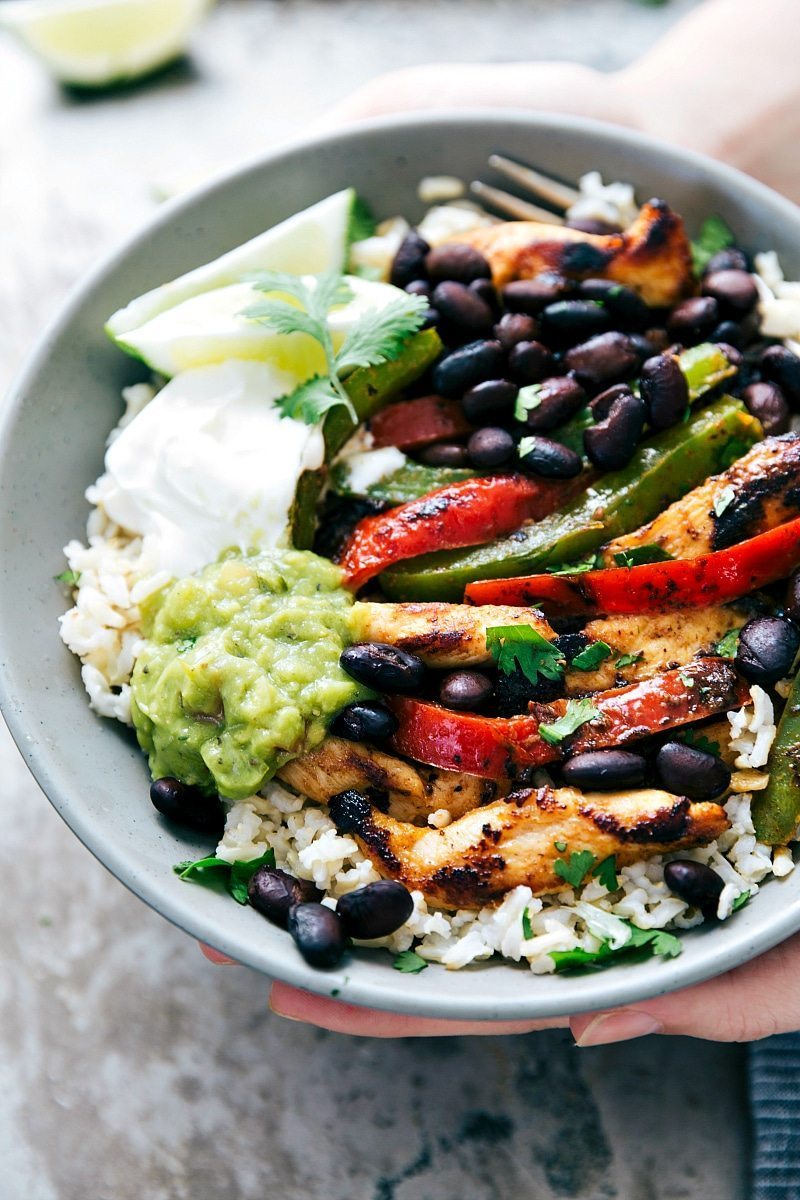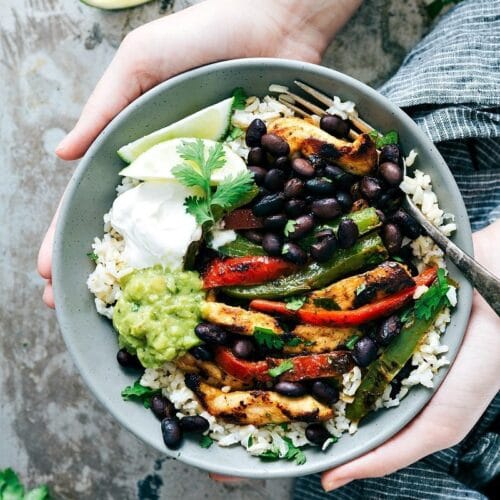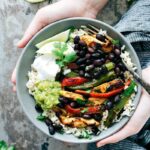 Chicken Fajita Bowls
Ditch the tortillas and serve these chicken "fajitas" over rice with tons of delicious toppings! These chicken fajita bowls are sure to be a family favorite!
Ingredients
1 and 1/2

pounds

boneless skinless chicken breasts,

thinly sliced into chicken strips

4

tablespoons

olive oil,

separated

1

large

lemon

(1/2 teaspoon zest, 2 tablespoons juice)

1 and 1/2

teaspoons EACH:

dried leaf oregano (not ground oregano), seasoned salt, ground cumin

1

teaspoon

garlic powder

1/2

teaspoon EACH:

ground chili powder, paprika, crushed red pepper

2

large

peppers

(I use 1 red, 1 green), thinly sliced

1

yellow onion,

thinly sliced

2

cups

water

1

tablespoon

butter

1

cup

white or brown rice

1

large lime

(2 tablespoons juice and 1 teaspoon zest)

1/3

cup

finely chopped cilantro

Salt and pepper,

to taste

Optional toppings:

pre-made guacamole, low fat or fat free sour cream, 1 can black beans (drained and rinsed), fresh lime, fresh cilantro (or green onions)
Instructions
Chicken and Veggies
Start by marinating the chicken. In a large sealable ziplock bag add the thinly sliced chicken strips. In a small bowl, add 2 tablespoons olive oil, lemon zest and lemon juice, and the seasonings (1 and 1/2 teaspoons each of oregano, seasoned salt, ground cumin, 1 teaspoon garlic powder, 1/2 teaspoon each of chili powder, paprika, and red pepper flakes.) Whisk together until smooth. Pour over the chicken and knead the mixture into the chicken. Place in the fridge for 45 minutes up to 3 hours.

I prep the veggies here too -- thinly slice the peppers and the onion. Place in a large bag in the fridge.


When chicken is marinated, grab a large 12-inch skillet and add remaining 2 tablespoons oil. Heat until shimmering and then add the sliced bell peppers and onions. Stir occasionally until lightly charred and crisp tender. Remove to a plate.

Discard the chicken marinade completely and add in the marinated chicken. Cook for 5-7 minutes (or until cooked through) over medium-high heat (stir only occasionally if you want that nice char). Add the peppers and onions back in and toss to warm.
For the Cilantro-Lime Rice
Bring 2 cups of water to a boil over medium-high heat. Stir in the butter and rice and return to a boil. Reduce the heat to low, cover, and simmer until the rice is cooked through and tender. Stir in the lime juice, lime zest, cilantro, and salt + pepper to taste.
Put it Together
Divide the prepared cilantro-lime rice evenly among 4-6 bowls. Add the cooked chicken and bell pepper mixture evenly to the bowls.

Add your favorite toppings such as guacamole, sour cream, cilantro and/or green onions, lime juice, and/or black beans.

Enjoy immediately.
Recipe Notes
Nutrition facts do not include any of the bowl toppings because of how variable that is.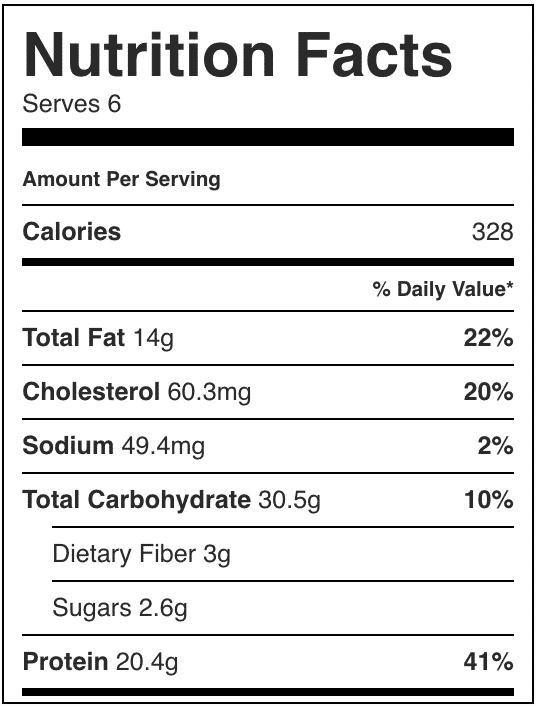 More Easy Chicken Dinners: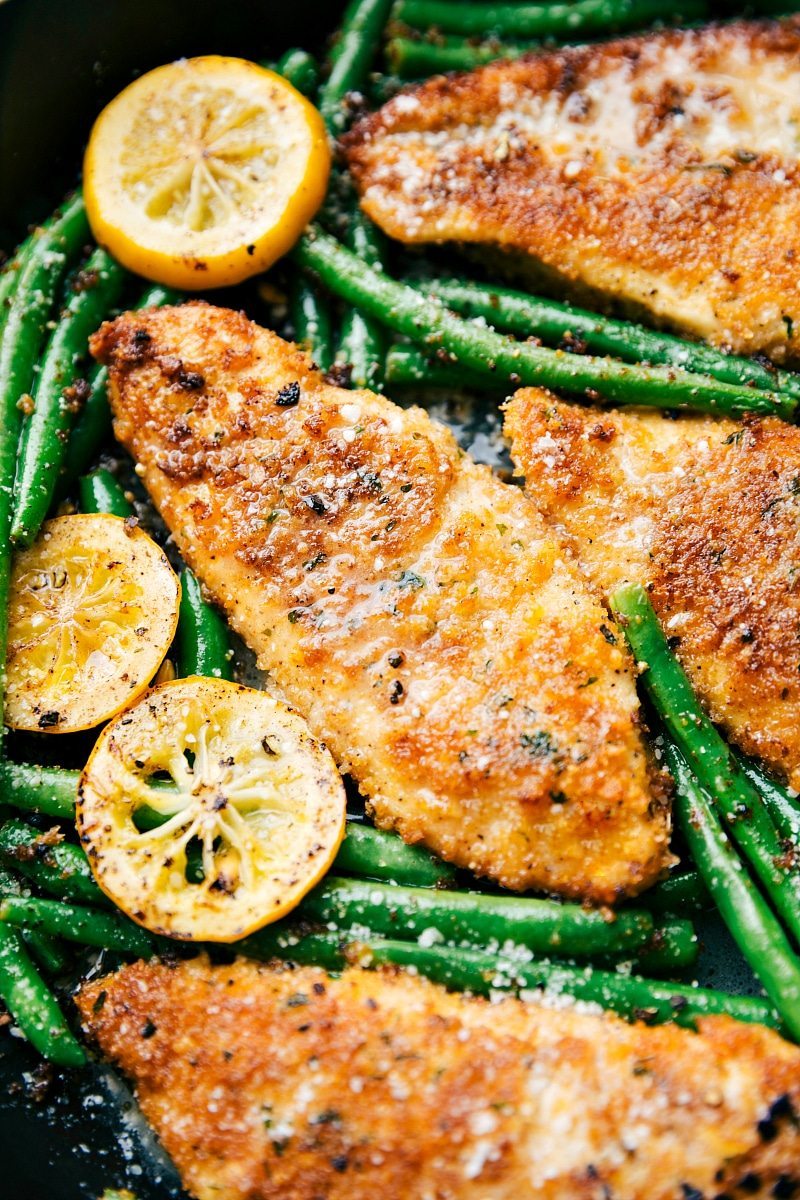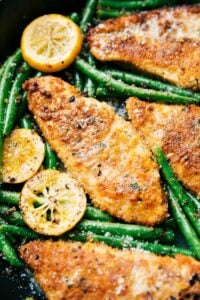 One Pan Parmesan Lemon Chicken and Green Beans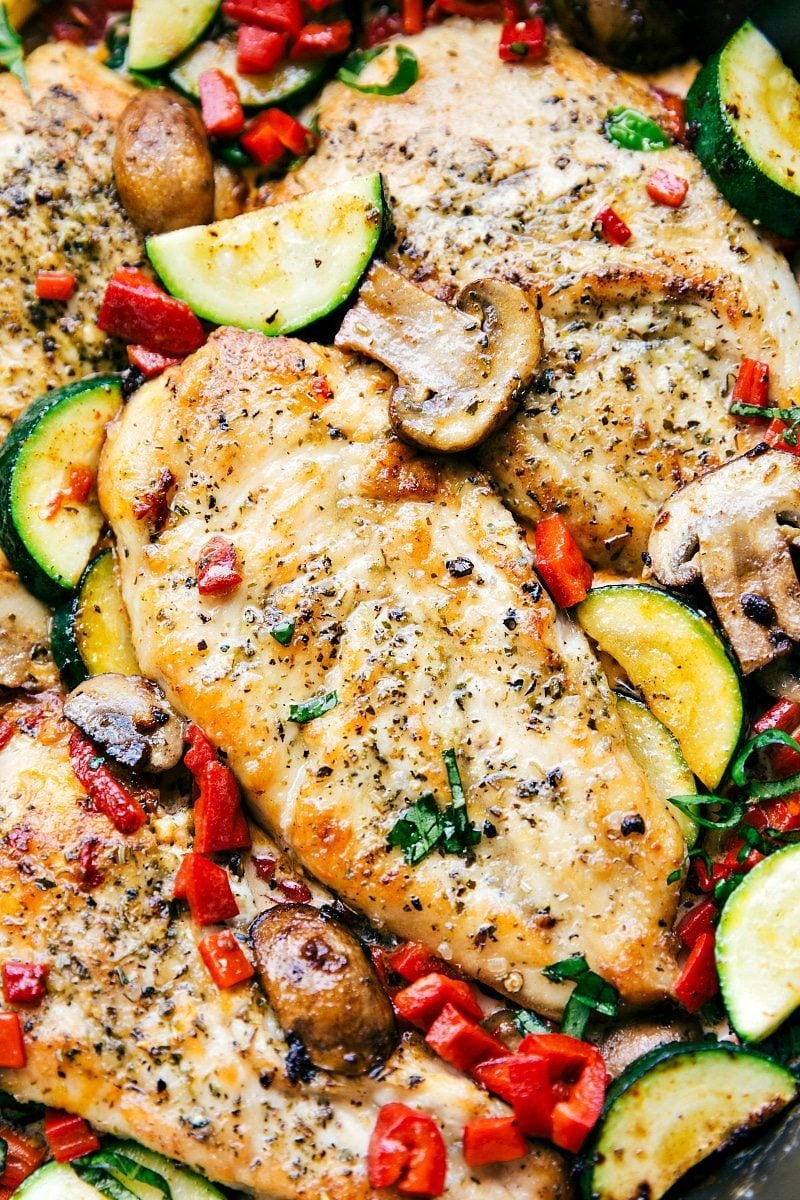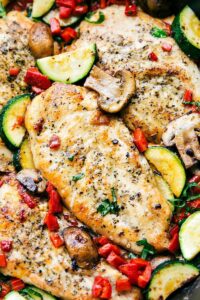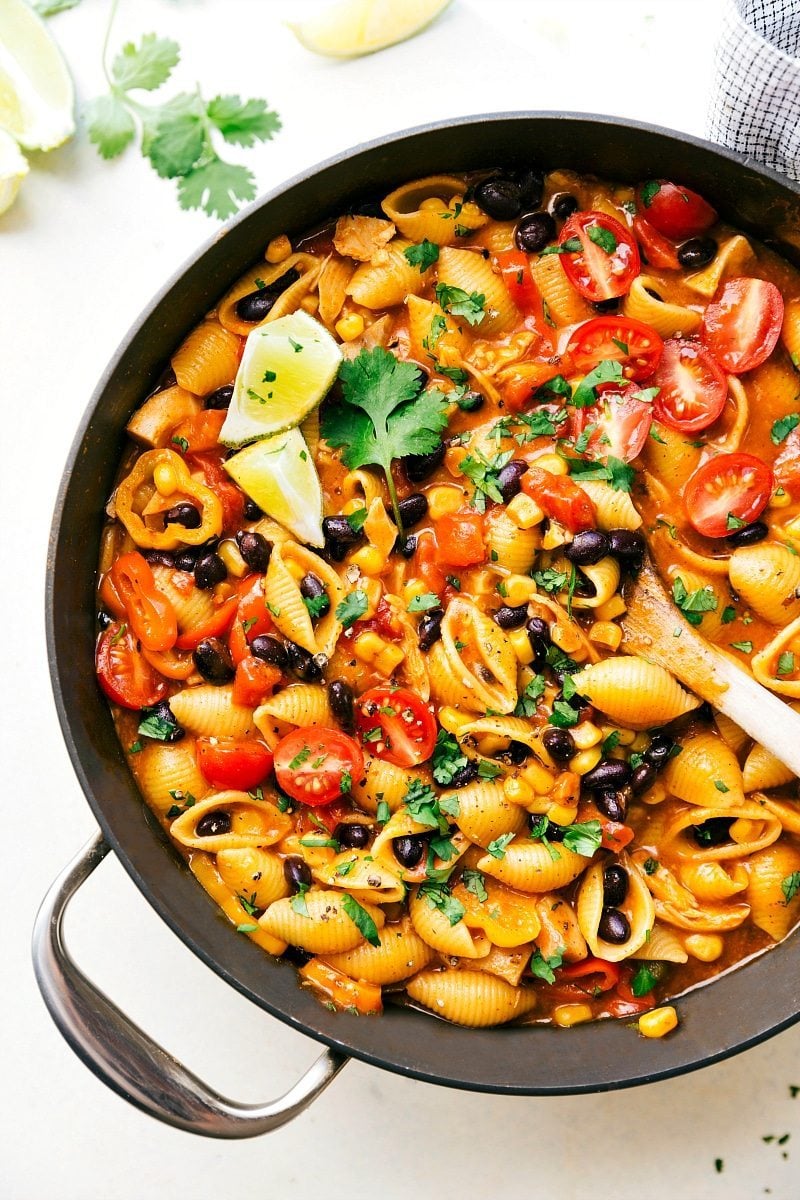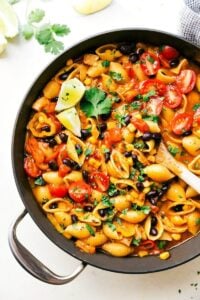 Easy One Skillet Chicken Enchilada Pasta