The beloved Vietnamese dish in simple bowl form. These Banh Mi Bowls are easy to make, packed with nutrition, and delicious!

Banh Mi Bowls
First things first, I claim no authenticity to Vietnamese food with these Banh Mi bowls, but this dish does have the overall flavors of a banh mi sandwich and they are so good. So good in fact, that my husband (who rarely enjoys eating the same meals over and over again) asked if I could make this often for our weekly meal prepping 🙂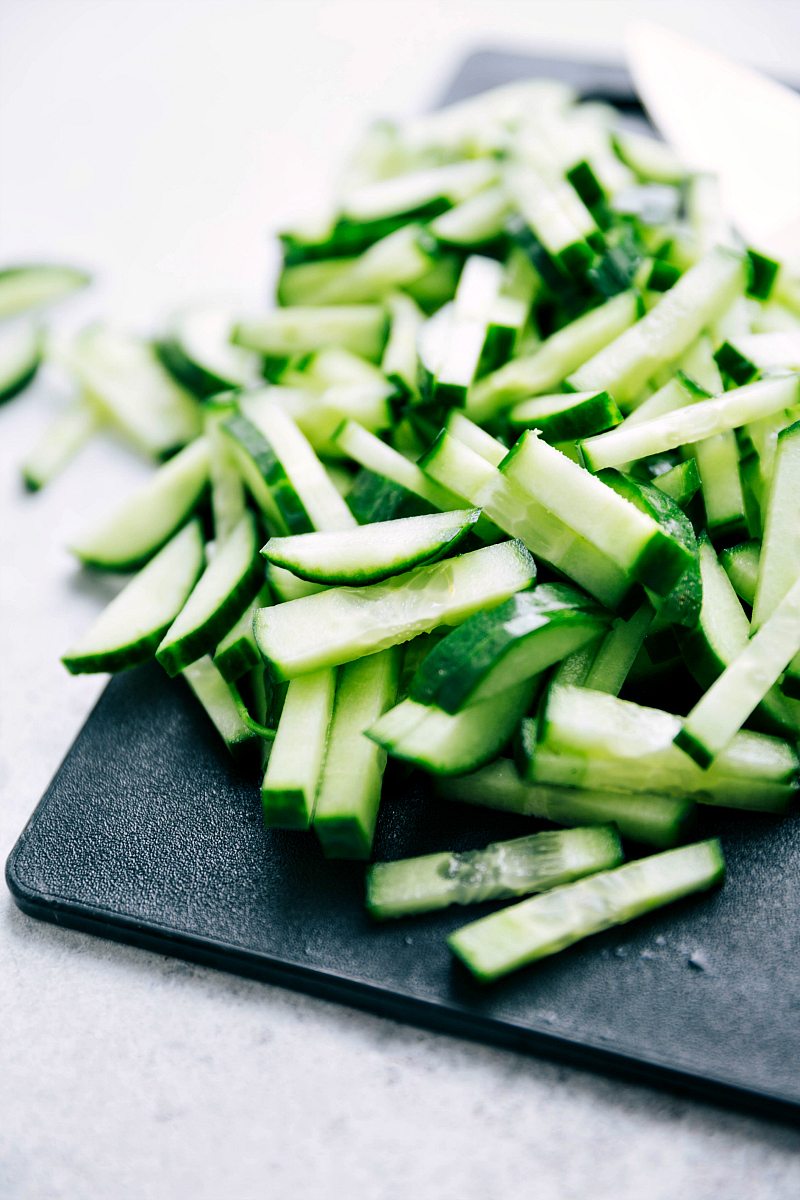 I first had a banh mi sandwich a few years ago and quickly became obsessed with it. So I've simplified that sandwich a bit and we're throwing everything into a big bowl. And honestly? I love these bowls even more than a banh mi sandwich! (Bonus: they're a little neater/easier to eat!)
When researching what banh mi is, I found it's translated to mean "bread" (but understood to be a Vietnamese baguette), so really, when I say banh mi sandwich, I'm not making all that much sense anyways. Yes, these aren't super authentic, but they are so good you can't pass them up!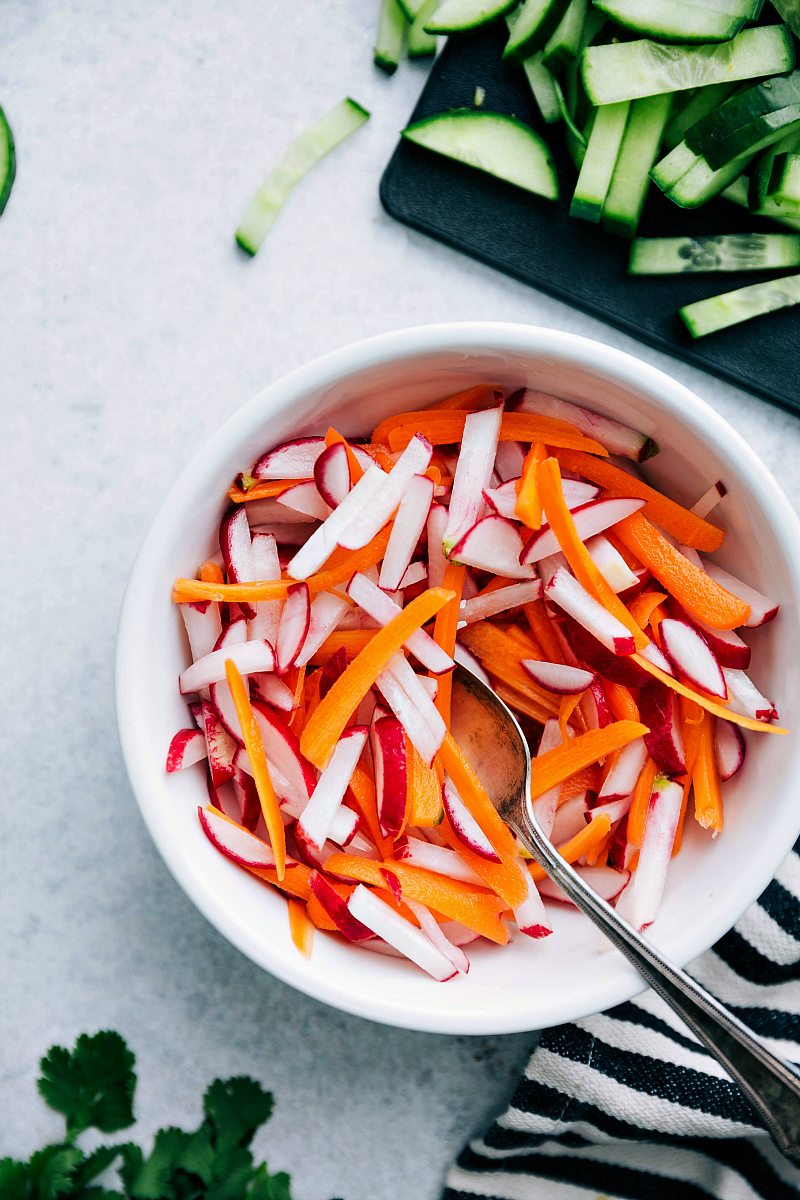 They're also quite easy to make. Although there are a few different steps to making these Banh Mi bowls: the base, meat, toppings, and sauce — each element is simple and comes together quickly.
Let's break down these Banh Mi Bowls:
First up: the base which I'm using regular white rice here. You can use really whatever you'd like: brown rice or white rice (and any of the many varieties of either), quinoa, farro, barley, etc.
Next: the "meat." Banh Mi's are typically made with sliced pork or pork belly, so I'm using ground pork for these bowls. Browning the pork takes mere minutes and there aren't too many added ingredients: salt + pepper, garlic, green onions, basil, Sriracha, a little white sugar, and fish sauce. If you don't eat pork (or the smell of the pork cooking bothers you) feel free to use ground beef or ground chicken. While I haven't tried either, I imagine they'd be delicious in the place of pork. The pork in this recipe is adapted from these pork meatballs from Epicurious. We are obsessed with them!!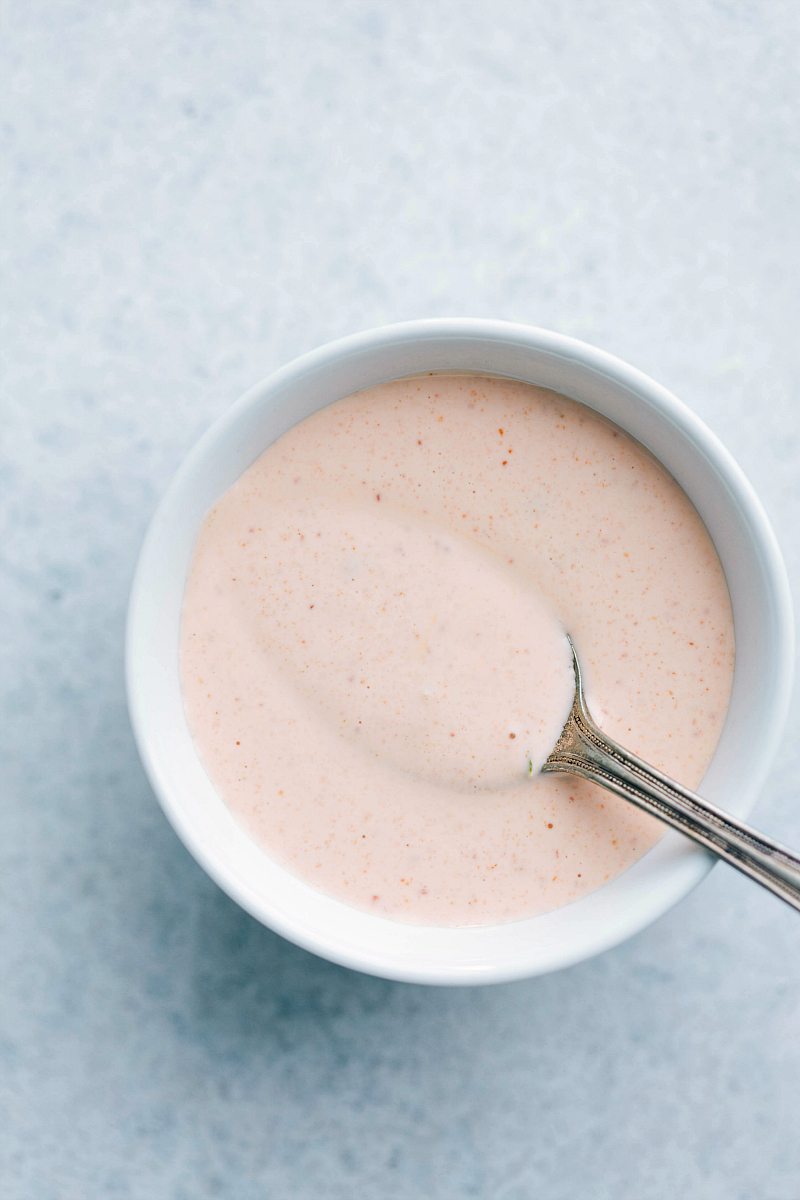 Third: the bowl additions: cilantro, lime, jalapeños, cucumber sticks, and pickled carrots + radishes. The first four additions require very little prep: coarsely chop or pull off cilantro leaves, slice the limes to wedges, thinly slice the jalapeños, and matchstick the cucumber. Add any or all of these to the bowls. The pickled carrots + radishes take a couple extra minutes to throw together, but the flavor they add to these Banh Mi Bowls is well worth the effort! (Essentially you'll toss the carrots, radishes, vinegar, sugar, salt + pepper together and toss occasionally over the span of about an hour.) I'm using regular red radishes in this dish, but if you're hoping for something more authentic I'd recommend daikon radishes.
Last: the sauce. Truly what ties everything together; this sauce is unbeatable! Again, super simple to prepare and just a few ingredients: lime zest + juice, Sriracha, and mayo!
Assemble the Banh Mi bowls: base – meat – toppings – sauce and enjoy!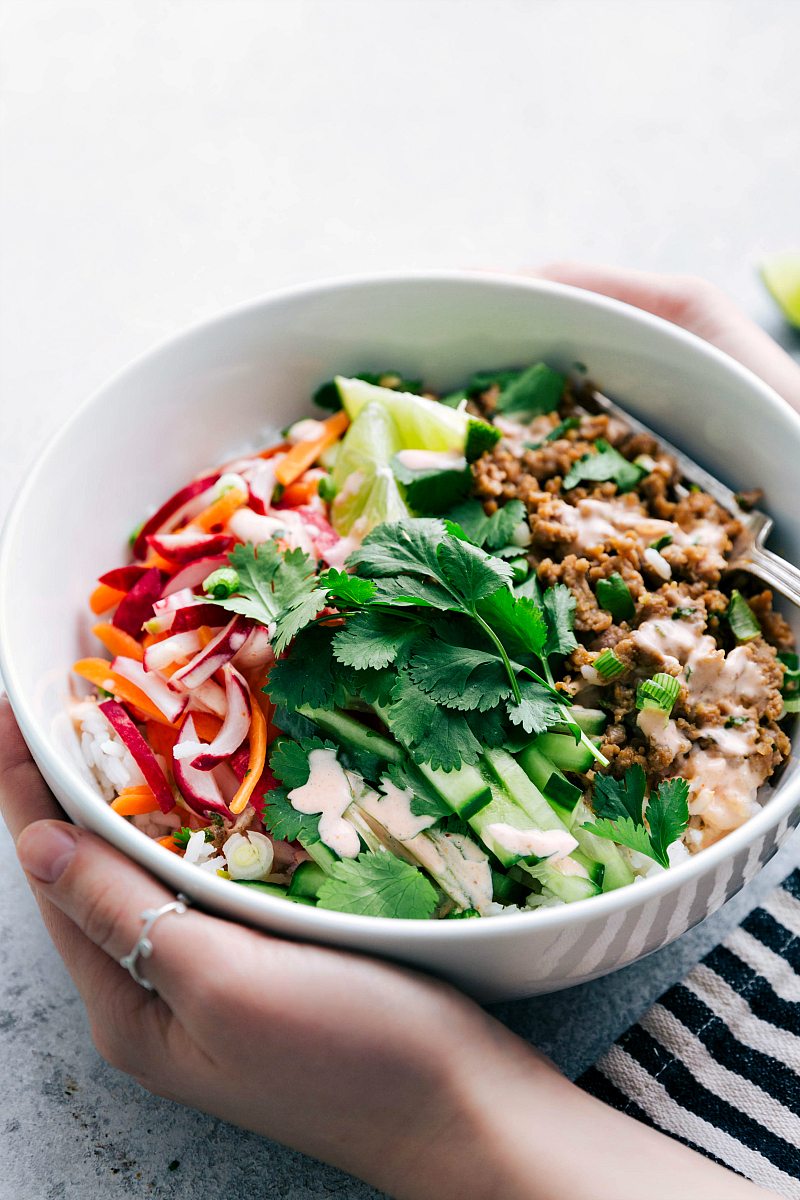 More Easy Bowl Dinners: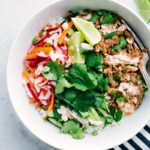 Banh Mi Bowls
The beloved Vietnamese Banh Mi in simple bowl form. Easy to make, packed with nutrition, and delicious!
Ingredients
Meat
1

tablespoon

sesame oil

1

pound

ground pork

Fine sea salt and freshly cracked pepper

(1 teaspoon of each)

3

green onions,

finely chopped

4

garlic cloves,

minced

1

tablespoon

fish sauce

1

tablespoon

sriracha

1

tablespoon

white granulated sugar

1/4

cup

finely chopped fresh basil
Bowls
1

cup

uncooked white or brown rice

2

cups

matchstick carrots

2

cups

radishes,

cut into matchsticks (for a more authentic use peeled daikon -- Japanese white radish)

1/4

cup

unseasoned rice vinegar

1/4

cup

white granulated sugar

1

teaspoon

fine sea salt

1

English cucumber,

cut into matchsticks

fresh cilantro, jalapeños, additional green onions
Sauce
1/2

cup

full fat regular mayo

3

tablespoons

freshly squeezed lime juice and 1/4 teaspoon lime zest

1

tablespoon

Sriracha
Instructions
Bowls
Combine the matchstick carrots, matchstick radishes, rice vinegar, sugar, and 1 teaspoon salt in a large bowl. Let stand at room temperature for one hour, gently stirring the mixture every 15-20 minutes.

Follow package directions to cook the rice. Set aside when finished.
Sauce
Whisk all of the ingredients: the mayo, lime juice, lime zest, and sriracha into a bowl until smooth. Cover and chill in the fridge.
Meat:
In a large pan, add the sesame oil. Heat to medium high and then add in the pork and salt + pepper. Cook the pork, breaking with a spoon into small pieces, until cooked through, about 7-9 minutes. Stir in the green onions and stir for another 2-3 minutes. Add the garlic and stir for one more minute. Stir in the fish sauce, sriracha, and sugar. Remove from heat and stir in the chopped basil.

To assemble: Divide the cooked rice evenly among 4 bowls. Top with even amounts of the pork. Using a slotted spoon, pull out even amounts of the pickled veggies and place in the bowls. Add even amounts of matchstick cucumber to the bowls. Finish off the bowls with desired amounts of sauce and optional additions as desired: fresh cilantro, fresh green onions, thinly sliced jalapenos, and lime wedges.
Recipe Video
Recipe Notes
*Available in the Asian foods section of many supermarkets and at Asian markets. **Available at some supermarkets and at Asian markets.
Recipe adapted from Epicurious